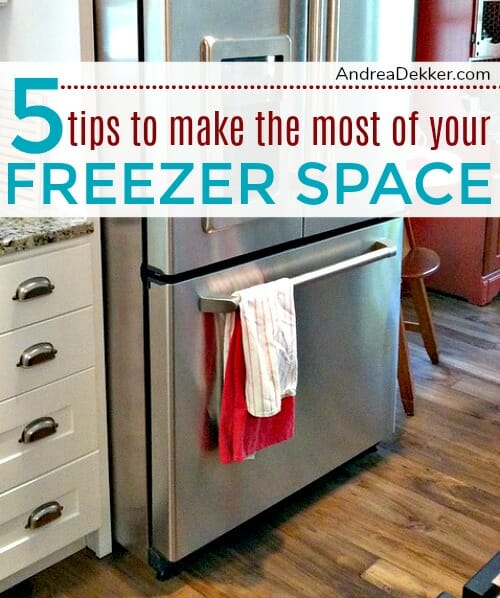 When it comes to feeding my family, I consider my freezer to be as valuable as my oven!
At least some part of almost every single meal we eat comes from the freezer — and many of our breads, cookies, bars, and other baked goods are simply pulled from the freezer on an "as-needed" basis.
We are fortunate to have an extra deep freezer for all our excess freezer foods. However, no matter what size freezer you have, there are definitely ways you can maximize and make the most of your freezer space.
1. Use square or rectangle containers, not round.
I will admit to storing my homemade bone broth in repurposed yogurt and cottage cheese tubs, but other than that, you will only find square or rectangle containers in our freezer as they waste less space and fit so nicely together. (These are my favorite freezer containers.)
I also use freezer bags to store chopped up fruits, veggies, cheeses, pre-cooked beans, rice, lentils, meat, stale bread for croutons, and sometimes even casseroles and stews. I freeze the bags flat and then stack them in a shoe box.
2. Date and label EVERYTHING!
There is nothing worse than spending valuable time and money preparing casseroles, soups, broths, and baked goods and then not being able to find them back again.
I keep a Post-It Roll (or just some masking tape) in the kitchen drawer with our pens and Sharpies to label the date and contents of everything I put in the freezer.
It takes 10 extra seconds and can prevent SO much frustration (and ruined recipes) down the road — take it from someone who used ground beef instead of ground sausage in her breakfast quiche once — gross!
One other note — if I'm freezing a meal, I'll often write the cooking/baking instructions directly on the label (or bag) so I don't need to think about it when defrosting. This also makes it extremely easy to give a freezer meal to someone else.
3. Utilize portion control.
As a family of six, we will most likely eat much more than a family of two — so while I don't always freeze FULL meals, I DO try to freeze appropriate portions of food for our family's needs.
I freeze rice, chicken, ground beef, and my homemade refried beans in 2-cup portions — which is just about the right amount for one meal for our family. I also freeze frozen fruit in quart size bags, which is enough for 1 batch of smoothies for our family.
I often slice bread and freeze 8 slices to a bag, and when I make a casserole, I freeze enough to fit into a 9″ x 9″ pan as that's how much we eat in one meal.
This allows me to simply grab one container at a time and it prevents lots of wasted food.
NOTE: If you're looking for some great freezer meals, here are some of our family's favorites!
4. Prevent freezer-burn.
This is probably the main reason I love our deep freezer — it does such a great job of preventing freezer burn because it holds its temperature much more constant than the frost-free freezer attached to our kitchen refrigerator.
Of course, this means we need to manual defrost our deep freezer every other year, but that's a job I'm willing to tackle for longer-lasting freezer foods. (Here's how we defrost our freezer.)
If you don't have a deep freezer (or if you just struggle with freezer burn, for whatever reason), here are a few steps I've taken to reduce freezer-burn.
double wrap all breads, muffins, and cookies
package everything in containers with tight-fitting lids
wrap store-bought frozen food in freezer paper or aluminum foil
open the freezer door as few times as possible
eat freezer foods more quickly
5. Make a plan to actually eat your freezer foods each week.
This might sound obvious, but remembering to use foods in the freezer seems to be a struggle for many people I talk with.
I know some people who make lists of all the foods in the freezer and keep the list in their kitchen so they don't forget. I know others who take a weekly inventory. There lots of different methods that could work… the most important thing is that you have some sort of system for regularly using up the food in your freezer!
Obviously, it helps to keep your freezer somewhat organized so you can actually see what you have inside. But another way to make sure you use your freezer stockpile is to simply plan your weekly meals based on what you already have in the freezer (before you even look at the store sales). This is often the route I take and it has worked well for me over the years.
Another REALLY fantastic way to eat through your freezer is to implement an eat-from-the-pantry (and freezer) challenge where you don't allow yourself to buy any groceries (other than maybe some fresh produce and dairy) for a specified period of time — maybe 2-4 weeks — in an effort to use up much of the food you already have in the house.
Our family did this last fall — and I ended up continuing it for almost 3 full months as I kept finding new ways to use up more and more of the random bits of food that were left in our freezer and pantry! It was a little intimidating at first, but by the end, I was having so much fun making random combinations of food and trying / experimenting with different ingredients!
Utilizing our freezer and maximizing its storage capabilities is one of the many ways way I'm able to simplify our weekly meal planning, stretch our grocery budget, and minimize my time in the kitchen — all of which are really good things in my opinion!
Still have questions?
Check out my freezer food Frequently Asked Questions post from a couple years ago!
How do you make the most of your freezer space?