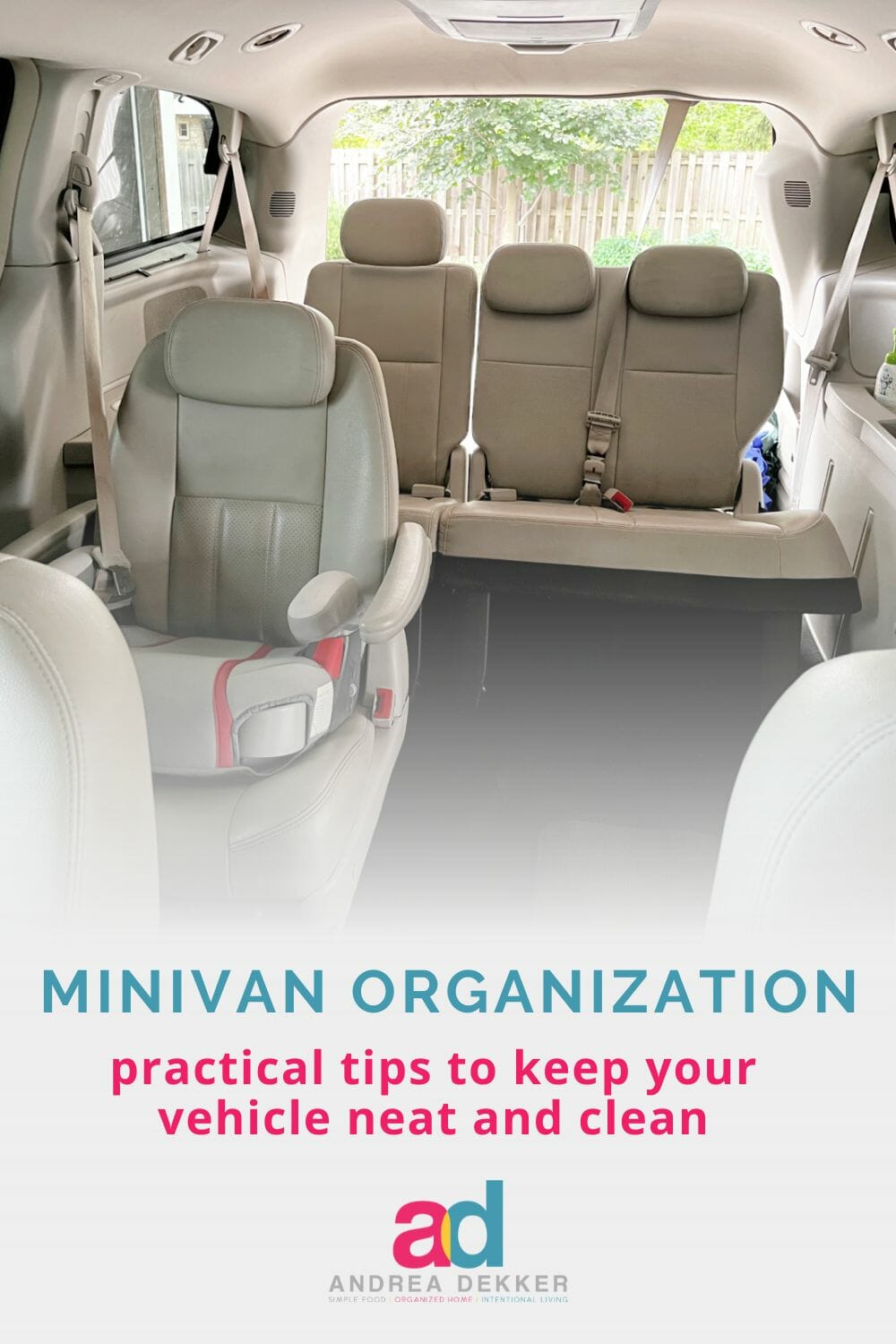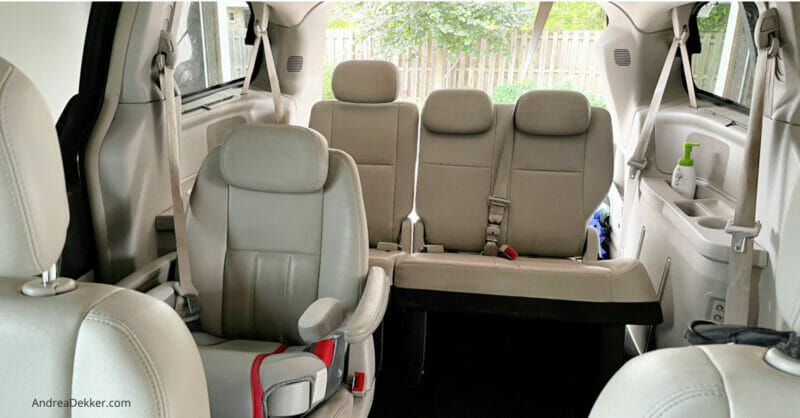 It's been 8 years since we purchased our new-to-us minivan… and what a blessing it has been for our growing family.
We've spent hours driving to and from various activities around town, carting friends, relatives, and neighbors, and successfully navigating a handful of longer road trips.
We've vacuumed up thousands of snack crumbs, taken hundreds of naps, watched dozens of movies, and arranged and rearranged car seats too many times to count (for several years, we had some combination of 4 different car seats and boosters).
We Love Our Minivan!
Our trusty Chrysler Town & Country is the only minivan I wanted — specifically because of the patented Stow 'n Go seating that allows you to quickly and easily "stow" the bucket seats and the back bench for maximum carting ability (you would not believe how much stuff I've moved with this van!)
Our van is now almost 14 years old, and (for the most part) it's still going strong — thanks to proper maintenance, significant money spent at our favorite local mechanic… and some strategically placed black duct tape! 🤪
Truthfully though, this van has served us well over the years, and we hope to get a few more years out of her — especially since Chrysler no longer makes the Town & Country.
Also, we're completely DONE with car seats and almost out of boosters, so we can really maximize our interior space with the Stow 'n Go seating!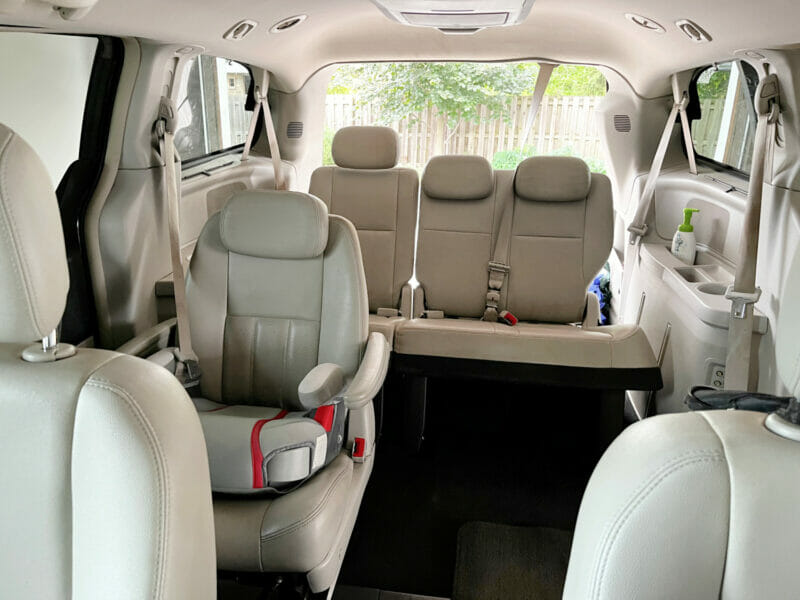 Our Current Seating Arrangements:
We've utilized dozens of different seating arrangements over the years.
However, for the last 8 months or so, we've had the driver's side bucket seat "stowed" under the floor to allow for considerably more moving space within the van.
It's amazing how spacious it feels inside!
For everyday driving around town, Nora usually sits in the passenger seat, the boys on the back bench, and Clara in the bucket seat with her booster.
If our entire family is in the car, all 3 older kids squish in the back (and love it). And if we're carting friends, we just pop the other bucket seat back up.
Believe it or not, we actually drove to Tennessee and back with the bucket seat stowed. Every couple of hours, we rotated who got the bucket seat because they all wanted to sit together in the back!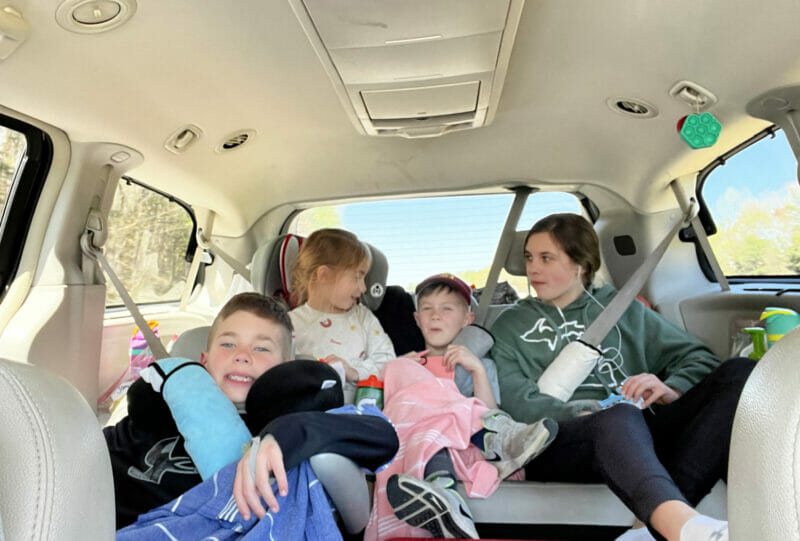 How I Organize Our Van:
I planned to write an update on our minivan organization (ironically, it's a topic request I receive quite often) and this seemed like the perfect time to share as we've recently entered the season of (almost) no car seats or boosters! Can you tell I'm excited about this!?!?
Life looks quite different now with 4 middle-aged children versus infants and toddlers — so it's no surprise that our vehicle organization has changed a bit too.
Currently, we don't store all that much in our van. The kids are self-sufficient enough that they bring whatever they need or want along in the car AND cart it back inside again when we arrive home.
But of course, I keep a few essentials stocked — just in case.
I realize the list below might look long, but everything is easily stored in the center console, glove compartment, under the bucket seat, or in the organizer we have hung on the back of the driver's seat.
FOR THE KIDS:
Baby Wipes and Hand Sanitizer
Tissues and napkins
Small notebooks + pencils, pens, colored pencils, markers, etc.
Small disposable cups (perfect for snacks on the go)
An extra towel in case something needs to be dried off (great for wet park slides and benches)
FOR ME:
OTHER:
NOTE: The jumper cables, outdoor blankets, and snow scraper are all "stowed" under the bucket seat so I forgot to get a picture of them.
How We Maintain Organization:
Just as with any other space, a vehicle requires consistant maintainance in order to STAY neat and organized.
The biggest "must do" for me is that everyone brings everything back inside when we get home — no water bottles, sports gear, homework, shopping bag, fast food wrapper, or library books stick around in my vehicle!
A few years ago, I shared a more-detailed post about How we keep our vehicles clean almost all the time.
The general idea = T.L.C.
T = Trash – have a spot for it.
L = Leave the vehicle better than you found it.
C = Create a space for items you keep in the vehicle.
A Few More Practical Tips:
Have "assigned seating" so there's no fighting. Also, if one area is messy, you know who caused it!
Give each child a "car bag" that they take in and out of the car with them (we keep ours in the mudroom) so nothing gets left in the car.
Get in the habit of emptying everything out after each trip.
Practice what you preach (you've got to do this too!)
Always have a trash bag available.
Always have wet wipes (no matter how old your kids are).
Use paper boxes for packing (they fit perfectly in minivan trunks).
Limit the types of food/drink you eat in the car (nothing too messy that could stain or stink).
Go through your vehicles every quarter to keep things organized and stocked.
If you have several smaller items, use zippered pouches (or bags) to organize like items within the glove box or center console.
Let your kids use a shop vac to vacuum out the vehicles (all our kids think this is the best job ever!) 😉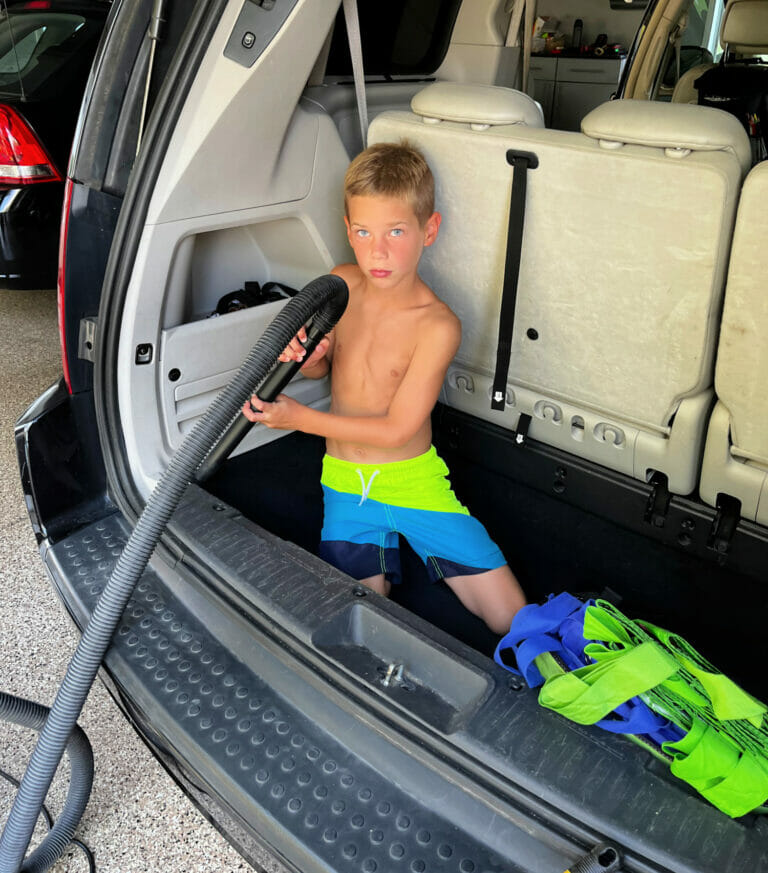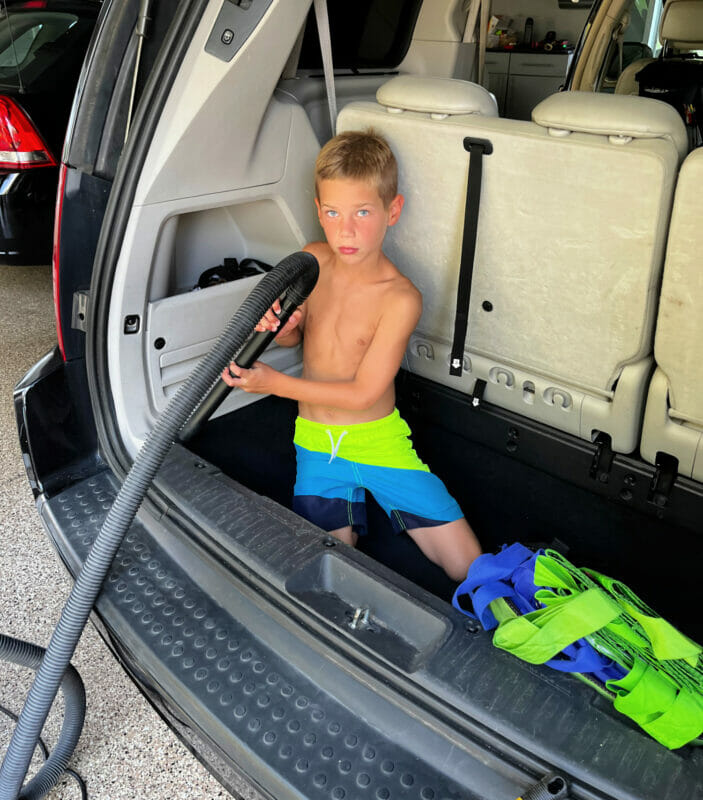 I love how our van has morphed and changed (literally) as our family has grown in number and size.
I also love that throughout all the changes, we've been able to enjoy driving around in a relatively neat, clean, and organized vehicle without all that much extra effort.
We hope our van gives us a few more years (and that used vehicle prices go down a bit) before it bites the dust!
I'd love to know…
What are your best tips for maintaining a neat and organized vehicle?