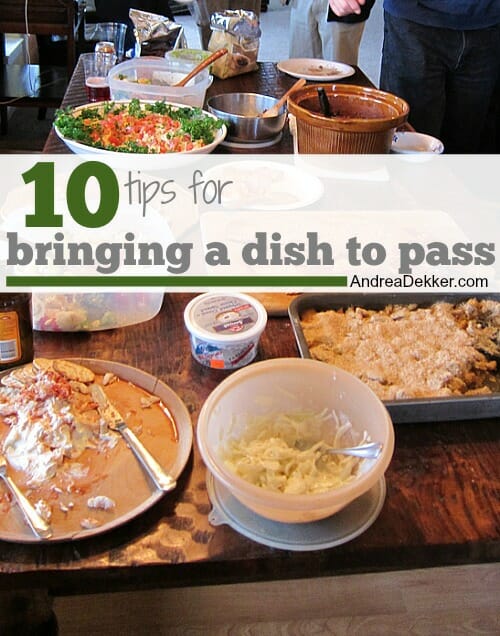 Dave and I are lucky that many of our extended family members and almost all our friends live within 30 minutes of our house (and many more tend to visit our area during the summer months). This means lots and lots of parties, BBQ's, picnics, and gatherings from Memorial Day through Labor Day.
And what's a great party without great food?
Most of the parties we're attending (or hosting) are some sort of potluck where each person brings a dish to pass and everyone can try a little of everything — potlucks are my favorite! I love the simplicity of making one large dish of food to pass (with only one dish to wash after the party) and in return, getting to sample 15-20 different things.
For me, potlucks are one of the simplest ways to enjoy a variety of foods with minimal effort on my part. However, after talking with several friends and family members, and after receiving many emails from readers, I realized I might be one of the few weirdos who feels like potlucks are super simple.
Many people I talked with have mentioned how hard it is for them to decide what to bring, or how they always bring the exact same things every year, or how they can never get the timing just right and their food is either underdone or over-done and then doesn't get eaten.
I know there are hundreds of "recipe round-up" posts out there — so I'm not going to share specific recipes with you today (although feel free to browse my online recipe box when you're trying to decide what to bring to your next party). Instead, I'm going to share some of the things I personally consider when I'm bringing a dish to pass at an office potluck, summer BBQ, church picnic, or whatever.
If you've ever dreaded "bringing a dish to pass" or stressed about what type of foods you should bring to your next potluck party, I hope my tips below will help.
.
1. Find a recipe that can be made in advance.
Whenever I'm making food to take along with me, I always make sure there is little to no last-minute prep work — partially because I don't want to monopolize the host's kitchen or assume he/she has certain tools I might need, but also because I don't want to be cooking or assembling food when I'm at my party. I'd rather bring a more low-maintenance food that I can simply set on the buffet table and then go mingle.
I usually look for recipes that can be made the day before or the morning of, and then kept warm in the slow cooker during the party — think slow cooker meatballs, bacon-wrapped sausages, make-ahead lettuce salad, cookies, bars, or cake that can be made the day before (or, if you're like me, pulled from the freezer the day before!) Even a pan of lasagna can easily be assembled the morning of and then just pulled out of the oven before you leave (after baking for an hour, it should stay hot for a long time!)
By making your food ahead of time, you'll eliminate stress from the day of your party, and you'll be able to enjoy your party more.
2. Consider food that can be eaten at room temperature.
The food will be hot (or cold) for the first round, but what happens after it's been sitting out for an hour or more?
If you bring an ice-cream dessert (I've seen this done SO many times and still wonder why) it's going to melt and be ruined. If you bring a breakfast casserole that tastes disgusting at room temperature, you'll either need to re-heat it or you'll end up taking most of it home again. If you bring something with mayonnaise or sour cream, bring an extra bowl filled with ice so it will stay chilled longer.
I usually steer clear of everything I mentioned above, just because it's extra hassle and not necessary in my opinion.
There are so many other recipes to choose from, and I can always find something that tastes good at room temperature (or something that can be made in a slow cooker to keep warm.) In fact just last weekend I brought a bunch of bars, cookies, and muffins to one party and the bacon-wrapped sausages in a slow cooker to another party. Never once did I need to worry about keeping things hot or cold or reheating anything. I just plugged the slow cooker in and set out the baked goodies. Done!
3. Create small portion sizes.
I don't know about you, but when I have 30 food options sitting in front of me, the last thing I want to do is take a monstrous serving size of one particular food. I want to take a tiny bit of everything so I can try each different recipe.
Whenever I bring food to a party, I always keep this in mind and make sure the food I bring is in "mini form". I'll make my cookies bite-size, I'll make mini muffins and mini cupcakes instead of more traditional full-size items. I'll cut larger chunks of meat or cheese into bite-size pieces, and always set out a knife next to my food for anyone who only wants a half.
4. Bring food that is easy to serve with one hand.
Although I love a good soup and salad buffet, or a make-your-own-sandwich bar, those types of food are usually not practical for large crowds of people all standing in line waiting for the people ahead of them to move forward. Anything that involves using both hands to add a variety of toppings or extras is going to majorly back things up — not to mention create chaos for parents trying to assemble plates for small children at the same time!
I personally try to stay away from any recipe that involves adding toppings or "extras" — unless it's adding whipped cream to pie! I try to make sure that all the person needs to do is scoop or stab or grab with one hand while their other hand is free to hold their tray or squirming child 🙂
5. Plan ahead for "wet" foods.
If you're going to bring a very liquidy or "wet" food like my delicious hot fruit salad, fresh salsa, baked beans, etc. plan ahead and have small serving cups or bowls ready to go. Or, better yet, quickly dish up small servings in cups before people go through the line. This way, they won't "ruin" everything else on their plate with the juices from your food, and the line will keep moving.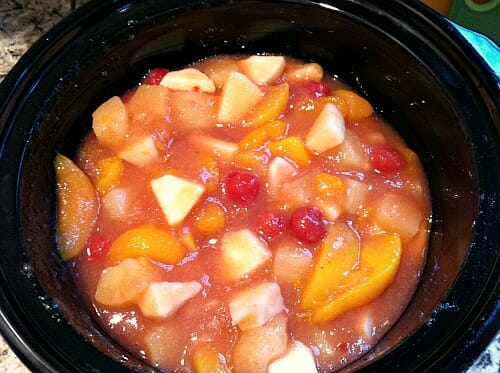 6. Choose something you'll eat as leftovers.
There is nothing worse than bringing a massive amount of food to a party only to come home with most of it because people didn't show up, there were too many other options, or maybe people just didn't love your dish. For this reason, I always try to bring recipes that Dave and I will happily eat as leftovers so I won't be totally crushed if I bring most of my food back home again.
This brocoslaw recipe actually tastes better the 2nd day, so I'll often bring this to BBQs or cookouts. And of course, almost all cookies, brownies, bars, crackers, cheeses, etc. taste fine a day or two later. We also LOVE leftover cheesy potatoes, leftover meatballs, leftover pasta, and leftover casseroles — so I'll usually bring something like that over something else that might be completely soggy by the next morning. Plus, the casseroles and other hot dishes can be made ahead and served from a slow cooker (see #1 and #2 above!)
7. Consider the type of party or the theme of the party.
This is not necessarily a huge concern for me; however, the type/theme of party you're attending could potentially play a role in how you choose your recipe.
Where I live in Michigan, most summer and fall parties are outside… while winter holiday parties are always inside due to freezing temperatures. So, if your party will be outside, you'll want to realize that bugs and other weather conditions might affect your food. Plan accordingly and bring a towel or lid to keep your food covered.
Also, I'd definitely bring something different if I knew I was going to an appetizer / dessert party versus a full-blown Thanksgiving church potluck with piles and piles of delicious foods. And I would most likely alter my recipes if I'm cooking for just adults or including kids in the mix — so it always pays to consider who, what, where, when, etc.
8. Stay away from foods that look gross 🙂
Sorry, I'm not sure of the best way to word that — but you know what I'm talking about. Some foods, no matter how delicious they might be, just look very unappetizing.
I certainly don't think all potluck and party-going foods need to have a professional looking appearance, but when you bring a pot of chili that looks like road-kill or a cheesy dip that looks like orange slim, it might not go over as well as you were hoping.
Now, if the recipe is something you'd love to eat as leftovers (see #6 above) then you'll be fine. However, if you don't want to bring it home with you, pick a recipe that is more visually appealing!
.
9. Take the time to list out ingredients.
I don't always do this, but if I'm going to a gathering with people I don't know that well, I often bring a recipe card or at least a list of ingredients and tape it to my dish. That way, if there is any concern with allergies or food sensitivities, it's not MY fault!
We are fortunate not to have any allergies or food intolerances in our family, but lately, it seems like every time I turn around, someone else is going gluten free, dairy free, vegetarian, allergic to peanuts, allergic to ______, you name it.
I don't want to be the one who caused them to get sick, so by listing out the ingredients, I feel like I clear myself and make it easier for those people to know if they can or cannot eat my food
10. Keep it simple.
One of my favorite things to bring to almost any party is cheesy potatoes because they are SO simple to make, can easily be made ahead of time, kept warm for hours in a slow cooker… and EVERYONE loves them. They also go with almost any type of meat and work almost any time of the year.
Trays of cookies, brownies (from a box), rice krispy bars, and other bars are also a staple for me as they can be made ahead of time and cut into small bite-size servings.
Sometimes, I feel like we needlessly try to come up with elaborate creations to bring to our holiday parties… when simple chocolate chip cookies or cheesy potatoes would be a huge hit.
Of course, there are occasions when I take a little extra time time to whip up my famous holiday four-layer chocolate, peanut butter, caramel fudge (seriously, divine!) — BUT for the most part, I find it's so much easier and less stressful if I keep things simple!
Oh, and don't feel bad if you go the store-bought route. I happily scooped up a piece of store-bought triple-chocolate cheesecake at a potluck this weekend and I savored every last crumb!
Where to find your next potluck recipe!
If you're looking for a good recipe to take to your next potluck, picnic, or party, I would suggest searching through my recipe box (all those recipes are simple), searching Pinterest, and browsing AllRecipes.com — you are bound to find at least 10-15 recipes that use ingredients you have in the house and won't take more than 20-30 minutes to whip together.
If all else fails, just Google "super simple potluck recipes" and see what you come up with!
OK, are you excited to start cooking and baking for your next BBQ, party, potluck, or picnic?
Hopefully these tips will give you something to think about as you cook and bake your way through the summer season and beyond!
What are your best tips for bringing a dish to pass?