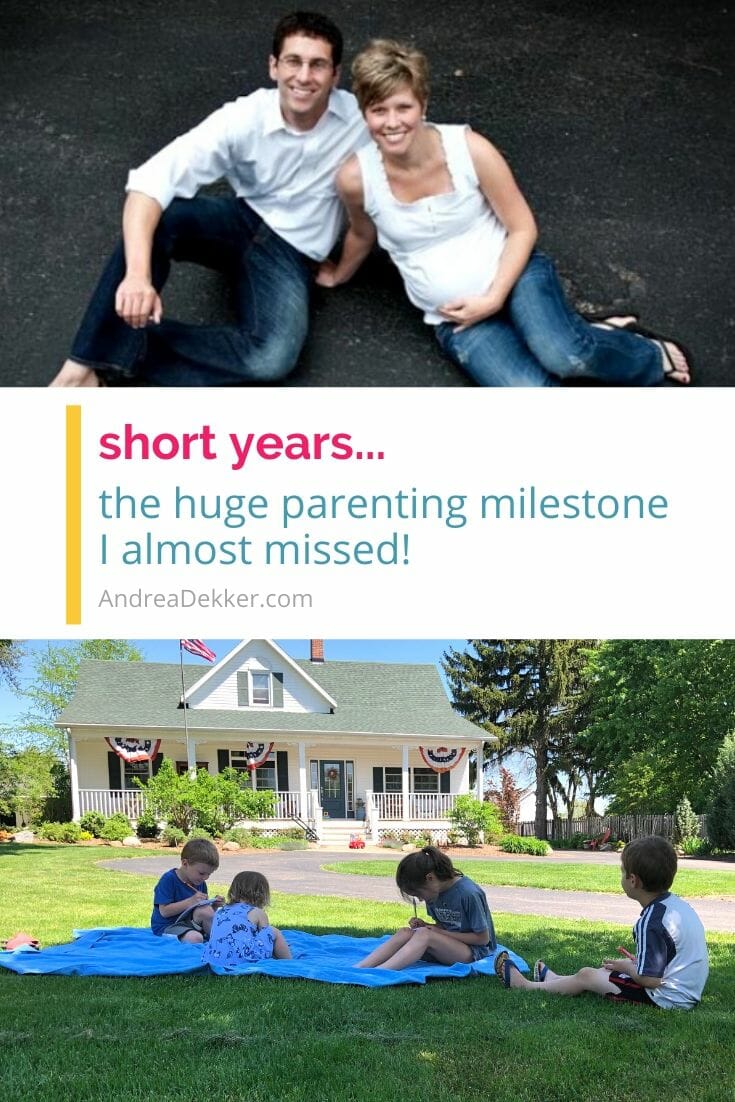 Inside: "The days are long but the years are short." This cliché phrase rang true for me when I recently realized I almost missed a huge parenting milestone!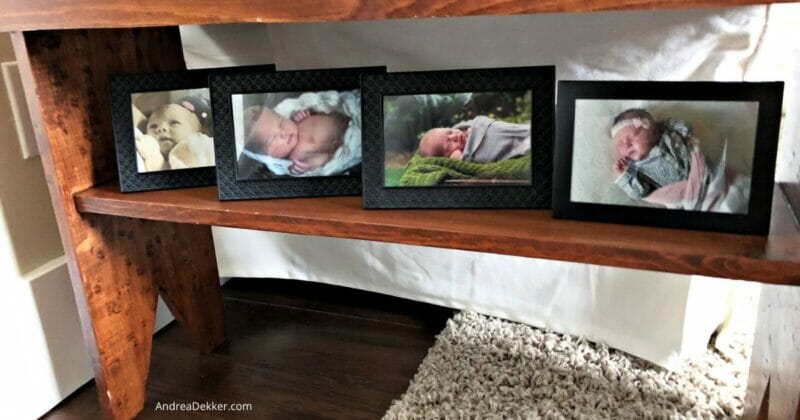 Over the past several intense but worthy years spent growing, birthing, raising, and training infants and toddlers, I've anticipated the day when I could finally say, "we're finished with the baby stage!"
It IS a significant parenting milestone, after all!
But you know what… that HUGE milestone recently slipped through the mundane moments of our normal everyday lives.
Yup… I almost missed it!
She eventually stopped nursing herself to sleep… I don't even remember the day, maybe it was a Tuesday… but one day I realized we were done.
She decided she wanted to wear big girl undies so we entertained the idea of potty training her much earlier than any of our other kids… and a week later, I realized we didn't need diapers anymore.
She asked to sit in a big girl chair for lunch and I said "yes"… a month later, I realized we hadn't used the highchair in a while, so I sold it on Facebook Marketplace.
She asked to sleep in big sister's room… so we took the crib down and moved her upstairs (and then rearranged the entire main floor!)
She said she could get herself dressed… and put on her own shoes… and wash her hands by herself… and she can!
She told me she's a "big girl"… and she is!
When did it happen?
How did I "miss" it?
Looking back over the past few months, I saw so many other changes too.
Nora "graduated" out of her booster seat in the van — yay for only 3 car seats instead of 4!
Simon is reading like crazy.
James transitioned to taking showers instead of baths.
The older 3 all finished another year of school.
And miss Clara is basically just one of the big kids now.
They all play SO well together (85% of the time). I often feel like a spectator instead of a referee — which I'm OK with!
This didn't happen overnight of course… which is why it was easy to miss.
No big announcement, no line-in-the-sand moment.
But here we are, on the other side — more than 3000 long-feeling days that somehow flew by to the tune of 8 and a half "short years".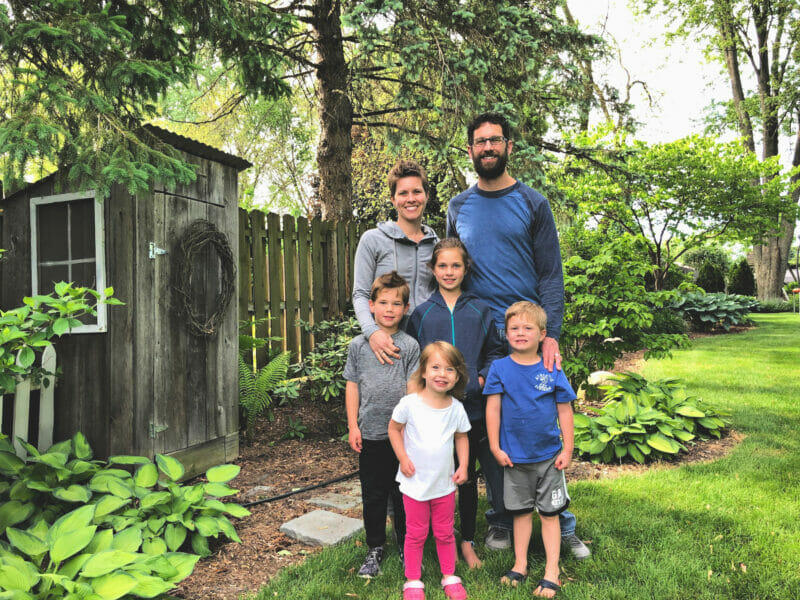 Looking back, I clearly see the natural transition from baby to big girl, from dependant to independent, from then to now.
Somedays, these changes come so fast they almost knock the wind out of me.
Other days, they feel like a warm breeze, gently leading me into the next glorious phase of parenthood.
Over the years, Dave and I have talked about what life will be like once all our children…
can walk
sleep through the night
can feed themselves
are out of diapers
can actually have a conversation with us
etc. etc.
And you know what… we're THERE!
We've entered into a totally new phase of life as a family — one where all our children are fairly capable of doing their thing without all that much help from us (at least not compared to the amount of care a newborn requires).
We planned to do a bunch of traveling the first summer all our children were potty trained. That would have been this summer…
But travel or no travel, I'm excited to be past the baby stage!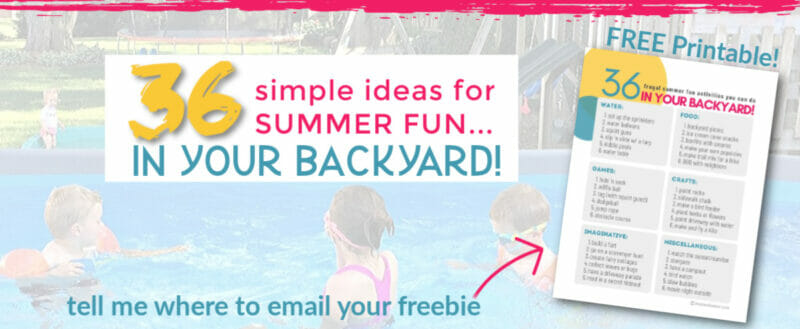 It's not that I didn't enjoy it (yes, there were definitely times I did NOT enjoy it) and I know I will miss some of it, but I feel VERY ready to move on.
My life feels lighter and my schedule has a little more breathing room than it did when I was the person meeting all our baby's needs.
I've never been one to dwell on the past, so truly, I'm eager to forge ahead!
So far, this transition to big kids has been fabulous.
We can have real conversations.
I can ask for their opinions and actually get a useful answer.
They are helpful (when they want to be).
We can play games together (and I don't always have to fake losing).
I know there are good and not-so-good aspects of every life season, but I'm excited to move into this next phase of family life.
We want to travel a bit.
We're excited to be more involved in school and church events.
I hope to devote more time and energy to my business.
The kids are begging us for a pet (and smartphones — ha!)
… and the list goes on!
I know so many of you were here even before Dave and I entered the baby stage, and now… we're zooming right on to the next phase of life.
Seriously, can you believe it!?
It's been fun to share my pregnancies and birth announcements with you, along with all the joys and struggles that come with navigating those challenging infant years.
I know we're not "out of the woods" when it comes to parenting struggles, but I wanted to officially "close" this chapter of our lives on the blog!
We're finished with the baby stage, friends!
Helpful Resources for Parents of Young Children:
5 Basic needs we MUST meet for our children (so simple, but so profound).
Simple tips for expectant parents.
Encouragement for parents of picky eaters (take a deep breath, you can do this).
Our journey with a high-needs sensory baby (I feel your pain… it's such a struggle).
5 tips to survive sleepless nights (I promise not to tell you how to magically fix your baby)!
Our fantastic bedtime routine (they are in bed by 7 pm!)
How to make time slow down so you can actually enjoy your kids (from my friend's blog).
How we make more time to read with our kids (they love this!)
My 3-minute Motherhood challenge (this is gold!)