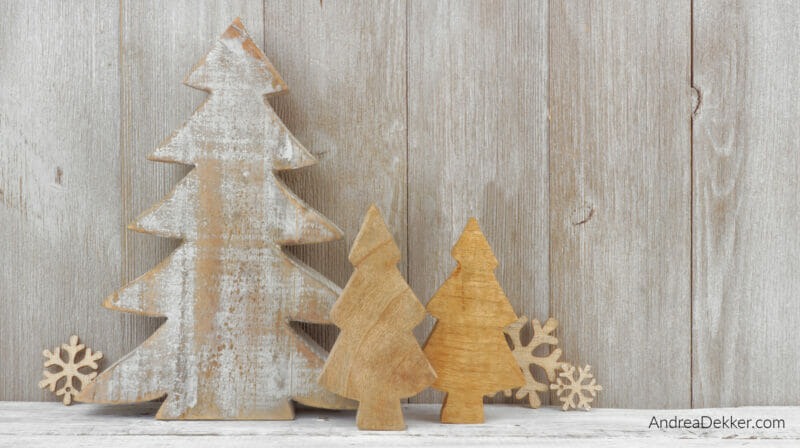 Happy Birthday to Dave!
Our immediate and extended family have so many birthdays between Thanksgiving and New Year's that it sometimes feels overwhelming, but we just take them one at a time.
Today is Dave's day, and I think the kids are more excited than he is!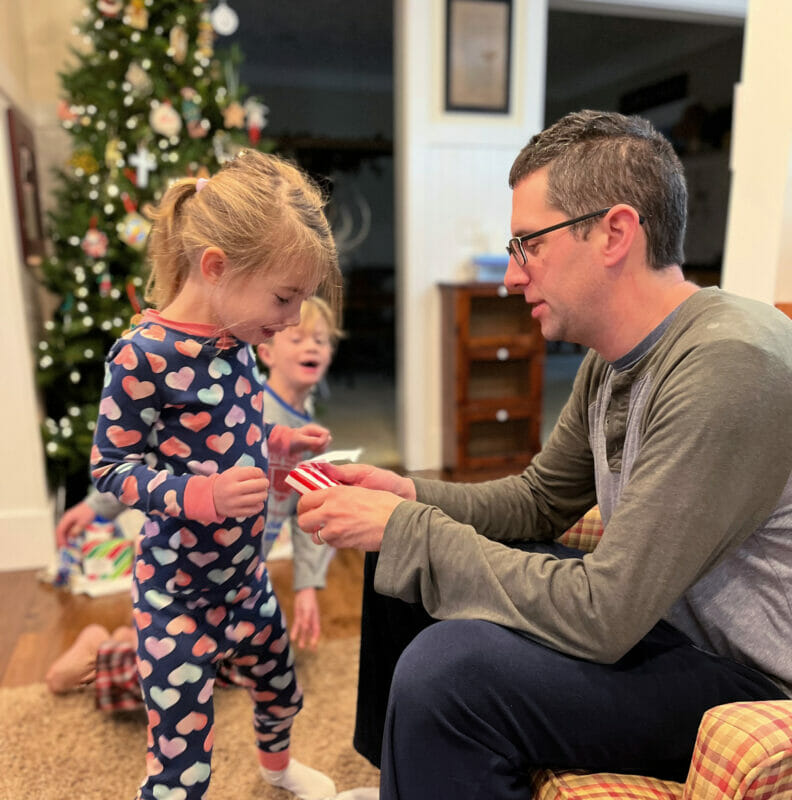 In addition to Dave (and my children's' excitement over celebrating him) here are a few more of my favorite things…
---
FAVORITE MOMENT = Setting Up the Tree
We set up our tree in a new spot this year and I just LOVE it!
We can see it from the mudroom, the kitchen, the dining room, the office, the hallway… and the soft white lights create such a nice atmosphere all day and night.
Our electric bill is always a bit higher in December, but I just consider it a gift to myself — one I thoroughly enjoy all month long.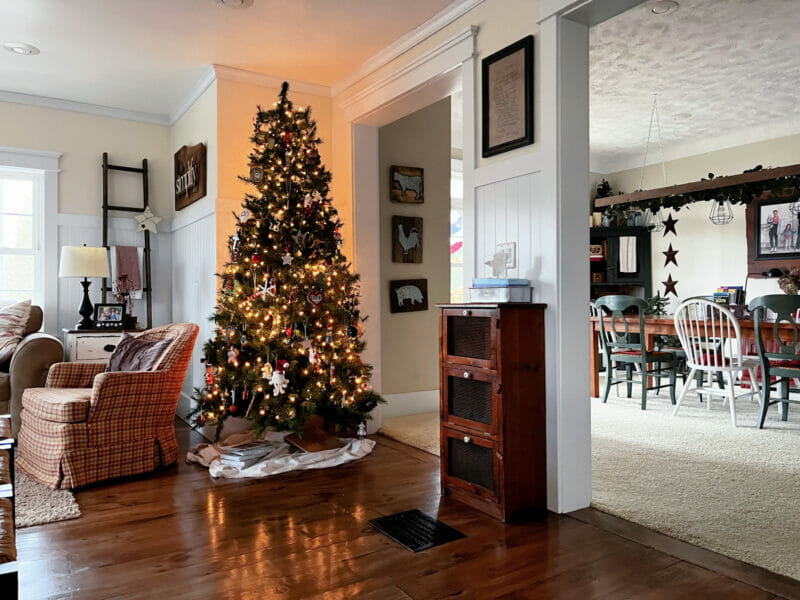 Interestingly enough, I didn't put up ANY other decorations this year — so far, no one has said a thing!
I think the twinkling tree is festive enough for everyone (and I saved myself a bunch of "hassle").
FAVORITE ROUTINE = Early Gift Opening
Several years ago, we unknowingly started a "tradition" of opening our family gifts SUPER early in December.
It began when Nora attended the Love Bazaar at school. She was so excited to hand out her gifts that we decided to have our family "Christmas" the next day.
Since then, we've regularly opened our family gifts on the first Saturday in December, right after breakfast… and we did it again this year.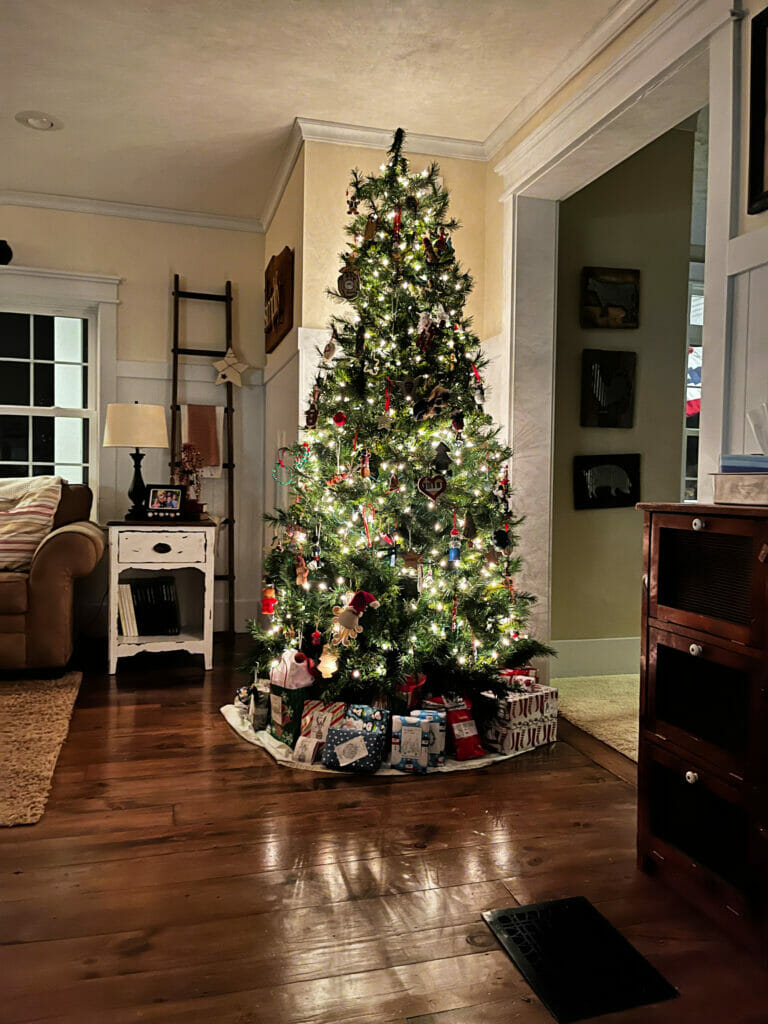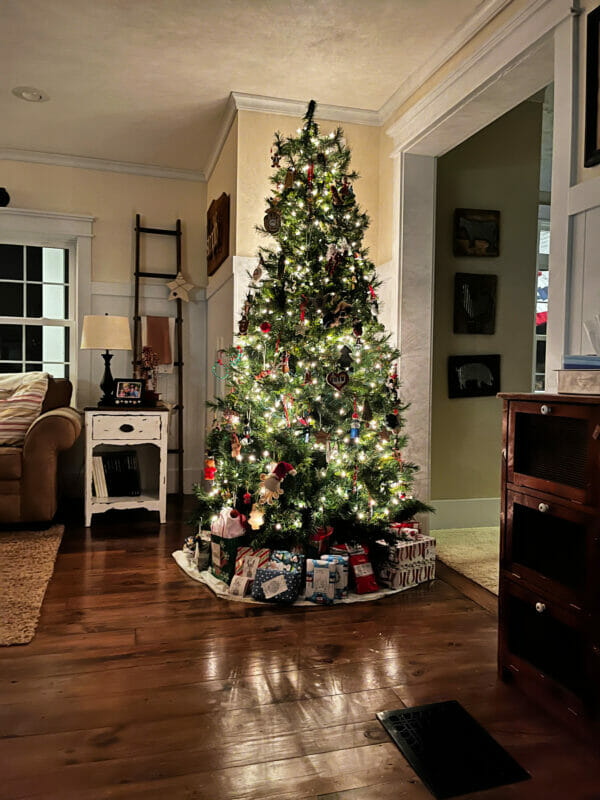 The kids were beyond excited to pass out their gifts to the rest of the family… and they were surprisingly quite thrilled with their gifts of socks, underwear, candy, and games from Dave and me.
The whole morning was easy, relaxed, low-key, and chill.
And now we're done. 🎉
The kids will still get gifts from grandparents later in the month… but opening our own family gifts in early December has become one of my favorite holiday traditions.
I now this might seem totally crazy to some of you… but we're OK with crazy sometimes!
We will now enjoy a leisurely Christmas morning with cake (for Jesus' birthday), church, playing with new toys and games, and hopefully not much else.
PAST FAVORITE = tiny lights
When the days are short and the nights are long, one of my most favorite things is to enjoy our home in the glow of various "tiny lights", as I call them.
I have these antique silicone candle bulbs in almost every room, and they give off such a nice glow (especially with the Christmas tree close by).
The tiny lights create a more peaceful mood and slow our pace every evening after dinner.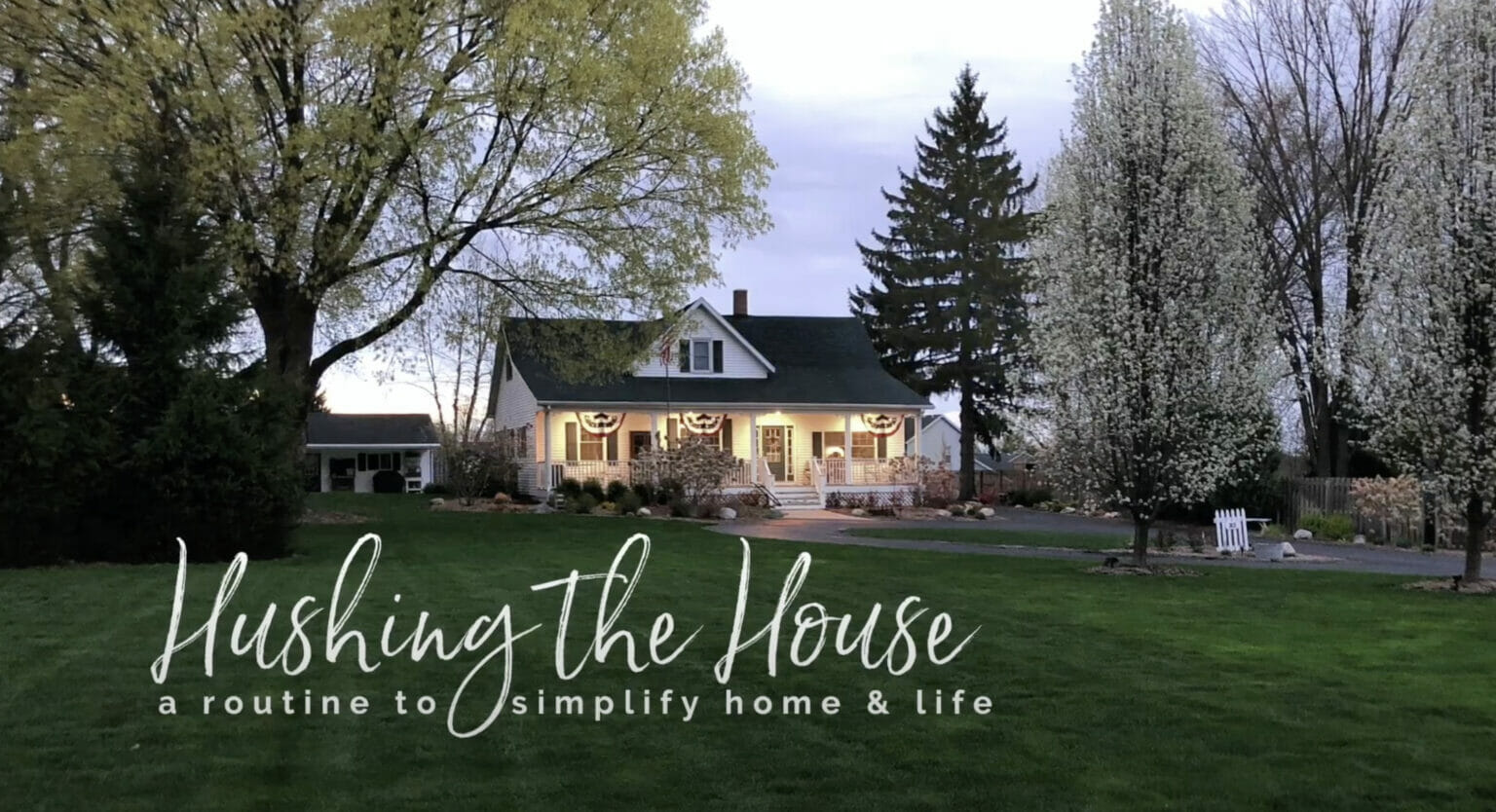 ---
FAVORITE CLOTHING = Bogs Boots
I'm rarely one to buy brand names — especially not for kids — but boy do I love Bogs boots!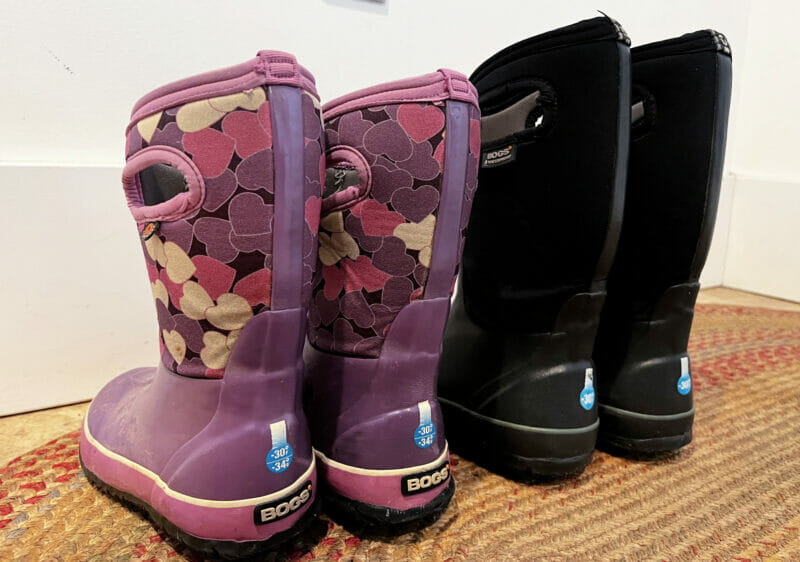 We've always been fortunate to find our Bogs used on Facebook Marketplace (usually for $15 per pair) but if you can't find them used, just buy black and pass them down through all your kids.
Bogs are waterproof, mud-proof, cold-proof, and practically indestructible.
They are also EXTREMELY easy to get on and off — a must for quick clothing changes at school!
Our kids love Bogs boots, and they have certainly become one of my favorite things!
---
FAVORITE BOOK = The Ultimate Girls' Body Book
I was hesitantly optimistic about this book — so many of the books I had previously "tested" did not live up to my expectations.
However, I was pleasantly surprised.
The Ultimate Girls' Body Book did an excellent job of approaching sensitive topics and questions in a non-awkward, non-lame, age-appropriate way… from a scientific/medical standpoint AND with a solidly Biblical perspective.
Nora and I read through the entire book and it sparked lots of great discussions (hopefully with more to come).
As I mentioned above, I read the book first — highlighting many passages and jotting notes before she read it. She seemed to enjoy it.
If you're looking for a good book to help you discuss body image, puberty, and similar topics with your 9-12-year-old daughter, I'd give this book two thumbs up.
---
FAVORITE MEDIA = Free Music Unlimited
Every December, I subscribe to Amazon's "Free month of Music Unlimited" and enjoy all my favorite Christmas music all month long.
This year, they offered THREE free months (Black Friday), so I can listen through February if I want to expand my listening past the holidays.
Either way, if you enjoy unlimited amounts of Christmas Music, you should definitely get your free month of Music Unlimited!
FAVORITE HOBBY = practicing the French Horn
After an almost 20-year hiatus from the French Horn, I purchased a beautiful double horn on Facebook Marketplace over Thanksgiving weekend.
Now, Nora and I can play together (she plays the trombone) and I'm playing in the brass group at church on Christmas morning!
We're currently on the lookout for a nice baritone for Dave, and the boys want to learn the trumpet (let me know if you're selling one!)
FAVORITE RECIPE = 4-Layer Fudge
My 4-layer caramel peanut butter fudge is one of our family's favorite holiday treats — I ONLY make it during the holidays because it's very rich and sweet!
If you like chocolate, peanut butter, caramel, and fudge… you will love this recipe.
It takes a bit of time in the kitchen as every layer needs to "set"… but it makes a bunch (and you can freeze it for later).
FAVORITE QUOTE =
"I heard the bells on Christmas Day… their old familiar carols play… and wild and sweet, the words repeat… of peace on earth, good-will to men." ~ Henry Longfellow
Nora is playing this song in church on Sunday (Simon is playing The First Noel and James is playing Hark! The Harold Angels Sing).
With all her practicing, I've had the words running through my mind for weeks now.
It's one of my favorite OLD Christmas hymns…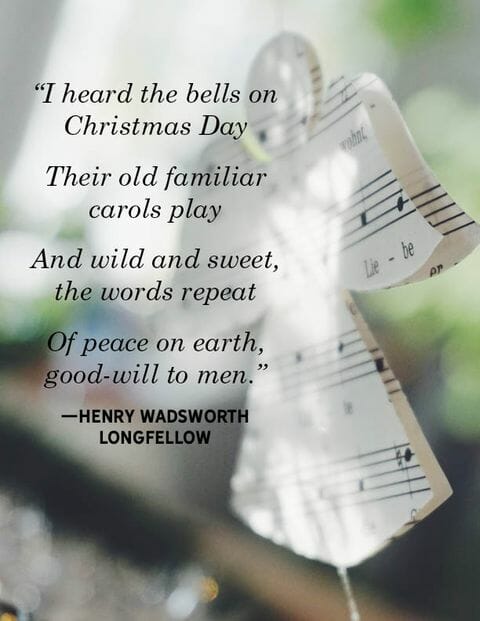 FAVORITE ARCHIVED POST = Gifts for the person who has EVERYTHING!
I know you have at least one of these people on your gift list this year!
The grandparents who insist they don't want anything… the hard-to-buy-for aunt who definitely doesn't need anything…
Whoever it is, I THINK I have a few simple gift ideas for you this year. They are perfect for the person who already has everything!
---
That's all for me this month… and this year! 😆
If you're interested, you can scroll through ALL my Favorite Things posts HERE!