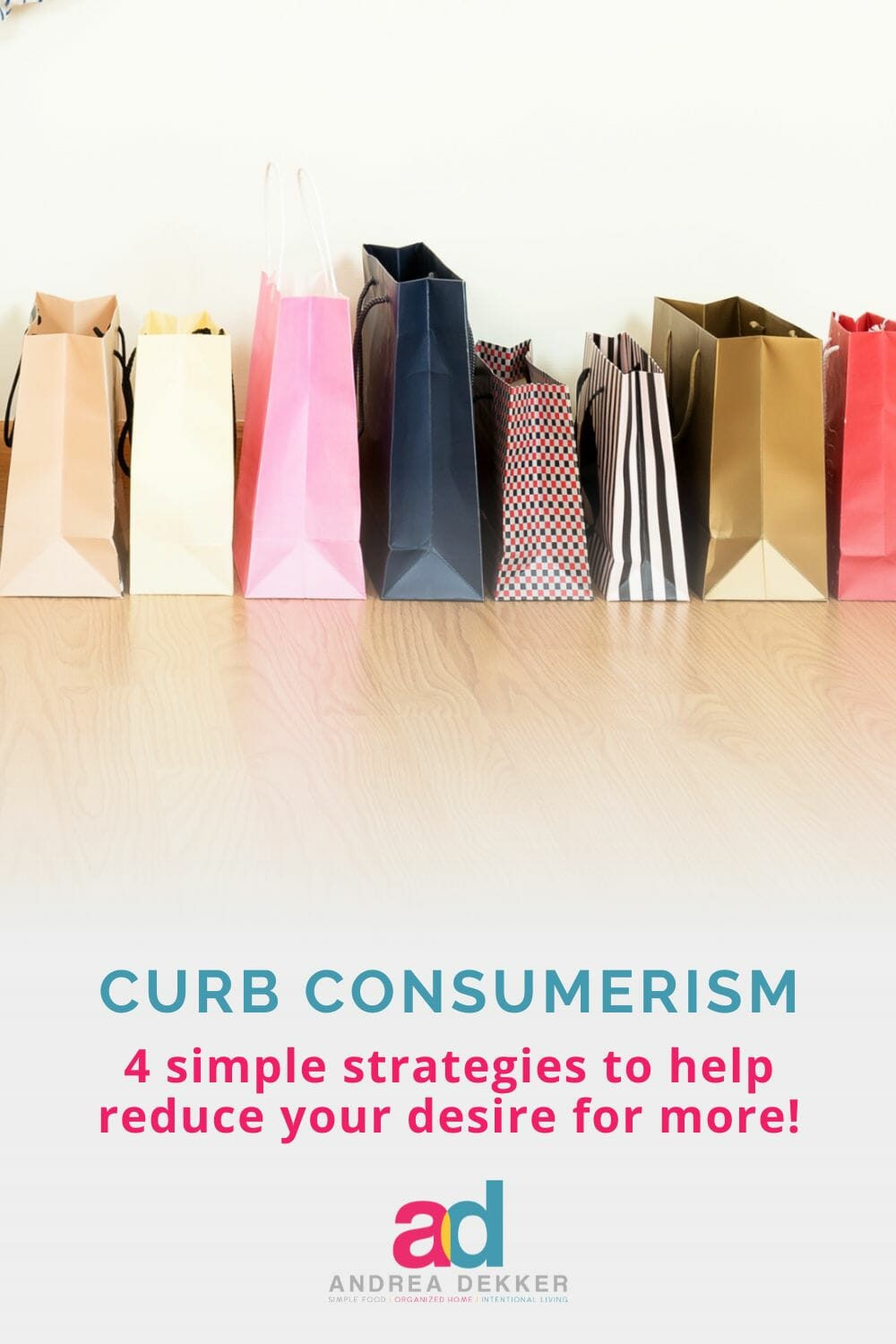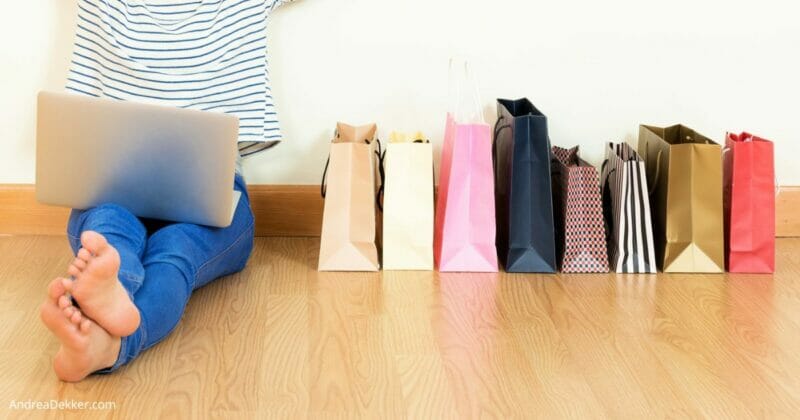 As an educated adult who values frugality and simplicity AND has a decent amount of self-control, it's shocking how quickly I can be swayed into making a purchase someone or something else convinces me I might need (especially if it's a good deal!)
Can you relate?
Most of us would probably agree that we NEED very little… yet at the same time, there are often so many things we WANT.
Of course, there's no quick-fix for not wanting something cool, unique, or new when we see it — this is part of human nature — but I do have a few relatively simple strategies I use myself (and with my children) that seem to help curb our consumeristic tendencies and, as a result, allow us to live more simply, have less clutter, and stick more closely to our budget (win, win, win!)
These ideas are especially relevant now, as we gear up for another holiday season filled with so much consumerism… but keep them handy in your back pocket because they work well during the rest of the year too! 😏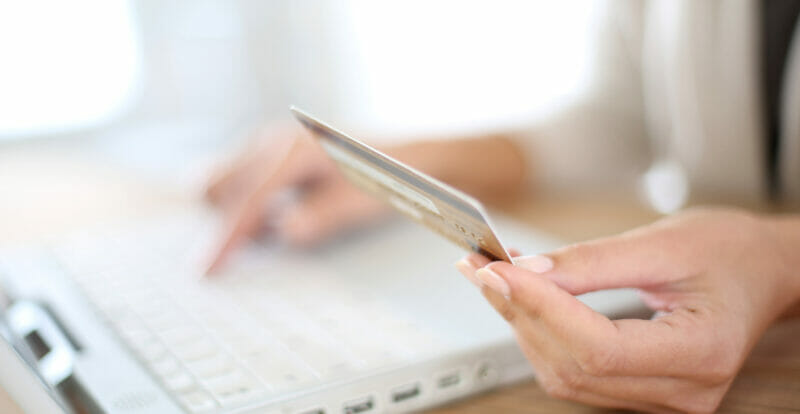 Strategy #1 = Don't Shop
Yes… this applies to in-store AND online shopping!
Maybe it's a little too simplistic, but speaking from lots and lots of experience, it really works!
Even if your intentions are just to "window shop" or browse Facebook Marketplace, the chance that you purchase something is exponentially higher than if you simply didn't shop.
Thrift stores can be so alluring this time of year as well — after all, you never know what bargain you might stumble across (but not if you don't shop!)
While you're at it, take a few minutes to cancel the sales catalogs that come to your home and unsubscribe from any coupon and deal emails that inevitably cause you to want more. This has made a massive difference for me (especially unsubscribing).
Utilizing this simple strategy could also alert you to a potential shopping addiction — specifically if you feel down or depressed without shopping, if you catch yourself constantly gravitating towards certain stores/shops, or if you find yourself unconsciously scrolling various store apps on your phone.
Strategy #2 = Monitor Your Media
While it's not possible to avoid all media and advertising these days, it IS very possible to intentionally limit the media messages you take in (or allow your family to take in).
There are dozens of studies that clearly correlate the increased use of media to an increased desire to have more, be more, and do more (and not in a positive "goal setting" type of way).
Social media, in particular, is lowering our life satisfaction and increasing our desire for consumption — even if we don't necessarily need anything (which, we probably don't).
Do you read other blogs and wish you had their hair, their fashion sense, their kitchen, their home, their skillset, or their family?
Do you scroll through social media and come away feeling like your life would be so much better if you just had whatever your online "friends" have?
Do you flip through recent magazines as you wait in the checkout line or at the dentist's office and feel less-than or lacking as a result?
And what about all the podcast and YouTube advertisements that pop into the middle of our listening/watching?
Advertising is no longer just for TV commercials — it's literally EVERYWHERE! Even if you don't realize it, you (and your kids) are being bombarded with consumeristic messages everywhere you turn.
Of course, I don't think buying something you see on the internet or flipping through the latest issue of Magnolia is inherently bad… but if your goal is to curb consumeristic cravings, I'd highly recommend cutting back on ALL media.
Stop watching TV — yes, this includes the news and the weather!
Stop watching YouTube — there are so many ads on this platform.
Stay away from all social media
Stop listening to podcasts and switch to audiobooks for a while.
Delete new, TV, media, and shopping apps from your phone and other devices.
Set boundaries for when you will and will not use your phone.
Use a tool like News Feed Eradicator to keep you away from certain social media sites (it works SO well — there's no cheating!)
You could even go so far as to delete your social media and store accounts so you can't log in.
Strategy #3 = Use Different Language
Words are very powerful!
How we talk to ourselves and to others makes a big difference in how we feel about certain things (including how we feel about things we think we "need" or really "want")
I try to be intentional about how I talked about things I like and things the kids like — making it clear that we can LIKE and APPRECIATE certain items without also needing to buy them for ourselves.
For example, instead of saying: "I want that" or "I need that" say, "that toy looks cool" or "I like how that wall color looks with that couch" or "I like the style of that jacket."
It's amazing how different I personally feel about something when I can simply acknowledge that I like it or that it looks nice, but I don't necessarily want to have it or feel like I need it to make me happier.
Kids pick up on this too — and it can help them deal with some of their excess wants and desires.
Then, when you come across a great deal on something you've considered purchasing for a while, you don't need to feel guilty because you know the difference between liking and appreciating what others have versus actually buying something you want/need for your own home and life.
This is something you can start doing right now… and when you slip up (because you will slip up) just continue reminding yourself that the language you use around consumerism makes a huge difference for yourself and your family.
Strategy #4 = Limit Gift-Giving Traditions
I actually really enjoy giving and receiving gifts.
In fact, "gifts" is my #2 love language — it comes naturally to me.
However, I have made a conscious effort to limit gift-giving traditions with my children — mainly because gifts can easily turn into a numbers game of being "fair", giving everyone the same number of gifts, spending the same amount of money on every person, and stressing over finding just the right gift.
I've also talked with our extended family members and, as a result, have drastically reduced the number of gifts they give our family!
Don't worry, I regularly surprise my children with little gifts throughout the year (just because — and not necessarily for all of them at one time). But we don't do many gifts for birthdays or Christmas. And we don't do any gifts for any other holidays or special events.
We usually give our kids a few small birthday and Christmas gifts (often used and secondhand items) and then we'll DO something fun together as a family — go out to eat, get a membership somewhere, etc.
Of course, I don't think there's much harm in a few little gifts for various holidays throughout the year… I just don't want my kids to associate "celebrating" with "getting something".
We can "celebrate" with crafts, special recipes, countdown chains, costumes, parades, movie night, a family outing, etc., but we don't always need another gift just because Hallmark says it's a special day.
If I tried, I could easily come up with 20 more tips and strategies… but these 4 cover a lot of ground.
Of course, these tips won't work perfectly, and they certainly won't work immediately; but over time, I feel confident they will help you and your family curb your consumerism, reduce excess "wants", and enjoy what you already have instead of always wanting more.
As an added bonus, when you habitually bring less into your home, you'll spend much less time cleaning, organizing, and decluttering!
Do you have any other strategies to curb consumerism?