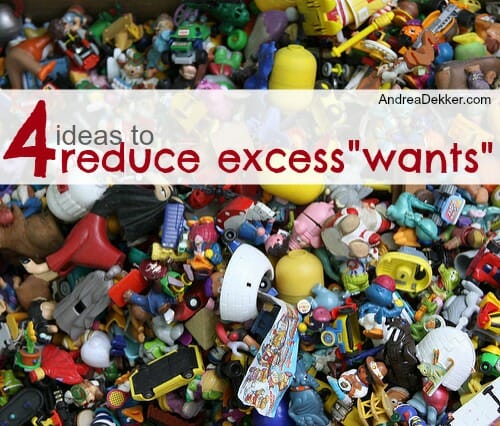 Even as a frugal person who values simplicity and purges like crazy, it's amazing to me how much STUFF comes into our house on a regular basis. Stuff from school, stuff from church, stuff from the neighbors, stuff from Grandma, stuff from a friend's birthday party, stuff, stuff, and more stuff.
We truly NEED nothing… yet at the same time, there are often so many things we WANT all the time (myself included).
Of course, there is no "quick fix" for not wanting something cool when you see it (I think this is part of human nature!) but I do have a few relatively simple tips I use for myself (and for my children) that seem to help reduce some of those excess "wants".
These ideas are especially relevant now, as we gear up for another holiday season filled with even more stuff… but they work well year round too!
1. Don't Shop.
This goes for in-store AND online! Maybe it's is a little too simplistic… but speaking from lots and lots of experience, it REALLY works!
Even if you're just planning to "window shop" or browse Craigslist, the likelihood you see something you want is exponentially higher than if you stayed away from the store and away from your computer in the first place.
While you're at it, you might also consider canceling the sales catalogues that come to your home and unsubscribing to any coupon and deal emails that inevitably cause you to want more. (American Girl magazine somehow found out we have a potential buyer and has been inundating Nora with magazines this past year!)
2. Monitor Your Media.
I realize it's next to impossible to avoid all media and advertising, but I'm confident that whatever media we DO take in each day plays a significant role in the degree of satisfaction we have with our own lives — as well as how often we feel like we "want" something else.
Do you read other blogs and wish you had their hair, their fashion sense, their kitchen, or their family? Do you scroll through social media and come away feeling like your life would be so much better if you just had whatever your friends have?
And don't underestimate the power of those annoying TV and YouTube commercials either!
Thanks to Netflix and Amazon Prime, my kids almost never see commercials — but whenever they do, it's always interesting how they react. Once, we saw a commercial for a doll when we were at my parent's house… and 3 days later, Nora was still talking about that doll she wanted so badly.
I definitely don't think TV and social media are bad, but if you'd like to cut back on excess wants, you might want to monitor your media.
3. Use Different Language.
As I mentioned last week, I try to use different language when I talk about "stuff" and it has helped a lot! (read that post here).
Instead of saying "I want that" or "I need that" say, "that looks cool" or "I like how that wall color looks with that couch" or "I like the style of that jacket."
It's amazing how different I personally feel about something when I can simply acknowledge that I like it or that it looks nice, but I don't necessarily want it or need to have it.
I know my kids pick up on this too.
4. Limit Gift-Giving Traditions.
I LOVE giving and getting gifts. In fact, "gifts" is my #2 love language.
However, I have tried really hard to limit gift-giving traditions with my kids — mainly because I think it turns into a numbers game of being "fair", giving everyone the same number of gifts, spending the same amount of money on every person, and stressing over finding just one more gift.
I will often give my kids little "surprise gifts" throughout the year — a fun new dress-up outfit from a 2nd-hand store, new stickers from the dollar store, a new toy from the neighbor's garage sale, etc. as fun ways to upgrade the everyday — but we really don't do that many gifts for birthdays or Christmas.
We usually give our kids 2 or 3 small birthday gifts (often used and secondhand items) and maybe 4 or 5 smaller Christmas gifts (plus stocking stuffers). We don't do any gifts for Easter, Valentines, Halloween, or any other holidays.
Of course, I don't think there is much harm in a few little gifts for various holidays throughout the year… I just don't want my kids to be obsessed with getting something every time we celebrate a different holiday. We can do fun crafts, make special recipes, wear costumes, eat candy, go to parades, etc., but we don't always need another gift just because Hallmark says it's a special day.
.
If I wanted to keep you here all day, I could probably list 20 more little tips to reduce excess wants… but I think these 4 cover a lot of ground.
Of course, these tips won't work perfectly, and they certainly won't work immediately; but over time, I hope they will help you and your family reduce excess "wants" and enjoy what you already have instead of always wanting more.
Do you have any other tips for reducing wants in your household?