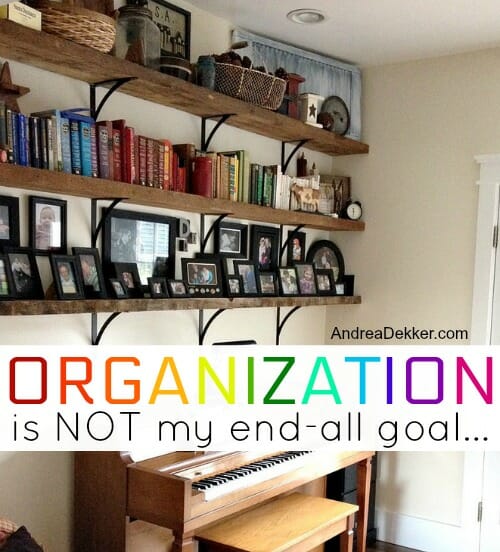 The main goal of my blog is to help anyone who reads it to simplify and better organize at least one small area of their home or life… however, I feel I should clarify that in my own personal life, organization is NOT my end-all goal.
I do not spend my days planning my next organizing project or wondering if everything is neat and tidy behind closed doors and drawers.
I do not skip parties or delay fun activities so I can stay home and clean.
I do not lay in bed at night wondering if everything is put back in the right places or if I've remembered everything I need for the next day.
My desire to be organized does not consume my time, energy, thoughts, or actions. It's not the main goal in my life…
However, being organized allows me to pursue and achieve so many of my other goals… and THAT is why it's so important to me!
Since my home is relatively neat and organized most of the time, since my schedule is quite simplified and routine-oriented, and since my life is fairly low stress, much of my time and energy are freed up to focus on other things like:
running my website and continuing my VA work
cooking and eating more nutritiously (something I've been slowly working on for many years now)
inviting people over for meals, play dates, "coffee", etc.
volunteering for different activities at church and in Nora's classroom (I'm finally feeling up to more volunteer work!)
planning fun activities for my kids
working on my digital photo albums (my only "crafty" hobby)
working with a physical therapist to heal some back pain and Diastasis recti
planning and executing various home improvement projects
spending lots of time outside, working in our garden (something I REALLY enjoy)
Everything I mentioned above is important to me — but none of it is necessary.
No one is forcing me to run my own business, but it certainly gives me loads of satisfaction, and the income is nice too.
I could easily make mac and cheese for my children every day or get Culver's multiple times a week and my family would think I was the best mom ever, but I feel it's important to incorporate more nutritious choices — which takes time and energy on my part.
We don't have to invite people over (it can be a lot of work) but it's something our whole family enjoys doing, and I'd personally rather invite people over than go somewhere else.
No one requires me to volunteer at church, help with Nora's class, plan fun activities for my children, or make digital photo books… but I want to.
Working with a therapist is definitely a luxury for me, but something I'm so happy I'm finally doing.
Home improvements and yard work are usually last on my list, but when I have the time, I really enjoy working to improve the state of my home and yard.
My Point?
I wouldn't have time to do any of the things I listed above if my home was in constant disarray, if my schedule was jam-packed, if my life was very stressful, if I was constantly looking for things in my home or wondering what I needed to do next.
There is NO WAY I could keep up with everything I do to run my business, my blog, and my virtual assistant work unless I was very organized and on-top of my to-do list every single day.
There is NO WAY I'd have the energy to cook and bake nutritious food choices for my family unless I planned ahead, had the right foods in the house, prepared food ahead of time in my freezer, and had a relatively clean and organized kitchen to cook in.
There is NO WAY we'd be able to invite people over if our home was trashed all the time.
There is NO WAY I'd have any extra time or energy to volunteer at church, at Nora's school, or do extra things with my children.
There is NO WAY I'd allow myself time for digital photo books or physical therapy appointments.
There is NO WAY we'd be able to do house projects if our house was trashed, if we had no extra time, and if I wasn't working to provide extra income to fund these projects.
.
I most definitely understand (and agree) that organization is not the most important thing in life. I also know that in my own life, the fact that I am organized and have simplified so many areas of my life means that I now have significantly more time, energy, and money to put towards things that ARE important to me.
I have more time for my family, my friends, my church, our school and community, my favorite hobbies, and even myself.
Also, I'm so much happier and less stressed!
I know there will still be people who read this and shake their heads, not believing that being organized and simplifying could make this much of a difference… but honestly, I guarantee it does.
I've seen it with my own eyes, in my own life and in the lives of ALL the people I've helped to get more organized.
I've also experienced it through so many of you who have emailed me stories (some even with pictures) about your own organizational journeys, and how much richer, fuller, and happier your entire life is, simply because you finally decided it was time to get more organized.
And sadly, I see the opposite effect all too often when friends, family, and others around me live stressed out, over-scheduled, chaotic, unhealthy lives because they just can't seem to get their homes and lives under control.
.
I do not spend time cleaning, organizing, purging, and simplifying my home and life because I have nothing better to do, because I'm OCD and want my home to look like a magazine, or because I'm putting up a front for my neighbors.
I do it because I know how huge of an impact an organized home and simplified schedule has on the well-being of my entire family.
If that's not motivation enough to get organized, I'm not sure what will be.
.
You won't see results overnight, but if you want to start moving in the right direction, you can START TODAY with the 3 simple steps I've outlined below!
Spend 15 minutes doing something to better the inside of your home (pick an area that bothers you the most).
Look at your schedule and seriously evaluate if there is anything you can drop for now (or forever).
Pull out some paper and a pen and make a to-do list for today or tomorrow (including what you will eat for dinner).
Do this again tomorrow… and the next day… and the next.
Over time, you should notice a difference in your home — which is fantastic. However, you might also notice a difference in how frazzled (or not frazzled) you suddenly feel, in your own attitude towards each day, and probably even from the people you live with.
Also, you'll be developing a few very useful habits and modeling those habits for the people you live with.
.
In a nutshell, there is almost nothing bad that can come from even the smallest efforts to simplify and get more organized — you really have nothing to lose!
Even if you completely despise the acts of cleaning, purging, simplifying, and organizing, just do it for all the other benefits that could come as a result!
NOTE: I do realize this is not necessarily a 'black and white' issue.

If you feel like you actually want to get organized but just can't, for whatever reason… read this post.

It might not be your fault — there are probably other factors involved!
.