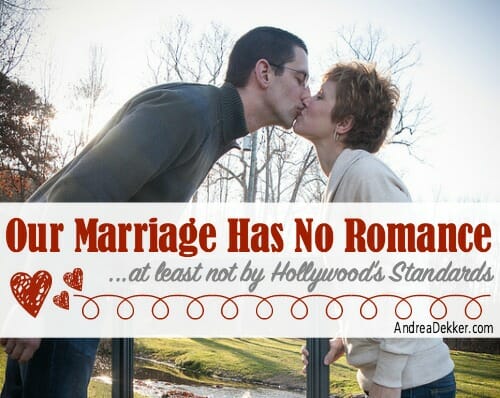 Although Dave is one of the most genuinely kind, patient, caring, and loving people I've ever met (seriously, I don't deserve him!), he would not win any points for being overly romantic or spontaneous. In fact, I would say that Dave and my relationship would probably get a 2 out of 10 for "romance"… IF you were basing your definition of "romance" on Hollywood's standards.
Let me explain…
He has never walked through the door carrying a bouquet of flowers… but he helps me weed the garden, pick the vegetables, and do various landscaping projects all summer long.
He has never made me breakfast in bed… but he wakes up early with the kids every Sunday morning and gets the Pillsbury cinnamon rolls going.
He's never left a love note, a flower, or a special something on my pillow… but he does regularly get up in the middle of the night with Nora and stumbles out of bed when our kids wake up WAY too early on Saturday morning.
He has never surprised me with a secret trip, a weekend getaway, or even a surprise night on the town… but he's happy to pre-plan our scarce date nights around coupons and sales. AND, he regularly watches chick flicks with me on Netflix while we take turns tending to our children's random wakeups.
He has never sent me away for a day alone, a mani/pedi/spa day, a shopping spree, or a girl's weekend… but he rushes to get home every day after school to take the kids off my hands for an hour or so before dinner — and then plays with them after dinner so I can actually think my own thoughts for more than 5 minutes.
He has never written a poem or recorded a song for me… but he sits down with me every week (sometimes every night) to hash out our schedule the next day or week, so we're both on the same page.
He will probably never surprise me with jewelry (yes, I picked out my own wedding ring and he paid for it right then and there!)… but he is quick to tell me, "if it's something you really want, then I think you should spend the money on it" whenever I'm questioning a purchase I don't really need but would love to have.
He will probably never make enough money for me to feel comfortable hiring anyone to clean our house (not that I'd want to anyway)… but he willingly takes on many of the household chores like washing dishes, vacuuming, cleaning bathrooms, etc.
Aside from our wedding day, Dave has never openly displayed his affection for me in public, posted lovey-dovey messages about me on Facebook, or done anything crazy or romantic to draw any public attention to our relationship (thank you Lord!)… but when it's just us, he'll give me a quick smooch and hug me so tight I feel like he might never let go.
And if I'm really being honest, Dave has actually never even given me a Valentine's Day gift… but he shows me (and tells me) how much he loves me EVERY single day.
I think the only romantic thing Dave has done to truly, 100%-shock-my-socks-off was his amazing proposal story. Aside from that, he's basically an open book of predictability (which I secretly love!)
Now, please do not think there is something wrong with your relationship if you and/or your significant other do any of the things I listed above. Fun surprises, love notes, flowers, mushy Facebook shoutouts, and other romantic gestures are definitely a GOOD thing in relationships.
They just aren't totally necessary for a healthy, happy, loving relationship (at least not in my opinion).
I think Hollywood has us somewhat brainwashed to think the relationships in movies are "normal" when really, they definitely are not. Yes, I know of a few guys who love to surprise their wives with vacations, spa days, fancy dinners, weekly flowers, expensive jewelry, mushy love notes, etc. etc. But they are not the norm.
Most of the real-life healthy relationships I am privy to are closer in line with Dave and I than they are with any romantic drama.
I think marriage (and really any relationship) takes a lot of hard work — and good relationships don't just happen because of one romantic gesture.
So while surprise, over-the-top, romantic gestures are certainly welcome in almost any marriage, I think it's often the every-day real life events that feel the most romantic when done day after day after day.
If you will be heading out on a romantic getaway this weekend — definitely soak it all in and enjoy every minute.
However, if you'll be sitting at home with potentially crabby kids, lots of snow, and a kitchen full of apples that need to be made into applesauce (anyone want to help me peel?), just remember that sometimes, Hollywood romance is totally overrated and unrealistic!
I know I'm more practical than most… but I'll take a sink full of clean dishes, someone to love and entertain my children, and a daily "we can do this together" attitude over a dozen roses or a diamond necklace any day of the year!
Our marriage isn't perfect by any means — and it certainly can't compete with any Hollywood movie romance — but it's just fine for me!
Oh, and for the record, Dave and I are celebrating by making a "fancy" dinner at home on Sunday night (salmon), after the kids are in bed so we can both eat hot food and have an adult conversation without being interrupted by shouting toddlers or babies flinging food. Exciting stuff my friends 🙂
Happy Valentine's Day Weekend!