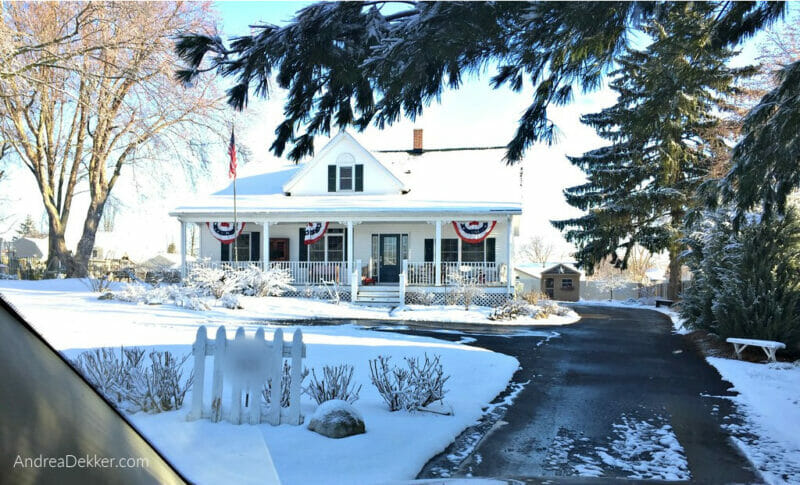 We had a fun-filled month celebrating James' half birthday, enjoying our first snow day of the school year, having a hot tub party + sleepover with cousins, reading SO many books, building forts, playing with LEGOS, and simply enjoying the cold winter months when there's not nearly as many house or yard projects to tackle.
Our grey, dreary winter gets tiresome after so many months, but the chance it gives us to unwind and relax is such a gift.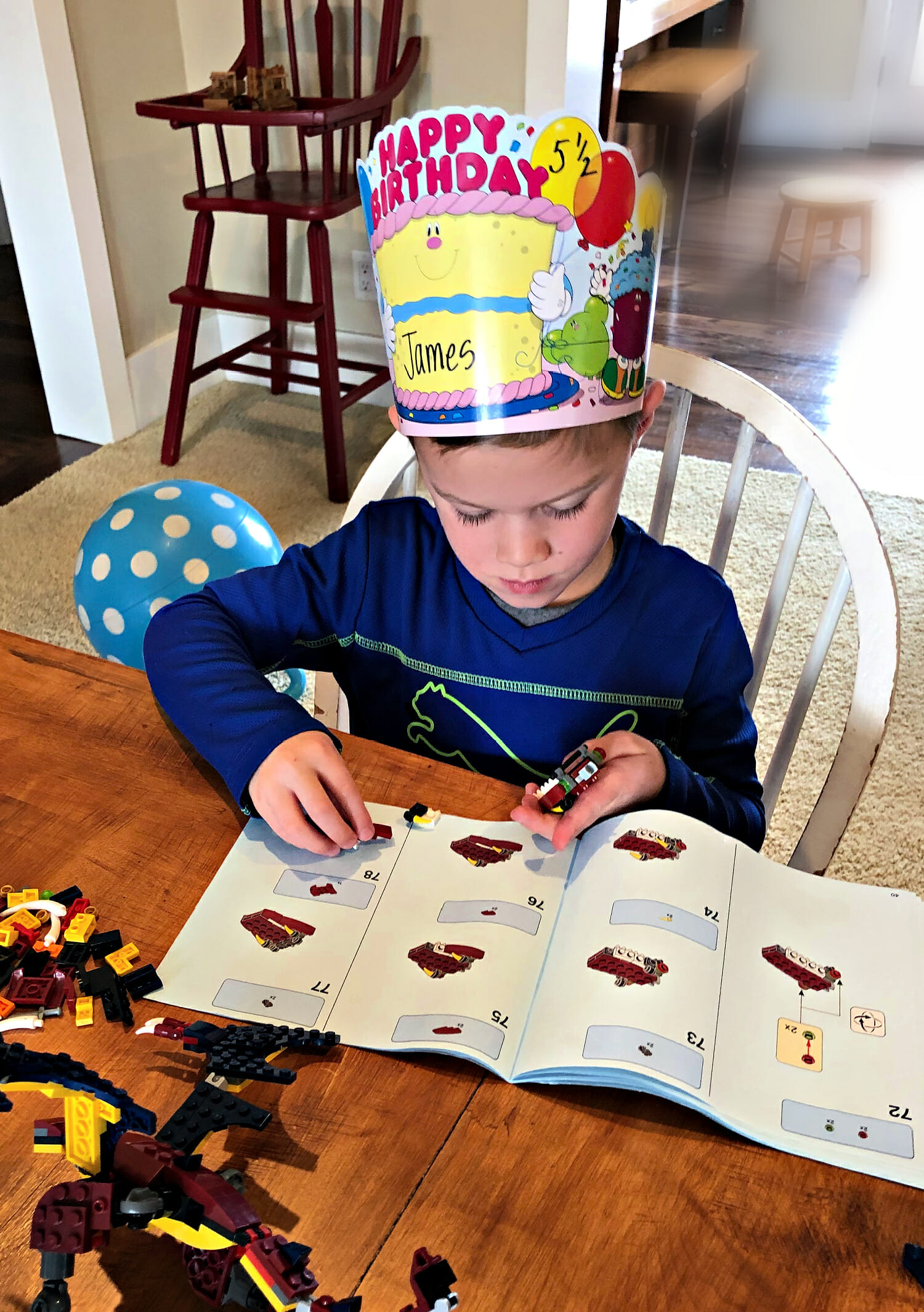 Let's get into this month's favorites!
FAVORITE MOMENT = Warming On the Floor Grate
Every morning, the kids take turns standing on the huge antique floor grate in our kitchen while I finish dishing up breakfast.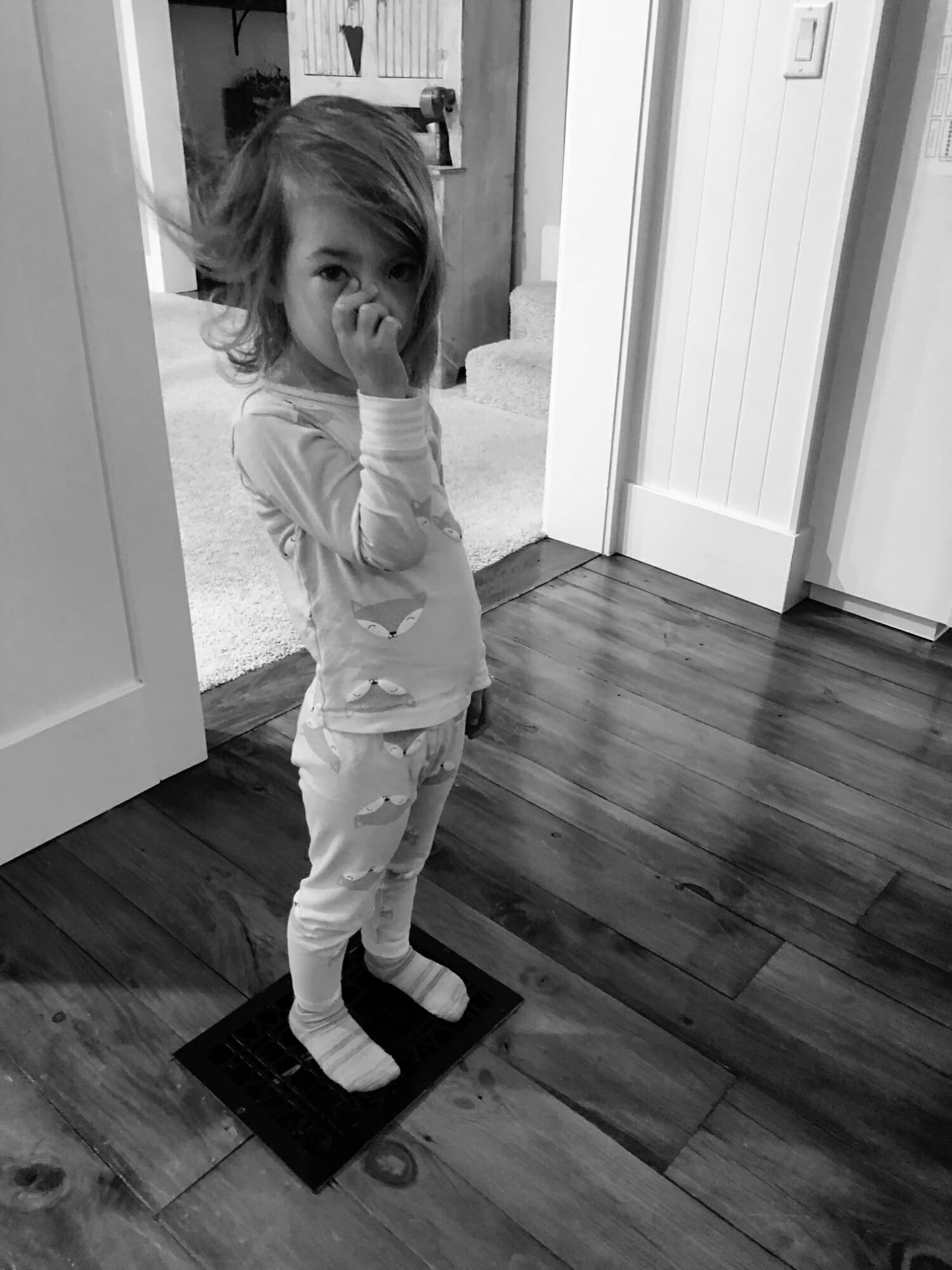 I absolutely LOVE this feature in our 130-year-old home — so much so that when we renovated our kitchen (back in 2012), I made sure there was a place for this floor grate to live forever and ever.
A little piece of history we enjoy every day!
FAVORITE ROUTINE = Quiet Evenings at Home
Our evening / bedtime routine starts every night after dinner.
The kids get to play for about 30 minutes while Dave and I clean up the kitchen. Then we all work together to pick up the entire house and get everything ready for the next day (clothes, backpacks, water bottles, homework, etc.)
Then the kids take baths and showers, we read a few books together in the den, and we send the kids off to bed (either to sleep or to read in bed).
The kids are in bed and quiet by 7:30 pm almost every night — and Dave and I just love our quiet evenings so much.
Of course, we know this season won't last forever (we've intentionally made sacrifices to protect this time) but we're making the most of it while our children are young!
After the house is quiet, I enjoy a 20-minute nightly routine of taking a REALLY hot shower, putting face cream and lotion on, and slipping into my cozy jammies, slippers, and robe.
I look forward to this time each day, often enjoying an hour or more of reading, working on one of my handmade hobbies, folding laundry, or just catching up on the day with Dave.
It's a fantastic way to end each day.
---
FAVORITE MEDIA = My Weekly Vlogs!
One of my goals for 2021 is to do more with video content… so far, I've sent out a new vlog-style video every week to those of you on my email list.
Although I was initially VERY nervous about it, I've started to love this weekly ritual.
It's still quite a bit of work to film, edit, and upload the video, but I know I'll get more efficient and feel more comfortable filming as the weeks and months go by.
The positive feedback I've gotten is really encouraging too (thanks!)
Don't know what I'm talking about?
Each week, I send out exclusive vlog-style content to assist in your journey towards a simpler, more intentional life… but it's exclusively for my lovely email community!
Want to join in on the fun? Enter your email address below!
PAST FAVORITE = Paint Sticks
Since I'm not in the habit of accumulating more favorites, I thought it might be helpful to share some of my past favorites that are STILL my favorites all these years later!
A couple of years ago, I shared these Paint Sticks as one of our current favorites — and we still use them regularly every week!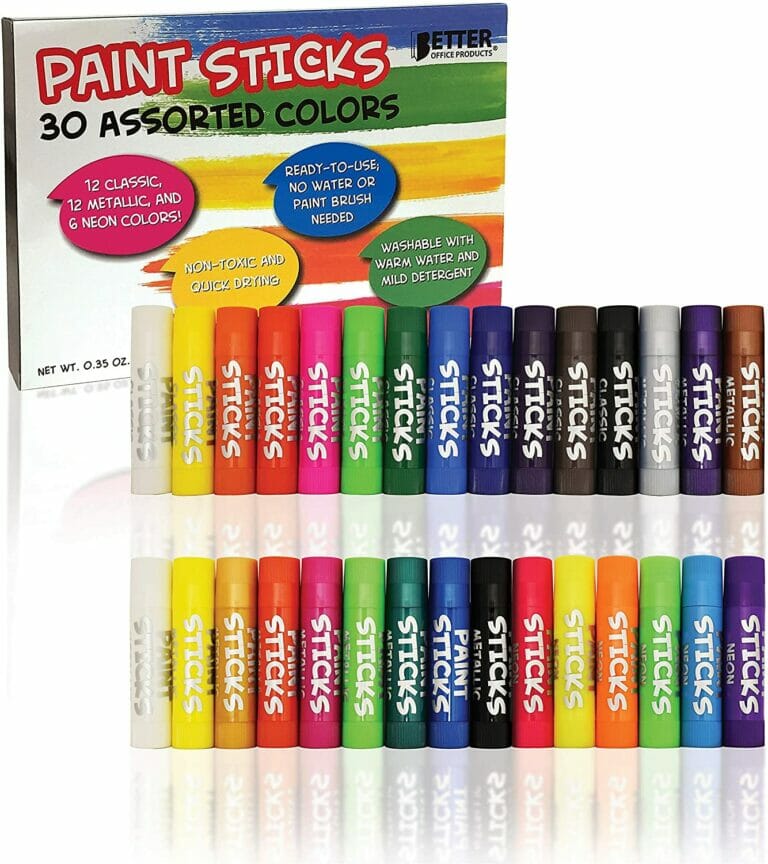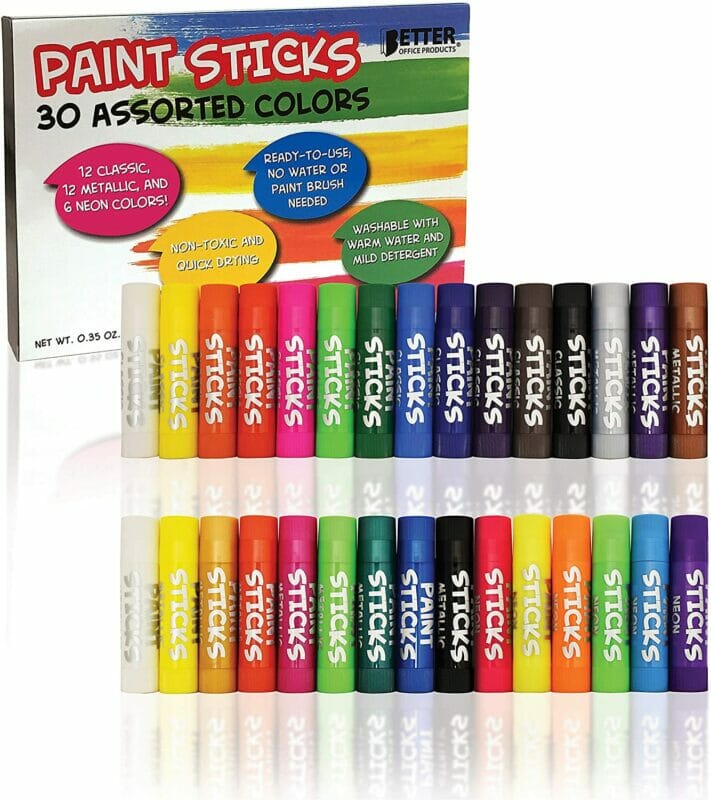 They have lasted SO long, they never dry out (even if we leave the caps off) and the colors are so vibrant.
I highly recommend them for anyone with toddler and preschool age children (of course, older kiddos enjoy them too!)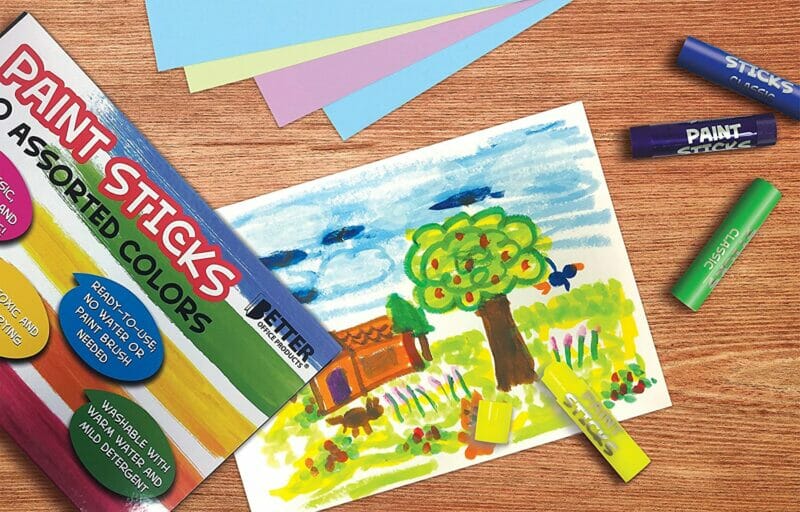 ---
FAVORITE ACCESSORY = Leather Watch
Dave and I each bought each other a watch when we were dating… Dave still wears his watch, I abandoned mine back in 2013, when I realized my smartphone took the place of it.
However, this past summer, when I made a point of not carrying my phone around with me everywhere, I found myself constantly wondering what time it was.
So… I bought myself a nice leather watch for my birthday!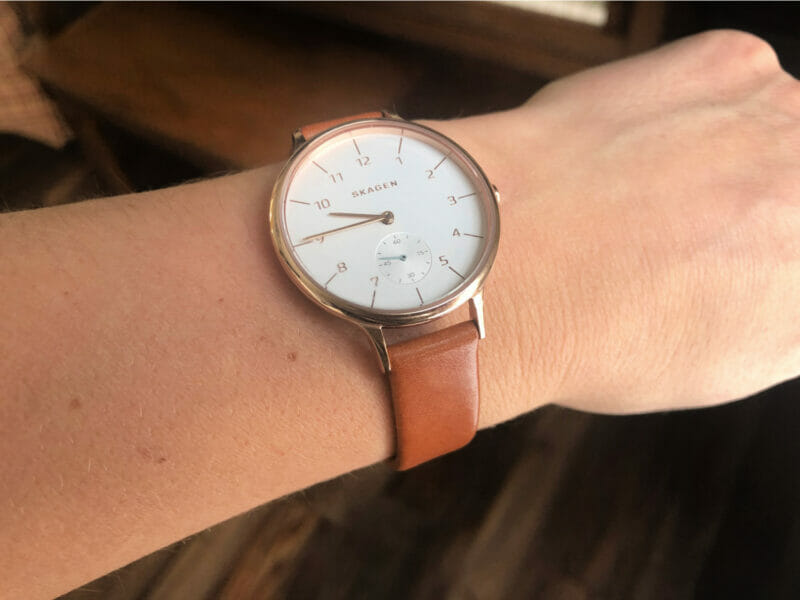 It was an adjustment to start wearing a watch again, but I'm very pleased with my purchase and love the look of leather.
I get tons of compliments and questions about my watch… and many of you have reached out saying that you also traded your smartphone for a watch! Yay!
Obviously, there are countless watches for you to choose from, but if you're looking for a reasonably priced, fairly stylish, very comfortable watch, I'm super happy with my purchase. (Note: it does look like the price has gone up a bit since I purchased it this summer).
---
FAVORITE BOOK = Boundaries
I've heard great things about the Boundaries books for years, and I finally decided to read the first one last month.
I was totally blown away!
It's written from a Christian standpoint with SO many Biblical references, I couldn't even begin to count… and it's sold more than 4 millions copies (so that has to say something!)
The book was amazingly thorough, giving countless examples of ways to improve every aspect of your life, family, home, career, and faith with boundaries.


Even if you don't think you struggle with boundaries (or you're not sure) I'd suggest reading the book! Start with the original book first, then branch out to a more specialized topic if necessary.
READ THE BOOKS:
FAVORITE TECH = Knock-off AirPods
I finally splurged with a bit of Christmas money and purchased knock-off AirPods last month.
I've used them almost daily since they arrived… and I am beyond thrilled with this purchase!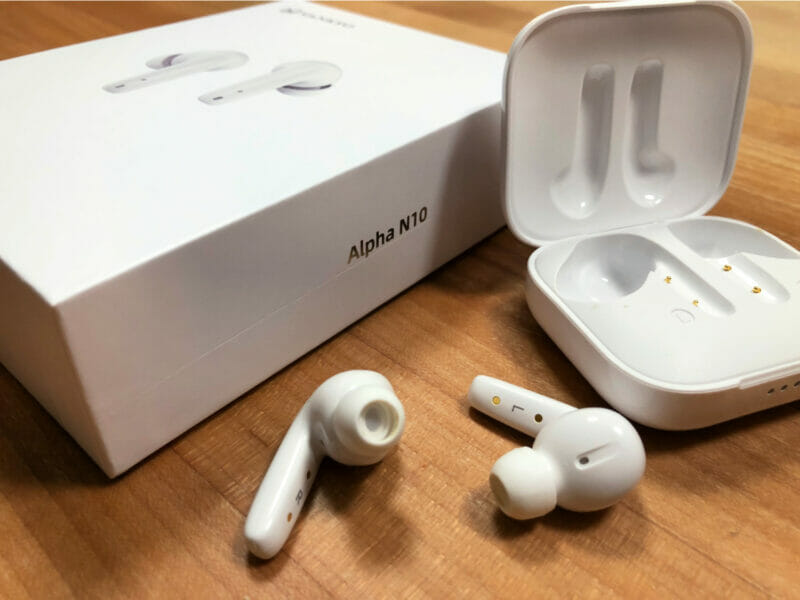 No more cords getting tangled up in my clothing or caught on doorknobs as I'm walking from room to room. No more carrying my phone with me everywhere when I'm listening to an audiobook or podcast around the house.
I often wear one at a time so I can still hear what's going on around the house while listening.
The sound is amazing (they have a noise-canceling option)
The battery life is fantastic (they charge wirelessly)
They are super comfortable (they come with 3 different size earpads)
They pair with any Bluetooth device
They work great as a wireless headset for phone conversations
And… they currently have a 20% off coupon code when you buy on Amazon!
FAVORITE RECIPE = Hearty Oatmeal
Our family loves hot breakfasts every single morning — and I truly enjoy making breakfast during my quiet early morning hours.
However, pancakes, eggs, and waffles do get old day after day — so I try to mix things up a bit with homemade oatmeal at least once a week (especially during the cold winter months).
It's such a frugal meal, and it really keeps us full all the way through lunch.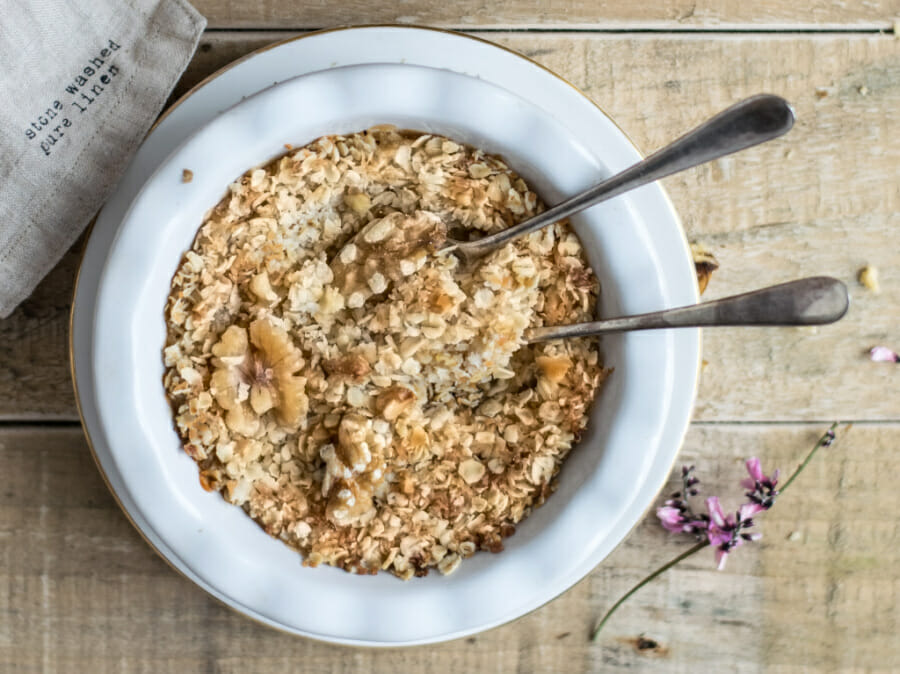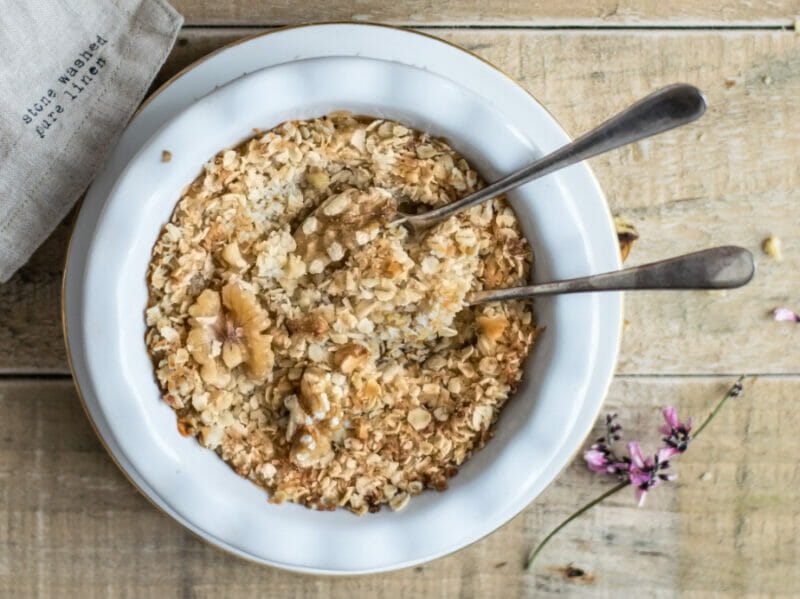 TRY THESE RECIPES:
FAVORITE QUOTE
"As you think, so shall you become." (Bruce Lee)
A few weeks ago, I read something that led me to seek out this popular quote. I figured it was found somewhere in the Bible, but apparently, it originates from Bruce Lee (a martial artist and actor).
I was actually reading about the brain and how what we THINK about eventually becomes what we BELIEVE. Our BELIEFS then drive our ACTIONS, our ACTIONS form HABITS, and our HABITS determine how we live much of our life.
Thoughts…
Beliefs…
Actions…
Habits…
How we live.
So… what we think about eventually becomes how we live each and every day.
This is the main reason I've chosen to "abandon" social media and delete many of the Apps on my phone. Basically, I just don't want to think about most of that stuff anymore. (I also didn't want to waste the time).
I have zero news apps, social media apps, or current events apps on my phone. I don't watch any live TV, I don't listen to the radio, I don't watch violent or scary movies, I don't listen to crass podcasts, I don't read unrealistic romance novels (even the "Christian" ones), and I'm pretty careful who I spend my time with.
FRIENDS, THIS STUFF MATTERS SO MUCH!
What we think each and every day is truly transforming how we live… little by little, day by day, hour by hour.
If you think differently, you WILL eventually live differently!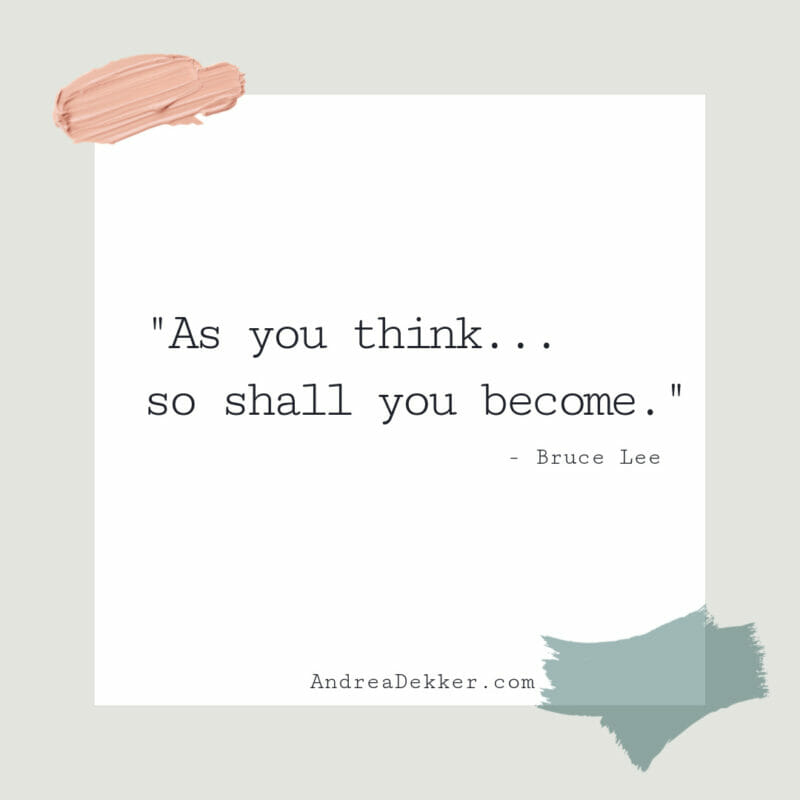 FAVORITE ARCHIVED POST = Simple Starts with Contentment
I'm always one to strive for more — not necessarily because I'm not content but just because I really enjoy learning, growing, and bettering myself, my home, my business, etc.
However, it's a slippery slope for me because it's REALLY easy for me to turn into a workaholic and just keep going and going and going, making more updates and improving things that were already good enough.
It's been a constant struggle for me over the years, one I'm slowly getting better at.
It was good to go back and re-read this post from 2015 (see, I told you I've been working at this for a while)!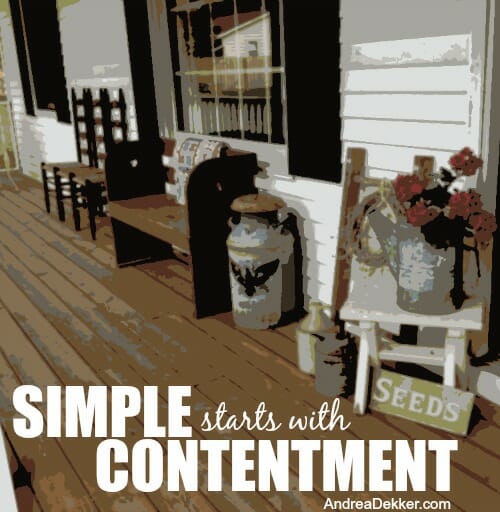 ---
That's a wrap for this month.
If you're interested, feel free to scroll through ALL my Favorite Things posts HERE.
As always, I'd love for you to share YOUR favorites in the comments!