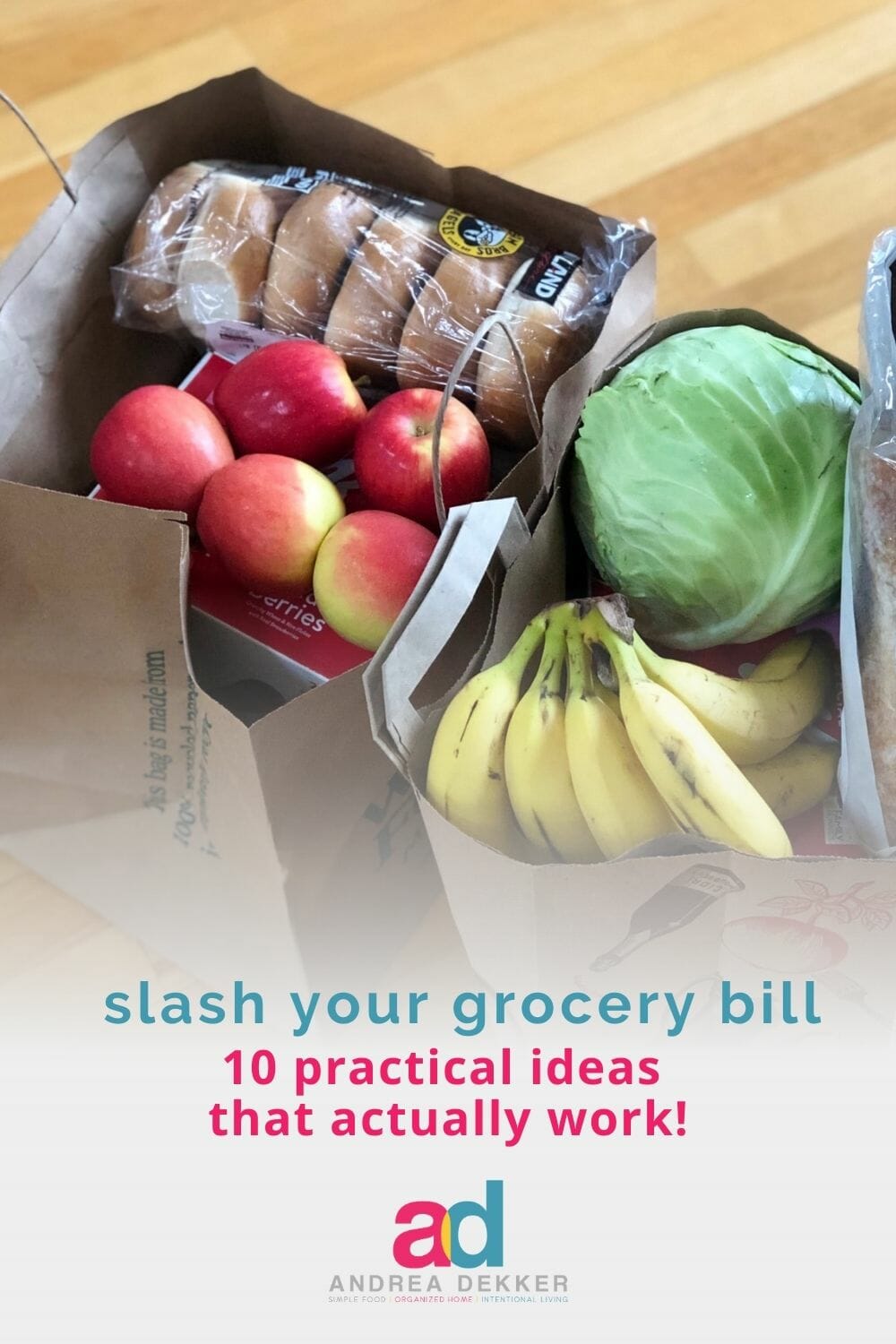 Stop clipping coupons and shopping at multiple stores. These practical tips will slash your grocery bill THIS WEEK… and save you a bunch of time and stress too!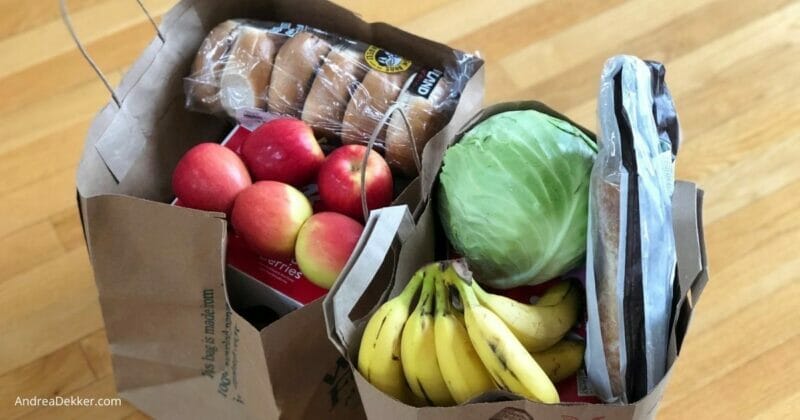 "In this world, nothing can be said to be certain, except death and taxes"… and the need to buy more groceries!
(My own addition to Benjamin Franklin's famous quote.)
---
No matter what craziness is going on in the world around us, no matter how many restrictions we have, or how many places are shut down, I'll eventually end up back at the grocery store.
Can you relate?
Since grocery shopping is one of modern life's necessities, my mission has always been to make it as painless as possible.
One way I do this is by finding quick, easy, and practical ways to lower our grocery bill.
I look at it as one way I can make a pretty big impact on our family's finances… without working more hours. 😉
SIDE NOTE: The kids and I were looking through old photo books from before they were born and we came across this gem — taken in the spring of 2011, when I was pregnant with Nora.
My super-shopping abilities (and a boatload of coupons) saved me almost 3 times as much as I spent on that shopping trip!
Those were the days… sort of.
Fast-forward a decade, 4 children, and some major increases in grocery store prices… my current grocery bill isn't quite as impressive.
That said, I still manage to keep our weekly grocery bill fairly low for a family of 6 (especially considering we eat almost every meal at home).
I no longer clip coupons, send in rebates, or shop at multiple stores… but I do still have a few tricks up my sleeve when it comes to saving money on groceries!
Below are 10 money-saving ideas that have made the biggest impact for our family.
I think they'll help you slash your grocery bill too!
1. Plan Ahead
Almost every Saturday or Sunday afternoon, I take about 15 minutes to plan our food for the following week based on what we have in the house.
I quickly scan the digital ads to see if there are any great deals I can stock up on or work into my meal plan — I add those items to my list (see #2 below).
You don't need to go crazy clipping hundreds of coupons and creating a monthly meal plan… but I do highly encourage you to put some time, thought, and effort into your shopping trip BEFORE you leave for the stores.
I can almost guarantee you'll save money (and time, energy, and stress too!)
2. Shop With a List
Once I make my meal plan and check the sales, I create my grocery list.
I usually keep some sort of grocery list going all week long and simply add to it as we run out of food or as I think of something we need.
I continue building this list until the day I play to go shopping… THEN, I re-write the list based on the layout of the store.
I know this might sound like a needless extra step that only a perfectionist would do… but I promise, I'm not a perfectionist… and you'll save SO much time and energy at the store.
You won't forget important ingredients at the grocery store, you won't get sucked into impulse purchases as easily, and you won't waste time walking back and forth throughout the store since your list is written in order.
3. Shop Less Often
I can (almost) guarantee you'll save more if you shop less. It's a simple fact of life… you can't spend money if you don't shop!
Plus, you'll obviously save a whole bunch of time!
Yes, it takes a little extra planning to space out your grocery shopping trips… but if you don't enjoy grocery shopping, you'll love the freedom of shopping less!
4. Nix Your Brand Loyalties
I buy very few brand names (unless of course, they are cheaper than the off-brand).
However, my biggest money-saving has come from shopping at Aldi — which sells almost exclusively "off brand" items.
Yes, I know… I was previously VERY anti-Aldi for years — mainly because our local Aldi was horrible. But then, 3 years ago, we got a BRAND NEW, gorgeous Aldi in a nearby town and I forced myself to shop exclusively at that Aldi store for a full month.
Even though Aldi prices have gone up over the last year, they are still significantly less expensive than any other grocery store… and since I'm not brand loyal, I can buy the vast majority of what I need from Aldi each month.
NOTE: another benefit of Aldi is that it's SO much faster than traditional grocery stores. I can get 2+ weeks' worth of groceries in less than 1 hour (round trip from leaving my house to coming back again!)
5. Shop the Outside of the Store
Many years ago, I read an article about saving money by avoiding the middle isles of the store (where the more pricy processed and specialty foods typically sit).
Well, believe it or not, it works!
Of course, you could argue that I now spend more time in the kitchen cooking with fresh ingredients instead of serving pre-packaged foods, but since I enjoy cooking (most of the time) and I don't enjoy grocery shopping, this is a solid trade-off for me!
6. Eat In-Season
Due to the magic of world-wide freight, we've been spoiled with the ability to have almost any type of produce year-round.
This is wonderful and I would never complain about that luxury… however, if you want to cut your grocery costs, you'll do best to stick with in-season produce the majority of the time.
Bonus points if you can find it on the reduced rack!
7. Check Your Receipt
If you take nothing else away from this post — remember THIS tip (lucky #7!)
Whenever you shop anywhere (even online) CHECK YOUR RECEIPT before leaving the store (or the website).
I can not tell you how many times I've had as much as $10 to $15 worth of extra charges because the cashier accidentally rang something up twice, or a sale price didn't ring up, or a digital coupon didn't take.
The people at the service desk are usually happy to refund me the money.
AND as an added bonus, our state has a law that if an item is marked one price but rings up at a higher price, we get the difference PLUS $5 — so checking my receipt really does add up!
8. Eat From The Freezer + Pantry
Twice a year, I challenge myself to cook ONLY with the foods I already have in the pantry or freezer.
The "rules" are different each time, depending on my mood! But the basic idea is to stay away from grocery stores for 2 or 3 weeks (or longer).
I usually ask Dave to stop and pick up milk, bananas, etc. because I know he won't cheat and buy a bunch of other items while he's there.
Other than that, I get creative and try to use up the random bits and pieces we have in the back of the pantry and freezer during these weeks.
It's amazing how much we can save by staying out of the grocery store for 2 or 3 weeks… and I love knowing that we aren't letting any of our food go to waste.
Plus, it's actually really fun to experiment with different food combinations!
9. Make Your Own Cleaning Products
One of the questions I get fairly regularly is if my grocery budget includes toiletries and cleaning products… it does.
HOWEVER, I make a large number of my own cleaning products… even my own face wash, my own hair wash and rinse, and we use washable rags and napkins most of the time.
It doesn't take much extra time at all (especially once you get a routine down) and I'm almost certain you'll notice a big savings on your grocery bill.
10. Be Willing to Do Without
I recently shared part of our meal plan… and I happened to mention that our family stretched one pound of bacon over 2 breakfasts. Personally, I didn't think it was a big deal, but I got SO many questions about how I could possibly keep my family from devouring the entire pound in one sitting.
Honestly, it's easy… I just serve half for one meal and half for the next. Everyone takes a modest portion and they eat other things like eggs, pancakes, or fruit to fill up.
They might want more bacon… but they don't need more bacon.
Similarly, we often do without out-of-season produce when it's super expensive (see #6 above). Sure, we'd love strawberries in the middle of winter (and sometimes I do buy them) but we don't NEED them. We can enjoy oranges instead.
Being willing to "do without" some of our favorites in lieu of less-expensive alternatives is a huge money-saver at the grocery store (and a good discipline for many other areas of life too!)
All things in moderation…
These are just a few ways I save on groceries for our growing family of 6… please do not interpret them as legalistic in any way. I don't follow every one of these "rules" 100% and I don't expect you to either.
They are just IDEAS to spur your imagination and maybe get you thinking outside the box.
For example, I love splurging on special treats for my family every now and then.
And I personally make a point NOT to obsess over every single penny as that's not a healthy way to handle our finances.
However, since our grocery bill is currently our largest monthly expense (outside of Christian School tuition) it's something I like to keep an eye on and do my best to steward our resources accordingly.
I look at it as one fairly simple way I can make a big difference in our family's finances… without all that much time or effort!
What are your best tips to slash grocery costs?