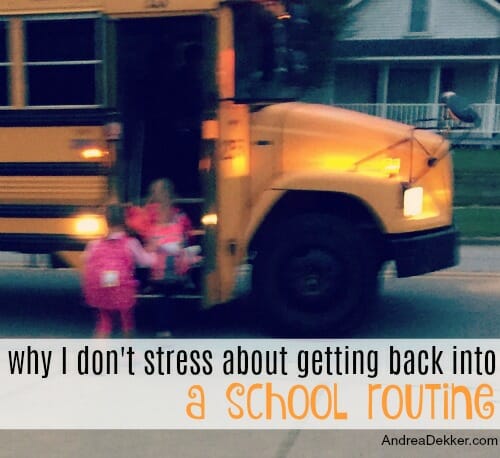 I can tell it's officially August now because my inbox is filled with questions regarding "getting back into a school schedule and routine".
Plus everywhere I look online, I see articles promising to get our kids back into a school routine in 3, 5, or 8 simple steps — things like going to bed 15 minutes earlier every day for 2 weeks, picking out clothing the night before, stocking up on portable snacks and drinks, etc. etc.
They are all great tips and suggestions (many of which I use for my own children throughout the school year). HOWEVER, believe it or not, I am fairly relaxed when it comes to 'getting back into a routine' before the school year starts.
I always feel like I want to stretch out the last few weeks of summer for as long as I can — and if I start prepping for a new routine a week or two before school actually starts, it feels like the last couple weeks of summer just aren't as fun or as relaxed.
I know, this might sound ridiculous… but just hear me out!
In my experience dealing with routines, I have found that the vast majority of times, it is significantly easier, faster, and more intuitive to simply "fall" into a new routine once your new schedule officially starts, versus force a new routine before it's actually necessary.
EXAMPLE #1 – Bedtimes:
Once school starts, your children will naturally be tired earlier in the evening simply because they woke up earlier in the morning. I can't promise bedtime will magically be stress-free, but it will most likely be easier to get them in bed earlier once school starts, versus trying to force an earlier bedtime the last couple weeks of summer when they are full of energy.
Yes, they might have a few days where they are more tired than normal, but then their bodies will adjust and they'll be sleeping like normal again.
EXAMPLE #2 – Lunches:
My children eat SO SLOWLY when they are at home. However, after a couple of days back at school, they quickly learn that in order to finish their lunches before the bell rings, they need to eat a lot faster.
Yes, they might be a bit hungrier the first few days of school, but once their new eating habits are in place, they are just fine again.
EXAMPLE #3 – Daily Reading / Homework:
I know so many parents who beat themselves up over the fact that their kids don't do much reading or school work over the summer.
They worry their kids will forget everything they learned — and while there might be a tiny bit of truth to this, I feel fairly confident that most children will recall what they learned once they get back into a normal school environment.
Plus, I'm guessing a little extra play time can't hurt a child (especially the younger ones!)
I realize (as always) this approach will not work for every person or every family — however, I wanted to share it now as I get SO many emails from parents who seem to be fairly stressed out about getting their kiddos back into a "normal school routine" several weeks before schools starts.
I do understand their reasoning, but I just feel like we could all potentially save a decent amount of stress if we simply enjoyed every last day of summer without worrying about having a perfect school routine in place before school even starts.
If you want my 3-step plan to get back into a school routine, here it is.
STEP #1: Enjoy your last few days and weeks of summer vacation to the fullest.
STEP #2: Send your children off to school, potentially a little tired on the first day.
STEP #3: Watch in wonder as their schedule and routine naturally regulate once the school year begins.
Yes, I AM still a huge advocate for planning ahead whenever possible, but when it comes to preparing for a new routine, there is only so much planning you can do.
So sit back, relax, and enjoy the last few days of summer!
You and your children will eventually get back into the swing of things (probably faster than you might think!)
How do you get ready for back-to-school season?