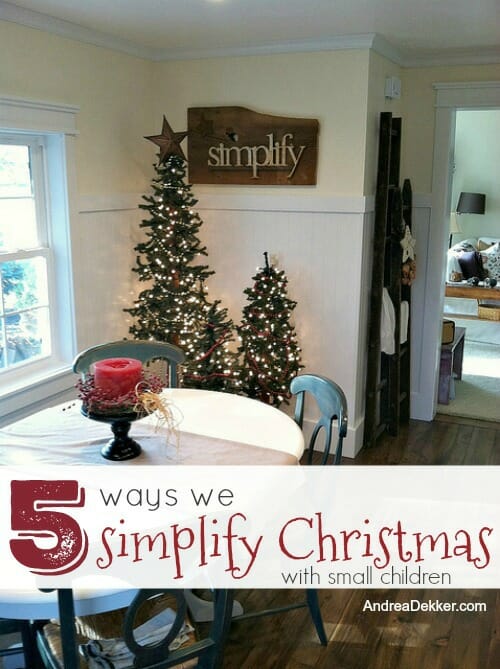 I wasn't planning to do a post about "simplifying Christmas" just yet (I still want to enjoy Thanksgiving), but after receiving an astonishing number of emails, comments, and Facebook messages requesting this type of post, I decided to share 5 things we do (or rather DON'T do) to simplify our holiday season — especially Christmas, and specifically for OUR family with 4 young children.
That said, I think many of the ideas would work for families with older children, empty-nesters, and singles as well.
1. We limit gifts.
"Gifts" is one of my top love languages, so I have no desire to remove gift-giving from the holiday season; however that doesn't mean I need to save up every little thing I buy throughout the year and unload it ALL at Christmas. There is no need for more than a few gifts per child — especially when they are little. And there is certainly no need to spend massive amounts of money on gifts just because the calendar says it's Dec. 25.
Yes, my kids love opening gifts, and gift-giving is a fun part of the Christmas season, but my children would be thrilled with a couple toys, a nice long roll of bubble wrap, and some candy! (I've actually thought about giving them all a huge roll of bubble wrap with candy and a few small gifts rolled up inside, but I think Dave and I might go insane if we had to listen to them pop it all day long!)
The reason I choose to limit gifts is partially because I don't want massive amount of extra stuff in my home, but mainly because I don't want the holiday season to turn into a huge anticipatory event, where everyone is simply waiting for piles of gifts to unwrap.
In fact, I purposely give my children little "gifts" all year long so gift giving and receiving becomes a regular part of our lives (not just something we obsess over during the holidays).
If my kids actually "need" something during the year (new socks, a winter coat, new markers to replace the ones that dried up), I just wait until I find a good deal, buy it, and give it to them at a time that makes sense (maybe for a special reward or a fun treat during the year).
I even let them have a few special things they simply "want" at various points during the year — a little toy, book, something fun from the thrift store, new-to-them clothing from a garage sale, a chance to pick out something at the dollar store, etc.
Another way we "limit gifts" and simplify our Christmas is by choosing NOT to give gifts to EVERYONE. We buy or make gifts for Dave's parents, my parents, the kids' 5 cousins, our teachers, and our mail lady (she delivers A LOT of mail and packages to our house!)
We don't do gifts for friends, neighbors, aunts, uncles, coworkers, extended relatives, or anyone from church. Sometimes we might make a big batch of this snack mix, this fudge, or this candy corn mix and divide it up into small bags for various special people in our lives, but we don't BUY gifts for all that many people.
.
2. We limit decorations.
Before I had young children in my home, I decorated every single room in my home with festive Christmas decorations — and I got so much joy from it. I enjoyed the process of decorating, I enjoyed finding "just the right thing" to complete a room, and I enjoyed living with the festive decor for 6 weeks every year.
I suspect I will enjoy decorating for Christmas more as my children get a bit older — but for now, too many decorations just creates more mess and stress in our home as the kids get into everything and usually end up breaking something or hurting themselves.
We put our tree up, I light a few holiday candles, I have a few kid-friendly decorations, and we get out both our nativity scenes (the wooden one Dave's grandma made us and one Little People's set for the kids) and that's it. My children are absolutely THRILLED with this and our house seems extremely festive since we keep the tree lights on all day long.
We have the Christmas tree lights on every day, we play Christmas music a lot (normally I never play music), and we light holiday-scented candles when we eat. We'll see how the tree thing goes with Clara this year, but the kids get SO excited about the music and candles — it makes it easy not to have many other decorations!
Plus, fewer decorations, means less to store the rest of the year!
.
3. We limit traditions.
I realize some of you are probably rolling your eyes by now, thinking I must be the "Scroogiest" mom around, but I promise, our entire family thoroughly enjoys the holiday season, even without a laundry list of traditions we do simply because we've always done them.
We don't cut down a tree and document the entire event on social media, we don't always put our tree up on the same day, we don't bake certain things on certain days, we don't do Elf on a Shelf, we don't do special books every night, we don't do an Advent calendar, we don't get new pajamas on Christmas Eve, we don't drive around and look at the lights, we don't go out for fancy hot chocolate and coffee, we don't decorate sugar cookies with our grandmas on the same day every year.
To be perfectly honest, I can't even think of one single Christmas tradition that we "always do every year".
Even sending out our yearly holiday cards isn't always done at Christmas time. I've done it at Thanksgiving, after the New Year, and once even on Valentine's Day just to be different!
Maybe that sounds awful and sad to some of you — but to me, it feels extremely liberating! Yes, these traditions are all fun (I honestly don't think it's bad if you do any of them) but they just don't seem necessary for me.
Without them, I am free to do WHATEVER fun holiday things I want to do with my family WHENEVER I want to do them. And if we don't want to do them, that's fine too. We are not locked into anything, but rather free to do what fits with the time and energy we have.
It's amazing!
I'm not sure if this will change as our children get older and want to do the same things every year — we'll address that if/when we get to that point. For now, they seem to be content doing random holiday-related things throughout the Christmas season, and they don't ask too many questions about why or why not!
.
4. We limit extra events and activities.
Dave and I are at the age where we not only have our own children to spend time with, but also both of our immediate families, and all 4 of our extended families. We also still enjoy getting together with college friends for our annual "Ugly Sweater Party" (note: we did this WAY before it was trendy!)
Because of all these people and parties, we sometimes have to pick and choose… and just say 'no' when something doesn't work for us. Of course, we always attend each of our immediate family parties, but we don't always make it to our extended family parties now that we are grown and have our own family and schedule.
That's OK.
We also don't always do something with Dave's staff, and there are several church events we don't attend because they are later in the evening when our kids would normally be in bed.
Yes, I realize the holiday season is a great time to reconnect with family and friends — but since Dave and I both have strong introverted tendencies and our children go to bed really early, we realize that everyone is happier and healthier if we aren't over-committed with events and activities all season long (even if they are fun and exciting events and activities).
There will most likely be a time for more holiday events and activities once our children are older, don't take naps, can stay up later, etc… now is NOT that time for our family!
.
5. We limit expectations.
One thing that has always bothered me about the holiday season is the tips to 'simplify' accompanied by glossy photos of glamorously decorated homes, chef-inspired menus, drool-worthy desserts, kids in matching pj's decorating bakery-style Christmas cookies, picture-perfect parties, and the light dusting of snow that makes everything look so much more festive.
That's not real — and it's certainly not "simple".
I appreciate that all our family and friend parties are super casual — no formal attire, no fancy decorations, no silly games, no expensive gifts, no gourmet foods, and no stress.
The more I've thought about it, the more I realize that we basically treat the holiday season like any other time of year — just with a little extra festiveness, a pretty Christmas tree, a special program at church and school, and a few fun holiday parties.
Because of this, we don't have huge expectations that everything needs to be perfect or extra-special all season long. We just do the same things we do all year long and add in a few extra things here and there. No big deal.
.
Even from a religious standpoint (which is the main focus for us anyway) we don't do things much differently than the rest of the year. We have an extra church service on Christmas morning, we get to play with our Nativity set every day, we focus more on Christmas songs and devotionals, and we have a Christmas program at church and school. Other than that, it's "business as usual" around our house.
Yes, it's true that "Jesus is the reason for the season." but He's also the reason for every day all year long — so even though we thoroughly enjoy and celebrate the religious aspects of Christmas, we don't put a lot of pressure on ourselves to "do more" with our kids just because it's the holiday season.
We often read the Christmas story all year long as it's one of my kids' favorites (who can blame them.) We also regularly sing Christmas carols and watch Christmas movies throughout the year, and the kids have a special "Baby Jesus" book we read all year long.
As I mentioned above, this is how WE simplify OUR Christmas with SMALL children.
My perspective is obviously that of a mom with 4 young children, so I realize these tips and ideas might not work for every family — however, I do think this post contains tips, info, and at least a few bits of helpful information for anyone looking to simplify their holiday season — no matter what your age, occupation, family status, state of life, etc.
I love Christmas and I love simple living – so far, I think I can have them both!
What are YOUR tips to simplify this time of year?