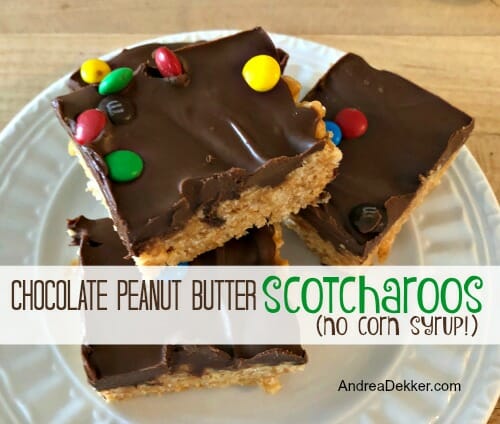 As I mentioned last week, our family has (for the most part) stopped eating dessert after meals. However, as I also mentioned in that post, we have NO intention of eliminating all sweet treats from our home!
Yes, I know sugar essentially has zero health benefits, and I know how "addictive" it can be. Never-the-less, my feet are still both firmly planted in the "all things in moderation" camp and I just can't see myself ever feeling the need to completely give up our favorite sweet treats for good.
I know too many people who have an all-or-nothing mentality when it comes to food and they seem to go CRAZY when they are around sweets — to the point where they almost can't stop themselves. I also had several friends growing up who were never allowed to have sweets at home, and they went way overboard when they were away from home.
So, while we always have a HUGE variety of fresh fruits and veggies in the fridge, we also have a wide variety of cookies, bars, ice cream, candy and other treats in our pantry and freezer… I don't anticipate either of those changing any time soon!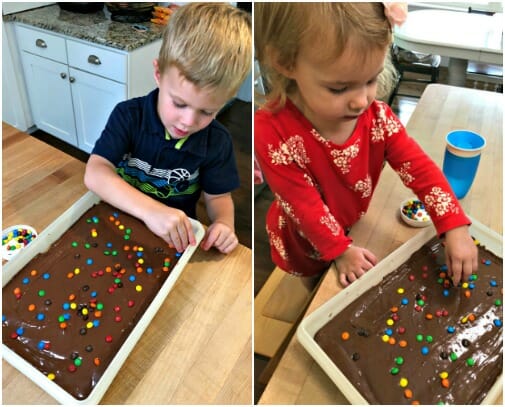 Scotcharoos are one of our family's most favorite sweet treats (especially for packing lunches). They are so quick and easy to whip up, they are a "no-bake" treat so the kids can easily help, they make a big batch, and they combine two of our favorite "food groups" — chocolate and peanut butter!
Several years ago, I shared my recipe for Scotcharoos WITHOUT peanut butter (this is a great option for those of you who can't send peanut butter items to school). However, it recently dawned on me that I've never actually shared my recipe for "regular" scotcharoos!
At least not until TODAY!
I have healthified my Scotcharoo recipe just a little tiny bit by omitting Corn Syrup and using honey instead — the bars have a slightly different taste, but they are still quite delicious!
Yield: 30 Bars
Delicious Scotcharoos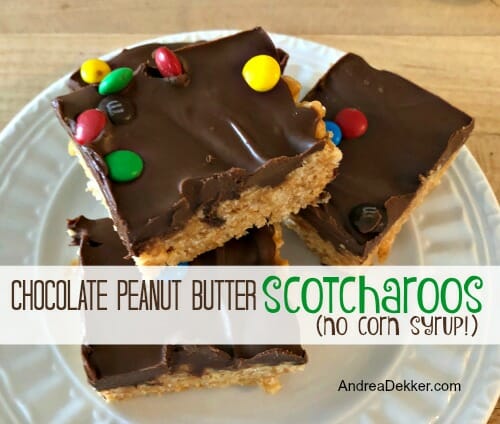 Scotcharoos are one of our family's favorite sweet treats -- most likely because they combine our 2 favorite "food groups" (chocolate and peanut butter!)
Additional Time
30 minutes
Ingredients
6 c. Rice Krispie cereal
3 T. butter
3/4 c. honey (or corn syrup if you prefer)
3/4 c. granulated sugar
1.5 c. peanut butter (I use creamy)
1 t. vanilla
---
1 c. butterscotch chips*
1/2 c. creamy peanut butter*
1.5 c. semi-sweet or milk chocolate chips
Instructions
Generously grease a 9" x 13" pan and set aside
In a large bowl, measure out 6 cups of cereal and set aside.
In a medium pan, melt butter and mix with honey and sugar over medium heat until sugar is dissolved and the mixture is bubbly (stirring consistently)
Remove from heat, stir in peanut butter and vanilla.
Pour mixture over cereal and mix until combined.
Press mixture into pan (I use wax paper to do this) and set aside.
In the same saucepan, heat butterscotch chips, peanut butter, and chocolate chips until fully melted and combined (stirring constantly to prevent burning)
Pour chocolate over cereal mixture and spread to cover.
Let cool completely (I usually put the pan in the refrigerator for 30 minutes).
Serve and enjoy!
Notes
*If you'd like the topping to be firmer, use 1.5 c. butterscotch chips and omit the peanut butter.
I make these bars roughly once a month — more often around the holiday season when we need to bring food to parties and other events.
They are ALWAYS a big hit!
I hope you love them too!
What is your favorite chocolate + peanut butter treat?
Visit my virtual recipe box for more simple, delicious, family-friendly recipes!