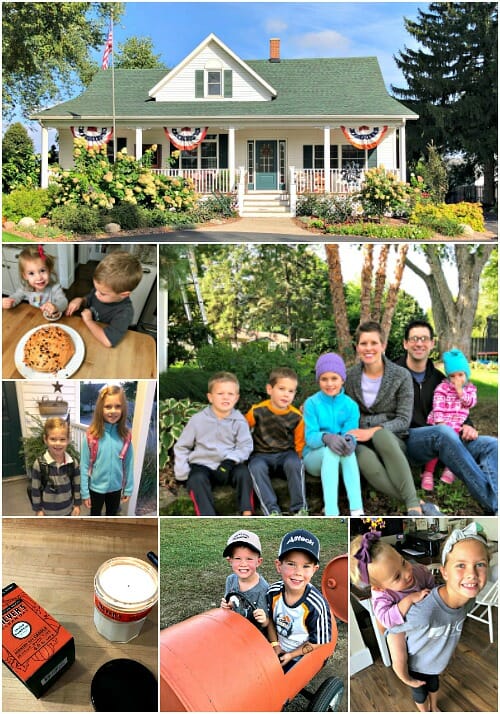 We're a full week into October and about 7 weeks into the school year already — which means we have a short week coming up soon for Teacher Convention.
Of course, this means Dave is gone and I'm home with the kids all day, but we have some fun things planned to pass the time… we're hoping to visit my sister and her family, do some fun Halloween things, visit the zoo, go to Rebounderz, and probably lots of baking!
We'll also be getting family pictures later this month (provided that the weather cooperates!)
In the meantime, we'll continue taking our own family pictures with the tripod!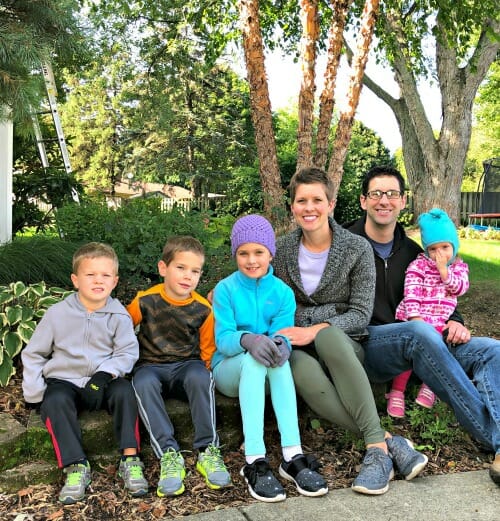 The "big news of the week" is that Nora sprained her ankle (rough-housing with the boys) last weekend. We didn't really believe her until she was STILL saying it hurt Tuesday morning. We got into the podiatrist on Tuesday and she ended up staying home from school on Wednesday due to swelling and just over-all discomfort and not sleeping well the nights prior.
Wednesday is the day both boys are also home anyway (and it was raining) so we spent most of the day inside, reading, playing games, coloring, and having a little movie marathon!
I didn't accomplish anything on my Wednesday To-Do list — but I did take some time to look through all the resources on the Genious Blogger Toolkit (available through today only) and I finished the book I was reading before my 3 free months of Kindle Unlimited expired!
Overall, it was a fairly "relaxing" day at home for me too.
Speaking of books, here are the books I've finished recently…
We've also been plowing through The Puppy Place books with the kids after dinner — such fun little books and the older 3 are all very interested in them!
.
In other family news…
Nora is loving everything about 2nd grade and is even more independent. She is extremely strong-willed yet very obedient, and she really is SO sweet.
A few weeks into the school year, she asked me if it was OK for her to play with her own friends at recess. I was confused and said, "yes, why wouldn't it be OK to play with your friends?" She responded by telling me that Simon was too shy to play with his own friends so she had been playing with him at EVERY recess for the first several weeks of school!
What a sweet big sister!
Nora loves reading, which makes me so happy since I never liked reading as a child. She learns so much from books (and tells me most of it!) I hope our other kiddos follow suit!
Nora's favorite pass time (other than reading) is "making messes" but she usually has a method to her madness! She's always coming up with projects, craft ideas, and other activities for herself, her brothers, or anyone else — and they all involve getting out lots of little bits and pieces, making signs, crafting something crazy, etc. etc.
She is crafty, she is creative, she is artistic, she is completely opposite of me!
Simon goes to Kindergarten 3 full days a week — they are long days for him but he loves riding the bus with Nora and our neighbor kids (he got his first "love note" from the neighbor girl who rides the bus with him… apparently they sit together!)
He is starting to read — which is VERY exciting for him. Every day he has random things to show me… one day he could read a word on a sign, another day he absolutely NEEDED me to watch him write the letter "R". Apparently, he hadn't been writing it correctly, but now he knows how and needed to show me 🙂
Simon can easily ride a 2-wheel bike now (after all summer of trying to encourage him, he finally decided to try it the first week of school — and immediately was able to do it no problem!)
He is very into team sports right now — wearing "team shirts" and jerseys pretty much every day. He is also obsessed with coloring pictures of various team logos and mascots — if you know of any college football or NFL coloring books, send me the link, please!
James is enjoying preschool (2 mornings a week). He has his first field trip coming up this week, and he already had a visit from the Fire Department, a family outing to a local farm, and he got to be the Star Student for a day.
James enjoys playing with Simon (they are both home 2 of the same days) and he keeps up with the older kids pretty well. He learned to ride a 2-wheel bike the day after Simon did, and he talks constantly about when he will be able to ride the bus next year.
I've had fun hanging out with just the younger 2 kiddos when Nora and Simon are at school — it's a totally different dynamic, that's for sure.
Although I know James misses Simon as his playmate 3 days a week, it is fun to see him being a sweet big brother for Clara.
Clara celebrated her 2nd birthday on September 25. We had a super small "party" (just our family) that weekend, and my parents and Dave's parents came over at some point during the week to give her a gift as well.
I would highly recommend this approach to birthdays for younger kids who don't really understand parties. We skipped traditional birthday parties for James and Clara and it was SO much easier! Of course, once they are older and "get it", we definitely enjoy doing birthday parties for them.
Clara "talks" and "sings" almost all day long — always having an opinion about something and using ample hand gestures to get her point across.
She is completely unafraid of strangers (which freaks me out) and she has officially entered into the "terrible twos" — which really aren't so "terrible" as much as they are amusing!
She will throw herself on the ground and have a fit over random things, often choosing the bathroom rugs to lay on when she's most upset.
Her biggest issues right now are wanting to wear "JJ's" (PJs) all day instead of clothing, not wanting her diaper changed, and insisting she needs "num nums" (M&M's) at random times during the day.
Other than that, she is a very happy, very sweet little girl who LOVES trying to keep up with her older siblings!
I've been working my way through a full-house purge. I've doubled-up a couple of the rooms so I'll hopefully be finished before Christmas break!
One thing I've noticed is that as my kids get older, we get more and more and MORE paper clutter! I swear I purge piles of it almost daily, but it's still there, every time I turn around.
In previous years, I've had them dump it in the metal caddy in our kitchen, but we are outgrowing that system. I'm working on coming up with some sort of system for the kids to dump everything in their backpacks when they get home — I'll be sure to share it with you once I come up with something.
In the meantime, let me know if you have a great system that works well for your school papers!
I haven't put up any fall decorations yet this year — and I honestly don't know if I will.
I have my fall-scented candle burning every night and our favorite fall snack mix… that might be good enough this year!
.
Our Weekly Menu:
**I've been asked if we're still eating veggies for breakfast — my answer is YES! I eat vegetables for breakfast EVERY DAY, but our family as a whole does not always have vegetables every single day.

I usually have spring greens with roasted vegetables, feta cheese, and a fried egg (over easy) with Balsalmic Vinegar drizzled over top (it's so good!) I eat this with fruit, and whatever other main dishes I'm serving for breakfast (pancakes, waffles, banana bread, oatmeal, etc.)
SUNDAY:
Breakfast = cinnamon rolls, eggs, bacon, fruit
Dinner:
MONDAY:
Breakfast: hearty whole-grain oat pancakes, eggs, sausage, fruit
Dinner:
Stew (leftover from a roast I made over the weekend)
TUESDAY:
Breakfast: whole grain banana bread, vegetable quiche, fruit
Dinner:
WEDNESDAY:
Breakfast: leftover banana bread, bacon, smoothies (with veggies!)
Dinner:
THURSDAY:
Breakfast: leftover waffles, fried sweet potatoes, bacon, eggs, fruit
Dinner:
Leftovers (stew, squash, mango chicken, baked sandwiches, potato soup, french fries, etc.)
Raw veggies + hummus
Fruit
FRIDAY:
Breakfast: Oatmeal, sausage, yogurt parfaits
Dinner:
green beans
applesauce
fruit
fresh bread
SATURDAY:
Breakfast: toast, eggs, bacon, fried potatoes
Dinner:
Caesar Salad
Fruit
Whole Grain Apple Cake with Yogurt Cream (recipe coming next week!)
BAKED GOODS:
Since we aren't eating dessert after every meal anymore, I thought I would share a separate list of the baked goods I made this week…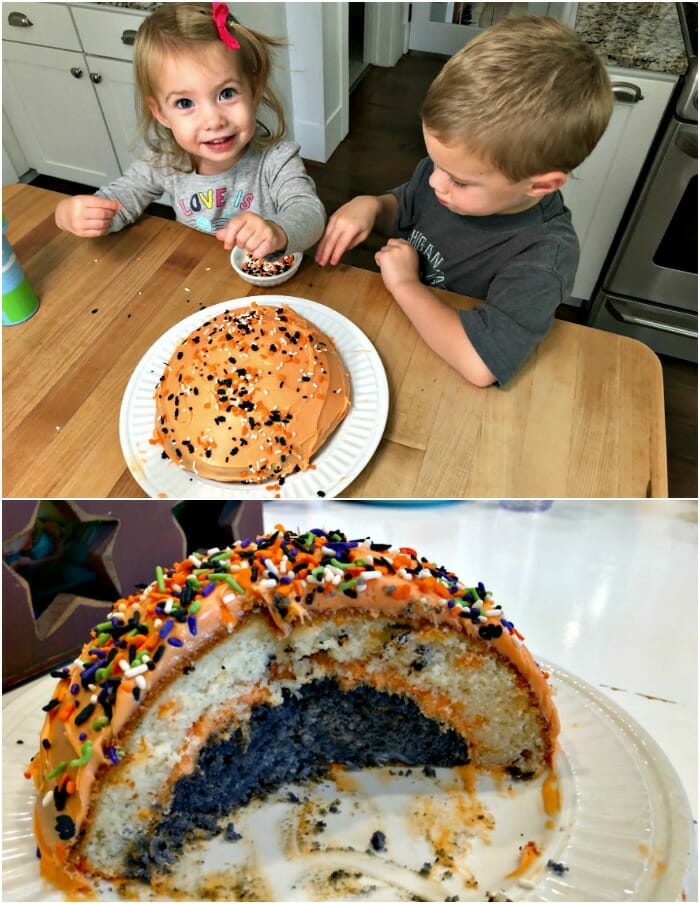 Looking at my calendar for the rest of the month, I have something fun or special written on almost every single day — hopefully, it will be a fun month!
What fun things do you have planned for the month?