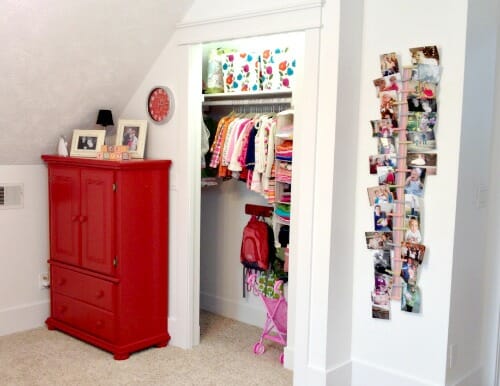 Last week, I shared all about Nora's new big girl room makeover — but I sneakily withheld any visible images of her closet area as I wanted to save the whole "clothes organizing" deal for a separate post.
So as promised, I'm sharing all the goods on her new closet, as well as how we're organizing all her cute little toddler clothes, shoes, and accessories in the new space.
The first thing you might notice is that there are no doors on the closet anymore — however, no doors are a VAST improvement over the crazy 80's mirrored doors that used to be on EVERY closet door in our entire house!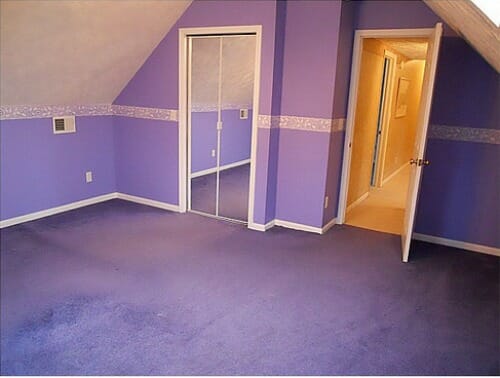 We actually made a conscious decision NOT to put doors (or even a curtain) on Nora's closet for a variety of reasons:
The glass doors were hideous — and a potential safety hazard as Nora loved to run and "bang" into them or slap at them with her hands.
Nora really likes flinging doors open and slamming doors closed — and I really don't think it's an attempt to be naughty — but it still gets old. FAST!
Doors of any type kind of get in the way of removing clothing since it's an odd shaped closet.
Nora would pull on a curtain so it would probably just come down anyway.
As you'll see by some of the pictures below, this closet is really deep and has a little spot for her to play in the back of it — so I wanted her to have easy access without doors in the way
No one sees the inside of her closet except us (and now all of you!)
I personally don't like any type of bi-fold doors, so if we did get doors, I would want mini French doors like we did in our nursery (see photo below) and I couldn't find anything I liked for a reasonable price.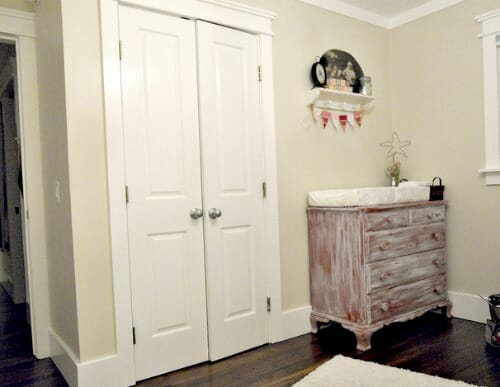 It's been a few weeks since the closet was finished and so far, we're all loving the no doors aspect of it — but if worse comes to worse and we want doors in the future, they won't be too difficult to add.
Here are a few more pictures of her new closet (I'll share specific product details below).
Obviously, her hanging clothes are in the closet along with several t-shirts, long-sleeve shirts, undershirts, etc. in the hanging shoe caddy (which is one of my favorite kids-clothes organizing tools ever!)
The 2 floral bins up top are mostly just decorative right now. We're using one as a dirty clothes basket (so Nora can't reach it and pull everything out!) and the other is just empty. I might use that as a place to put out-grown clothing until I give it away.
I also hung a set of hooks under her clothing since she told me she needed a spot for all her purses and bags 🙂
The next couple photos give a better look at how deep the closet is. There is TONS of space back there for her to lounge around with her babies and read books.
The clothes rod goes further back than what we need — so we have room to grow I guess. Also, if you look to the left side of the photo below, you'll see a couple hooks. We use those to hang her PJ's and a mesh laundry bag for her dirty socks and tights.
And yes, eventually, we can easily install a 2nd clothing rod below the current rod for more storage if necessary. But for now, we have PLENTY, and Nora loves "hiding out" in her closet.
.
Speaking of "plenty of storage", we're actually storing the majority of her clothing in the old armoire right next to the closet.
We're storing all her sweatshirts, fleeces, and vests on the top shelf as those are often bulky and easier to fold than hang.
All her shoes and boots are on the next "level" (for the record, these are all her shoes that fit now and several pairs that are still a little big yet)
Her socks, tights, slippers, and hats are in the little 3-drawer cabinet on the left.
And her pants are all folded up in the clear plastic sock-drawer organizers (another one of my favorite kids-clothing organizing tools).
We also hung a tiny little set of hooks inside the cabinet door — another Nora request for her "neckwaces' and hair cwips". This is usually the FIRST thing she has to show people when they come to see her new room. She flings open the armoire door and excitedly points to the hooks saying, "those Nora's neckwaces'!"
The bottom drawer of the armoire contains clothing for this coming spring and summer. The top drawer houses an extra sheet set and mattress pad cover (even though I normally only keep one set of sheets per bed, I'm told the extra set will be helpful when potty training is in full force!)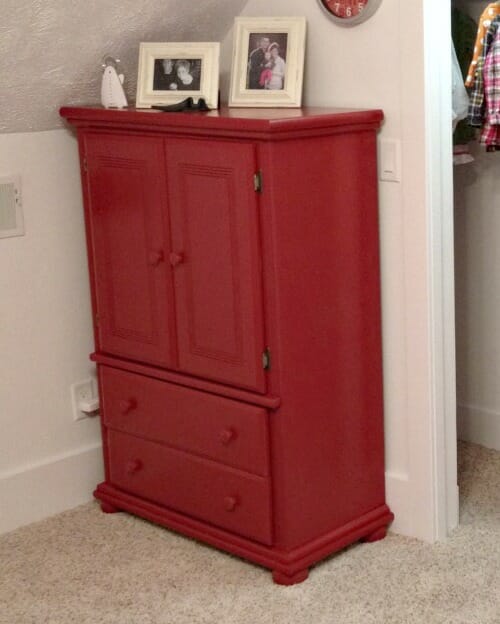 What Organizing "Tools" We Used:
Please keep in mind that although I've linked to almost all the tools we used for this mini organizing project, the MAIN reason we used these tools is because we already had all of them in our house.
So while these tools do seem to be working really well for us — I'm certain there are other organizing options out there too. "Free" is just kind of a no-brainer for us — especially since I almost never buy storage containers or supplies.
Hanging Shoe Organizer for her onesies and shirts (we just have it clipped halfway with a binder clip — but you could cut it off too)
Fabric Bins at the top of her closet — they were from Target a couple years ago and are no longer available via their website.
Wooden Shaker Peg Hooks in her closet — we've had these for a while… and here's how you can make your own
Kids Huggable Hangers — seriously, we love these and I already have a set of the baby size (even smaller) stashed away for the new baby!
Mesh Garment Bag for washing tiny socks, slippers, tights, etc. (this is important because otherwise our front-loading washer will "eat" her tiny socks!
Clear 3-Drawer Cabinet for her socks, tights, hats, etc.
Clear Plastic Sock Drawer Organizers for her pants
Foldable White "Shelf" in the armoire — perfect to add shelf space to an overly tall shelf
Jewelry Hooks — something that was left in the closet by the previous owner!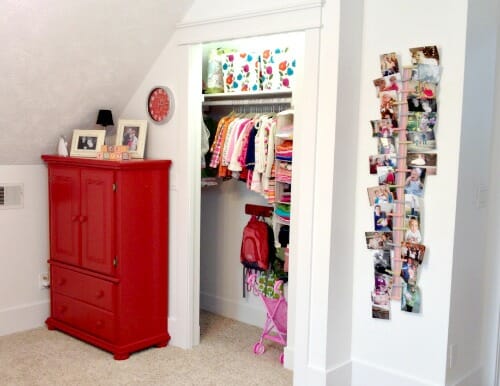 So that's all for Nora's new closet and toddler clothes storage — however if you want to see how I stored her tiny infant clothing in the nursery closet, you can read all about that here.
And just think, in a few more weeks, I'll be sharing how I organize all our little boy's things in the nursery closet — I wonder if baby boy clothing is just as much fun to organize 🙂
UPDATE: Here's a link to the DIY photo display on the wall next to her closet.