Over the weekend, I was able to squeeze in a few hours of time to prepare and plant my vegetable garden. Since we are currently in the process of redesigning and re-landscaping our backyard, my vegetable garden had to be smaller than what it was in previous years. Because of this, I was forced to get a little more creative with the way I planted…good thing I love a challenge!
So, I did a little research and found a bunch of information on Square Foot Gardening.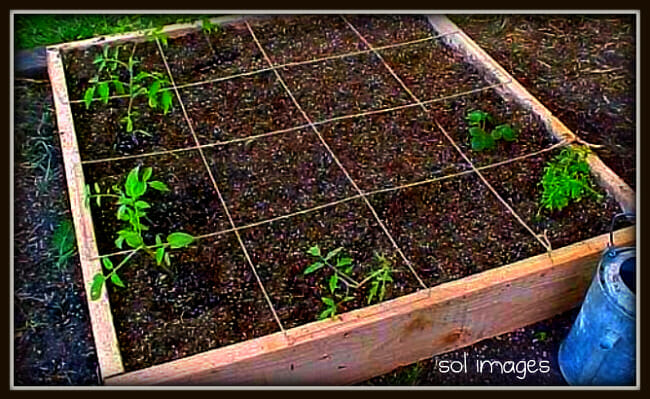 The common practice in Square Foot Gardening is to first make a 4'x4′ raised bed of soil (usually about 6″ deep) and then divide the bed into 16 1′ x 1′ areas using twine or some sticks. This enables you to divide your crops and physically reach all portions of a particular raised bed without stepping on the soil or affecting the other plants.
If you have a small garden area, you might only be able to accommodate 1 or 2 raised beds. However, if you have lots of space, you could create several raised beds separated by 3′ aisles.
Once you have created your raised bed and filled it with good soil and organic matter, you can begin planning!
You should plant a variety of plants in your raised bed, and the number of plants you plant in each square depends on the size of the plant.
For instance, if your plant is large (broccoli, tomatoes, squash, zucchini, peppers) you should only grow 1 plant per square food. If your plants are medium sized (onions, head lettuce, chard) you can grow 3 or 4 per square. And if your plants are small (radishes, carrots, herbs, beans) you can grow 8-16 per square.
The idea is to plant some of the small plants next to the larger plants so they can all "get along" and maximize your gardening space (and effort).
It's a pretty good method and I know others who currently use it. We'll see how it goes this year!
Let me know if you have other ideas for gardening in smaller spaces or if you have tried square food gardening!