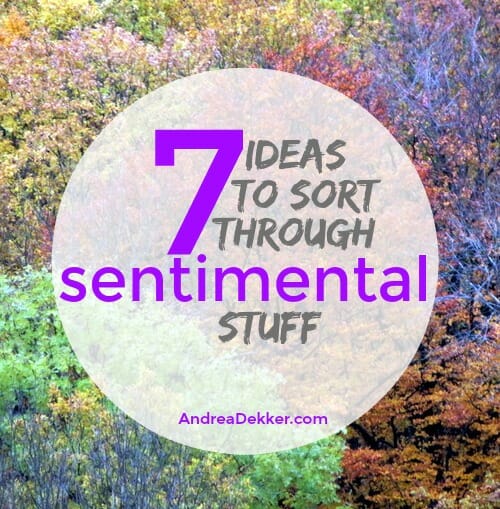 Sentimental clutter is one of the most difficult types of clutter to purge — even for people like myself who aren't super emotionally attached to things.
Maybe you have some of these things lying around your house collecting dust:
baby clothing
special quilts or blankets
kids' artwork and school projects
photos and videos
memorabilia
family heirlooms
letters and cards
Although I am almost always in favor of purging, I'm also not a total scrooge… so I don't expect everyone to be able to easily part with all their sentimental or emotional clutter, just because I say so 🙂
In all honestly, I would encourage you to keep SOME of these sentimental items. However, if you're drowning in a sea of sentimental stuff, or if your home is too small to store everything, it's probably time to take control and figure out how you can best deal with your sentimental items before they take over your home!
Here are a few ideas of what you could do with your sentimental stuff:
1. Turn it into a useful piece of furniture.
Many years ago, I painted my grandma's sewing cabinet and turned it into a really cute nightstand for our bedroom. It's the perfect size and it always looks cute in whatever room we use it. I get to look at it every day and it's not collecting dust in our storage closet.
I also painted my great-grandma's highchair and use it as a tall chair for my kids to sit at the counter.
Another idea would be turning an old crib or bed into a bench or desk. You could also transform an old truck into a storage ottoman, or even use an old armoire as a mudroom closet.
Just search Pinterest and you're bound to find hundreds of clever ideas!
.
2. Make a quilt from old fabric.
A few years ago, I sent a handful of my old sports and school t-shirts to Maiden Jane and had her create a custom t-shirt quilt for me. I absolutely LOVE my quilt, we use it all the time, and I no longer have a drawer stuffed full of old t-shirts I don't wear anymore.
You could do the same thing with scraps of old clothing, various chunks of baby blankets, or almost any other type of fabric that has sentimental value to you.
.
3. Take a picture.
I know a picture isn't exactly the same as the item — but pictures sure take up a heck of a lot less room!
I've gotten into the habit of taking pictures of my kids holding their artwork so I can see how big they were when they made it — and then we toss the artwork a week or so later. I put those pictures into the digital photo books I make them every year, and we have little to no sentimental paper clutter.
Of course, taking pictures of things isn't limited to paper items. You could easily take pictures of furniture, clothing, books… or pretty much anything you want to remember, but don't necessarily want to keep in your home.
.
4. Check with other family members.
After my grandma passed away, Dave and I somehow ended up with a basement FULL of all her stuff (her things had to be moved very quickly and we didn't have an immediate plan for where they would go).
I wasn't thrilled about having all her stuff dumped off at our house and I knew I couldn't let it all stay there forever. So after looking through her things and saving the few items I wanted to keep (her wedding dress, a decorative pillow, some recipes, letters from my grandpa when he was in the war, all her sewing things, and several pictures) I contacted all my other extended family members and listed off the things we had in our basement.
I made it very clear that anything was up for grabs… but that I would slowly start selling the items off after 6 months. I sent a couple reminder emails, but after the 6 months was up, I sold the things that were left and used the money to put towards home renovations.
To this day (over 10 years later), none of my family members have ever mentioned anything about my grandma's things — so I'm assuming no one is too heartbroken that I sold her things.
.
5. Create a wall collage.
My other grandma has an AMAZING wall collage of pictures from SO many different relatives — dating back many, many generations. None of the frames match, but it looks so great on a big wall in her basement. She has everyone's names and how they are related written on the backs of the photos, and even though she's had these photos in her basement my entire life, I still find myself staring at the familiar faces every time I visit.
I've created a different type of wall collage on some of the barnwood shelves in our office. I use them to display many pictures, old books from both my and Dave's grandparents, little trinkets and tchotchkes I've gotten from various friends and relatives over the years, and other memorabilia that I don't necessarily want to purge, but I also don't want to store it away for years and years.
I know some people think it looks cluttery, but I love how it looks and I always get comments and questions about this area in our home.
6. Digitize old media.
I know the thought of digitizing old photos, slides, home videos, and other media might sound overwhelming at first — I think it's one of those projects you just need to get started on and slowly pick away at.
Dave and I digitized all our old media about a year after we were first married and it was such a relief to have it all finished.
Since then, we have used LegacyBox to digitize both of our parent's old media (as a Christmas gift and an Anniversary gift). We just sent everything into the company, they digitized it and sent everything back along with a tiny USB drive containing everything. Such a huge space-saver, and great peace-of-mind to know the memories are preserved.
.
7. Store it decoratively.
As I mentioned above, I don't expect you to purge everything — and since paper items often tend to be the biggest issue when it comes to sentimental clutter, I am not opposed to decoratively storing your items (potentially even in plain sight).
Find a stack of cute old trunks and use them to store family photo albums, letters, old records, or even old quilts. The trunks look nice, they might even serve as an end table next to your couch, and you have your sentimental items at your fingertips if you ever want to look through them.
I know many people use "memory boxes" to store sentimental items — and I'm not against this idea, but I do think you need to set a limit for how much space you allow yourself to take up with memorabilia. Things can easily get out of control as you continue adding more and more and more "memory boxes". Here's how we handle our memory boxes.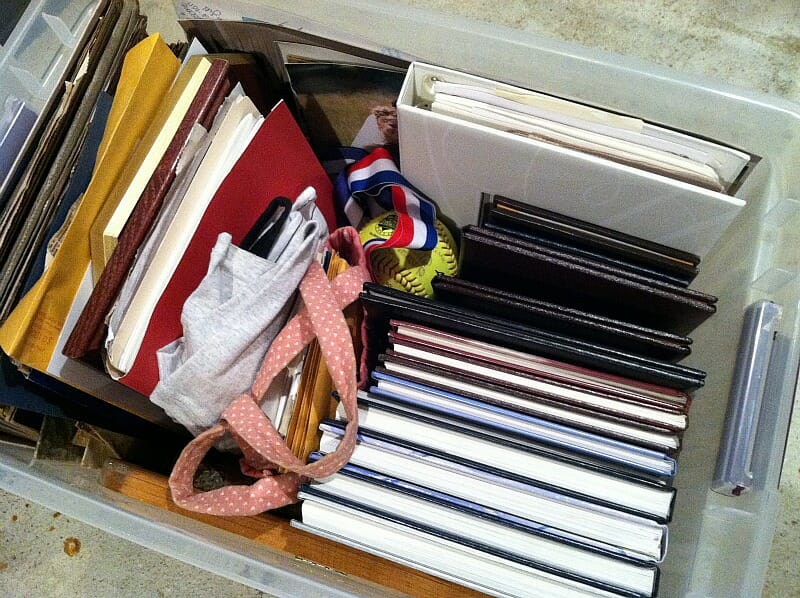 .
Obviously, it's helpful if you can separate your emotions from your stuff (your memories are not in the actual items, they are in your heart) but this is also EXTREMELY difficult to do.
I usually recommend asking a friend or other relative (one who is NOT attached to your items) to help you with your purging process. Often, they can offer an outside perspective and give you the little nudges you might need to part with items that have been taking up too much space in your home for too long.
You will still remember how happy you were to bring your newborn babies home, even if you don't keep the outfits you brought them home in. You will still remember how special your grandparents were to you, even if you don't keep every single item they left behind. You will still remember how you felt when you won those championship trophies, even if you purge your entire trophy collection.
You don't NEED the items to remember those special moments.
Have you done anything creative with your sentimental clutter?
Also, here's a link to all the other posts I've written about mental, emotional, and sentimental clutter.