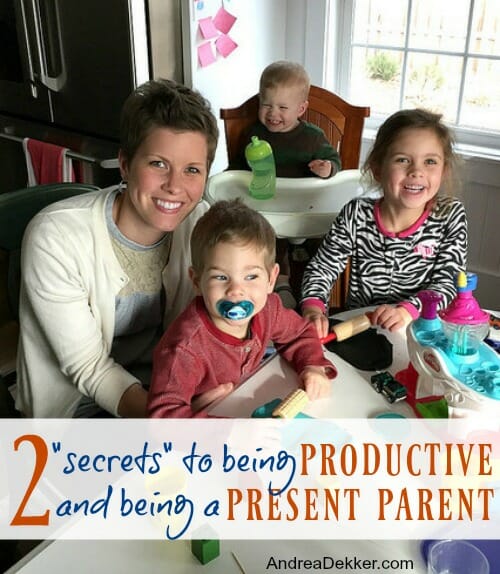 I'm often asked for any "secrets" I have to being productive while also being a "present parent" who plays with their kids, shows interest in what they want to do, reads books with them, does crafts together, etc. etc.
I usually joke that my secret was having kids fairly close together so they all entertain each other (seriously, they play amazingly well together right now!)
But in all actuality it's even simpler than that!
As I thought about any secrets I have to keep my home and life in order, run my business, be available for my family, and not feel totally exhausted or overwhelmed at the end of every day, 2 simple concepts came to mind.
1. I am clear about what I consider important for my current stage of life.
I have always enjoyed creating, setting, and striving to meet various goals. But over the past few years, I have stopped creating a specific list of goals (i.e. renovate the bathroom, put $XX.00 in savings, or grow my business by 25%).
Instead, I have a handful of goals (more like priorities) that are very important for me in my current stage of life, and I give priority to these few things almost all the time.
I make decisions based on these priorities, I plan my days and my life around these priorities, and I do not let myself feel guilty for saying 'no' to other requests for my time, energy, resources, etc.
Here are my current priorities:
Obviously every one of us will have different priorities for our current stage of life — but unless we clearly IDENTIFY what we consider the most important priorities, it will be nearly impossible to MAKE them a priority as we go about our day-to-day life.
There are SO many fantastic request for our time, talents, and resources every single day, but we are only one person and we can't say yes to every request.
It might cause some discomfort to step down from one of your current committees or volunteer organization that no longer aligns with your priorities, but I know you'll feel a sense of relief once you do it.
It might feel selfish to say 'no' to a friends' frequent request for your help… but if you are starting to resent that friend or if helping her is causing unnecessary stress in your own life, it's probably healthier to step away for a bit and reevaluate if there is any other way you can help her (or find help for her).
It might be painful to put your kids in daycare a few days a week… but if you are serious about working your way up the ladder or growing your business, you must make more time in your schedule.
It might be outside your comfort zone to hire a cleaning service to deep clean your home every week, but if your own time is limited and having a clean house is a priority for you, hiring out the help might be your best solution right now.
We cannot do everything all the time; however, if we are clear about our current priorities and smart with our time, we can usually do most of what is important to us… which brings me to my next "secret".
.
2. I am completely content to give less than 100% effort to my current priorities.
I realize how awful and lazy this might sound the first time you read it (I almost didn't want to type it!) but the honest truth is that I rarely give a full 100% to anything I do these days.
This is NOT because I don't care, it's NOT because I'm lazy, and it's NOT because I'm desperately trying to pack too much into my schedule.
It's simply because I'm OK with less than 100%… and by giving less than 100%, I'm able to stretch my time, energy, and resources just a little bit further.
I keep my house very neat and organized almost all the time, but I rarely ever dust, I don't clean the bathrooms nearly as much as I used to, and I won't even tell you the last time I mopped my kitchen floors!
I have stuck with my 5-posts-per-week schedule for my own blog, but I've cut WAY back on my Virtual Assistant work, I don't go to any networking groups, I will not travel for business, and I'm very selective about any extra projects I take on at this point.
I do a good job meal planning every week, but I plan extremely simple meals and simple side dishes so I spend a minimal amount of time in the kitchen… and I'm totally OK with eating some processed foods for convenience purposes.
I stay at home with my kids and don't have any outside child care for them, but I also let them watch TV for a bit every morning and every afternoon while I cross a few things off my to-do list.
I do my best to get to bed on time and make sleep a priority, and I do a fantastic job of drinking lots of water everyday, but I rarely do any type of formal exercise nor do I spend much time "pampering" myself at this point in my life.
I think you get the idea!
There is ALWAYS more we could do in every facet of our lives. We could give more time and energy to our spouse, our children, ourselves, our home, our jobs, our friends, our churches, our communities, etc. etc. but if we just give and give and give, we eventually burn out and have nothing left.
So by being willing to give less than 100% to the various priorities in my life, I can manage to be productive, be a present parent, and actually enjoy my life without feeling overworked and stressed out all the time.
SIDE NOTE: implementing these 2 "secrets" should help you achieve other goals too — they are not simply reserved for us parents of tiny people trying to hold onto a shred of productivity!
I do want to mention that there are SO many variables related to how productive and how "present" any given parent might be on any given day. Things like:
How much natural energy do the parents have?
How well do the children (and the parents) sleep at night?
Do the children still nap in the afternoon?
Are some of the children gone at school for most of the day?
What type of work do the parents do — part-time, full-time, away from home, from home?
Is the parent in the middle of a busy work season or working towards a big deadline?
How helpful are grandparents, friends, neighbors?
How involved is the spouse?
Is there a newborn in the picture right now?
Is the child an only child or are there multiple children?
Do the children play well together or are they even all home together at the same time?
Do the children need lots of adult interaction or "help" to play, or can they manage on their own for periods of time?
How many "extra" activities do various family members participate in each week?
Do the children have special needs or require extra medical care for any reason?
If you feel like you are in the middle of a very unproductive or very "unpresent" season of life, one or more of these variables might be the cause. Don't be too hard on yourself and just do the best you can during this difficult season of life.
That said, if you are looking to increase your productivity while still being a present parent, I hope my 2 simple "secrets" might offer a bit of help or motivation to steer you in the right direction.
.
In my opinion, being productive doesn't mean "doing it all". It means carefully considering what your priorities are and then investing your available time and energy into those specific priorities.
If making time for your own to-do's and hobbies AND being a present parent are 2 priorities for you, I have no doubt you can achieve both as long as you're willing to invest your available time and energy into those specific priorities (and then say 'no' to other requests for your time and energy)!