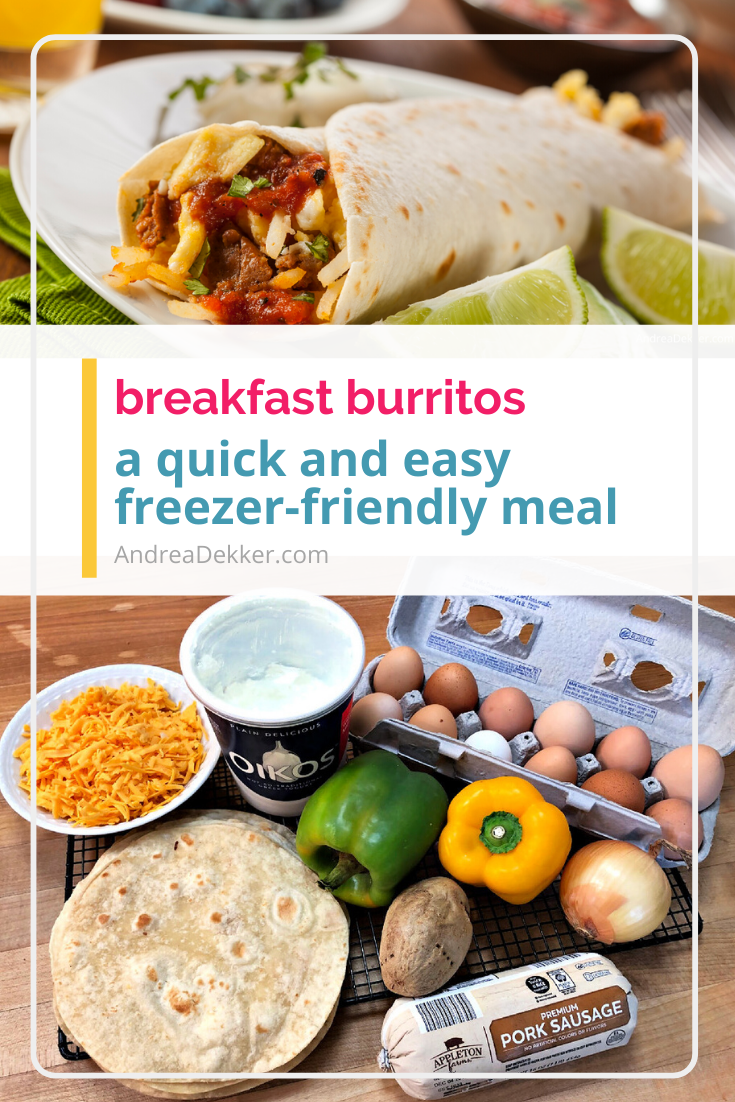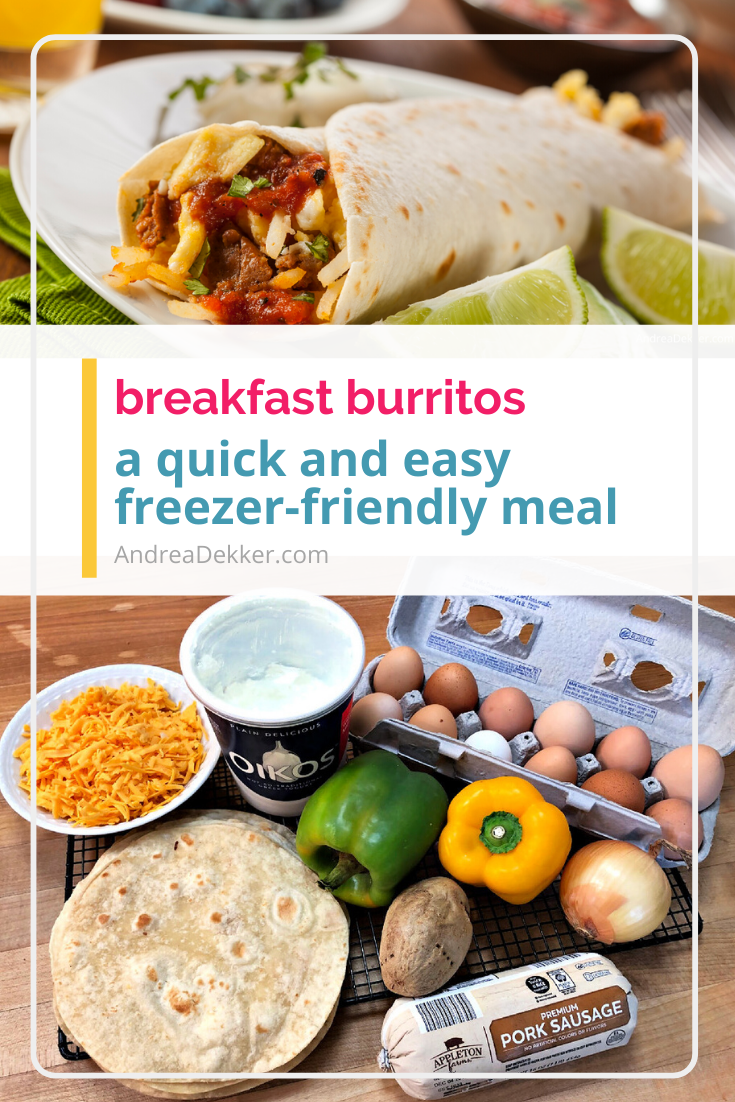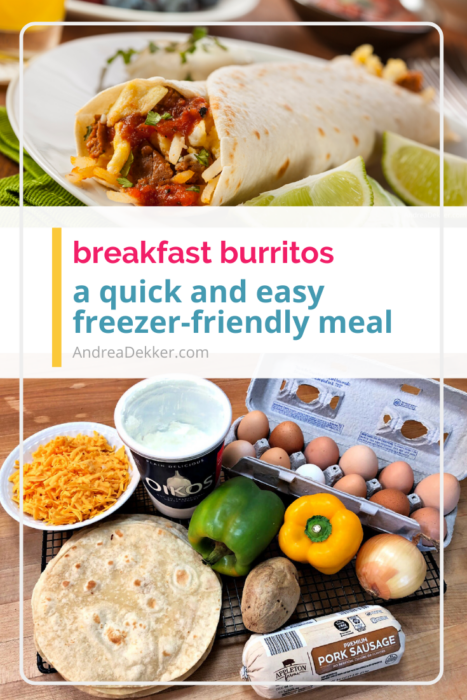 Breakfast burritos are one of our kid's favorite breakfasts AND dinners… and since they are such a simple meal, we enjoy them fairly regularly!
Breakfast burritos are easy (and fun!) for little hands to hold, they can be prepped and assembled in advance, and they include all components of a meal (meat, dairy, grain, veggies… yes, veggies!)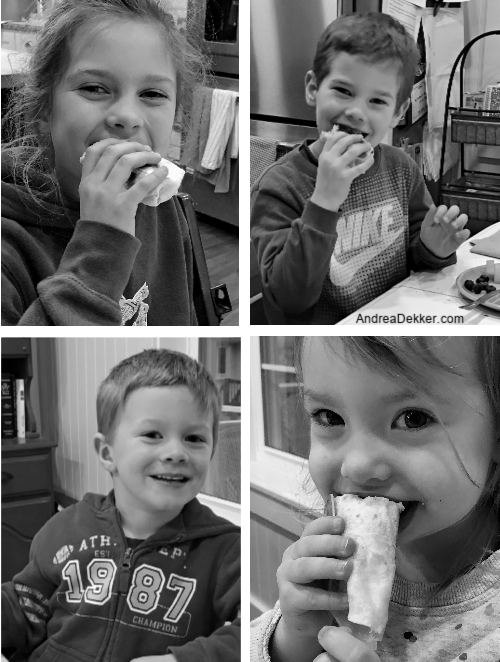 Breakfast burritos are an easy way to eat veggies for breakfast.
Last year, I shared 5 ways to eat veggies for breakfast (seriously, it's not as difficult as you might think) and these breakfast burritos are a super simple way to "hide" a few veggies in your family's breakfast.
We put peppers, onions, and often potatoes in our breakfast burritos… and thanks to the delicious sausage, egg, cheese, and tortilla, the veggie component almost goes unnoticed!
Yes, Breakfast Burritos are freezer-friendly!
One of my favorite things about breakfast burritos is that they are freezer-friendly — meaning, I can make a BUNCH of them at one time and pop them in the freezer for quick breakfasts, last-minute dinners, or even a hearty snack.
Either wrap them individually in aluminum foil or place several in a large bag or storage container. They should last for several months in normal freezer conditions (assuming you don't eat them faster than that!)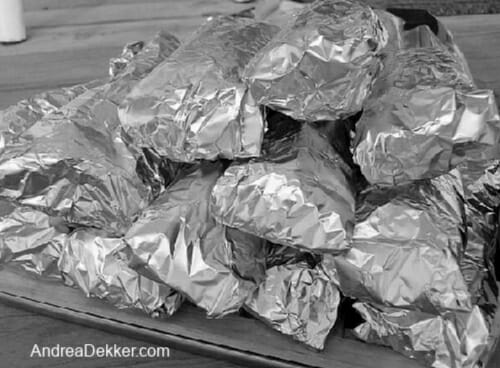 When it's time to eat, these burritos only take a few minutes to reheat straight from the freezer (either in the microwave or a pan on the stove).
If you choose the microwave option, the tortillas will be slightly "softer" but NOT "soggy".
If you reheat them in a pan (preferably a cast iron pan) your breakfast burritos will taste just as crispy and fresh as the day you made them!
My recipe for Breakfast Burritos is SO simple!
I've included a detailed ingredient list in the recipe card below, but as with nearly all of my recipes, please feel free to mix and match ingredients based on what YOU have in the house and what YOUR family prefers.
This recipe is NOT an exact science.
I'm confident your breakfast burritos will taste delicious even if you deviate from my recipe a bit! In fact, you might just find a new flavor combo your family loves even more!
Experiment with this delicious recipe and then fill your freezer with yummy breakfast burritos!!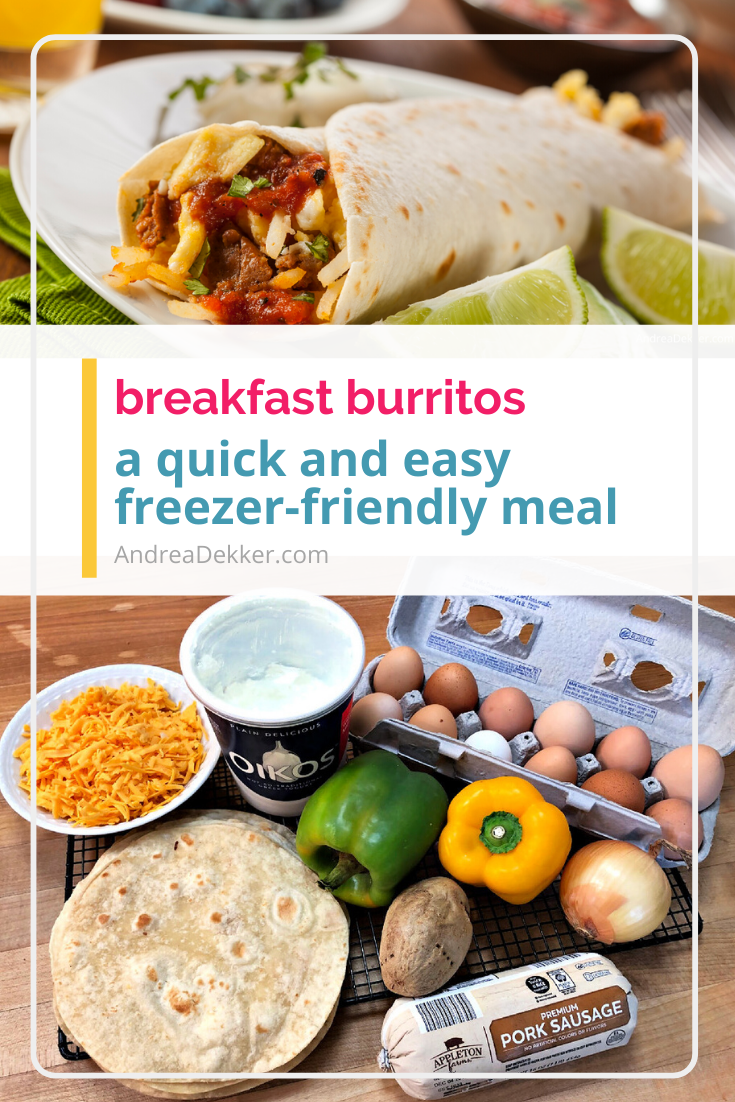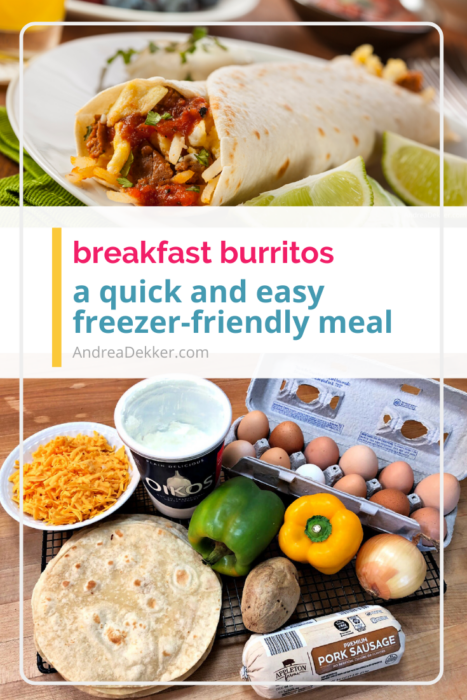 Yield: 12
Breakfast Burritos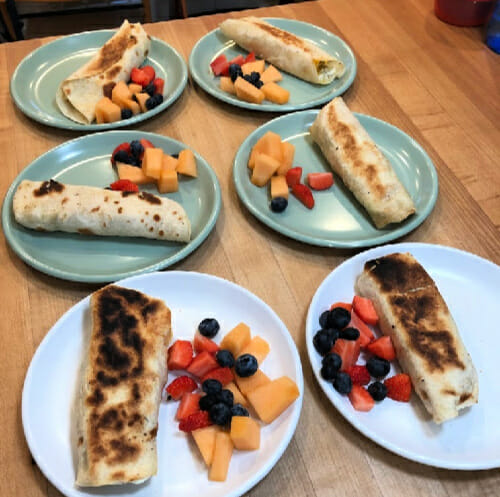 Breakfast burritos are a family favorite -- both for breakfast AND for dinner! They are so quick and easy to make, they work any time of year, and they are freezer-friendly!
Mix it up with YOUR favorite ingredients (or whatever you have in the fridge) and create a simple, delicious, hearty meal your whole family will devour!
Ingredients
12 tortillas (8" or 10" sizes work best)
1 medium yellow onion; diced
1 bell pepper; diced
additional veggies (like potatoes or jalepeños) diced (optional)
1 pound ground sausage
9 eggs
1/2 c. milk
salt and pepper to taste
shredded cheese (we like cheddar)
sour cream or Greek yogurt (optional)
salsa (optional)
Instructions
Fry tortillas (optional -- if you make your own). Set aside.
Cook onions, peppers, and any other veggies over medium heat until they are softened. Set aside.
In the same pan, cook sausage until no longer pink. Drain any grease and return to pan.
In a medium bowl, whisk eggs, milk, salt and pepper.
Pour egg mixture into pan with sausage and cook until eggs are done.

TO ASSEMBLE BURRITOS:
Spread 1 Tbsp. of sour cream (or yogurt) down the center of each tortilla
Add 2 Tbsp. veggie mixture
Add 2 Tbsp. sausage/egg mixture
Add 1 Tbsp. shredded cheese
Add 1 Tbsp. salsa (optional)
Roll up burritos and cook immediately or set aside for later.
Notes
We love the Fresca brand of uncooked tortillas from Costco -- they are absolutely amazing!
These burritos are freezer-friendly and should last for several months in the freezer.
To reheat, simply pop in the microwave for 30-60 seconds or cook in a pan until cheese is melted.
Recommended Products
As an Amazon Associate and member of other affiliate programs, I earn from qualifying purchases.
Nutrition Information
Yield
12
Serving Size
1 burrito
Amount Per Serving
Calories

362
Total Fat

19g
Saturated Fat

6g
Trans Fat

0g
Unsaturated Fat

10g
Cholesterol

167mg
Sodium

423mg
Carbohydrates

31g
Fiber

2g
Sugar

2g
Protein

16g
Nutritional information is approximate and does not account for additional ingredients or added toppings.
NOTE: I can make a huge batch of breakfast burritos in less than 30 minutes and only get ONE pan dirty!
You could cook the veggies with the eggs and sausage but I prefer to cook them separately just in case people request different fillings for their burritos.
Also, when I'm making a really big batch, it's hard to fit that many ingredients into one pan at the same time!
Once the cheese melts, it becomes the "glue" that holds the rest of the filling together.
Seriously SO good!
RELATED READING:
What are your favorite quick and easy breakfast recipes?
Visit my virtual recipe box for more simple, delicious, family-friendly, recipes!
Pin this recipe for later!