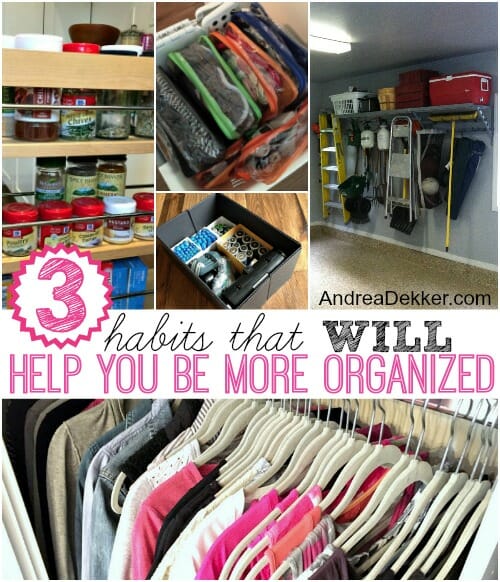 Last week, I shared the 10-week update on my full-house purge… 10 rooms down, 5 more to go before the New Year!
Every time I write a post like this, I get lots of emails and questions from others asking "but where/how do I get started?"
It's true, the act of getting started is often the most difficult and seemingly overwhelming part of the entire project ("an object in motion stays in motion, and object at rest stays at rest…")
If you're looking for some relatively simple things you can start doing TODAY to help better organize your home and life, I promise the 3 tips in today's post will most definitely get you moving in the right direction.
Of course, they won't magically solve all your clutter conundrums, but they will help you get started. Practiced over time, these 3 tips will begin to form some really great organizational habits for you (and your family) — which will lead to more long-term success on your journey to becoming more organized.
Win-Win!
.
1. Put things away whenever you get them out.
This might sound overly-obvious, but you'd be surprised how many people never even consider putting something away again immediately after they've finished using it… or they convince themselves they will "get around to it later".
In my opinion, this is the most basic of basic tips… but also one of the most important parts of maintaining a somewhat organized environment.
If you regularly and continually put things away after you get them out (and/or finish using them) you won't have stuff sitting around, cluttering up your living or working spaces.
Here are a few of the many ways I practice this in my own life.
I put clothes away immediately after I take them off (either in the laundry or back in my closet).
I put food and other kitchen items away as I cook so the kitchen isn't ever a disaster area.
We put toys, games, and crafts away as we play so the mess is rarely every overwhelming.
I empty out (and restock) our diaper bag whenever we take it with us.
I file or recycle any paperwork I get out (or new papers I receive) immediately after I'm finished using them or reading through them.
We put books back on the shelf after we're finished reading them.
I fold and put laundry away ASAP after it's dry.
There are so many more examples I could give — but I think you get the idea.
It might be difficult to force yourself to do these things in the beginning, but after a short while, they will become new habits you do without even thinking about them — SCORE!
.
2. Create a space for everything.
If you find yourself struggling to put things away, it MIGHT be because you've never actually created a space to put that particular item away.
Take a look around your home, your office, in your vehicle, etc. and look for things that are continually left out. Now determine if those things are left out simply because you neglected to put them away, or because you don't know where to put them.
Refer to #1 above if you're being "lazy" and choosing not to put your things away…. 😉
However, if you truly don't know where to put the items, it's time to CREATE A SPACE for them.
Consider where you use the item, how you use it, when you use it, what you use it for, etc. etc. and use those clues to then determine the best place for your item.
Once you have a place decided upon, make sure others in your home or office know where that space is, and that you expect the item to be returned to that place when not in use.
3. Develop routines that work for YOU.
Routines are one of those things you either really really love, or you just can't seem to figure out.
I sometimes have a love-hate relationship with routines… but for the most part, our family functions so much better when we regularly utilize routines!
Routines simplify every aspect if our days, weeks, months, and years. They reduce decision fatigue, they reduce the number of questions and complaints from our children, they allow our days (and nights) to flow more smoothly, and they help me keep my sanity!
If you feel like certain areas of your life are more stressful, more chaotic, or more disorganized than others, step back and consider if there is a routine you might put in place to help.
Here are some of the routines that work for me and my family right now (click on the links to read more about that particular routine):
You see, routines help to simplify and better organize so many areas of our life.
One note on routines — even after you find a routine that works really well for you, don't be afraid to regularly tweak, alter, or completely change the routine if you feel it's not working as well as it used to, or if your season of life changes.

There's no sense trying to force a routine that no longer works for you or your family!
.
Of course, there are many other tips and ideas I could share (and probably have shared over the years) in attempts to help calm the clutter and bring more order to our lives. However, I don't want this post to be overwhelming… so I'm sticking with 3 for now!
My main goal for this post is simply to get you moving forward!
Pick one of these tips and start working on it TODAY (maybe even right after you finish reading this post!) If it's not too horrible, add in another tip in a few more days, and then the 3rd tip next week.
Before you know it, you'll be regularly practicing all 3 tips and well on your way to enjoying a more organized home and life!