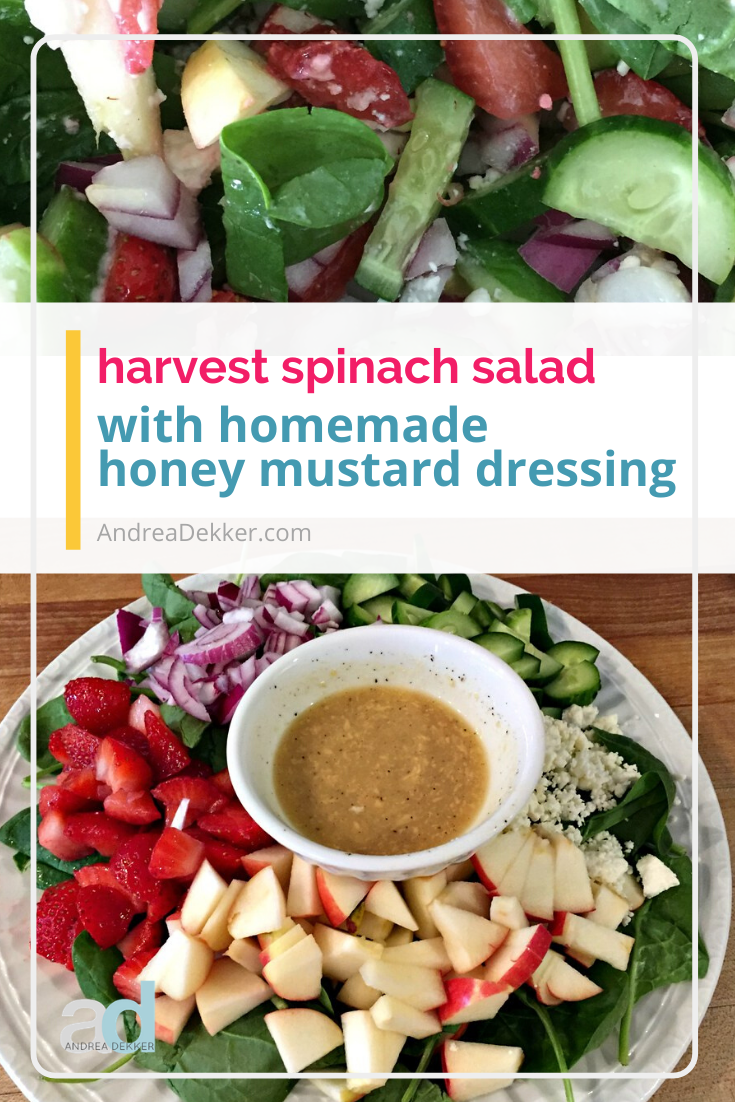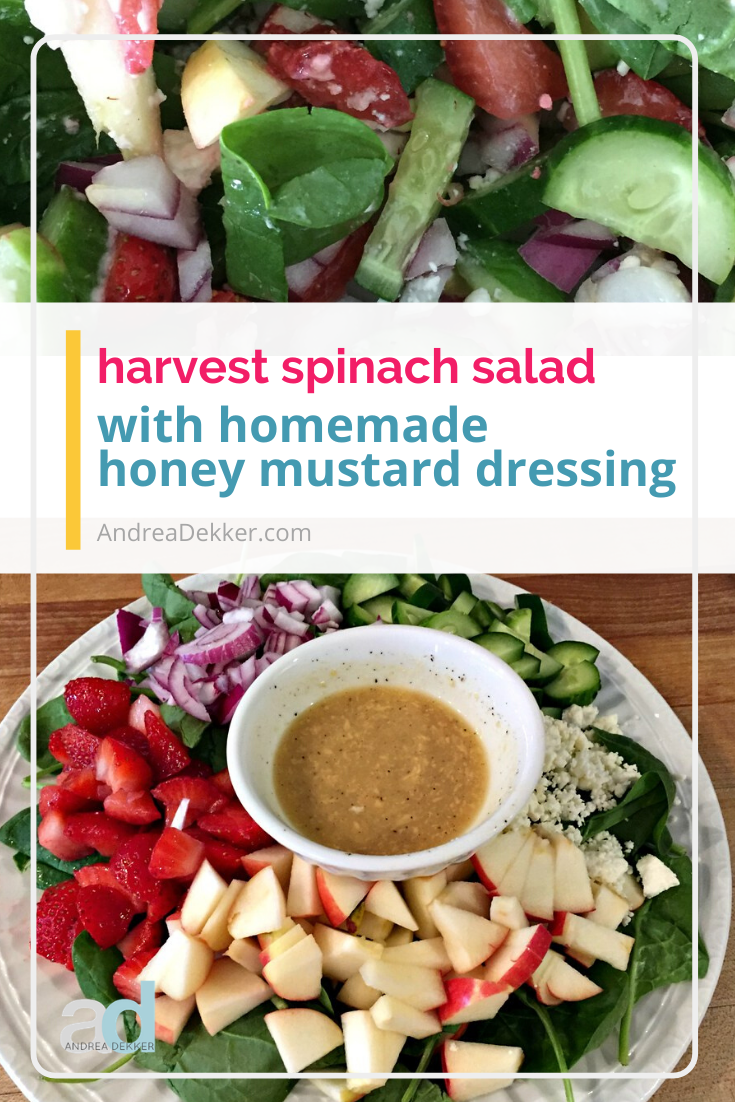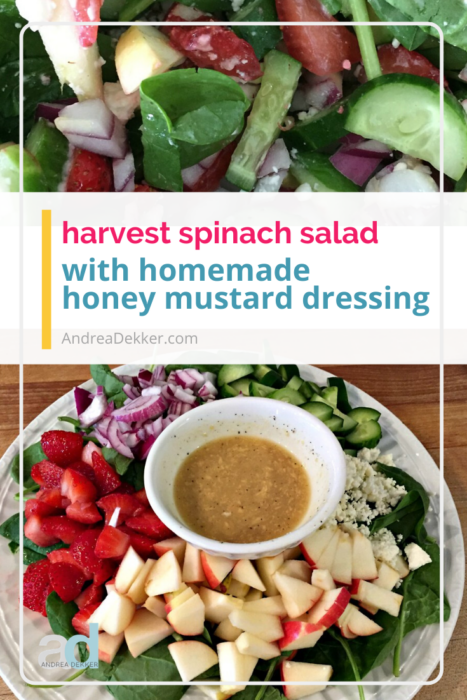 This delicious harvest spinach salad with homemade honey mustard dressing is one of my all-time favorite salads. The ingredients are available (and fairly fresh) all year long, and the homemade dressing can easily be made well in advance. I almost always have some in the fridge!
Big salads (or "loaded salads" as I call them) are one of my favorite ways to eat more produce all year long. I love the flavor combination of sweet fruits, salty nuts, crunchy veggies, savory cheeses, and tangy dressings, all mixed together on a bed of crisp spinach or lettuce.
It feels like I'm enjoying a gourmet lunch when really, all I'm doing is emptying out the fridge and using up produce before it goes bad!
If you're a fan of big "loaded salads" and enjoy interesting flavor combinations, you will love this crisp, sweet, savory, salty, crunchy harvest spinach salad… especially with the homemade honey mustard dressing!!
And did I mention how easy it is to whip together?
I timed myself last week, and I made the dressing in 35 seconds!!
Yield: 1 large salad or 2 smaller side salads
Harvest Spinach Salad with Homemade Honey Mustard Dressing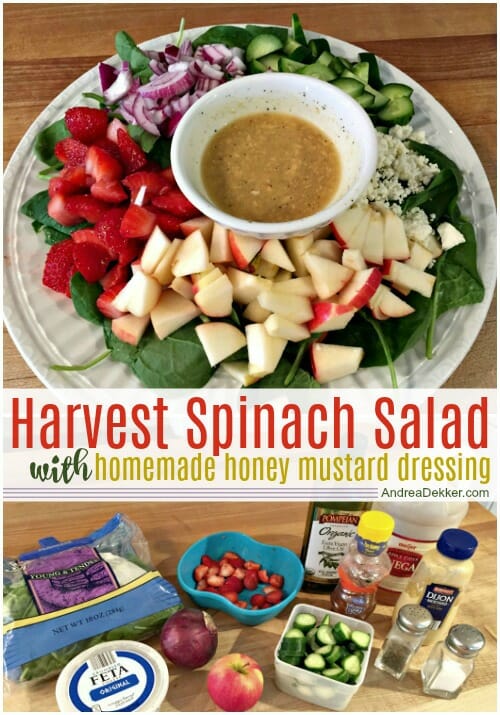 This such a great "any-season salad". It has strawberries and spinach for spring, cucumbers for summer, apples for fall, nuts for winter, and cheese for every season!
Ingredients
2 c. baby spinach
1/4 c. diced red onion (or to taste)
1/4 c. diced cucumbers
1/4 c. sliced strawberries
2 T. chopped pistachio nuts
2 T. crumbled Feta cheese
1/2 apple; diced (I like Pink Lady)
FOR THE DRESSING
2 T. olive oil
2 T. apple cider vinegar
1 T. dijon mustard
1 T. honey
salt and pepper to taste
Instructions
On a large plate or in a large bowl, layer spinach with salad toppings.
In a small container, mix dressing ingredients and drizzle over salad.
Eat and enjoy!
Notes
All measurements are approximate — please do not worry if you don't get it "just right".
Use more or less of anything, nix ingredients you don't like, and add ones you have in the house.
It's a salad, not rocket science!
Nutrition Information
Yield
2
Serving Size
1/2 of recipe
Amount Per Serving
Calories

267
Total Fat

20g
Saturated Fat

4g
Trans Fat

0g
Unsaturated Fat

15g
Cholesterol

12mg
Sodium

347mg
Carbohydrates

20g
Fiber

4g
Sugar

12g
Protein

5g
Nutritional information is approximate and does not account for additional ingredients or added toppings.
This recipe is perfect if you want a big salad for lunch or 2 smaller side salads for dinner. And of course, you can EASILY make a bigger batch if you're bringing the salad to a party.
Just start with the spinach, layer it up with all sorts of fruits, veggies, and nuts, and whip up the dressing in a separate container to add just before serving.
This such a great "any-season salad". It has strawberries and spinach for spring, cucumbers for summer, apples for fall, pecans for winter, and cheese for every season!
I've brought this salad to so many different parties and potlucks, and I never come home with any left. I'm usually asked "what was the dressing?" and people are always surprised when I say it's just a homemade honey mustard dressing!
A Few More Of My Favorite "Big Salads":
Are you hungry yet?
Which recipe will you try first?
And what are YOUR favorite "stuff salad" ingredients?
Visit my virtual recipe box for more simple, delicious, family-friendly recipes!