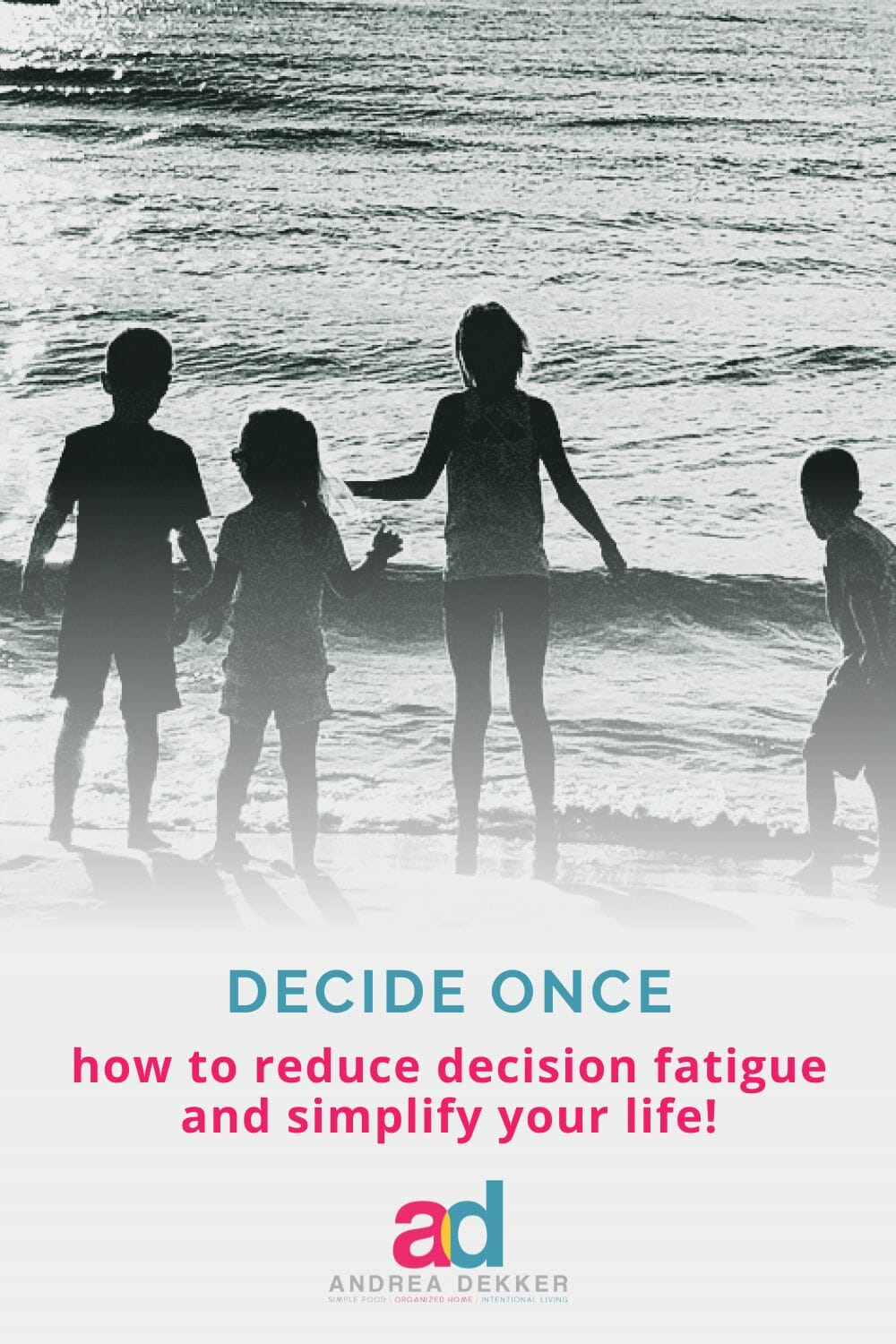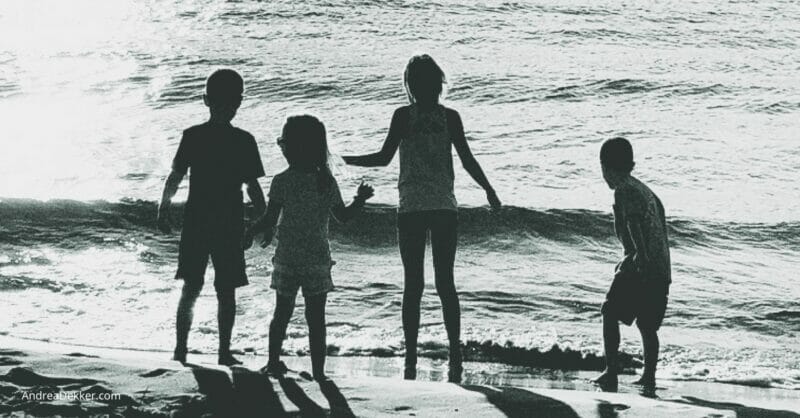 As I look back over the last decade of my adult life (marriage, motherhood, friends, jobs, running a business, home renovation, church and community involvement, etc.) I'm confident that my efforts to make fewer decisions each day/week/month/year have positively impacted every area of my life… more than I can even begin to calculate.
From meal planning and house cleaning to child training and family traditions — my home, my schedule, my family, and my life are all noticeably simpler, more organized, less chaotic, and more enjoyable because I've intentionally made an effort to "decide once" and move on.
This is not to imply that my life is mechanical or robotic or void of any fun — actually, it's exactly the opposite (in my opinion).
By deciding once, I have SO much more time and energy to enjoy whatever season of life I'm in.
I also have more mental capacity to pour more into my family, my house, my job, and various volunteer opportunities — so it really is a win-win-win-win situation!
Trust me (and keep reading!)
I know examples are helpful, and I'll give you a whole bunch in just a minute… however, please don't think that just because we do something it will automatically work for you and your family too.
This is what works for OUR family right now. It might work for you too… or it might not. But, if you're anything like me, reading examples of what works for someone else will most likely spark a few ideas of something different that WILL end up working for your family.
All that to say, read the following examples with an open mind and try thinking "outside the page"! 😉
Decide Once: FOOD
Food is both a love language and a necessary evil for me.
On any given day, you might find me grinding my own grain, baking up a variety of whole-grain + sourdough goodness, chopping fresh veggies like a mad woman, and serving my children fresh-from-the-oven cookies as they get off the bus.
I love cooking, baking, and recipe creation… but that doesn't mean there aren't other days when I set out a bowl of goldfish for the kids and pull a quick meal from the freezer.
Since everyone in my family insists on eating multiple times each day, I've made my life a little (actually A LOT) easier by "deciding once", and then moving on with my day.
How I "decide once" to simplify our meals.
Despite my lack of enthusiasm for meal planning, I dutifully spend 15-20 minutes every Sunday afternoon planning 7 breakfasts and 7 dinners for the following week based on what food we have in the house, what's in season, and what our schedule looks like that week (I make sure to plan for leftovers and/or getting pizza — I don't always cook every meal).
Back in 2011, I created a simple meal planning system where I pick one Italian recipe, one Mexican, one meat/potatoes, one soup/salad, one casserole, and one breakfast-for-dinner option each week… and I still use this general concept today. We eat lots of variety but I don't have to reinvent the wheel every week.
I make extra food on Thursdays and Fridays so I rarely have to think about food prep or cooking over the weekend.
We eat cereal for breakfast every Tuesday because I have recess duty at the kids' school and we all need to be out the door on time (I make hot breakfasts the other mornings).
We have oatmeal and cinnamon rolls almost every Sunday morning and we enjoy a big Charcuterie Board for dinner on Sunday night "movie night".
Lunches are either leftovers, sandwiches, or meat/cheese/veggies/fruit.
The kids know they may have a snack at 10 am and 3 pm — so they (usually) don't ask for food at other times.
Thanks to a beautiful new Aldi in our town, I now do 90% of my grocery shopping at Aldi — saving me time, money and so many decisions (I actually love that they have fewer options). I do a monthly-ish Costco run, but everything else is from Aldi, even if I can find it cheaper somewhere else.
Of course, this doesn't mean we NEVER deviate from the list above.
There are certainly times when I surprise the kids with donuts for breakfast, ice cream cones for an after-school snack, or a special night out at their favorite local pizza buffet.
However, by deciding once on SO many food choices, I've simplified my life and alleviated much of the decision fatigue that accompanies meal planning, snack prep, grocery shopping, etc.
Decide Once: CLOTHING
I won't be surprised if many of you think I'm a little nuts after reading the following paragraphs… but I'm totally cool with that because I get weekly emails from readers bemoaning their disorganized closets and piles of laundry.
I'm not trying to force any systems on you… but I will say that our closets are organized and our laundry never piles up! 🙃
How I "decide once" to simplify our clothing.
We pick out our clothing the night before — the kids usually sleep in their clothes for the next day (this simplifies our mornings SO much!)
We have a set number of hangers in each closet, when we run out of hangers, we purge.
I have donation bins/bags in most closets, so any time we find an item of clothing we don't love or that doesn't fit, we immediately toss it into the donation bin.
I buy all our swimsuits from Lands End so the colors coordinate and we can easily pass things down to the next child.
We buy the rest of our clothing from thrift stores… I let the kids pick out their own clothes and we usually shop when the stores have "fill a bag for $5" days!
I don't have a tiny "capsule wardrobe" but I do stick to specific colors and styles — which makes shopping for clothing and getting dressed so much easier.
I wear the same earrings and watch every day — not much other jewelry.
I wear the same pair of boots and the same coat from Fall through Spring (it has a removable liner).
Our mudroom has specific shelves and hooks for each person's outerwear so everyone can put their own gear away.
Decide Once: CLEANING
For as long as I can remember, a clean and well-organized home has been at the top of my list of priorities (truthfully, even back in middle school). My surroundings must be neat in order for me to feel like can relax… thankfully, Dave has similar feelings about our home.
Because we value a neat, tidy, and orderly home while raising 4 young children, we've intentionally created systems that allow us to KEEP our home fairly clean and organized with minimal extra effort.
How I "decide once" to simplify our cleaning.
We run the dishwasher EVERY night after dinner — even if it's not full. This was a huge game-changer for our family. The kids clean out the dishwasher before they go to bed.
I clean the entire house on Mondays.
I do all the laundry on Mondays and Thursdays and don't worry about it the rest of the week.
Our kids put their clean laundry away and start doing their own laundry at age 10.
I don't wash bedding every week.
We change bathroom and kitchen hand towels and washcloths every morning (after they've dried out).
We pick up the entire house and yard EVERY night before bedtime (it only takes a few minutes with everyone helping). The kids don't even think to complain because it's fully ingrained into their normal routine.
We use a wall filing system for all our incoming papers (the kids know which slot is theirs) and I clean it out once a week.
Decide Once: TRADITIONS
I have a love-hate relationship with traditions… but I suppose I can't write about reducing decision fatigue and not mention traditions.
First things first, I am not a "Scrooge". HOWEVER, I'm also not willing to run myself ragged, drag my kids around, and do things I don't even want to do "just because it's how we've always done it".
I will be the first one to question the necessity and relevancy of any given tradition, and I am quick to say "no thanks" when a tradition doesn't fit with our family's current stage of life (no matter how fun it may have been in past years).
See… totally not a Scrooge! 🤪
How I "decide once" to simplify traditions.
We let our kids open their Christmas gifts on any random day in December — usually way before Christmas Day so they can spread out their gifts a bit.
Dave and I don't do gifts for each other (we help the kids get something for the other person because they enjoy giving us gifts.)
We don't give gifts to our parents for Mother's Day, Father's Day, or birthdays — just Christmas. We do have the kids make cards.
We don't do any gifts for our siblings — just a text message on their birthdays.
We don't do Easter baskets, Valentine's gifts, or anything other than birthday and Christmas gifts for our own children.
I give a set amount to each child's "room parent" for the combined Christmas/Birthday/Teacher appreciation gifts for each teacher.
We give gift cards to almost everyone else (bus driver, piano teacher, Sunday School leaders, etc.)
We have simple birthday parties for our children (grandparents, aunts/uncles, cousins) through ages 6… then we have grandparents over for the child's favorite dinner.
They get a party with their friends when they are 7 or 8 (depending on their current class at school)
Decide Once: FAMILY LIFE
For those of you who are less "type A" than Dave and I, please know that the list below does not feel like "rigid rules" we must follow.
Instead, deciding once on so many things affords our family MORE freedom because we aren't constantly discussing, arguing, complaining, or fighting about the same things over and over again.
How I "decide once" to simplify our life.
The kids all have "assigned seats" in the van and at the dinner table (intentionally chosen so the kids who need more help are by older siblings or adults).
We keep all library books on a specific shelf in our den. 10 years and 6000+ library books later… we've never lost one!
The kids always take a shower before bed (this keeps the sheets cleaner.)
They are all in bed by 7:30 / 8:00 and the older ones can read for a bit (we are more relaxed on this in the summertime). They must stay in bed until at least 7:00 each morning.
The kids know their assigned daily chores and usually do them without much fuss or complaining.
They watch TV on Saturday mornings and Sunday evenings (movie night!) They don't have any other electronic devices and it truly hasn't been an issue because we just decided once and moved on.
I have a super simple "tax system" that allows me to prepare everything I need for our accountant in roughly 15 minutes each spring.
I created templates for my digital photo books so I can simply drag and drop pictures in each month — it takes me 15 minutes to do an entire month.
We have a "no friends" policy on Sunday — mainly because we want our kids to ourselves for a day and our yard is usually the neighborhood hangout.
If I had the time, I could give dozens more examples of small (and big) things we do to reduce the number of decisions we make on a daily and weekly basis.
Each individual example above doesn't necessarily make a huge difference on its own (although some do), but cumulatively, they all add up over the course of each day, week, month, and year to help our home and our lives run so much smoother.
Each time we choose to "decide once" we are alleviating a bit of decision fatigue and improving the overall mood/tone/feel of our home life.
Once your brain gets out of its decision fatigue rut, you will notice more mental clarity and energy to put towards the people and activities that bring you joy and fulfillment — allowing you to focus on the important without constantly being bogged down by the urgent.
Sound good?
Here's your next step (just one, OK… not 12).
How to "decide once" to simplify YOUR life.
Look for ONE source of stress in your daily life and figure out if there's a way you can "decide once" to eliminate (or at least reduce) that stress.
Here are a few ideas:
Do you hate getting dressed? Reduce your wardrobe to 10 tops and 4 bottoms you feel great wearing and put the rest in boxes for now.
Do your kids struggle in the morning? Let them sleep in their clothing and decide on an easy breakfast you can make every day until people get tired of it.
Do you dread dinner time? Make a list of 10 easy meals your family enjoys and you can quickly whip up on a busy weeknight. Rotate those meals for the next month (or more!)
Are you constantly behind on laundry? Set aside one day to get caught up again and then recruit a child or two to help on specific days each week (seriously, laundry is so easy — especially if you have low standards!)
Essentially, you have two options:
Continue to feel stressed and overwhelmed by tasks and responsibilities you know you need to do each day… OR
Take a little extra time today to think through a solution and decide once and be done with the stress and overwhelm of decision fatigue.
I know which option I'd choose!