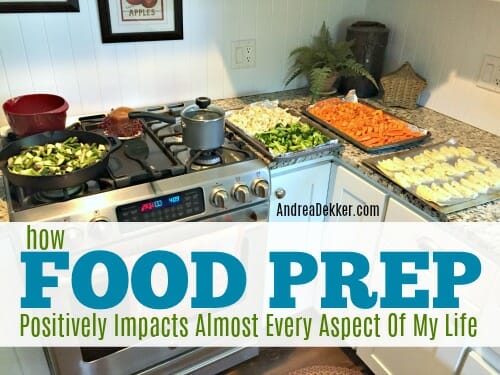 For my entire adult life (even well before children) I have been an advocate of planning ahead whenever possible in order to save time, money, energy, and stress later on.
One of the major ways I plan ahead is with food prep. I have a fully stocked freezer, I canned much of my own produce, I meal plan every week, I write out detailed grocery lists, I make food ahead of time, and I use my slow cooker on a regular basis.
I can't even begin to add up how much food prep has "saved" me over the years… not only have I saved hundreds and thousands of dollars at the grocery store, I've also saved piles of wasted food from the trash, and SOOOOOOO much time in the kitchen!
For the last 8 years running my blog, I've continually "preached" these concepts… and, I'm happy to say, I've continually implemented them in my own life as well.
Here are a few examples (click on them to read more).
As I've mentioned before, I don't particularly LOVE putting in the time and energy to plan, shop for, prepare, and clean up food on such an on-going, every-day, never-stopping basis.
However, I've learned over and over and over again that almost all aspects of my life are better if I just do it — especially with 4 young children who want food multiple times every single day (seriously, wouldn't life be so much easier if we could just stock up on calories for a day or so and then not eat for a week! 🙂 )
I've always known food prep was an important piece of the puzzle for my simplified, organized lifestyle; however, it really hasn't been until the last 9 months of my life that I truly started to realize just how much my entire life "falls apart" when I slack on food prep.
It's astonishing to me how many positive results come from planning my meals and grocery list, preparing food in advance, and having a fully stocked freezer and pantry.
This knowledge is more than enough for me to continue my not-so-loved task of food prep… as you'll read below, it really does positively impact almost every area of my life!
Here are just a few examples…
1. Food prep saves STRESS and MENTAL ENERGY.
Whether you are a single person working 2 jobs, a retired couple, or a stay-at-home parent of multiple little children, I'm 100% positive food prep WILL save you a huge amount stress and mental energy because you won't always be wondering "what's for _________" (breakfast, lunch, dinner, snacks, dessert, etc.)
you'll know the plan
you'll have the right ingredients in the house
you'll have enough time to actually prepare the food (or you'll already have the food prepared in advance)
you won't have to constantly think about what you should/could make next because you already KNOW
you'll be able to easily answer the 500 "what's for dinner" questions you get every single day!
.
2. Food prep saves TIME.
I suppose it goes without saying that food prep takes a considerable amount of time… yes, I just said it TAKES A LOT OF TIME (I go into more detail on this later in the post).
However, I'm positive I save much more time than I spend — so it's 100% worth it for me.
I can get breakfast and lunch on the table within 15 minutes of waking up or walking in the door if I have to — and when it comes to dinner (our biggest meal of the day) I often prepare it while the kids are eating lunch, so all I have to do is stick a pan in the oven, reheat something on the stove, or put the finishing touches on the meal once Dave is home and we're ready to eat.
This allows us to eat fairly early (which is a bonus for getting our kids to bed on time) and it means I almost never resort to fast food because I "have no food in the house."
Certainly, we still get fast food or order pizza on occasion, but those nights are planned into our menu for the week — which means I don't buy extra groceries for those meals.
.
3. Food prep saves WASTED FOOD.
Speaking of not buying extra groceries, diligent food prep saves a lot of wasted food (at least in our house!)
Since we eat much of the same foods for breakfasts, lunches, and snacks, I buy relatively the same "set" of groceries every week. The main variable in our menu plan and my grocery list is what we have for dinner each night.
If I know we'll be going to friends' or family's house for a meal, heading to Culver's for dinner, or ordering pizza one night, then I know not to buy anything extra for that meal.
Another way food prep saves wasted food is because I am constantly going through our fridge, freezer, and pantry in an effort to "use up" what we already have. If I happen to see something nearing an expiration date, I make a plan to use it up immediately. Or, if I can't use it up before the expiration date (or before it goes bad), I'll portion it out into freezer bags for later.
There are so many ways I'm able to salvage produce that's past its prime — all because I'm prepping food every day and notice immediately when something starts to get a little too ripe.
.
4. Food prep saves MONEY.
Obviously, saving wasted food from the trash saves quite a bit of money too… as does buying only what we'll need for our upcoming meal plan.
However, even more than that, food prep saves money on SO many impulse purchases and last-minute fast food runs if I don't have a plan for dinner, if I don't have anything prepped ahead of time, and if I don't have enough time to prepare a meal.
It's crazy how quickly restaurant and fast food bills pile up (especially with 4 kids coming along). There's no doubt in my mind that the time I spend prepping food, planning our menu, creating a shopping list, etc. pays out with all the money we save on otherwise wasted food or eating out.
Note: I just checked my records, and thanks to a couple Culver's gift cards and a no-spending challenge earlier this year, our family has only spent $32 eating out since January 1 (so almost 5 full months!)
.
5. Food prep saves calories.
Last, but certainly not least, food prep saves SO many calories because by eating at home, I have much more control over what I'm eating, how I'm cooking my foods, and how many calories I'm consuming.
If you're trying to lose weight, follow some sort of dieting plan (low carb, Whole 30, dairy-free, etc.) or just eat more nutritiously, food prep is invaluable for that process.
Even if you are NOT trying to lose weight or cut calories, food prep will most definitely help you eat a more balanced diet. You'll feel better, you'll look better, you might even sleep better — all as a result of taking the time to prep food ahead of time!
.
After reading through this post, it should hopefully be fairly obvious why I stick to all my food prep… however, the reason so many people (myself included at times) falter and stop is because FOOD PREP CAN BE A LOT OF WORK!
There are many nights when I spend well over an hour (usually more) after the kids are in bed, washing and chopping raw fruits and veggies, roasting a couple pans of veggies to eat over the next few days, mixing up waffle batter or making a quiche for breakfast, packing lunches, defrosting and sometimes assembling dinner for the next day, cleaning out the fridge and reworking leftovers to create a new meal, baking bars or cookies for snacks over the next few days, making a grocery list of things we need to pick up, etc. etc.
It's definitley more efficient when I prep a bunch of food all at one time, but it still takes time away from other, more enjoyable activities I could be doing instead (like doing yard work, watching something from my ever-growing Netflix list, or actually going to bed early for once!) .
But it's worth it – I just have to keep reminding myself of that fact!
.
If your life feels crazy, chaotic, stressed, or frazzled, I highly encourage you to buckle down and see how much food prep you can do ahead of time — and stick to it for 2-3 weeks. Even just planning out a menu will be a step in the right direction.
And if you feel tired and rundown with the amount of food prep you currently need to do, let me encourage you to keep at it — I'm positive it is making a HUGE impact on the rest of your life!
How does food prep help you each day?