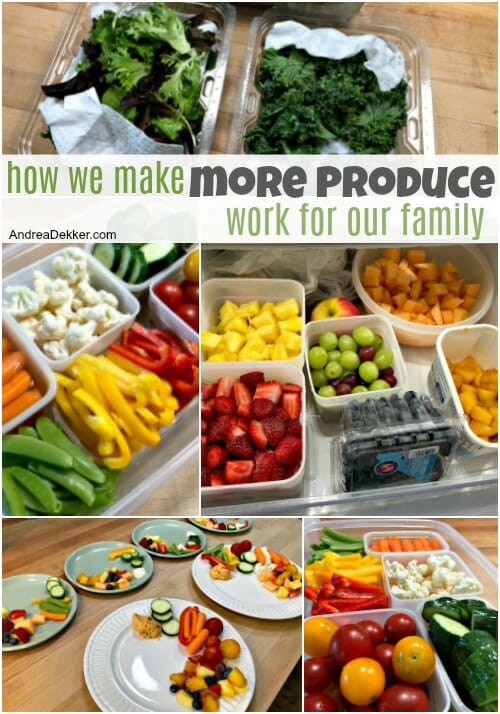 Earlier this week, I may have mentioned that our family consumes 1 to 2 pounds of butter every week!
Yikes! 🙂
However, one thing we consume even faster than butter is fresh produce — pounds upon pounds of produce!
Over the last 2 years, I've been consciously focused on SLOWLY ADDING more and more vegetables, fruits, and greens into each and every meal (yes, even for breakfast)!
It has been a long process with some complaining from the kids and extra work in the kitchen for me; but in my opinion, we've all made BIG strides in a positive direction.
The kids have found so many new foods they actually admit to liking — THEY even request raw fruits and veggies for snacks on a fairly regular basis!
And since I've become diligent at keeping a massive amount of produce prepped and ready to eat in the fridge, this is actually a very easy snack for me to serve up.
In some ways, I feel like a broken record sharing yet ANOTHER post about our fruits and veggies. However, based on my email inbox, it's a topic MANY of you are still so interested in learning more about!
I do still have several post ideas percolating in my brain (hopefully I'll be sharing those soon too) but first, I feel it will be helpful to share 3 very specific reasons why eating more produce works for OUR family right now… but might not work for YOUR family!
#1. I waited until the "right" seasons of my life.
If reading posts about more nutritious eating habits (or exercise routines, or anything else) causes you to feel bad, please stop and consider your current season of life.
I did not start my healthier journey until after Clara was born, after she was sleeping more regularly, after we were certain we were DONE having more babies, after our older children were old enough to understand what I was doing, and after I felt like I had a little more time, energy, and resources to devote to this "project".
We are also home a lot at this point in our life. We aren't busy with extra-curricular activities in the evenings (yet!), we aren't gone on the weekends, we don't travel, we don't go out to eat all that often, and my kids prefer homemade lunches versus ordering hot lunch — so it's exponentially easier for me to "control" what foods we eat at this point in my life since I'm making almost all of them in my own kitchen.
If this is not the best season of life for you to implement new eating habits, that's OK. Be honest with yourself and don't try to force it!
.
#2. I started SMALL… and took things SLOWLY!
I realize that looking at pictures of my heaping plates of produce, my over-flowing grocery cart, and my many pans of roasted veggies might seem overwhelming… but let me assure you that these changes to our family's eating habits did not happen overnight!
Over the past 2 years, I have made drastic changes in our family's diet… but it took 2 years of steady effort and forward progress.
Even now, looking back to just one year ago, I've changed and improved my system so much.
I've streamlined my prep process, I've gotten faster at grocery shopping, I've learned new techniques for cooking and roasting veggies, I've found new recipes that we all like… simply because I've been steadily pluggin' away at it day after day, week after week, month after month.
It's a work in progress, it's something I currently enjoy doing, and it's something I feel is important for me to make the time to do.
If you want to get started but don't know how, my suggestion would be to simply add ONE BITE of a new fruit or vegetable to your family's plate — and add the same one for several meals in a row. Then try something new.
And try to serve at least 1 or 2 things everyone really likes at each meal (even something simple like bread and butter) so the new foods don't feel as "threatening".
Who knows, 2 years down the road, you might just be amazed by all the new foods you and your family have tried!
.
#3. I did NOT eliminate any foods, I just focused on "produce first".
If you are an "abstainer", this approach probably will not work for you… but for me and for my family, this is KEY!
Truly, I cannot stress enough that our family does not eliminate anything from our diet (at least not right now).
We still eat Culver's, Arby's and Jet's Pizza on occasion.
We still enjoy cookies, bars, cheesecake, and other sweet treats on a daily basis.
We still have a designated "candy cupboard" in our kitchen.
We still pack "fun lunches" for school — always with a special treat.
We still get super excited about bags full of candy at Halloween (and basically every other "holiday").
We still frequent our favorite local donut shops (yes, that's plural!)
We still eat birthday treats at school, indulgent foods at church potlucks, and snacks at friends' houses without a second thought.
However, the VAST MAJORITY of our meals are eaten at home, and they are heavy on produce… which we plate-up FIRST.
No matter what our main dish is, or what meal of the day we are eating, we almost always put fruits, veggies, and salads on our plates FIRST… followed by "everything else" — meat, potatoes, bread, pasta, casserole, etc.
Obviously, this helps us fill up on produce first, versus eating huge helpings of other, not-as-nutritious foods.
And the fact that nothing is "off-limits" allows the focus to be on the delicious foods we enjoy… and not fixate on the fact that certain things are "not allowed".
I realize there is potentially an over-abundance of photos in this post — but photos are usually very helpful for me, so I'm hoping they are also helpful in helping you to SEE the many different veggie combinations we have with our various meals each week.
What More Produce Posts?
How I stretch my grocery trips (and produce consumption) 2-3 weeks.
How I keep lettuce fresher, longer.
How I store, prep, and serve all our fresh produce.
If you've ever done anything to change your diet, I'd love to know what worked (or what didn't work) for you!