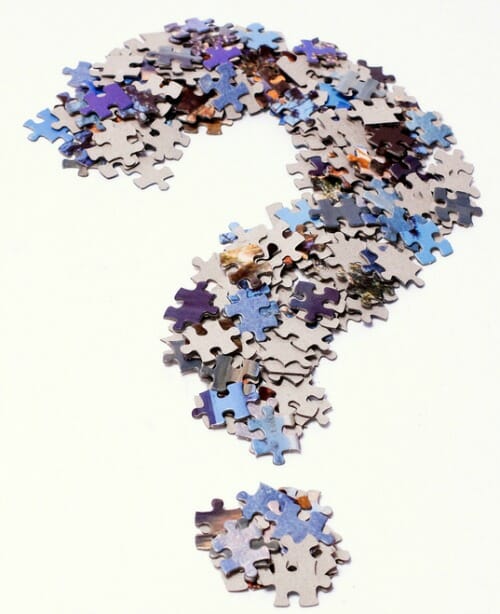 Earlier this week, I shared a bit more about how systems help me to simplify and streamline almost every aspect of my life.
As I was writing that post, I realized there is one other major thing I do to simplify and streamline…
I limit the number of decisions I need to make every day.
What to wear, what fun activity to do with the kids, what sponsored blog post requests to accept, what to have for dinner, what route to take to avoid the most traffic, what color to paint our new armoire, what cleaning products to use, what food to buy at the grocery store, etc. etc.
There are hundreds (probably even thousands) of decisions I am required to make every single day… and although I consider myself to be fairly decisive, I know any decision-making process will ultimately take up some of my time.
Multiply that by a few hundred (or a few thousand), and that's A LOT of time spent every day just making decisions!
I realize many of the daily decisions I make are split-second decisions, but even still, I find that my brain often tires of making all those decisions each day (especially when I'm home with the kids all day and it feels like I have 20 times more questions to answer and decisions to make).
For me, too many decisions makes my brain feel crowded and claustrophobic — and when I feel that way, I start to shut down. I say "no" to a lot more and give half-hearted responses just so I can move on to the next thing.
Over the past few years, however, I have drastically simplified my life by making a point to limit the number of decisions I need to make each day.
Here are a few examples of what I do.
How I limit my decisions and simplify my life.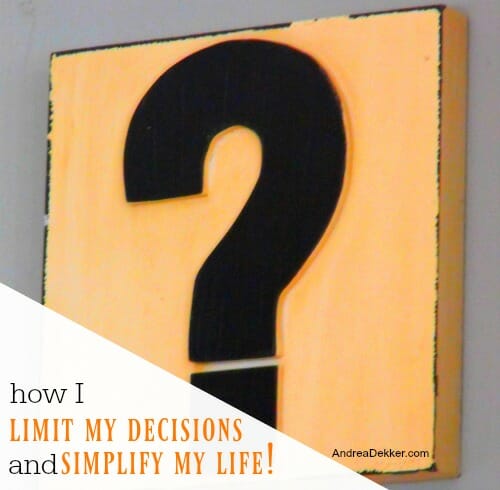 MORNING ROUTINE:
I do the same basic routine every morning (read more about it here).
I always make the bed right away, then get dressed and ready for the day, then get breakfast stuff started. Dave and I almost always have our clothes picked out the night before — so getting dressed only takes a minute or two.
Thanks to my super short hair style, I can get away with doing my hair the same way every day (it takes roughly 2 minutes) and I have a very minimal makeup routine that takes about 3 minutes (I'm honestly not exaggerating at all).
I almost always make pancakes with eggs or waffles with sausage for breakfast — so I simply need to decide between those 2 options, and the kids rarely argue with either!
My mornings do look slightly different in the summer when Dave is home, but during the school year, this simple morning routine alleviates so much wasted time and extra decisions on my part.
.
CLOTHES:
Our entire family wears the same things over and over and over again — not because we don't have other options or because we can't afford new clothes — but because it's SOOOOOOO much easier!
Nora insists on wearing a skirt EVERY SINGLE DAY, so her wardrobe consists of 5-6 skirs, 5-6 pairs of biking shorts or capris to wear under the skirt, and 8-10 tops. She doesn't care about matching at all, so this works wonderfully for her. She gets herself dressed and ready every morning without ANY assistance from me — and we never have to argue about what she can or cannot wear. Win-Win!
Simon has a handful of favorite shorts and shirts (I try to match things up as well as I can) and I dress James in one of his 5 shorts "rompers" that are SO comfy for summer. Also, the kids basically wear the exact same outfit every Sunday for church (weather appropriate). I didn't even implement this, but over time, the kids were requesting the exact same "Sunday clothes" week after week, and I realized it made life so much simpler because there was no question about what they would wear to church.
Every week, we wash and fold the same things over and over again… but it sure makes things easy when it comes to dressing the kids (and packing for any vacations!)
As for Dave and me, we both have several of the EXACT same shirts, shorts, and pants because when we find a style we like, we buy it in a bunch of colors. This way, we know the items will fit, we know the style will look good on us, we know they are comfortable, etc.
I've already shared my favorite Ann Taylor Loft pants (I have 7 pairs in different colors) and just last week, we found a bunch of nicer t-shirts for Dave for only $4.50 and we bought 5 different colors. These shirts will be perfect for him to wear with his 4 pairs shorts (all exactly the same, just different colors) we got on clearance last fall 🙂
During the school year, Dave has 4 pairs of dress pants that he rotates with about 10 polo shirts, 10 button up shirts (usually all the same brands) and 4 sweater vests. He spends almost no time picking out clothes at night which means fewer decisions for him. It also makes it a breeze to buy his clothes. I can just order the exact size and brand online if he needs anything new.
Many of you know that I am far from a fashion icon, and I wouldn't be surprised if my clothing tips don't work for some of you — that said, I feel that I always look quite presentable and (believe it or not) I actually get a lot of compliments on my clothing when I'm out and about!
.
FOOD:
As I mentioned above, we almost always have pancakes and eggs or waffles and sausage for breakfast — both of which are extremely quick and easy for me to make (I don't even need recipes as I've made them so many times.)
I usually have the kids' morning snack in their snack cups the night before — almost always some combination of veggie straws, goldfish crackers, animal crackers, and pretzels.
Then for lunch, we choose from leftovers, PB&J, meat and cheese, or mac and cheese. I serve each option with a variety of fruit, yogurt, chips, veggies, etc. School lunches are ALWAYS packed the night before, and sometimes I'll pack our lunches at night, even when we're at home all day — just to save time during the day.
The kids get to pick their afternoon snack from the "snack shelf" in our pantry.
I plan out our dinners every week, so the only time I need to make a dinner decision is when I'm planning out our meals at the beginning of the week.
We often go to the same restaurants over and over again (hello Culver's and Arby's!) because we know we like the food, we know what we want to order, we know our kids will eat it well, and we know the prices won't be crazy expensive.
I feel like grocery shopping has been easier than ever these past few months. I pick up roughly the same fruits, veggies, yogurt, milk, eggs, and other perishable items each week, and stock up on meat, cheese, canned goods, and boxed foods when they go on sale. I have also been using the curbside pickup service which essentially eliminates ALL in-store questioning.
.
EVENING ROUTINE:
I've already written about how our evening routine helps to simplify and organize the following day (read more about that here) AND how our kid's bedtime routine is currently the best it's ever been (more on that here) — but I wanted to touch on this topic again today because I think it fits well with the theme of this post.
One of the reasons I feel our kids are going to bed SO much better is because our bedtime routine is fairly "black and white". There aren't many variables and there isn't room for questions, so no decisions need to be made. We know the routine, THEY know the routine, and there is rarely fighting or arguing (at least not about going to bed!)
They know they get 1 snack and 2 books. They know there is no TV or iPad during this time. They know the routine and (generally) go to bed without much trouble.
Also, Dave and I have a general understanding of what we want/need to accomplish every night after the kids are in bed. We usually don't even need to discuss it — we just do what we always do to clean up the house and prepare for the next day.
.
As I sit here typing, I realize that this post probably makes us seem VERY boring — but I promise, it doesn't feel boring when we're living it!
It feels like we have plenty of variety in our life; and honestly, I think we all function better when we know what to expect — whether it's what we will wear, what we will eat, what we will do each day, when the kids will go to bed, when we will have snacks, etc. etc.
Plus, I'm way happier and my brain is less fried by the time I go to bed because I haven't had to make 500 decisions about what to wear, what to eat, when to start the bedtime process, etc.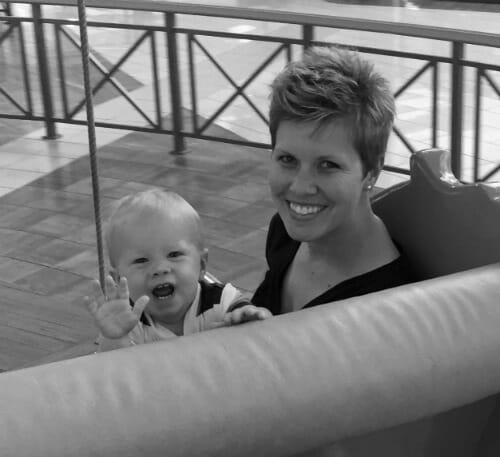 It won't happen overnight, but with a little effort, I have a feeling you can find numerous ways to reduce the number of decisions you need to make each day. And if you're like me, you'll be surprised how much happier, less stressed, and less chaotic your life feels as a result!
Have you ever tried to limit your decisions?