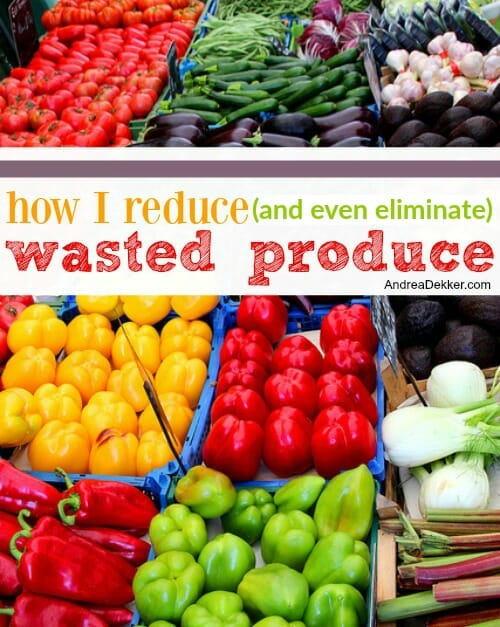 Our garden is growing so quickly, local orchards and berry patches are selling their delicious fruits, and local produce is always on sale at the grocery store.
These are all fabulous signs that summer is in full swing — but this also means I will soon have boatloads of fruits and veggies to attend to before they go bad!
Since I absolutely HATE wasting food (especially food I grew or picked myself) I have a pretty good system for utilizing the extra fruits and veggies in a way that doesn't require us to eat squash for every meal from August – October 🙂
Here are some of my ideas — I'd love if you chimed in with your ideas too!
Apples:
Apples have a pretty long fridge life, but when we buy up a bunch from our local orchard, I use a couple bushels to can applesauce or apple butter.
I also use my Apple Slicer-Peeler-Corer to peel and thinly slice apples that are getting just a bit old — and then I put them in bags in the freezer. I use them for apple bread, apple cake, smoothies, etc.
Bananas:
We go through 3-5 bananas a day in our house — so it's rare that any bananas make it to the "over-ripe" department… but if they do, I simply peel them and freeze them in groups of 4 because that's what I need for my Banana Chocolate Chip Muffins and Frosted Banana Bars.
Also, did you know that you can extend the shelf-life of your bananas by wrapping the stems in plastic wrap??
Berries:
My kids LOOOOOVE berries, and although they can be ridiculously expensive when they aren't in season, I've decided that it's worth the small splurge now since I'm happy to give them fruit if they want to eat it.
Since I don't want to waste any of the expensive berries, I usually wash and slice up a quart of berries at a time so they are always ready for a quick snack or "side dish". When those are almost gone, I wash and slice up more.
And this time of year, when we can pick fresh Michigan berries at various u-pick fields in our area, we often end up with more berries than we can eat before they go bad.
I often put a bunch of blueberries straight into the freezer since my kids love eating frozen blueberries for a snack! And if you make your own jam, you should definitely read this Time-Saving, Sanity-Saving Jam-Making tip that will allow you to keep your berries perfectly fresh until you have more time to make jam!
Whenever we have any type of berry that is getting somewhat mushy or over-ripe, I immediately wash and slice them, and then put them in freezer bags. They are ready to go (and easy to grab) for blueberry pancakes, blueberry muffins, strawberry pie, strawberry shortcake, and smoothies all year long!
Other Fruits:
I realize this is a very broad category — but I can't let this post run on for days 🙂 Here are a few ideas to eliminate more wasted produce (and wasted money).
Rhubarb – I chop it up and freeze it in 2-cup containers to use in breads, muffins, and pies.
Cherries – if we can't eat them all, I pit them, halve them, and toss them in the freezer for yogurt, ice cream, or muffins
Melons – I don't have a great tip for this, except to eat it really fast!
Oranges – juice them!
Lemons and limes – juice them and freeze the juice in ice-cube trays for later. You could also zest them and freeze the zest for later as well (I do a lot of baking with lemons and always need lemon zest!) And of course, you could always clean your bathroom with extra lemons!
Grapes – my kids like frozen grapes so I toss them in the freezer if they are starting to get soft
Peaches, pears, and apricots – I can them, so they never have a chance to go bad. However, you could also freeze them for smoothies.
Mangos – we don't buy a lot of mangos or kiwi, but they do work well in smoothies – so just cut them up and toss them in the freezer
Pineapple – use it to make Hawaiian pizza (or cut it up and freeze it for pizza later in the month.
.
Broccoli and Cauliflower
Our kids LOVE broccoli and cauliflower and I frequently make brocoslaw and this yummy broccoli bacon salad — so broccoli and cauliflower rarely goes bad in our house.
However, if I have a bunch of it left over, I'll chop it up for the freezer and use it later for cheese broccoli soup or chicken broccoli rice casserole (both of which work fine with frozen broccoli)
You could also roast up a bunch of broccoli and cauliflower for the freezer.
Lettuce and Spinach:
I don't like cooked spinach, but I do LOVE freezing it to use in pasta dishes or egg casseroles. Just make sure you wash it and chop it up before you freeze as it will be really soggy when you defrost it.
When it comes to lettuce, I honestly don't know of any way to use it once it starts to go bad. There really isn't any way to revive it, and you can't freeze it like you can spinach (at least not in my opinion).
My only tip here would be to keep it fresh as long as you can — I do that by wrapping it in paper towels and keeping it in a sealed container (read more in this post).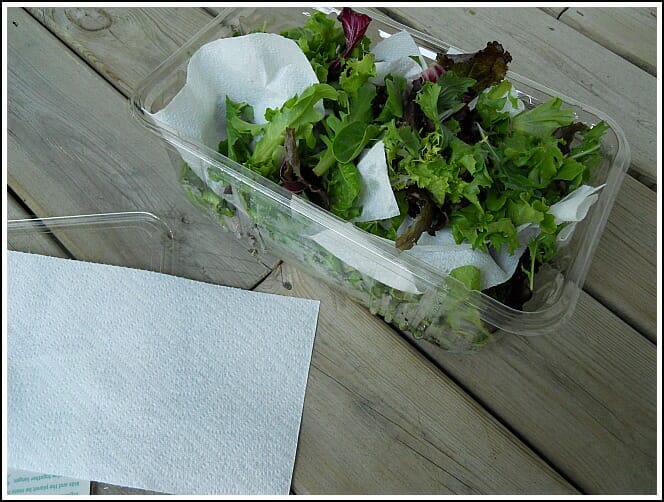 Peppers, Onions, Carrots, and Celery:
These veggies all have a pretty long shelf life, but if you notice they are getting a bit soft, just chop them up and toss them in the freezer.
I use frozen peppers, onion, and carrots for vegetable stir-fry, and use all of these veggies in soups year round.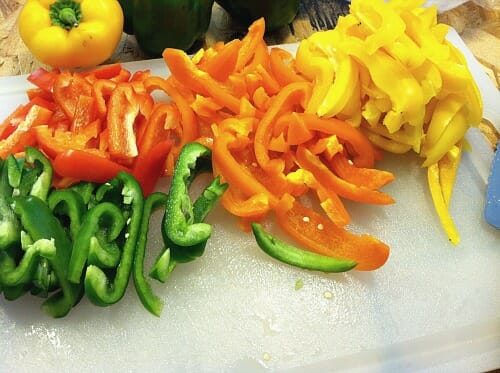 Potatoes:
I don't normally freeze potatoes in soups because I haven't had the best luck with that. However, I DO chop and shred my own potatoes and freeze them for my yummy cheesy hashbrown potatoes, fried potatoes, and potato wedges.
I don't do this very often because potatoes have such a long shelf life, but there have been a few occasions when I've salvaged the last of my potatoes by tossing them in the freezer!
Here are a bunch of my favorite potato recipes if you need to use up more potatoes.
Zucchini and Squash:
I've been freezing zucchini and squash for many years. I shred it all in my food processor and freeze it in 2-cup portions for breads, cakes, muffins, and my delicious "apple-less apple crisp"!
I grew a BUNCH of summer squash in our garden last year and roasted it all in the oven for about an hour, scooped out the insides, and put it into quart-size freezer bags. I used it for soups, stews, breads, desserts, and more!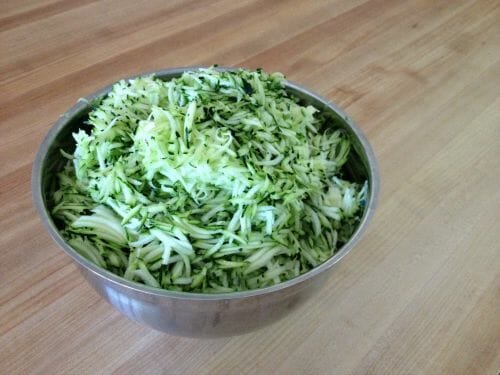 Other vegetables:
There are SO many more vegetables I could list, but in my opinion, most veggies can simply be washed, cut up, and frozen — so if you have extras, go that route first.
Otherwise, I'm sure your neighbors wouldn't mind some extra veggies!
These are just a few of the MANY ways I try to reduce the amount of wasted produce we throw out.
What are your best tips to salvage produce?