We Bought a Costco Pool… Here's Everything You Need to Know!
posted by Andrea | 07/12/2018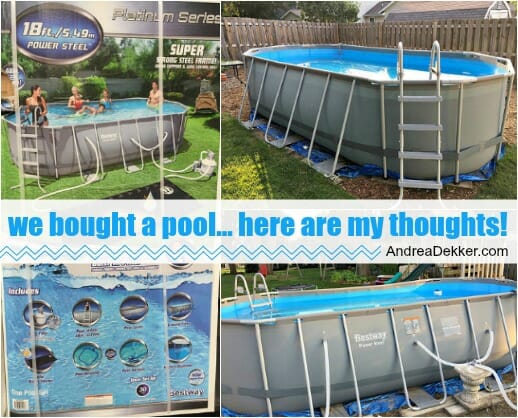 Since the day I first shared a picture of the Costco pool we bought this spring, I have been inundated with questions and requests for a blog post!
And although Dave is currently more "in the know" about our pool situation, I feel I have enough knowledge to share more with you — especially considering we shopped around for a pool like this for 2 years already!
If you're in the market for an inexpensive, temporary above-ground pool, I hope today's post will be helpful for you.
If you're not in the market for a pool, I hope you enjoy the cute pictures of my kids!
UPDATE: I now have a follow-up post with lots more details about how we set up, take down, store, and care for our Costco pool.

Also, this post is NOT sponsored by Costco — but I do include affilate links. Please read my disclosure.
More About Our Costco Pool
We purchased this Bestway Above Ground Power Steel Oval Pool from Costco back in April. It was $499 from Costco ($699 from Amazon), and we've spent another $300 on various chemicals, a few little parts we needed, a tarp to go over the pool (because the cover it came with doesn't fit), and a solar cover.
The box is HUGE (almost as tall as me) so Dave needed to fold down the seats of the van and have someone at Costco help him load it.
Of course, I got to help him unload it and "drag" it into our outbuilding for storage!
The assembled pool is an 18 ft. x 9 ft. oval (48″ tall) — which is the absolute PERFECT size for the space we wanted to put it in our backyard.
We needed the pool to be at least 10 feet from both our back and side lot lines and at least 10 feet from our outbuilding (per our city code). Also, we didn't want to go through the hassle of moving our swing set — so our pool needed to be less than 20 ft x 10 ft. to accomplish this.
We've had a heck of a time finding a pool small enough for the specific space we wanted to put it in, but big enough to actually accommodate our whole family plus a few friends. We knew an oval or rectangular pool would be ideal, but we hadn't had much luck finding one until this spring!
So like I said, this Costco pool is the perfect size for our space, which is why we jumped on the deal when we found it at Costco this past spring!
Our Costco pool came with everything we needed for installation — including the ground cover, the ladder, the pump and sand filter, a solar heater, a vacuum, a skimmer, a cover, chlorine basket, etc.
As I mentioned above, the cover didn't fit (not even close) so we purchased a big tarp and use bungee cords to keep it on. Not ideal, but it works!
NOTE: We ALWAYS remove the ladder when we're not using the pool… and it's way too heavy and bulky for our kids to move on their own.

I put the ladder in for the pictures, so you can see how it fits.
Why We Decided on the Costco Pool
Dave and I have wanted a pool since we got married — even more so after having kids.
I know it might seem silly to spend time and money on a pool when we live in Michigan and can only use it for 3 months of the year, but considering the fact that Dave is home ALL summer, I work from home, we love entertaining, our kids love playing outside, and we basically never travel anywhere, a pool is really a fantastic addition to our huge backyard.
We've already gotten much more than $500 worth of use out of our pool this summer — and we still have half the summer to go! We've enjoyed several pool parties with friends, pizza for dinner by the pool, picnic lunches by the pool, and popsicles in the pool 🙂
If it's not raining and we're not leaving to go somewhere, the older 3 kiddos are essentially in their swimming suits from 10:30 am until dinner time! And Dave jumps in the pool daily after his runs, after mowing the lawn or doing yard work, or just to cool off if he's been riding bikes with the kids.
Our Costco pool is definitely just a temporary pool until we save up for a big underground pool.
Our hope is that this pool will last us a few more summers, at which point, we would ideally put in an underground pool. We'd like to do this by the fall of 2021, as we've been told pool installation is less expensive in the fall versus the spring.
Plus, if we install the pool in the fall (September/October), we'll have all of November to spruce up the landscaping, install a fence, and make it look pretty, so we can start swimming on Memorial Day the following spring!!
By that time, Clara will be 4, and assuming she is our youngest child, all our kids will be old enough to understand pool safety and most likely all know how to swim.
Of course, we definitely have time to change our minds or decide we don't want an underground pool after all — but in the meantime, we'll enjoy our very inexpensive Costco pool all summer long!
.
How to Set Up Our Costco Pool
First of all, I should mention that the instructions that came with our pool were absolutely HORRIBLE. And the Bestway company had super long wait times when we tried contacting them for assistance.
Thankfully, we have a great pool and spa store just down the road from our house, and the staff there helped us get everything up and running, and then helped us figure out what we needed for chemicals to make sure the water stays nice all summer long.
Dave and I had a good laugh when we noticed the preppy couple setting up the pool on the Bestway website.
This is NOT what you will look like when setting up the pool!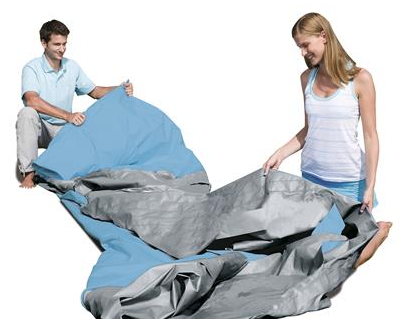 You will be sweaty, you might get dirty and/or wet, you will probably say a few choice words, you will most likely feel slightly frustrated by the lack of instructions included with the pool, and you will definitely need more than 2 people to get this bad boy up and running!
Dave spent a significant amount of time digging up all the sod for the area we wanted to put the pool. Then he leveled the ground and made sure there were no sharp rocks or big roots.
My sister and brother-in-law came for the morning to help us set up the frame (it's definitely a 3 or 4 person job), and then Dave spent some time getting the pump, filter, and solar heater hooked up.
Once it was finally set up and ready for water, it took a full day to fill up!
.
Pool Chemicals and Water Treatment
After we filled the pool, we had to get the water tested to figure out what chemicals we needed.
Dave took water samples to our local pool place and their staff told us exactly what to do, what products to buy, how often to put the various chemicals in the pool, etc.
Once the chemicals were in, we waited 24 hours and then let the kids jump in!
Yes, it was cold… but it heated up quickly!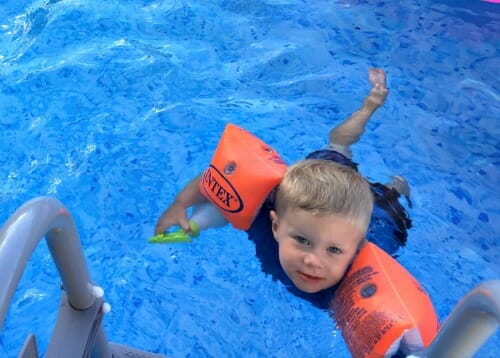 The Amazing Solar Water Heater
I'll be honest, the solar heater was the thing that sold me on the Costco pool — I HATE cold water!
See that black pad in the picture below? The water runs through that and gets nice and toasty warm before entering the pool again — so if we keep the pump running whenever it's sunny (which is often in the summer months) our little pool warms up quickly!
It's been in the mid-80s for a few weeks now already, which is FANTASTIC for me! Heck, I'd even take 90º!!
Storing the Pool
These pools are designed to be fully drained, dried, disassembled, and stored for the winter. However… we have neighbors who simply drain the pool below the intake/outflow ports and leave it set up with a heavy tarp over top.
We do take it down every year and store it in our outbuilding (read more about that process in this post).
If you do decide to leave it up, you'll definitely want to disassemble the pump, filter, solar heater, etc. and store those items in a climate-controlled area so they don't freeze.
.
Additional Tips and Thoughts
1. Set up will most likely always be frustrating and annoying.
I have a feeling that anyone with any type of pool will say that the initial process of setting the pool up, cleaning and shocking it, and getting it ready for summer is somewhat frustrating and annoying. That's just part of having a pool.
After that first week, then it's usually fairly smooth sailing for the rest of the summer — so definitely worth a week of frustration in my opinion!
2. Work with a pool company you like and trust.
We had so many questions in the beginning, and our local pool store helped us SO much. Not only did they explain many things we didn't understand from the pool instructions, but they also helped us test our water, and figure out a good routine for adding chemicals.
We may have paid a little bit more than if we just went to Meijer or Costco for our pool chemicals, but we got great service and expert advice.
Hopefully, we'll be able to give the pool store lots of business over the next 20+ years!!
3. Realize that "you get what you pay for".
Dave and I are VERY happy with our purchase (so far!) and definitely feel like this pool has been worth $500. However, you really do "get what you pay for".
This pool is fairly small — so if we invite friends over, we just invite 1 or 2 families at a time so it doesn't get over-crowded.
Also, other than jumping off the ladder, there is no place for the kids to stand and jump into the pool (and they really like to jump in). We've thought about trying to build a little platform at one end — but decided we're just going to be content with the pool this summer. Maybe next year we can add the platform!
Another downside to not having any platform, deck, or cement area around the pool is that adults can't just sit and watch the kids — we either need to stand next to the pool or be in the pool with them in order to see them. Dave and I did figure out that if we sit in a chair inside the treehouse, we have a great view of the pool while enjoying some shade! 🙂
And finally, the materials for this pool definitely aren't as sturdy as a more traditional above-ground pool — which is fine, but just something to note.
Like I said above, Dave and I are very happy with our purchase, but there are times when we have to remind the kids that they can't push off the side of the pool wall or hang onto the pool railing because it literally jiggles the entire pool!
4. Be prepared for regular maintenance.
Everyone told me these little pools are impossible to keep clean — so I was pretty nervous how much time and energy we'd need to spend on our pool (especially with all our trees!)
However, I can honestly say I've been pleasantly surprised with how well the pump and filters work, and the minimal amount of effort we've had to put into cleaning it.
Dave and I both skim the pool regularly when we're in it, when we're playing with kids outside, etc. etc. and we've each vacuumed it a handful of times already, just to keep the bottom nice and clean.
Dave has taken on the role of "pool boy" this summer and is the one in charge of adding chemicals and getting the water tested at appropriate times — so far, it hasn't been too much of an inconvenience for him.
5. Keep your kiddie pool.
With our new bigger pool, we thought we might not need our kiddie pool anymore… but we are definitely glad we have both for now.
Clara is still mainly in the kiddie pool, and even the older 3 like to go back and forth as sort of a "pool and hot tub" situation (we fill our kiddie pool with REALLY warm water!)
Also, the kiddie pool is great for using on random hot days in the spring, when our bigger pool might not be open yet.
6. Think twice before buying used.
You know me — always the one to buy used versus new!
Dave and I were originally hoping to buy a used pool, as they are ALL over the place on Craigslist in our area. However, we were always somewhat leery about the process of setting up a used pool with no instructions, no guarantee there wasn't a tiny pinhole or crack somewhere in the liner and no way of knowing if we actually had all the parts (or what parts might be missing).
I'm super glad we went for a brand new pool (even though the instructions were still very lacking). It was nice to know we could register our pool, get the warranty, be assured everything was actually in the box, and have Costco's money-back guarantee.
Also, it's worth noting that anyone selling a pool like this "without the liner" is just a scam. This pool is basically a liner on a frame — so if you just buy the frame, you're screwed as I currently don't know of any place that you can buy just a liner for these types of pools!
UPDATE: I now have a follow-up post with lots more details about how we set up, take down, store, and care for our pool.
.
All in all, we are EXTREMELY happy with our little Costco pool and would definitely recommend this frugal option for anyone with little kids who love to swim!