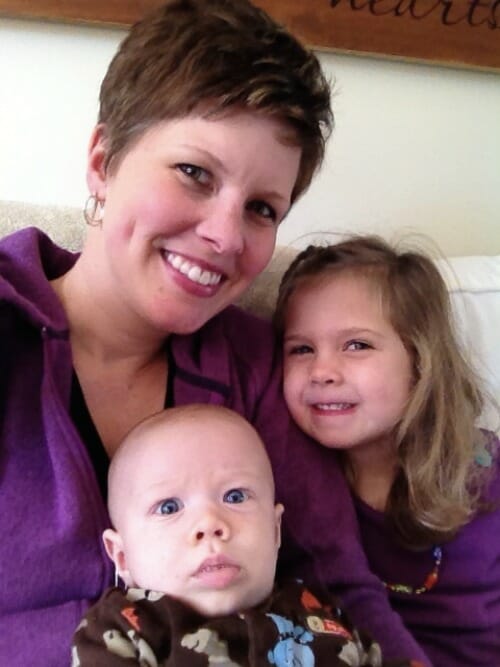 It's been an eventful 2 weeks since my last "A Peek Into Our Week post" — of course, there's lots more "Dekker news" to share.
For starters, James hit the 3-month milestone last week Wednesday and he's officially rolling over! He is also starting to develop a little personality, and from what I can tell so far, he's quite sweet.
He absolutely LOVES his play mat — and grabbing for the dangling toys. Neither of my other two kids really loved the play mat (or being on their backs) so it has been fun to sit in the living room and play with James.
He coos, and makes all sorts of noises — and as I mentioned earlier, it's impossibly easy to get a big gummy grin (and even a laugh) out of him!
Oh yeah, and he found his thumb 🙂
.
Simon met with a speech therapist for the first time on Thursday. We aren't super concerned with his complete lack of words yet (he literally doesn't say anything but "good"). However, we also don't want to wait too long to start doing anything.
Right now, we will just have monthly appointments with homework in between. However, if we don't see any progress by the time he is 2, the plan is to move to weekly appointments.
Simon's eye teeth are officially in, so he has been (mostly) in a better mood. Of course, he is 19 months old, so there's no telling what could set him off at any minute of the day!
He's big on "helping" me with yard work — mainly putting pine cones in buckets and pushing the wheelbarrows around — but boy can he occupy himself for a LONG time outside! Winter could be rough for us this year.
More big news from Simon… he got a big boy haircut!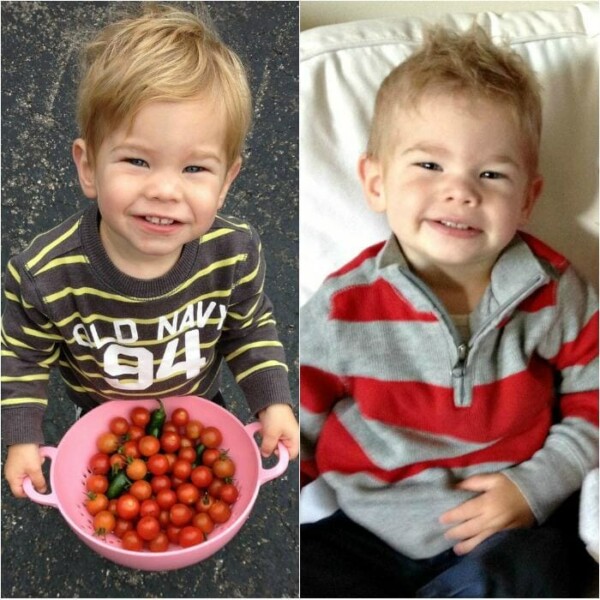 He was not thrilled to have me cut it… but has enjoyed looking at himself in the mirror ever since. He also keeps feeling the back of his head and smiling!
I've never been someone who wanted to "wait" to cut their kids' hair — I've cut his with a scissors MANY times already. However, it was time for a more grown-up look.
.
Miss Nora has been keeping busy with her various social endeavors… she sang in front of church with the Children's choir last week and then confidently marched off to Children and Worship after singing.
She is having SOOOOOO much fun at school; and although she isn't big on talking about what she does at school, I can see new things she is learning all the time.
For example, she can now write her name all on her own (something she's been working on for a while now). She is also getting very good at drawing shapes and other letters.
She's constantly singing songs she learned at school and telling me "my teacher said ______" or "a girl at school did ________". I can tell she's just soaking it all in — and I'm really glad we decided to send her to school this year.
The big news from Nora is that she started Dance class! It's only a 4-week class with a little performance at the end of the 4th class — but I can not even tell you how excited Nora is.
She is constantly dancing around our house and always wants to wear a dress or a skirt so she can twirl. Yes, I'm super excited to see what a 3 and 4 year old dance recital looks like 😉
Nora is quite persuasive and can convince Simon to do just about anything these days, including their latest favorite outdoor game… "walking the dog". Nora pretends that she's a dog and Simon is taking her for a walk — meanwhile, Simon really has no idea what's going on and essentially just chases after Nora while holding onto a jump rope!
.
A few weeks ago, my sister found a really old Betty Crocker baking set to make "filled" cakes.
I've had my eye on a Brownie Peanut Butter Cake recipe that I wanted to make. Of course, Nora was my trusty helper and thoroughly enjoyed licking all the beaters and spatulas I used.
The finished product was delicious!
Along with the $1.50 Betty Crocker baking pans, I splurged a little and bought myself all new baking pans from Bed Bath and Beyond. My 9″ x 13″ pans were ruined over a year ago thanks to an egg dish I couldn't clean off. My 9″ x 9″ pan was very scratched, my muffin tins were terribly stained and I think one was starting to rust, and one of my bread pans "bit the dust" earlier this summer.
So thanks to a handful of $5 off coupons and a gift card from many months ago, I restocked my baking pan cabinet for right around $20!
Along with all the baking I did with my new pans, my 3 main "projects" for the week were cleaning up our yard, cleaning up our kitchen, and cleaning up our church nursery.
I spent the better part of 3 afternoons outside weeding, deadheading perennials, pulling out annuals, sweeping pine needles, and stuffing our yard waste container to the brim! There is still a lot to do, and of course, the leaves have hardly even started to fall yet, but I'm glad I accomplished what I did.
Oh, and we picked the last of our garden!
I also spent a little time every day (usually while the kids were eating lunch) cleaning up our kitchen. I cleaned out the refrigerator and freezer, the stovetop, the oven, the dishwasher, the sink, and even a bunch of our small appliances. I'll be blogging more about this in the coming weeks, so stay tuned!
And finally, I spent several hours on 2 different days at our church nursery cleaning, sanitizing, sorting, organizing, throwing out broken toys, etc. etc. The kids played and James slept while I worked — I'm happy to have this project done before cold and flu season hits!
.
Dave has been helping me a lot with the yard work, and thanks to a huge limb that fell out of one of our trees, we have a local tree company scheduled to come out in the next week or so to cut down all the rest of our super overgrown, super "sheddy" pine trees back by the swing set.
I'm sure it will take a while to adjust to the openness after the trees are gone, but I certainly won't miss the sap that constantly dripped on our swings or the massive amount of pine needles we need to sweep and rake every fall.
On The Blog:
In case you missed it, I'm offering a fabulous deal on a Seventh Generation Diaper + Wipes bundle via ePantry.com — but you need to hurry!
These Pop 'n Store boxes arrived last week — and yes, there will be a giveaway!!
And speaking of giveaways, I talked with the people over at Personal Planner last week and we're doing a giveaway with them next month as well!!
Our Menu Plan:
MONDAY:
TUESDAY:
Green beans
Apple slices
Chips
The chocolate brownie dessert I showed pictures of above
WEDNESDAY
THURSDAY
Lettuce salad
Tortilla chips and salsa
More brownie dessert
FRIDAY
Brat Burgers
Green Beans
Fruit
SATURDAY
Fruit
More brownie dessert
SUNDAY
Leftovers for lunch
Frozen pizza and salad for dinner
And finally, my favorite 2 pictures from last week!