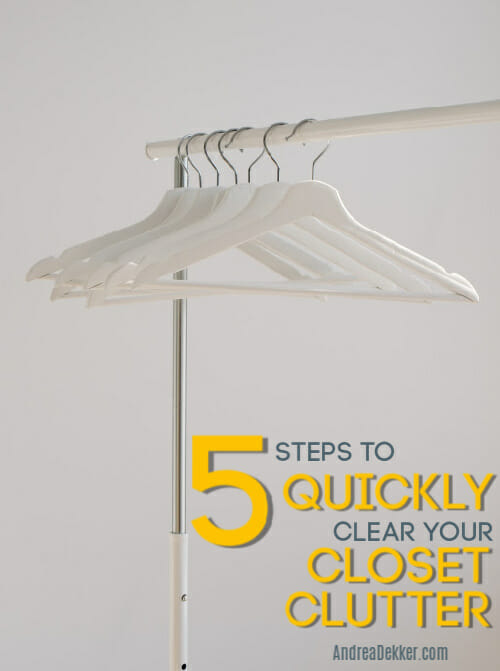 Over the course of my life, I have implemented many different clutter-busting strategies… however, today's tips to quickly clear your closet clutter remain at the very TOP of my list.
This process is so quick, so simple, and so motivating because of the "instant" nature of the transformation.
This is not to say it will necessarily be "easy", but I do think the vast majority of people will have success with this method!
If your closets could use a little TLC, give my simple 5-step process a try. You'll be amazed at how quickly you see results with this simple clutter-busting technique!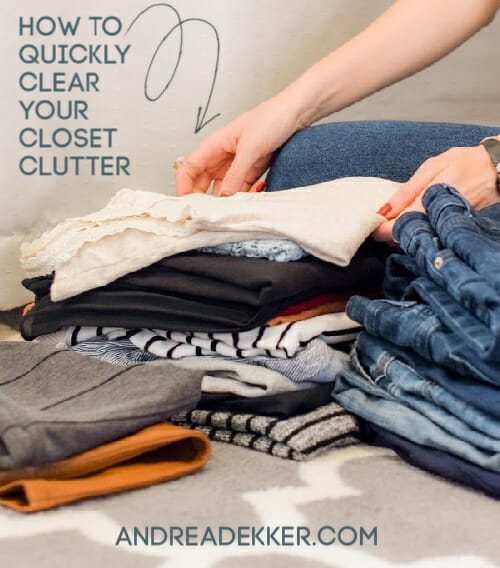 STEP 1: Grab a large container (or 2)
It honestly doesn't matter what you use (box, tub, tote, garbage bag, clothes basket, etc.) just make sure it's large enough and sturdy enough to hold several items of clothing.
It also shouldn't be a container you'll need to use again in the next few weeks, as it will hold your clothing for a bit (see STEP 3 below).
.
STEP 2: Set a timer and PURGE!
Your goal for STEP 2 should simply be to remove items from your closet as quickly as possible.
I recommend that you set a timer for 15 minutes and make SUPER QUICK "yes / no" decisions on everything in your closet.
Be ruthless with your "nos" as this is how you will achieve the best end results.
I suggest removing anything and everything that…
you don't love
doesn't flatter your current body shape
doesn't comfortably fit
you no longer wear
is stained, ripped, stretched out, faded or otherwise ruined
doesn't coordinate with other items you wear more regularly
doesn't align with your season of life
Yup, you might remove a lot from your closet! But you will NOT permanently remove the items from your home just yet — so don't panic.
I've found it is most helpful if you truly do remove everything and anything that falls into the categories I mentioned above.
Even if you just take the items out of your closet for 10 minutes to get the visual effect of what your closet space COULD look like. It's pretty powerful!
Now stand back, take a deep breath, and look at your clutter-free closet space!
Doesn't it look fantastic?
Won't it be so much easier to find what you're looking for with less stuff in the way?
Won't it be more enjoyable to get dressed in the morning when you only have items you love to choose from?
I realize your space might not be perfectly "organized" or "decorated" just yet — but with significantly less stuff to clutter it up, I know just how motivating this type of 15-minute transformation can be!
STEP 3: Put your containers away… for now.
Like I promised above, you will NOT totally remove these items from your home just yet…
I've learned that it's significantly easier to purge items from a closet (or any space) when the fear of "what if I might need it again someday" is removed.
SO… if you're worried you might need the items again someday, just know you can simply pull them back out of your designated boxes or tubs AT ANY TIME!
For now, however, I want you to move your box, bin, tub, tote, garbage bag, or laundry basket somewhere "out of the way" so you don't see it.
Here's what I do:
Label my container(s) with today's date (on a post-it or other label).
Jot a reminder in my planner for 3 months from now (or do this on your phone).
Put the box/bin/container in the back of a storage closet, in the basement, or somewhere else I won't regularly see it.
Try to forget about everything I purged and simply focus on enjoying my newly decluttered closet space.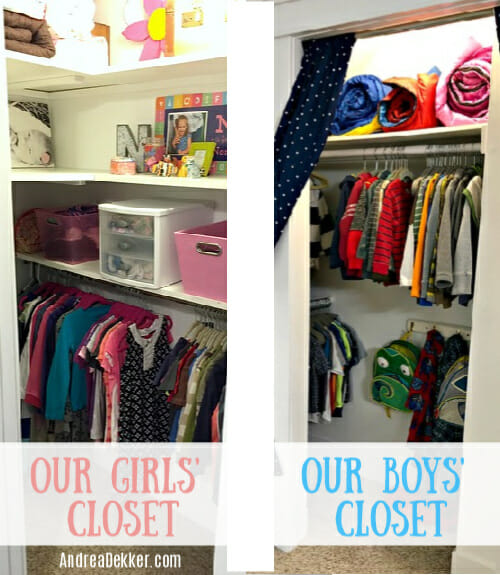 STEP 4: Enjoy your clutter-free closet!
Yes, you're finished with this space… for now!
Enjoy the clutter-free space… along with the fact that it only took you a few minutes to achieve (not all weekend like so many fear!)
IF you feel you truly need something from your boxes and bins, go ahead and fish it out again. However, I caution you to only do this on occasion as it's really easy to get carried away and pull several items back out again.
NOTE: this tip works for every closet in your home — kids' closets, adults' closets, entryway closets, hall closets, etc. etc. — so feel free to purge several!

It could also be adapted to work for almost any space in your home (think mudroom, kitchen cabinets, garage, toy room, etc.)

The effectiveness of this method is that it's often SO much easier to remove items from your space if you aren't plagued by the fear of purging something you might need again someday.

By moving the items away from your normal living areas, your mind will naturally forget about them for a while… and you might just realize that you didn't need them after all.
STEP 5:
I know what you're thinking…
"But what about the containers that are now waiting for me in the basement, in the garage, or stacked up in the storage closet?"
Honestly, if it were me, I would simply load them up in my van and take them away to the closest donation center! In my opinion, if you haven't needed or used the items in 3 months, you're probably safe to purge them once and for all.
However, if you want to look through them one more time, feel free — just remember how much nicer your closet feels without all that extra stuff crowding things.
So… if you take some time to purge various closets and areas of your home in the next couple weeks, you're boxes and bins will be waiting for you mid-February (which is the perfect time of year to sort and purge!)
When will you get started on your closet clutter?
Grab a box and set your timer TONIGHT!
See how much clutter you can clear from your closet in 15-20 minutes — and then enjoy getting dressed tomorrow morning!
More inspirations from OUR closets:
I've written so much about closet and clothes clutter over the years — here are a few of those posts: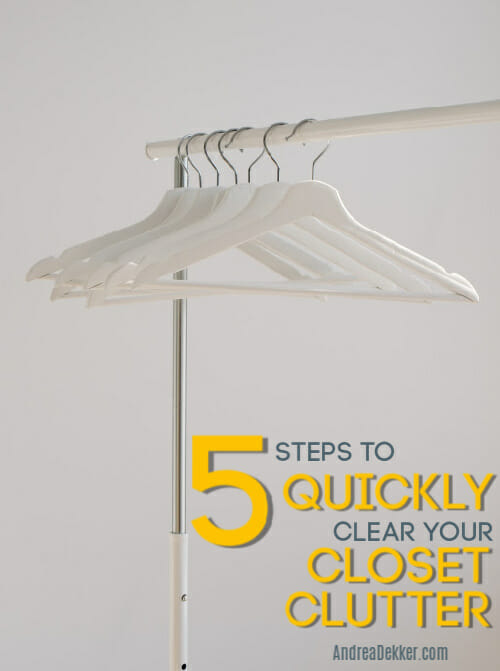 Are you due for a quick closet purge?
If so, do you think this method will work for you?
I always have fantastic results using these 5 steps… I hope you will too!
As a little extra motivation for those of you feeling STUCK and PARALYZED by the clutter in your home and life, I created a mini workbook with 15-Minute Projects to Simplify Your Home.
If you're a procrastinator or a perfectionist, or if you have a hard time motivating yourself to get started, THIS workbook is just what you need!