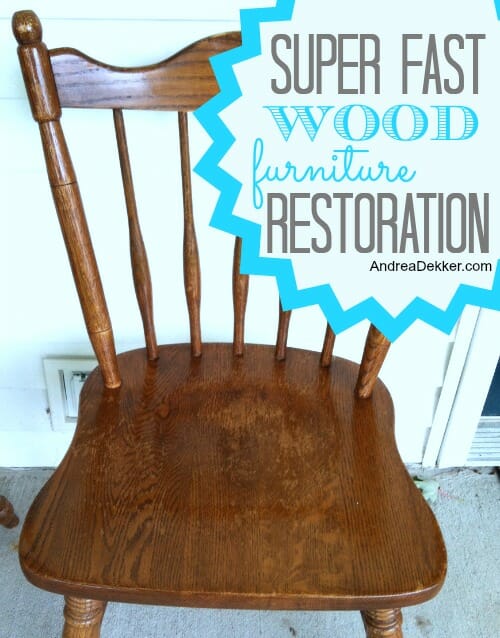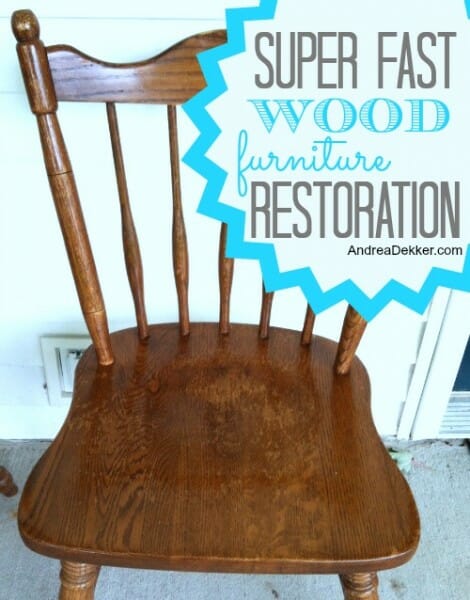 Over the years, I've learned a lot about painting — specifically painting and distressing furniture to give it a whole new look.
I've enjoyed finding thrift-store furniture and then painting and revitalizing it to fit my farmhouse style. Most of all, I LOVE having unique pieces of furniture in our house that you can't find anywhere else.
As I mentioned on Facebook a couple weeks ago, my current furniture-painting project it to turn this old, thrift-store TV cabinet ($18.00) into a lovely kitchen set for Nora's 2nd birthday next month.
I've already disassembled the cabinet, primed it, and have started piecing things back together again. I also found a really cool sink to use!
Picture something along these lines when I'm finished… but no promises that it will be THIS cute!
I'm pretty excited — but I have a feeling there might be a few frustrations along the way 🙂
.
Anyway, I was recently given a few pieces of furniture from my great aunt — and although they need a bit of work, I'm still not exactly sure what I want to do with them or where I want them to "live" in our house long-term.
I'm not ready to paint these items or spend mass amounts of time transforming them into something new… however, they looked pretty worn and I just knew I could make them look a lot nicer for the time-being without much effort on my part.
"Recipe" For Super Fast Wood Furniture Restoration:
1. Make sure your item is clean from dust, dirt, and debris.
2. Mix 3 parts cooking oil and 1 part vinegar in a small bowl
Examples:

3 T. oil + 1 T. vinegar
3/4 c. oil + 1/4 c. vinegar
3 c. oil + 1 c. vinegar
3. Dip a soft clean rag in the oil/vinegar solution and simply wipe over the furniture, gently rubbing it in. No need to come back and wipe it off unless you have globs of oil in certain areas.
4. Let "dry" (about 30 minutes) before you use the furniture or sit on it.
NOTE: this is only for real wood furniture — it won't work nearly as well (if at all) on laminate wood or pressed board.

Also, you can use cider or white vinegar and any type of cooking oil you have on hand — and a little goes a long way. I did 2 chairs and a small dresser with only 3T + 1T and still have a little left over.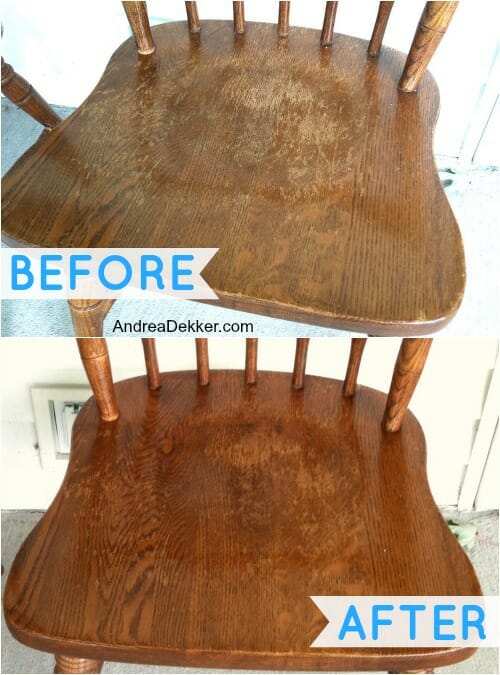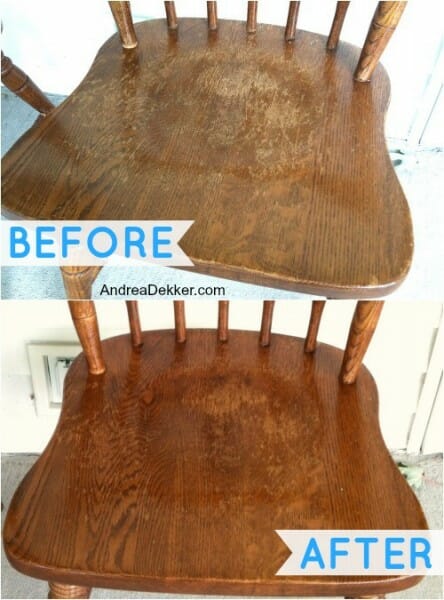 As you can see by the before and after images, the transformation is not life-altering — especially not in pictures. However, it DOES make a big enough difference that the furniture looks a little newer, a little brighter, and a little less worn.
When you consider the cost (a few pennies) and the time involved (less than 5 minutes for the chair above) I'd say it's totally worth it.
Do you have any quick, simple ways to revitalize wood furniture?