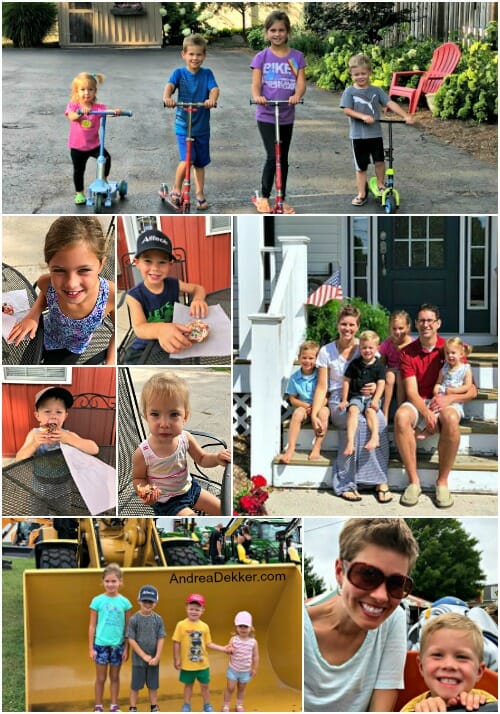 We made it through our very last week of Summer Vacation (just me with the kids at home while Dave was already back in school).
It's always a bit of a bummer for him to miss out on the kid's last week of summer break, and it's definitely a transition for me too as I'm back to being the only parent around all day! Yes, I'm spoiled over the summer!
I do think the kids and I made the most of our week together though — we crammed so many fun things into the last few days of summer!
We…
visited a local splash pad (twice)
went to the county fair (twice)
went out for pizza
got apples and peaches (and donuts) from our favorite local orchard
played at 2 different parks
went to a local nature center
worked on various craft projects at home
went bowling (and got ice cream)
went to Rebounderz
went to the library (twice)
did face paint at home with neighbor friends
made a Costco run (with samples)
went through the car wash (always a BIG hit with the kiddos!)
visited school, met teachers, found lockers, played on the playground, etc. etc.
We had a great week together… but there were just enough fights and tears and whining and complaining to make me very grateful that school starts for the older kiddos TOMORROW!
I can't believe I'm going to admit this… but I'm quite eager for everyone to get back into the school routine again.
Our summer was fantastic, but I'm ready for a little more structure to our days, I'm ready to get back to my to-do lists, I'm ready for a few less kids at home all day, and I'm ready to have the weekends feel like more of a "break" versus just an extension of our lackadaisical weeks.
I KNOW I'll be back here in May saying how excited I am for summer to arrive — but I'm pretty sure any of you who've ever had children living in your house can relate to the changes in season and how timely those seasons seem to be! 🙂
Nora will be in 2nd grade this year.
She absolutely LOVES school (just like her momma) and is eagerly anticipating seeing her friends and teachers again — all of whom she missed over the summer. I am the "room mom" for Nora's class so I'm excited to be more involved this year!
Nora read over 60 chapter books this summer and we have a long list of books saved online to request from the library over the next several weeks!
Simon will be in Kindergarten 3 days a week.
Our school has several options for preschool and kindergarten and I'm so grateful he doesn't have to go 5 full days just yet. He is SO excited to ride the bus, play on the "big kid playground", and eat lunch at school. I know he'll be TIRED the first couple of weeks, but I have no doubt he's ready for school!
Simon FINALLY learned how to ride his bike without training wheels over the weekend — one of his big summer goals and he achieved it JUST in time! 🙂
James will be in preschool 2 mornings a week.
He won't start for another few weeks yet, so he'll just be hanging out at home with mom and Clara!
I've never really gotten much of a chance to spend lots of one-on-one time with James because he and Simon always travel together, so this will really be the first time they are apart for more than a couple hours. I'm pretty sure they'll do just fine without their bestie around, and I think it will be nice for both of them to do their own thing for a bit!
Clara will be 2 in less than a month!
Yes, you read that correctly! My baby will be 2 in less than a month!
I've never had a 2 year old without having another younger sibling (or being hugely pregnant) so this is all new territory for me — I think I like it!
.
My Projects:
I'm sure it's no big surprise, but I didn't really accomplish much of anything last week!
I did no "extra" house projects or yard work — just basic cleaning, picking the garden, getting groceries, keeping up with laundry etc.
I didn't make meals for anyone, we didn't have any guests over to our house, and we ate leftovers (or went out to eat) 3 of the nights.
I hardly did any blog work at all — in fact, I planned ahead and decided to share 4 updated version of older posts the rest of this week (they are all very updated though with new links, new photos, updated information, etc.)
Between Dave being gone all day at school (and all weekend for a Senior Retreat) and all the other fun things I did with the kids, I knew there was no way I'd do much else — and that was OK.
Obviously I wouldn't be able to work with this type of schedule every week, but it was a nice way to end our summer vacation and I hope the kids enjoyed our week of fun!
Our schedule will continue to get busier as all the church and school programs start up throughout the month of September… and things will stay busier through the holiday season.
Then we seem to have a nice lull from January through mid-March… at which point all the end-of-year activities pick up again and make us long for the lazy days of summer once more!
Our Meal Plan:
SUNDAY:
Breakfast = homemade sourdough cinnamon rolls, eggs, sausage, fruit
Dinner =
Pizza Pasta (with spaghetti squash instead of pasta)
Salad
Fruit
MONDAY:
Breakfast = Leftover cinnamon rolls, quiche, fruit
Dinner =
Leftover brats and hot dogs
Cheesy potatoes (a "from scratch" version of this recipe)
Fruit
TUESDAY:
Breakfast = Hearty Oat pancakes, eggs, fruit
Dinner =
Pizza buffet (kids eat free night)
WEDNESDAY:
Breakfast = Leftover pancakes, eggs, sausage, fruit
Dinner =
Pork chops (in this marinade)
Roasted broccoli and cauliflower
Butternut squash
Fruit
THURSDAY:
Breakfast = oatmeal, yogurt, fruit
Dinner =
Green Beans
Sauteed zucchini, onions, and mushrooms
Applesauce
Pudding cups for a special dessert
FRIDAY:
Breakfast = sourdough waffles, eggs, sausage, fruit
Dinner =
SATURDAY:
Breakfast = muffins, eggs, bacon, fruit
Dinner =
Leftovers for Dave and me
Pizza sammies for the kids
Raw veggies
Fruit
Another summer is "in the books" for our family and we're moving on to the next phase of our year tomorrow morning!
I keep thinking about the fact that 3 years ago, Nora was just starting preschool for the first time (no bussing or full days) and 3 years from now, I'll be putting ALL 4 kids on the bus for full-day school!
Crazy how quickly life flies by!
I'd love to know what you're up to this week (or what you did last week). Did you accomplish more than I did? Are your kids already back in school?