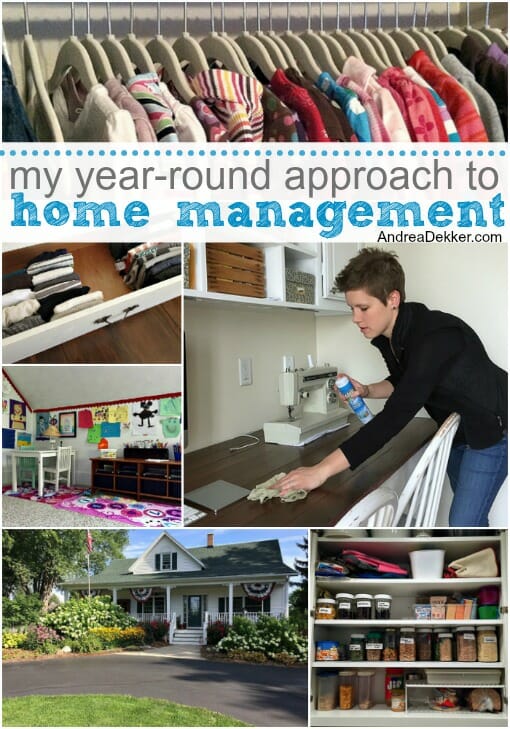 Last September, I shared a my personal plan to purge every single space in my home before the New Year. My goal was to choose one space per week (roughly 16 spaces in the remaining 16 weeks of the year) and focus any extra time or energy I had throughout that week on purging and better organizing the designated space.
When the week was up, I moved my time, focus, and energy to the next space.
No, my house wasn't perfectly purged or organized… BUT it was hugely beneficial for me to do a "once over" of our entire house, decluttering and purging as I had time, and making more breathing room for the inevitable Christmas gifts we would get at the end of my 16 weeks of purging!
After I finished the challenge, I realized just how much stuff I had removed from our home with seemingly very little "extra" work, time, or effort (I was just doing little bits and pieces throughout the day and week). I also heard from SO many of you who not only followed along with my purging, but also did YOUR OWN version of this 16-week purge!
It all felt so exciting and "do-able" that I decided I should make this a regular occurring event every fall!
But then, I realized I could actually do a 16-week challenge THREE times a year (with 4 "free" weeks for vacations, illnesses, holidays, etc.). I would essentially start right back on the first room after I finished the last room, and make my way through our entire home 3 times each year.
BUT THEN… I got even more ambitious and decided that instead of just purging the space, I would purge, deep clean, organize, and "better" one space in my home each week!
I know this might sound overwhelming… just hear me out.
I do NOT spend huge amounts of time stressing over making each space in my home perfect.
Instead, I take any extra and available time I have throughout the week and focus it on that specific week's space. Sometimes this is a lot of time; sometimes it's hardly any time at all. However, I figure that whatever I can do to purge, deep clean, organize, and better that space is more than if I didn't do anything at all!

At the end of the week, I say "farewell" to that space and turn my time and efforts to the next space, no matter how far I got or how many things I still wanted to do. I know I will eventually come back to that space in a few months and can do more later.
By faithfully giving a little extra attention to one specific space each week (while still carrying on with all other household chores and responsibilities) I have a better handle on what is in each space, I'm reminded of everything we have, and I feel like my entire home is cleaner, less cluttered, and more organized without lots of extra effort!
No, the house isn't ALL clean and decluttered ALL at one time… but with 4 little kids and a work-from-home job, that's not possible for me! Maybe once the kids are in school (or once they are all married!) — but for now, I'll take what I can get, doing a little bit each week!
MY list of spaces (in order):
mudroom
kitchen + pantry/fridge
dining room + deep freezer
half bath + laundry room (they are both small)
living room
office + game closet
master bedroom + closet
master bathroom + medicine cabinet
nursery + closet
landing area
kids' bedroom + closets
playroom
kids' bathroom
storage closet
basement
garage/outside
In case you're wondering, I DID use some strategy to decide the order I work through my home… 🙂
I started in the mudroom and kitchen because those are the spaces I'm in ALL the time and I like the instant gratification of living in cleaner, less clutter spaces.
Then I worked my way through the main floor, then to the upstairs, then to the basement, and finally out to the garage.
As I purge items from our main floor and upstairs, I usually put the boxes of donations in the basement or the garage (and then bring them to the thrift store the next time we go). So by putting the basement and garage last on my list, I can make sure I get all the donated items OUT of our house for good before going through the house again!
HOW I Work Through My Spaces
Once I know what my space is for the week, I make a conscious effort to try to find ways to be in that space more each day.
Obviously, rooms like the kitchen, living room, play room, office, and even the garage are relatively easy since I'm home most of the day. I can work in the space while the kids play, while they eat, while they look at books, or while they watch TV.
Other spaces (like the bathrooms or the upstairs storage closet) aren't as easy as they aren't places I want our kids to hang out while I try to clean and organize!
In these spaces, I either wait until Dave is home, work when the kids are sleeping, or set a timer for 20 minutes during Clara's nap and let the boys watch a TV show while I do quick bursts of purging and deep cleaning!
It's not a perfect system, but so far, it has really worked quite well and I'm thrilled with the progress I've made throughout our home these first 13 weeks of the year.
NOTE: Ironically, the week I was working in our playroom, we were given a HUGE assortment of LEGO's from church friends — more toys! However, it ended up working out so well because I put all the LEGOs in the living room and let the boys play to their heart's content while Clara was napping and I tackled the playroom! After I was finished, we had plenty of space for our new bins of LEGOs!
WHAT I Do In Each Space:
This obviously depends on the space, but here's a list of the things I try to accomplish each week…
purge each drawer, cabinet, closet, shelf, etc.
better-organize drawers, straighten and wipe down shelves, re-hang clothing, put toys back together, put like items together
thoroughly dust everything (baseboards, window and door frames, shelves, tables, etc.)
wash windows
wipe down door knobs, light switches, and all flat surfaces with sanitizing wipes
sweep/vacuum/mop floors
shake and/or wash rugs
clean behind and under furniture
scrub sinks, toilets, showers, appliances, etc.
wipe down the fronts of cabinets
empty and wash out garbage cans
clean out fridge and/or deep freezer (sometimes defrost freezer)
wash toys if necessary
fix squeaky doors or stubborn windows
touch up paint or use magic eraser to remove scratches and other marks from walls
Now, I certainly do NOT complete every single one of these tasks for every single space every single week.
This is just my mental guide as I work through the spaces. I do as much as I can, and call that "good enough" — and as I mentioned above, it truly is so much better than not doing anything at all!
Also, since I know so many of you reading today are perfectionists, I have to mention that I do not keep track of what I do and do not do for each space — that's way too tedious for me! I just do whatever I can to better that space for a week and then move on.
WHY I Love This Cyclical System:
1. The obvious bonus is the fact that I'm "touching" and "seeing" every space in my home 3 times a year — this means no more junk that gets lost in the back of the closet, no more nasty food growing in the back of the fridge, no more dirty windows for 3 years because I always say I'll get to them "soon"!
2. Another benefit is that I'm constantly keeping tabs on what we have, what we use, what we don't use, what we might need, etc. This has been most helpful with kids clothing, freezer food, and pantry stockpiles.
3. And finally, I stay in the habit of bettering my home. Deep cleaning and purging is no longer something I have to work up my energy to tackle, wait until Dave has a break from school, or spend huge amounts of time trying to work through my entire house in one week. I just consistently do a little at a time, and know that eventually everything gets done without huge amounts of mental or physical energy.
Making This Work For YOU:
If you work outside the home, or if you're starting with a very cluttered, dirty, and disorganized home, this system will not work as seamlessly for you as it does for me. However, there are still many ways you can adapt it to work for you, your home, your schedule, and your life.
My suggestion is to first TRY doing it "my way" for a few weeks and see how it goes. Then make changes and tweaks accordingly.
Use common sense too!
If you know you have a carpet cleaner scheduled for one week, use that week either as an "off week" if you think you won't have time for other cleaning, or use it as a great excuse to thoroughly deep clean the carpeted rooms in your home (I usually try to tackle our living room if we have the carpet cleaner come).
Or, if you're having a huge dinner party at your home, use that as motivation to spend some extra time and effort cleaning and decluttering your kitchen and dining area.
If your kids are rotating bedrooms, or if you're swapping out clothing at the change of a new season, use that as a reason to go through their bedroom, closets, dressers, etc. and purge, better organize, and deep clean.
There is NO RIGHT WAY to do this — it's all what works best for YOU!
I hope that by sharing what works for me, you will get a few ideas (and maybe a bit more motivation) to simplify and better organize your home and life!
What do you think? Would this work for you?