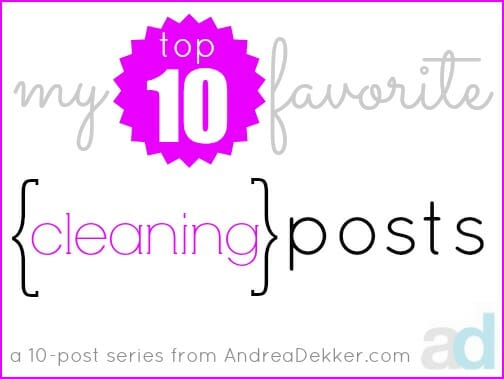 As I planned ahead for the arrival of baby Simon, I thought it might be fun to resurrect some of MY favorite posts from the past 3.5 years of blogging. I'll be publishing this 10-post series during the 4 weeks after his birth (read all the posts here).

I hope you enjoy reading (or re-reading) these posts as much as I'll be enjoying the extra snuggles, books, smiles, and naps with Nora and Simon!
Believe it or not, I actually enjoy cleaning — most of the time. It's not something I wake up thinking about or look forward to all week long — but I definitely don't mind doing it if I have the time (especially if someone else is watching the munchkins so I can just "zone out" and clean.)
I know, I'm weird 🙂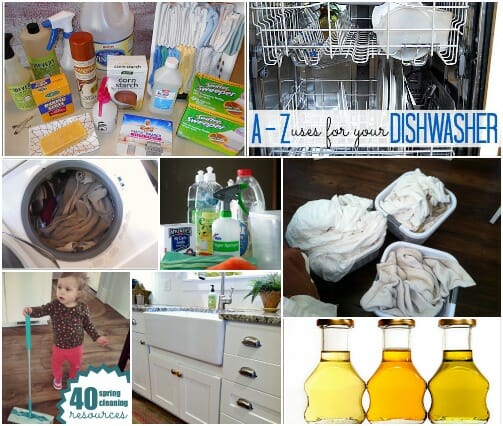 Here are my Top 10 Favorite Cleaning posts — in no particular order.
I don't love laundry, but I DO love figuring out ways to make it simpler, faster, easier, and more efficient — so it's no surprise that I have a slew of laundry-related posts on my blog. This 7 Laundry Don'ts post is one of my all-time favorites because these 7 things really do help me to simplify the often overwhelming task of doing laundry!
Related posts:
.
I recently wrote this post as I've been getting lots of questions about my thoughts on spring cleaning. And not to spoil the post for you — but I DO tackle deep cleaning projects around my house, I just don't do them in the spring!
.
If you have a dishwasher, you MUST read this post. It's amazing how many different things you can clean in your dishwasher!
.
We don't necessarily have a huge house, but it's not small either. However, if I really put my mind to it and focus, I can get the whole house clean (enough) in 60 minutes or less.
.
Oh, I had SO much fun writing this post (and reading all the comments)! I may have stepped up onto my soapbox for a bit — but it just bothers me when moms are so critical and judgmental of other moms.
If you've ever been criticized for not being a "good mom" just because you enjoy keeping your house clean (or working on a particular hobby/craft/project/ etc.) I think you'll LOVE this post!
NOTE: Due to all the comments from this first post, I wrote a follow-up post here.
.
This post is packed full of cleaning resources — from various blog posts I've written over the years and from around the web.
.
A couple years ago, I did a huge purge of my cleaning supplies and got rid of LOTS and LOTS of them. I now use very minimal chemicals and make many of my own cleaning recipes. This post lists out many of those homemade DIY cleaners.
.
I realize this isn't about cleaning the house — but since it's about cleaning your face (and it's one of my favorite posts), I thought I could still include it in this list. If you're looking for a REALLY great homemade facewash, you'll definitely want to try my oil-cleansing method. It's quick, easy, frugal, and fabulous!
Related post = Homemade Hair Wash and Hair Rinse (a.k.a. shampoo + conditioner)
.
Vinegar is for sure my favorite ingredient for homemade cleaning products — it can honestly clean almost anything! This post lists off 101 different uses for this ultra frugal kitchen staple.
.
I get tons of questions about our farmhouse sink (and porcelain sinks in general) so I wrote up an entire post about how we clean and care for our sink.
.
So that's my list…
Which cleaning posts are your favorites?