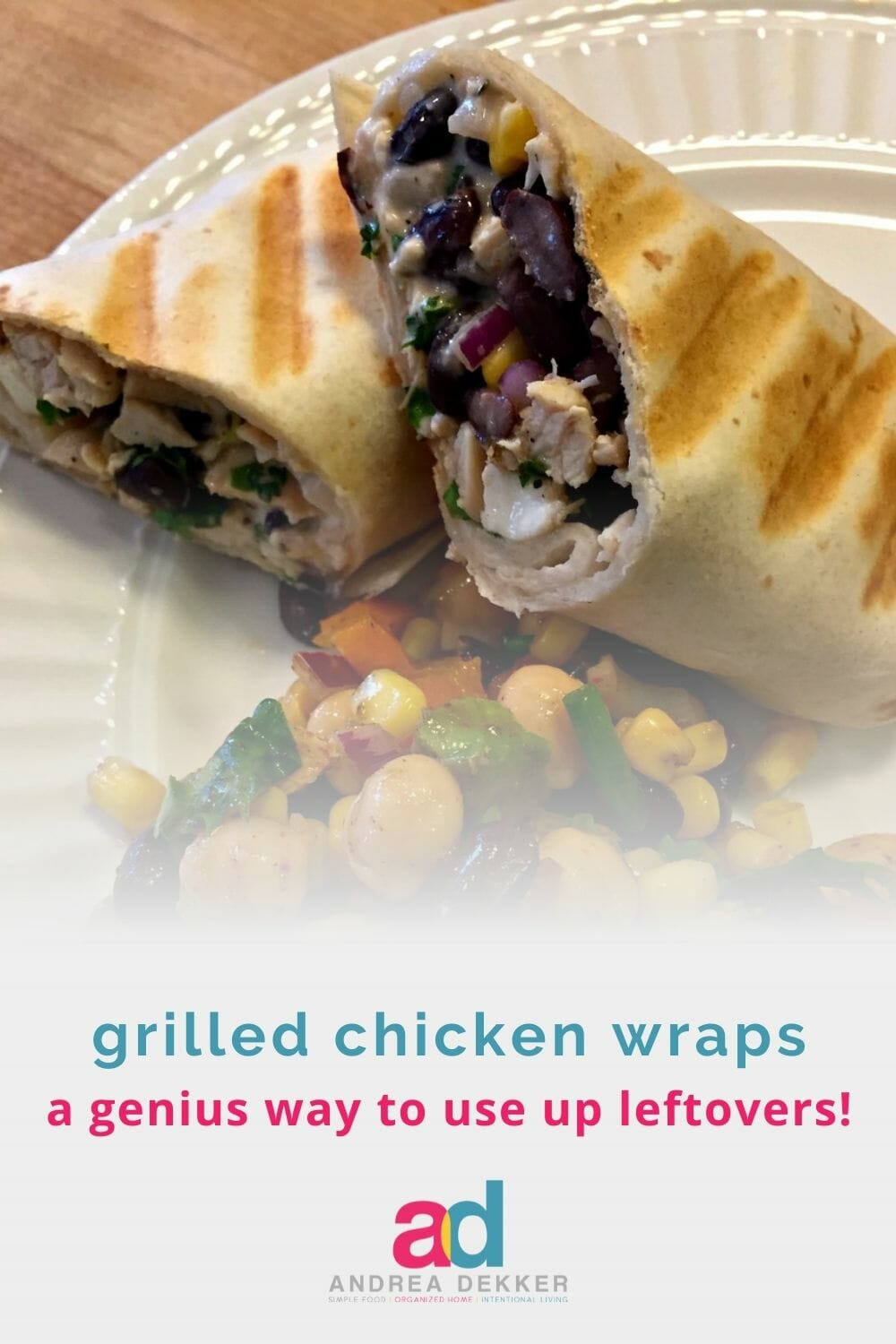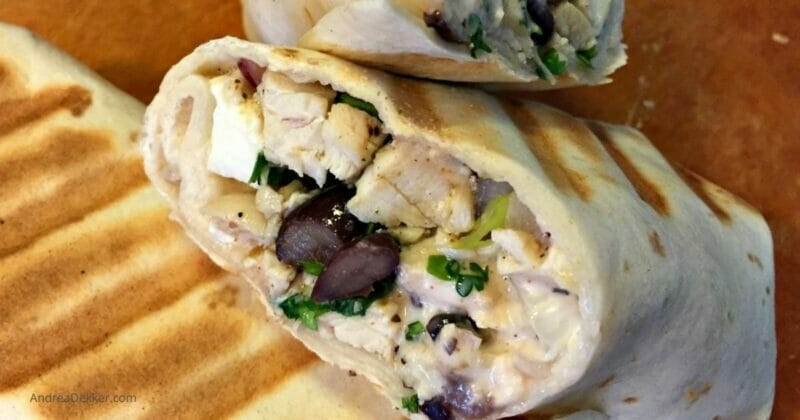 One of my simple life pleasures is coming up with new and fun ways to use up leftovers… it's true, just ask Dave! Few things bring me more joy than concocting a delicious and completely "new-tasting" meal from various odds and ends in the refrigerator.
Of course, I also love that leftover meals save so much time and energy… and the cost savings on our grocery bill really adds up too as we rarely waste even the smallest amount of leftover food (I just throw it in a freezer bag if I'm not planning to use it up quickly).
"Wraps" are one of my go-to staples for transforming various leftovers into a brand new meal — they work for breakfast, lunch, or dinner at our house.
Simply throw any type of already-cooked meat, beans, eggs, veggies, herbs, and cheese into one of my favorite make-at-home tortillas from Costco and serve with a side of fruit or a simple salad. Done!
Grilled Chicken Ranch Wraps are always on the menu a day or two after we grill chicken — although you could definitely make them with leftover baked chicken, rotisserie chicken, or even canned chicken.
They are great for lunch or dinner, mixed with whatever beans, veggies, herbs, and cheese you have in the house… and of course, a squeeze of Ranch!
If you're looking for an extremely simple, make-ahead, no-bake meal for quick lunches, busy weeknights, or hot weather days, Grilled Chicken Ranch Wraps are a "must" for your menu plan!
Yield: 8
Grilled Chicken Ranch Wraps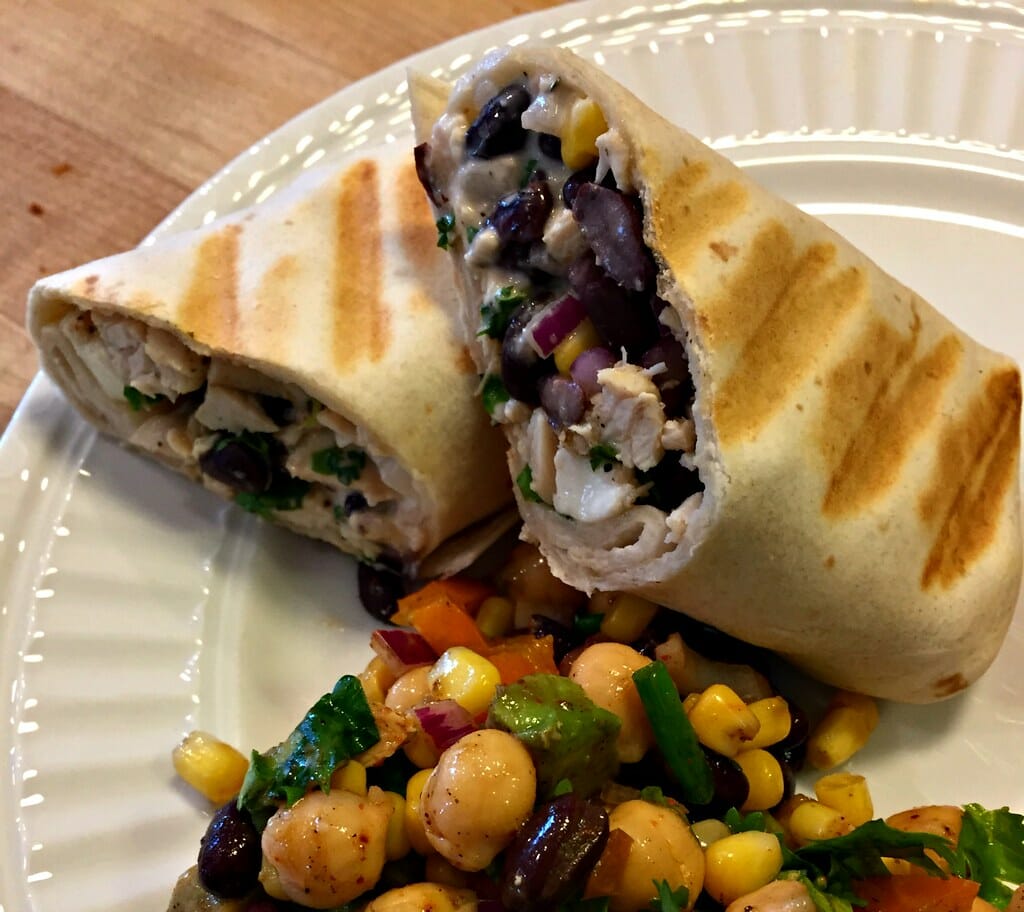 Last night's chicken leftovers will quickly become a family favorite when mixed with a few pantry staples and grilled
Ingredients
8 tortillas (I use 8" or 9")
1/2 c. Ranch Dressing; divided
1 c. grilled chicken; shredded or diced
1/2 c. black beans
1/2 c. corn (frozen, canned, or fresh)
1/4 c. red onion; diced
1/4 c. fresh cilantro; chopped
1 T. minced garlic
1/2 c. cheese; divided (we love pepper jack, fresh mozzarella, and cheddar)
Instructions
Cook tortillas (if necessary)
Squeeze roughly 1 T. Ranch dressing down the center of each tortilla
In a small bowl, mix chicken, beans, corn, onion, cilantro, and garlic
Scoop roughly 1/4 cup chicken filling into each tortilla
Sprinkle with 1 T. cheese
Tightly roll up each wrap and grill until the outside is crispy and the cheese is melted (about 5 minutes)
Serve with additional Ranch or any of your favorite dipping sauces
Notes
Please keep in mind that none of these measurements are exact -- feel free to use more or less of anything (or completely omit an ingredient).
You might also want to experiment with different sauce, herb, and cheese combinations for a totally new taste.
For example:
BBQ sauce, rosemary, feta cheese (sounds weird, but it's good!)
Guacamole, cilantro, and queso cheese (or a Mexican blend)
Sour cream, chives, and cheddar cheese
Teriyaki sauce and ginger
Nutrition Information
Yield
8
Serving Size
1
Amount Per Serving
Calories

325
Total Fat

14g
Saturated Fat

4g
Trans Fat

0g
Unsaturated Fat

9g
Cholesterol

42mg
Sodium

281mg
Carbohydrates

34g
Fiber

3g
Sugar

2g
Protein

16g
Nutritional information is approximate and does not account for additional ingredients or added toppings.
A Few Tips:
I usually mix up the chicken filling ahead of time and layer it with the Ranch and cheese when I'm assembling the wraps. I guess I just prefer to have more control over the amount of Ranch and cheese, but you could certainly just mix everything together in one bowl.
These wraps can easily be made in advance (several hours or even the day before) and stored in a zip-top bag or aluminum foil until you're ready to warm them up.
And speaking of warming them up, we love using our cast iron pans and our George Foreman grill for these wraps. Both options work wonderfully — you just want to get the outside crispy and the inside hot and melty.
Simple Side Dish Ideas:
Here are a few simple side dish options to get you thinking…
I hope you enjoy this recipe as much as my family does… and feel free to experiment with the different flavor combos and sauces I noted on the recipe card.
As always, visit my virtual recipe box for more simple, delicious, family-friendly recipes!