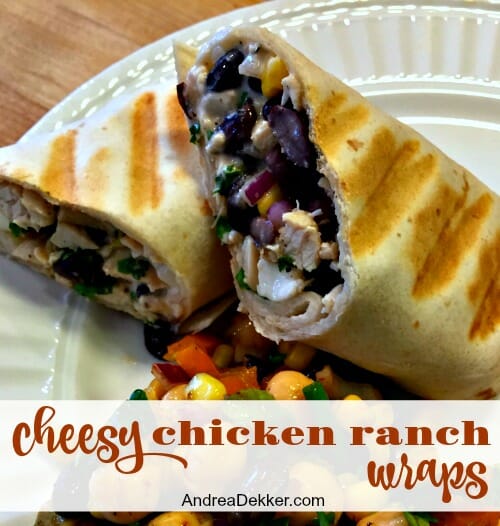 Our kids LOVE wraps — I can throw almost anything in a wrap and they'll eat it!
They also love Ranch Dressing… so a couple months ago, when I had some leftover grilled chicken, leftover corn on the cob, and leftover black beans, I decided to throw it all in a wrap (with Ranch) and serve it as a really fantastic "leftover" meal.
Everyone loved it, and I've made these wraps several times since then!
If you're looking for a ridiculously simple, make-ahead, no-bake meal for hot summer days, these Cheesy Chicken Ranch Wraps are what you want (say that 5 times fast!)
Recipe for Cheesy Chicken Ranch Wraps
Makes 8 wraps
INGREDIENTS**:
8 tortillas (I use 8″ or 9″)
1/2 c. Ranch Dressing; divided
1 c. grilled chicken; shredded or diced
1/2 c. black beans
1/2 c. corn
1/4 c. red onion; diced
1/4 c. fresh cilantro; chopped
1 T. minced garlic
1/2 c. cheese; divided (we've had excellent results with pepper jack, fresh mozzarella, and cheddar)
**NOTE: None of theses measurements are exact — feel free to use more or less of anything (or omit at item completely) based on what you have in the house. As long as you have some cheese, chicken, and Ranch, these wraps are sure to be a hit!
Also, you could sub guacamole for the Ranch… or use BBQ sauce and omit the cilantro for a Cheesy Chicken BBQ wrap. YUM!
DIRECTIONS:
Squeeze roughly 1 T. Ranch dressing onto each tortilla
In a small bowl, mix chicken, beans, corn, onion, cilantro, and garlic
Scoop roughly 3-4 T. chicken filling into each tortilla
Sprinkle with 1 T. cheese
Tightly roll up each wrap and grill until outside is crispy and cheese is melted (5-7 minutes)
Serve with additional Ranch Dressing, salsa, guacamole, or any of your favorite dipping sauces
Like I mentioned above, I usually mix up the chicken filling ahead of time, and then simply layer it with the Ranch and cheese when we're almost ready to grill. I like to add the Ranch and cheese separately (personal preference) so I can control the amount, but you could easily mix the Ranch and cheese in with the chicken mixture so everything is all in one bowl.
I often make up the wraps whenever I have time during the day (usually while the kids are finishing lunch), and then put them in a zip top bag until we're ready to grill them for dinner.
Oh, and I say "grill" but as you can see by the pictures above, we do these on our George Foreman grill or in our cast iron skillet. We don't actually put them on our big BBQ grill (but you could). You could also bake them in the oven if you're doing a really big batch.
As long as the outside gets crispy and the inside gets melty, they will taste fantastic! 🙂
I usually serve this meal with chips, salsa, guacamole, and our favorite Chicken Fiesta Salad.
What are your favorite summer salads?
As always, visit my virtual recipe box for more simple, delicious, family friendly recipes!