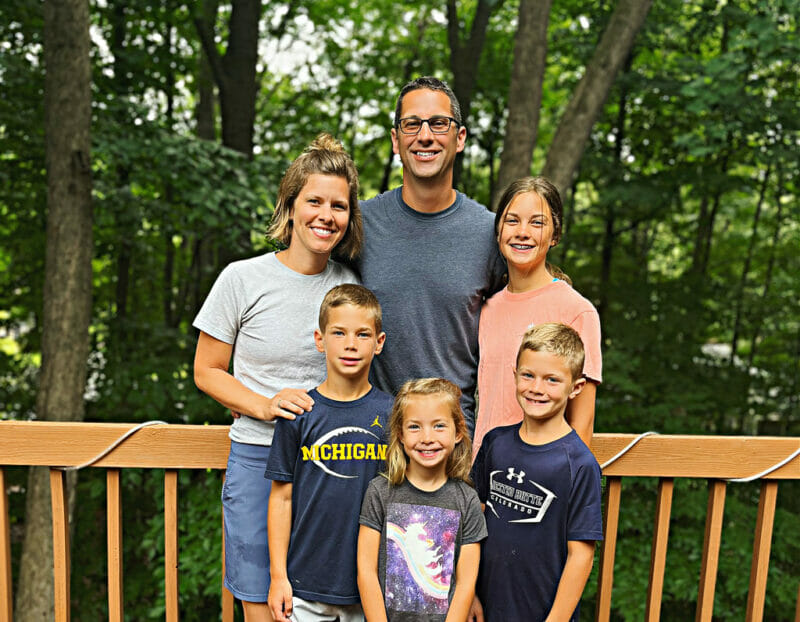 I can't believe August is here already!
School starts in less than 3 weeks, and our lives and our calendar will be much fuller and busier after that.
Our plan is to lay low these next 3 weeks, soaking in the summer weather, swimming with friends and neighbors, eating too many ice cream cones, sleeping in, and staying up too late (our kids have finally learned the art of sleeping in!)
And then… after a few sleepy mornings, we'll jump right back into our school routine just as quickly as we fell out of it in June.
Keep reading for my recent Favorites!
---
FAVORITE MOMENT = Buster Slept Through the Night
Oh my goodness, friends — if you want someone to talk you OUT of getting a pet, I am your gal!
Seriously, I prepared myself for what I thought was the worst, but getting a puppy was still worse than that. (Have I mentioned Dave and I never wanted a pet!?!)
After 8 years of begging on Nora's part — including doing school reports on the benefits of having a pet, and praying diligently every night for us to please let her have a pet — Nora finally "won" in May.
Within 2 days of bringing the puppy home, I felt like we had a newborn again (and the newborn stage brings me all sorts of anxiety — read here and here for more on that.)
Of course, I was the one doing everything for the puppy because everyone else needed to go to school/work… I was VERY tired the first couple of months, and very annoyed with the puppy.
Thankfully, we turned a corner in July and Buster started sleeping through the night… hallelujah!
As added bonuses, he rarely has accidents inside anymore and the kids are much more hands-on during the summer months!
I'm still the lady to talk to if you feel like you might give into your children's constant begging for a pet… but I am coming to terms with the fact that we'll be a "dog family" for the next 12+ years.
At least the kids love him… and I love the kids. 🥰
I also really love sleeping through the night.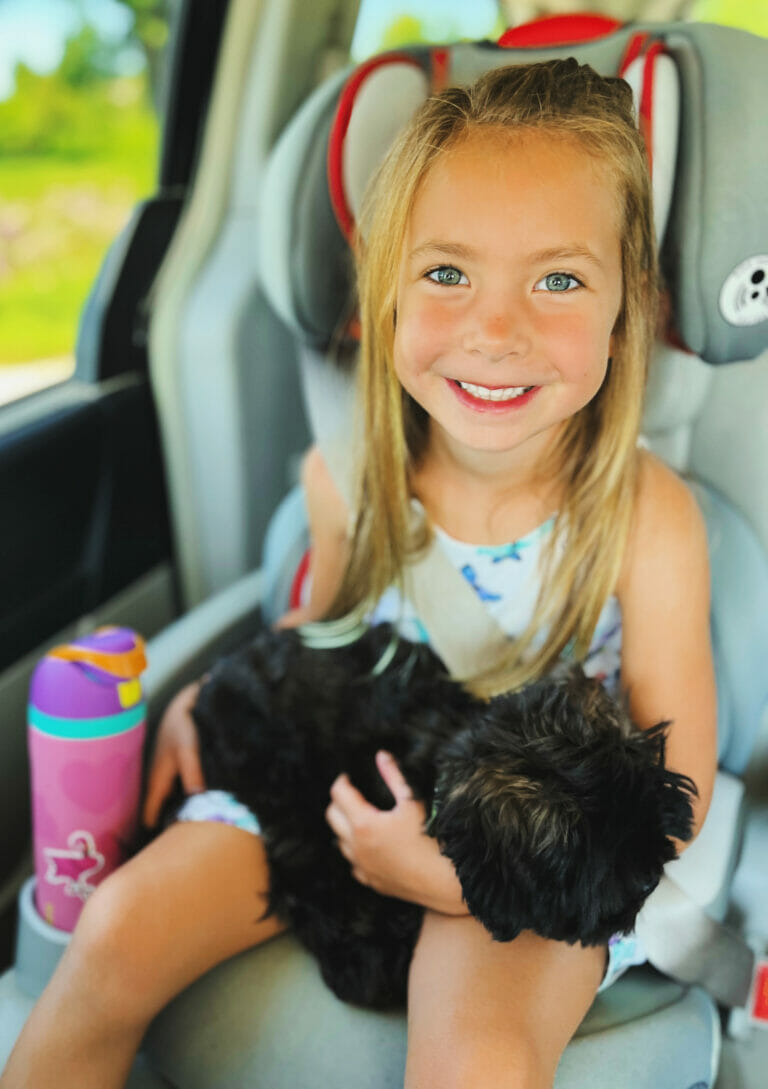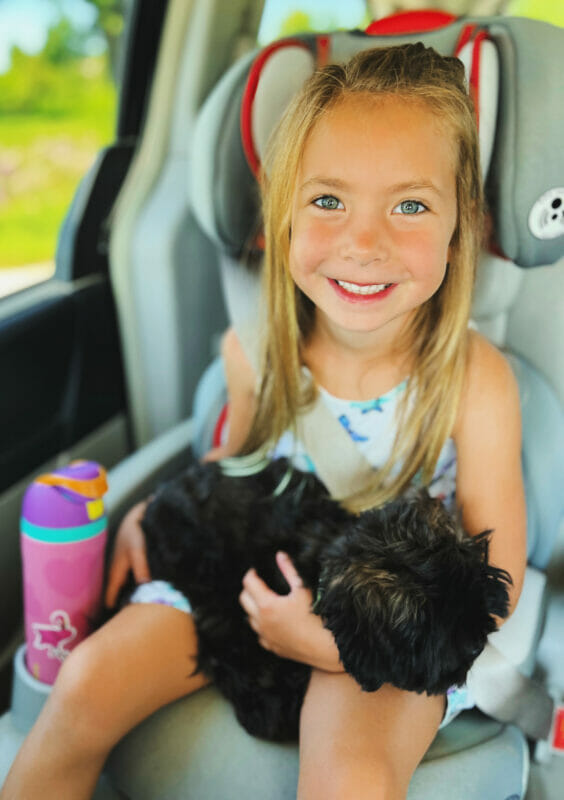 FAVORITE ROUTINE = Clean Sheets
Speaking of sleeping through the night — a full night of sleep is even better in freshly washed sheets!
I know this is a strange one for a "favorite routine" but those of you who've been reading here for years know that I don't love the process of washing sheets, nor do I like storing extra linens (mainly because we don't have anywhere to store them).
We shower before bed, wear clean clothes/PJs to bed, and for years, I only washed sheets once a month (pillowcases every week).
Several of you were blown away by how infrequently I washed our sheets — others agreed that you only washed sheets once a month too.
However, the problem for me was that I still dreaded that once-a-month sheet washing day… and if I'm dreading something, I know it means I should tweak my routine.
I've tried various routines, systems, and tactics over the years — and I'm happy to say that for the last 2-3 years, I've been using a routine that seems to work quite well for our family (I no longer dread the days I need to wash sheets!)
So What's My Routine?
I wash Dave and my sheets and various bathroom rugs one week (along with all our "normal" laundry) and then the kids' sheets the next week (along with the normal laundry). So our sheets and rugs are washed every other week.
And it doesn't feel like a huge extra chore for me now that we have 2 laundry areas.
We have our main laundry room off the kitchen, and our 2nd laundry area in the basement (we put our old washer/dryer in the basement before we started our laundry renovation so we'd never be without the ability to do the laundry).
While I'm washing all the regular clothing, towels, swimsuits, etc. upstairs, I do a few loads of sheets, rugs, blankets, etc. downstairs (usually on the "quick" cycle) so I'm not using any extra time.
I realize not everyone has 2 laundry areas… but the idea of every other week might still be more doable than weekly sheet washing for many of you.
Extra Sheets or Not?
I'm still not on board with storing an extra set of sheets for each bed (namely because we really don't have a great place to store extra linens) so I've settled on one extra set of twin sheets total (all 4 kids sleep in twin beds) in the event of an emergency in the middle of the night.
The kids also have sleeping bags they could use if we needed to take their sheets off in the middle of the night
We don't have any extra sheets for our bed — this has never been a problem.
PAST FAVORITE = Mr. Pen Products
As you start stocking up on back-to-school supplies, I just want to give another shoutout to the amazing Mr. Pen products.
We love these pens, markers, highlighters, etc. and have been using them for years and years.
I first got hooked on them when I was searching for a highlighter that wouldn't bleed through the thin pages of my Bible, and these highlighters were perfect.
Since then, we've expanded to using many of their writing/highlighting products and we've never been disappointed!
---
FAVORITE CLOTHING = True Classic T's
A couple of years ago, I purchased a pack of True Classic Crew-Neck T-shirts for Dave… sort of for his "summer wardrobe".
They are SUPER soft, fit great, and can easily be dressed up or dressed down.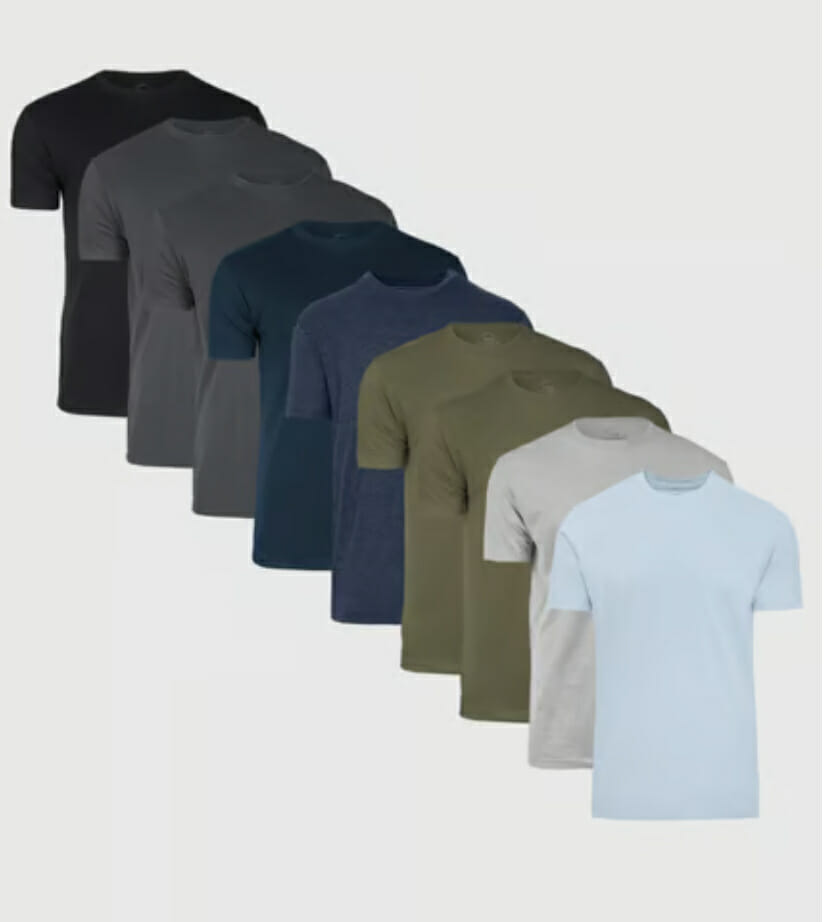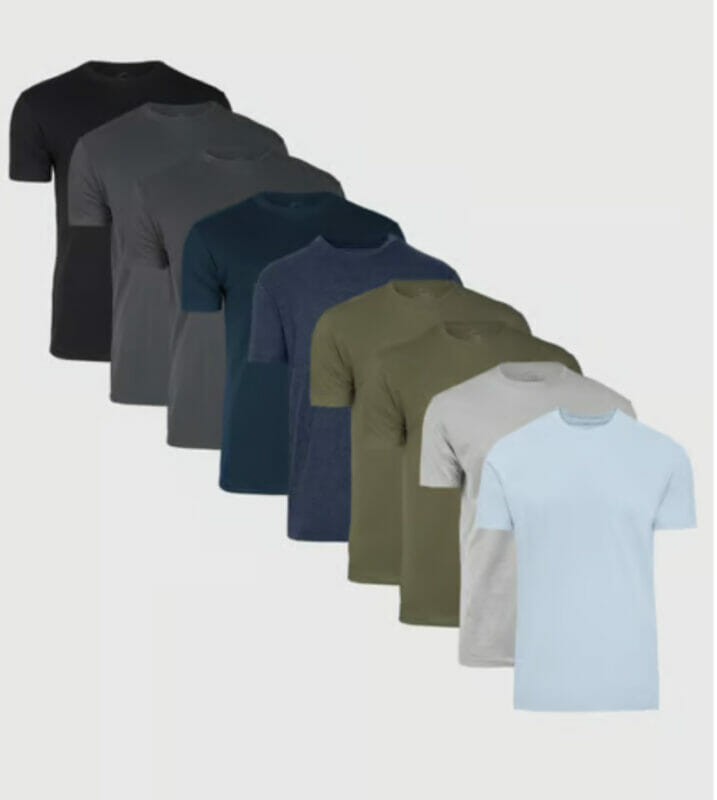 For the last two years, Dave has worn one of these shirts almost every day he's not at school and they still look like new.
If you're looking for high-quality durable, comfortable, washable, wearable t-shirts without any logo or screen printing, we'd highly recommend the True Classic brand.
---
FAVORITE BOOK = The Mandie Series
Nora has loved reading through the very extensive Mandie Collection books this summer (40 individual chapter books or 11 multi-book "volumes").
I mentioned the series in my email last week and several of you replied, thanking me for the "reminder" as they were also some of your favorite books back when you were a kid.
So… if you're looking for a nice series of books for kids ages 9-14 (probably more geared toward girls), Nora and I recommend The Mandie Collection.
She just finished the 40th book last week and I can tell she feels sad to be done (yup, I've totally been there too). Wishing you could keep reading more about your favorite characters, but there aren't any more books.
There are 3 Mandie movies as well — we've seen one and it was a little cheesy (low-budget movies) but still good.
---
FAVORITE MEDIA = Live-Action Disney Remakes
As a child of the '90s, I have fond memories of watching many "classic" Disney movies.
I watched a few in the theater, but we usually waited for them to come out on VHS so we could watch them over and over again.
The music is SO good — I've never been disappointed by the music in any Disney movie. In fact, I know many of the songs word-for-word.
Our kids haven't experienced many Disney movies yet, but recently, I realized how many live-action remakes of all my favorite classic Disney movies are available on Amazon Prime (with a $3-$4 rental fee).
We've been watching them for our Sunday night Movie Nights over the summer. I use promotional credits I get by selecting more consolidated shipping options to rent the films for free — win-win!
The cinematography has been absolutely fantastic… and yes, the music is still top-notch (and stuck in my head for days after watching!)
My favorites so far are The Lion King and Beauty and the Beast.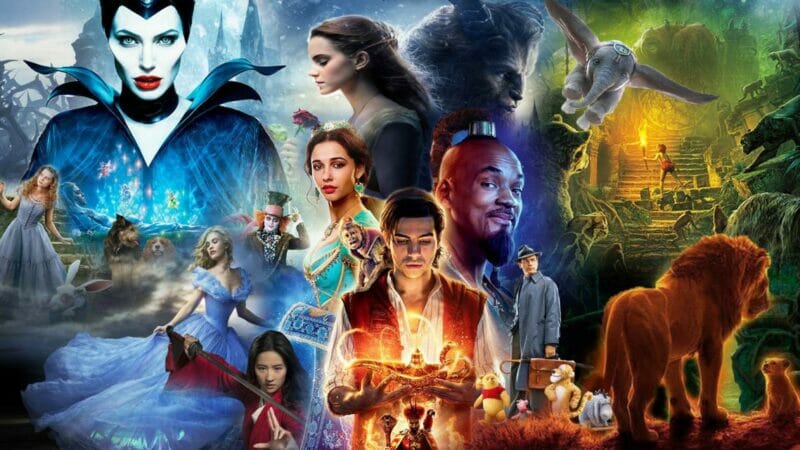 FAVORITE HOBBY = Reading
This is the time of the summer when I "give up" on all my yard work because it's just too hot and humid — and all the flowers are blooming so weeds aren't as noticeable!
Instead, I sit by the pool (or inside in the AC) and read.
I've plowed through more than a dozen books this summer (all of them over 400 pages) and I have 4 more on my pile that I'd like to finish before school starts.
This is probably the first summer that all 4 kids are completely "independent" in the pool, and fairly self-sufficient around the house, so there are fewer "mom, can you do this for me" requests these days. And although Buster is still a handful, he sleeps a lot during the day — so I have more free time this summer than I've had in a long time.
FAVORITE RECIPE = Homemade Jam!
One of my favorite things about homemade jam is that it tastes SOOOOOO much better than store-bought jam.
In full disclosure, I don't think homemade jam is any healthier or less expensive than the store-bought stuff — but the taste wins out for our family every time.
And… jam isn't hard to make (you don't even need fancy equipment).
If you have a big pot, a lot of sugar, and a bunch of your favorite berries, you can make jam!
Favorite Jam Recipes + Resources:
FAVORITE ARCHIVED POST:
Ready to simplify your closet (or your kids' closets) before another school year begins?
These 6 questions will help you do just that — and speaking from experience, you'll love how it feels to open your closet doors after a good decluttering session!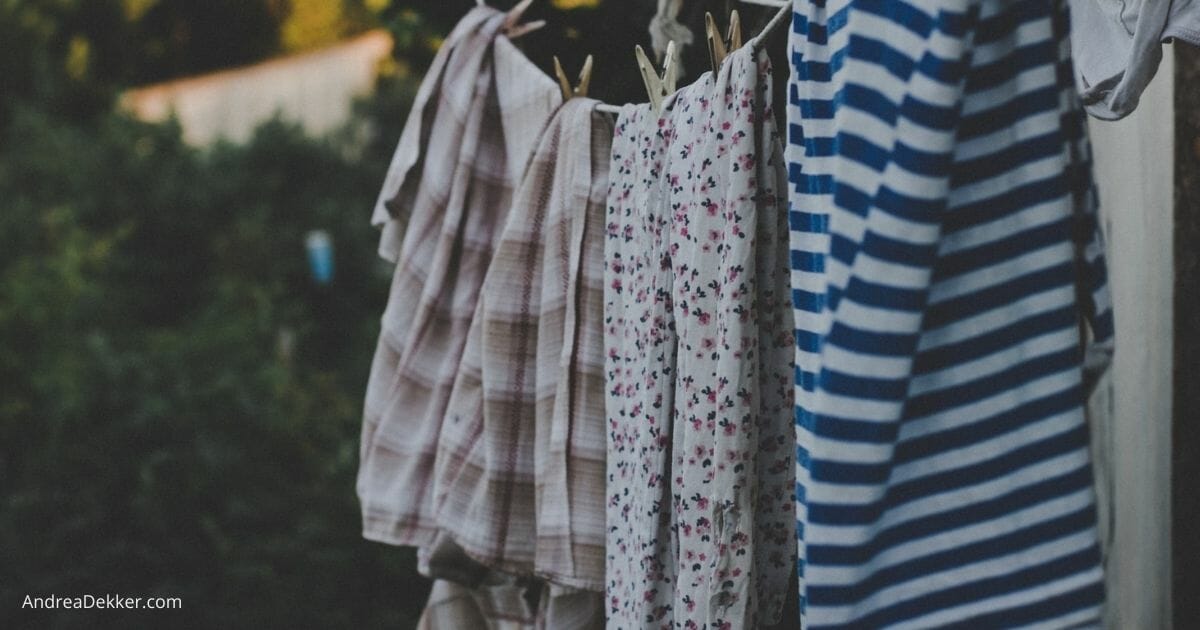 ---
That's all for this month. 😆
If you're interested, you may scroll through all my Favorite Things posts HERE!