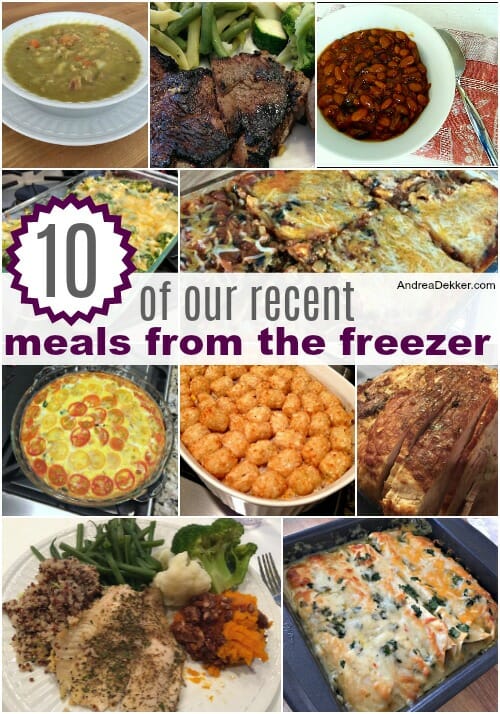 The end of May has been very "full" for our family — I'm guessing many of you can relate!
Not only do we have TONS of yard work and house projects calling for our attention this time of year, we also have all sorts of extra (usually fun) end-of-the-school-year activities and so many high school open houses for Dave — the vast majority of which are in the evening.
Because of all these "extras", I decided we would eat mostly from the freezer for a couple of weeks, saving me a bunch of time in the kitchen (both prepping and cleaning up).
I shared some of our freezer meals creations on Facebook, and many of you asked me to share a list of the meals we were ACTUALLY eating… so that's what I'm doing today!
These are all meals I have made for our family in the last 2 weeks, pulling most (if not all) of the ingredients directly from our freezer for fairly quick and easy week night meals!
1. Chipotle Pulled Pork Enchiladas
I flash-freeze individual Pulled Pork Enchiladas so I can just grab 5 or 6, put them in a casserole dish, pour sauce over them, sprinkle with cheese, and bake.
I whipped up some guacamole and served it with fresh salsa and chips.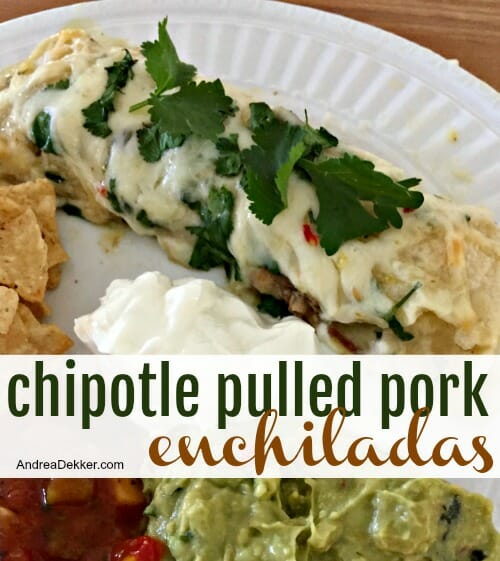 2. Chicken Broccoli Rice Casserole
I actually had a smaller batch of Chicken Broccoli Rice Casserole fully prepared in the freezer, so it required no prep work at all from me!
I served it with fresh bread, fresh fruit, applesauce, and a variety of reheated roasted veggies.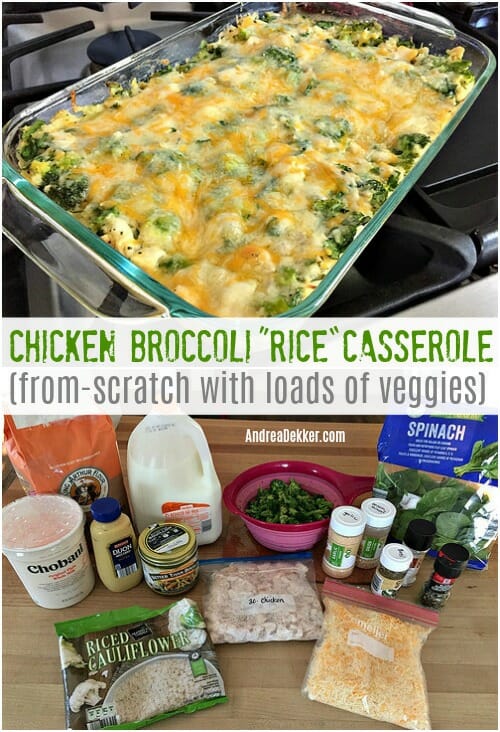 3. Tatertot Casserole
Tatertot Casserole is not my personal favorite food — but everyone else LOVES it, and it really is so easy to make.
I keep bags of frozen beef, frozen corn, frozen onions, frozen rice, etc. in the freezer, so it was just a matter of dumping them all in a bowl and mixing with a little Greek Yogurt and Cream of Mushroom Soup — (which I make from scratch using this recipe!)
Again, I served it with fresh bread, fresh fruit, applesauce, and a variety of reheated roasted veggies.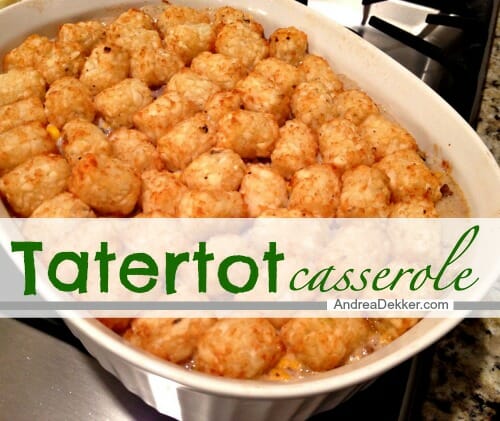 4. Ham, mashed potatoes, gravy, and butternut squash
I usually make a bunch of this all at one time and freeze 2 meals worth of each for later (yes, it all freezes just fine.)
I've gotten pretty good at estimating the right amount for our family — so there aren't even any leftovers to store for later!
Here's my super simple tip for making butternut squash.
5. Ten-Minute Lasagna
I cook, portion, and freeze big batches of ground beef, ground turkey, ground sausage, and lentils to use in various "beef" dishes. This 10-Minute Lasagna is a favorite meal for everyone — especially me since I can literally have it IN THE OVEN in 10 minutes!
For the past few years, I've been using roasted spaghetti squash in place of noodles for most of our "pasta" dishes. I usually roast a spaghetti squash every week so we always have some ready to go in the fridge. The kids love my "pasta" — even though we now tell them it really is squash!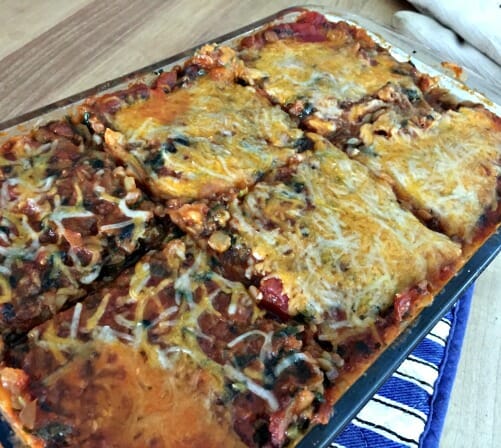 6. Brats:
We had 2 packages of brats in the freezer along with homemade buns I wanted to use up, so we grilled them all and enjoyed the leftover for lunch later in the week.
I served this meal with semi-homemade baked beans, fresh fruit, oven roasted potato wedges, and raw veggies.
7. Steak:
For some reason, we still have so many steaks in our freezer (from the beef we got for Christmas from Dave's parents), so we're on a mission to eat lots of steak this summer (it shouldn't be too difficult for us — especially since we LOVE this yummy dry steak rub!)
We grilled some veggies to go with it and served it all with this loaded baked potato casserole and fresh fruit salad.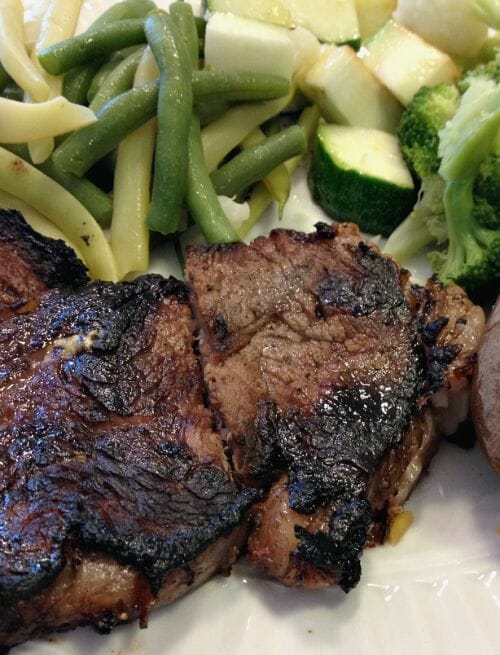 8. Tilapia and fish sticks:
This Lemon Garlic Tilapia is SUCH an easy meal to throw together — and the kids think it's "chicken" so they eat it! I finished off a box of fish sticks we had in the freezer too — which were a BIG hit!
I threw some quinoa in the rice cooker, steamed some broccoli and cauliflower… and of course, applesauce!
9. Pea soup:
Of course, any type of soup from the freezer is always a winner for busy week nights!
This pea soup was my last container of soup from the freezer — I probably won't make much more freezer soup until fall now.
I served it with this layered lettuce salad, fruit, and fresh bread.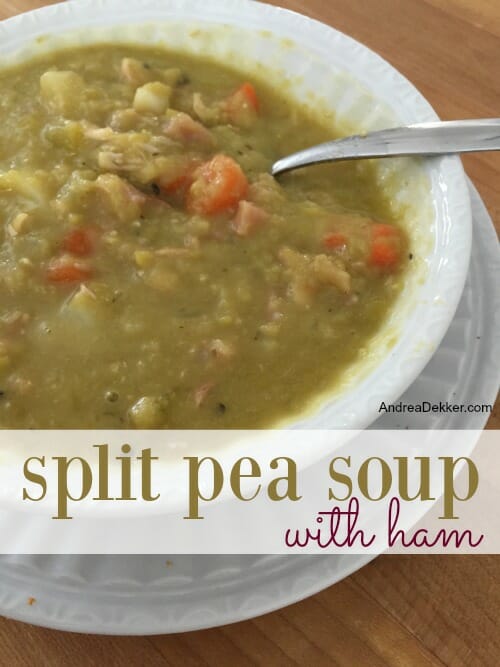 10. Quiche… lots of quiche!
Our family just loves breakfast foods — and we buy yummy "city-fresh eggs" (we have friends with chickens in the city) so quiche is always a no-brainer on busy weeknights. I use whatever cooked breakfast meats we have ready to go in the freezer (crumbled sausage, crumbled bacon, or diced ham) and often add in some roasted potatoes if we have any extra in the fridge.
I made this hearty egg casserole to use up a bunch of the leftover bread chunks from the freezer, and I cleaned out the produce drawer (and the last of our frozen spinach) by making our favorite vegetable quiche.
I serve the quiche with fresh fruit, and toast, pancakes, OR homemade cinnamon rolls,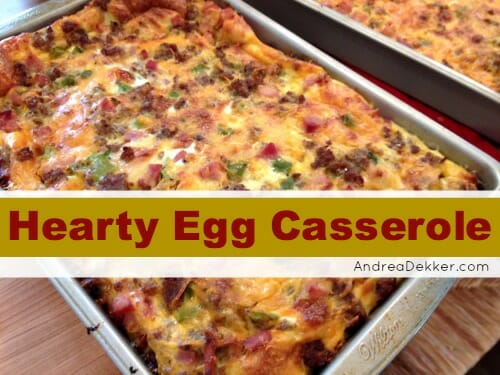 .
I know these meals won't necessarily work for every family with a busy schedule — but these are actually what WE ate using foods from OUR freezer over the past 2 weeks (along with a few nights of leftovers and sandwiches)
Hopefully it will serve as some inspiration for you — especially if you're on a mission to eat from the freezer!
What are your favorite meals from the freezer?