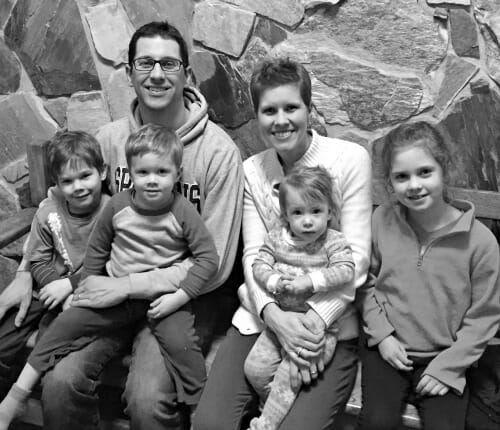 We just finished up a fun-filled weekend away with friends, and we're gearing up for a VERY cold, snowy week at home (hopefully with lots of snow days!)
Here's a "peek" at what we've been up to recently!
Nora is taking a ballet class with a few friends from school one night a week. She seems to like it so far. She also started doing a few sewing and needlepoint crafts she got for Christmas.
And she was finally brave enough to jump into the big blob at Rebounderz — she did it once, hopped off, and got right back in line again. She must have jumped at least 20 more times while we were there the other day!
Simon missed out on a school field trip because of the snow days — hopefully they'll reschedule it.
In the mean time, he's been obsessed with Spiderman, Batman, Superman, and all transformers. He's already making plans for a Transformers Birthday Party next month!
He has really shown an interest in art — drawing, coloring, painting, etc. and comes home with all sorts of fantastic artwork from school (I definitely do NOT save it all forever and ever!)
James is our monkey — always jumping off something, climbing on something, running, hopping, and skipping everywhere, and generally just acting goofy.
He sings all the time, and still earns his "Joyful James" nickname by being happy almost all the time.
Clara is walking (practically running) all over these days. She goes up and down the stairs with ease, she climbs up on the couch to sit with the big kids, she uses step stools to reach things she needs or wants, and she is a pro at pulling out kitchen chairs in order to climb up.
She has been protesting her naps the past 2 weeks (which is VERY uncharacteristic of her). I'm hoping it's just a phase and she'll go back to napping soon!
.
Also… we FINALLY got some snow!
Although the kids have enjoyed riding their bikes all winter, it was really fun to FINALLY get some snow — especially since we got a couple snow days out of the deal too!
Dave had 2 snow days while the kids still had school! That has never happened before, and it was pretty nice! Of course, later in the week, the kids had a snow day while Dave still had school — not as nice for me!
Clara's first official time in the snow!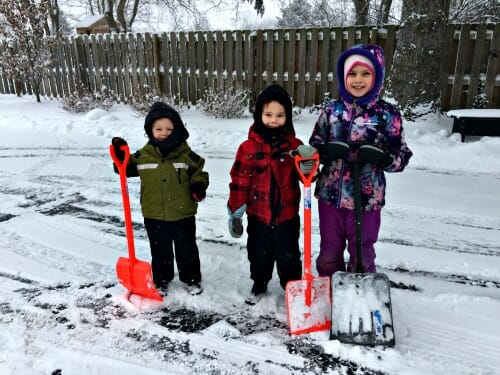 The amount of wet snow gear we have to hang and dry every day is absolutely astounding to me — I honestly can't even imagine where we would put it all if we hadn't added our mudroom on to our back entryway 4 years ago!
My Projects:
I purged 1 small bag of clothing from my closet, as well as a bag of James' outgrown clothes and a bag of Clara's outgrown clothes. Not much, but it still felt good to move it OUT of our house!
Since I had Dave home a bit more this past week, I took the opportunity to better organize (yet again) our pantry, freezer, refrigerator, and various kitchen cabinets and drawers.
After our eat-from-the-pantry challenge, I realized we had quite a bit of unused (and under-utilized) space in our kitchen, and if I just rearranged how I stored some of our things, I could move and have better access to the items I use more regularly.
Also, since I've been doing so much grain grinding and bread making the last few months, I have really changed how I use my kitchen — so a little rearranging was definitely a good thing.
I already feel more productive and efficient when I'm in the kitchen!
What I'm Reading:
Over the past months, I've spent most of my free time reading books about making yeast and/or sourdough breads. In my head, I'm basically an expert… however, I still have a LONG way to go when it comes to my actual bread-baking abilities!
Here are just a few of the books I've read via our library or my 3-month trial of Kindle Unlimited (I'm bummed that my trial will be up in just a few more weeks!)
I found some time to watch 2 more episodes of When Calls the Heart on Netflix. I have not made time for the Marie Kondo series — I'll get to it eventually!
Our Week's Menu:
SUNDAY:
Cornbread (made with freshly ground cornmeal!)
Fresh Fruit
MONDAY:
Steamed Green Beans
Homemade bread
Fresh Fruit
TUESDAY:
WEDNESDAY:
Mashed Potatoes and Gravy
Steamed green beans
Homemade bread
Fresh fruit
Apple cake (a revised recipe with whole grain flour)
THURSDAY:
Stromboli (I made my own dough, but used this same basic recipe)
Spinach Salad
Raw veggies
Fresh fruit
FRIDAY:
Steamed Green Beans
Homemade rolls
Fresh fruit
SATURDAY:
Chips
Raw Veggies
Fresh Fruit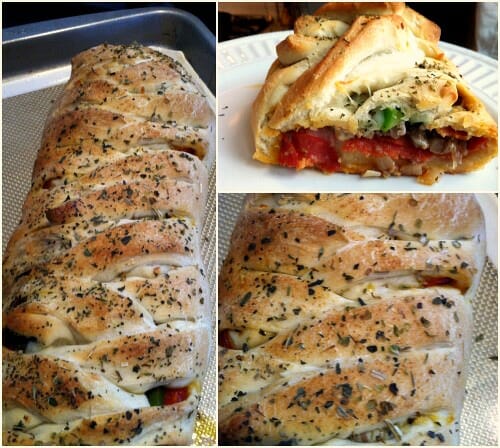 I still can't believe it's February !
I have a few more inside projects I'd like to finish over the next month or so — and then, before you know it, we'll be working outside again and gearing up to FINALLY tackle our laundry room renovation (hey, it's only been 9 months!)
What has your New Year looked like so far?