It's Not a SPACE Problem, It's a STUFF Problem
posted by Andrea | 07/12/2016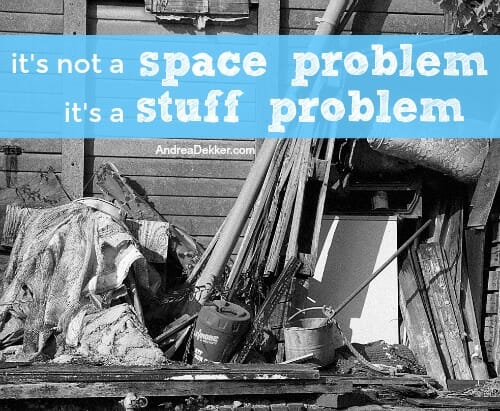 Over the last 10 years of running an in-home organizing service, speaking for various women's events across the state, and writing thousands of blog posts, I can not even begin to count how many times I've heard someone "complain" or bemoan their lack of storage space.
And while I will agree there are many homes, apartments, and offices with VERY poorly designed storage spaces, whenever someone complains about a lack of space, my initial thought is almost always, "You don't have a SPACE problem, you have a STUFF problem". 
.
I know so many people who think the solution to their storage problems is to buy more bins, put up more shelves, move to a bigger house, build another garage, finish off the basement, or rent a storage unit — because if they can just get a little bit more space, they will finally be able to take control of their clutter (or so they think.)
But you know as well as I do that space is not their problem!
In my experience, the more space you have, the more stuff you'll fill it with (who can relate!) — unless of course, you set SPACE LIMITS.
What are Space Limits?
Giving yourself a space limit is much like setting a timer and not letting yourself use more time than you have allotted for a specific task, or working with a budget and not letting yourself spend more money than you have allocated to various categories.

Except, instead of working with time or money, you're working with the space in your home — and not letting yourself use more space than you have allotted for various items.
Here are a few examples of MY space limits.
Dave and I each only have 50 hangers in our bedroom closet (the kids each have 25). Even though our closets could easily hold 2 or 3 times this number of hangers, 50 is PLENTY for each of us and 25 is plenty for the kids (we all have several empty hangers right now). We know that when we're out of hangers, it's time to purge something. This way, our closet never gets over-crowded or totally out of control, and I always stay on top of going through the kid's clothes as they grow and as the seasons change.
Dave and I limit our shoes by what we can fit on the 2 shoe shelves in our mudroom closet — once they are full, we purge a pair of shoes before buying anything new.
We also limit our toiletries to 1 drawer (shared between the 2 of us) and a few larger items under our sinks (hand lotion, mouthwash, etc). Neither of us has many toiletries, so 1 drawer is plenty for us. By setting this space limit, we know that if our 1 drawer is starting to feel over loaded, it's time to clean out and purge — and since it's just one small drawer, we can easily clean it out in 5-10 minutes.
In the kitchen, I set space limits by designating certain shelves and drawers for various kitchen items. If we have too many food storage containers to fit in one drawer, then I know it's time to purge before we get anything new. And if we have too many small appliances to fit in my "small appliance cabinet" I will purge one (or more) before getting another one.
Toys and books — when there are too many to fit in our toy storage areas or on our book shelf, we purge (we do this A LOT!)
Even in our basement (that has TONS of extra storage space) I limit our storage to whatever we can fit in the bins on our storage shelves (and honestly, 2 of the bins are totally empty right now!)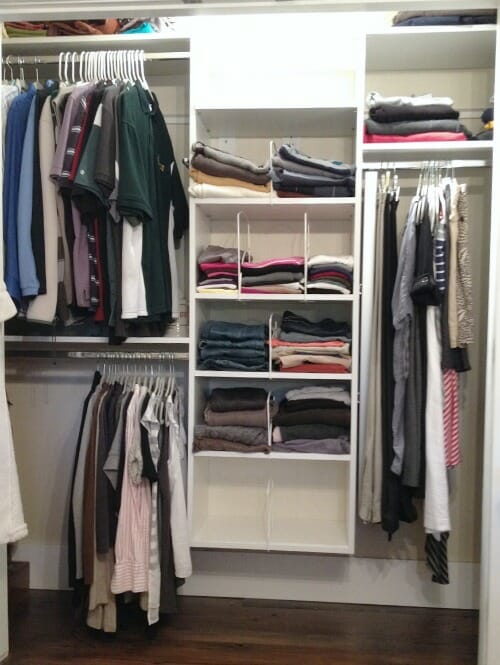 .
Without these space limits in place, it would be very easy for us to continue packing things into our closet, our mudroom, our kitchen, our playroom, and our basement without giving it a second thought — after all, we technically have plenty of space left to squeeze and shove more boxes, more bins, more toys, and more clothes… right!?!?
But the point for me isn't really that we have the space, it's that we don't need so much stuff that every nook and cranny is packed full.
.
Of course, for those of you who DON'T have as much space, space limits are even more important to keep things neat, organized, decluttered, and simplified!
Just as we set limits for our time, our finances, and various other aspects of our life, it's also important that we set limits for our space — it might sound silly, but it works! Plus, it doesn't require buying any bins, putting up shelves, building an addition, or paying monthly storage fees!
Win – Win! 
In my opinion, space limits are not a way of depriving ourselves or being super minimalistic about our stuff; but rather, they are a simple (and free) tool we can use to keep clutter from taking over our homes and our spaces.
Do you set space limits?
top photo source