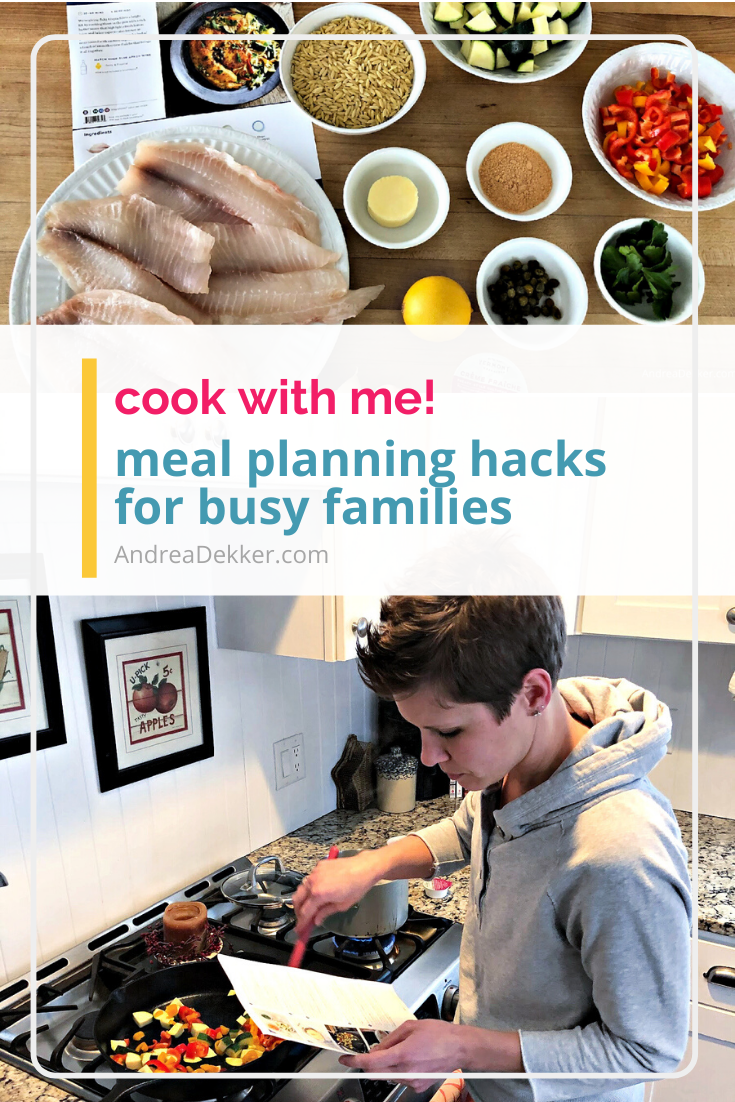 I'm excited to share more about our family's 6-year experience with Blue Apron's delicious, nutritious meal delivery service. Seriously, I can't believe we've enjoyed these meals for SIX years already!
Oh, and if you'd like to try these meals for yourself, I have a really fantastic offer at the end of this post!
This is a sponsored post on behalf of Blue Apron. All opinions are my own.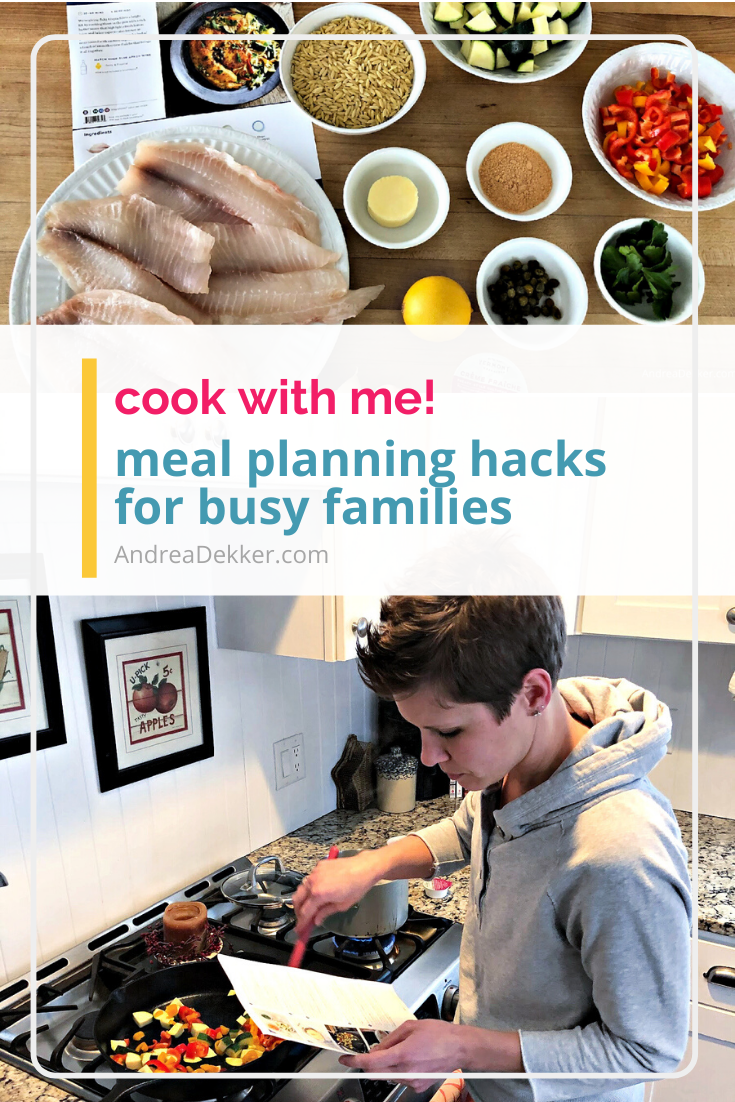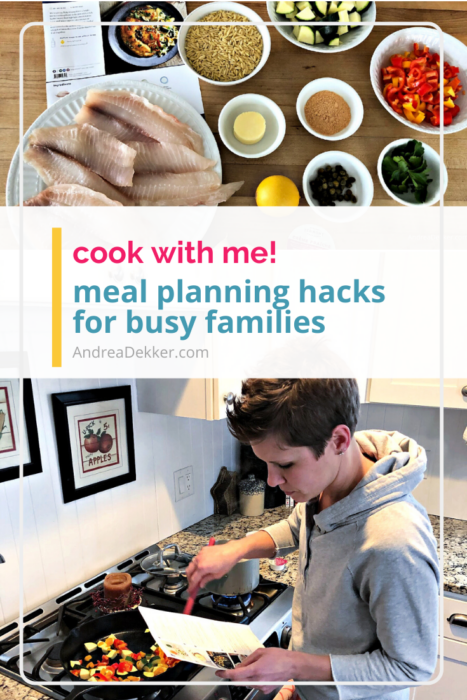 I regularly get questions, comments, messages, and emails from readers asking things like:
How do you make family meals a priority every night?
How do you get your kids to eat vegetables?
Where do you find time to plan and prep your meals?
How do you keep your fridge and pantry stocked with nutritious foods?
My answers are usually something like:
We don't do many extracurricular activities, so we're able to be home in the evenings.
Our kids don't always eat their veggies willingly, but we just keep serving them with every meal so they regularly try different foods.
I set aside 15 minutes each weekend to plan our meals, and usually prep them very early in the morning while I'm making breakfast.
I simply stopped buying junk food and committed to either making it myself or doing without.
Of course, my answers aren't always so "black and white". There are weeks when plans go awry and we end up throwing a frozen pizza in for dinner, or we need to eat in shifts due to a random weeknight meeting or obligation.
But for the most part, I've made it a priority to plan and prepare nutritious foods for my family — and yes, we almost always eat together at the table each night.
As I mentioned above, our family has enjoyed delicious meals from Blue Apron for almost 6 years now — not every week, not even every month, but whenever we do, it's always such a fun (and educational) experience for myself and for our family.
Since the Blue Apron service can be stopped and started whenever it works best for our family, I usually try to schedule our meal deliveries for abnormally busy weeks when I need to get nutritious meals on the table in less than 40 minutes (all of their meals meet this time-frame!)
In the past, I scheduled a meal delivery for the day we got back from vacation with my family, and it was SO nice to stock our fridge and have 3 days worth of meals ready to cook without a trip to the grocery store!
I've also used Blue Apron meals for special "at-home date nights" for Dave and me — we did this a lot more when the kids were younger.
Now, we order the 4-meal plan (which is plenty for our entire family) and I enjoy having a few days off from meal planning, while still feeding my family nutritious meals… with lots of veggies!
Also… have you ever served Orzo as a really simple side dish?
I first shared my favorite recipe for Greek Orzo WAY back in 2010 — and our family continues to enjoy Orzo to this day.
It's sort of a cross between pasta and rice — so it's REALLY easy for kids to eat, and our kiddos LOVE it!
This is another one of my favorite features about Blue Apron meals — they always have a few unique ingredients and flavor combinations I wouldn't normally think to pair together — like adding sauteed peppers to the cooked orzo!
Blue Apron meals have helped us expand our taste buds and try new foods without needing to buy so many specialty ingredients that we might only use once.
FUN FACT: I can credit Blue Apron meals with finally getting Dave to like Brussels Sprouts… AND for this super simple tip to drastically boost the flavor of our burgers (I've used it ever since)!
Our most recent Blue Apron meal delivery came with a delicious recipe for Tilapia Piccata (with the orzo pictures above).
The kids will tell you they "don't eat Tilapia" but as long as we call it "chicken", they gobble it up! So… they were big fans of the "Chicken Piccata" meal I prepared last week. 🙂
Blue Apron is such an easy, educational, and FUN service our whole family enjoys… and I think you will too!
If you want to save money by eating at home versus going out, Blue Apron meal prices start at just $7.49 per serving — which is so much less expensive than paying a babysitter, going out, leaving a tip, etc.
If you'd like to gather your family around the table a few nights each week… Blue Apron's 4-meal family plan will help you accomplish this (the 4-meal plan is PLENTY for our entire family of 6).
If you need to cut calories or stick to a specific diet plan… Blue Apron offers SO many recipe options to accommodate different food needs and preferences.
If you want to step out of your cooking comfort zone and try new ingredients and cooking techniques… Blue Apron's unique recipes with easy-to-follow instructions can help.
If you'd like a little break from planning meals Every. Single. Night… Blue Apron will give you that break.
Blue Apron will also give you a discount!
How does $80 off your first 4 weeks of meals sound?

Be one of the first 50 people to place your first order via this link, and you'll enjoy an $80 savings on your first 4 orders!

Valid for first time meal plan subscribers only and cannot be combined with other offer.
What are you waiting for? Give Blue Apron a try!
And let me know what you think!
I know so many of you have tried this fantastic meal delivery service over the years and have come back to me with rave reviews!