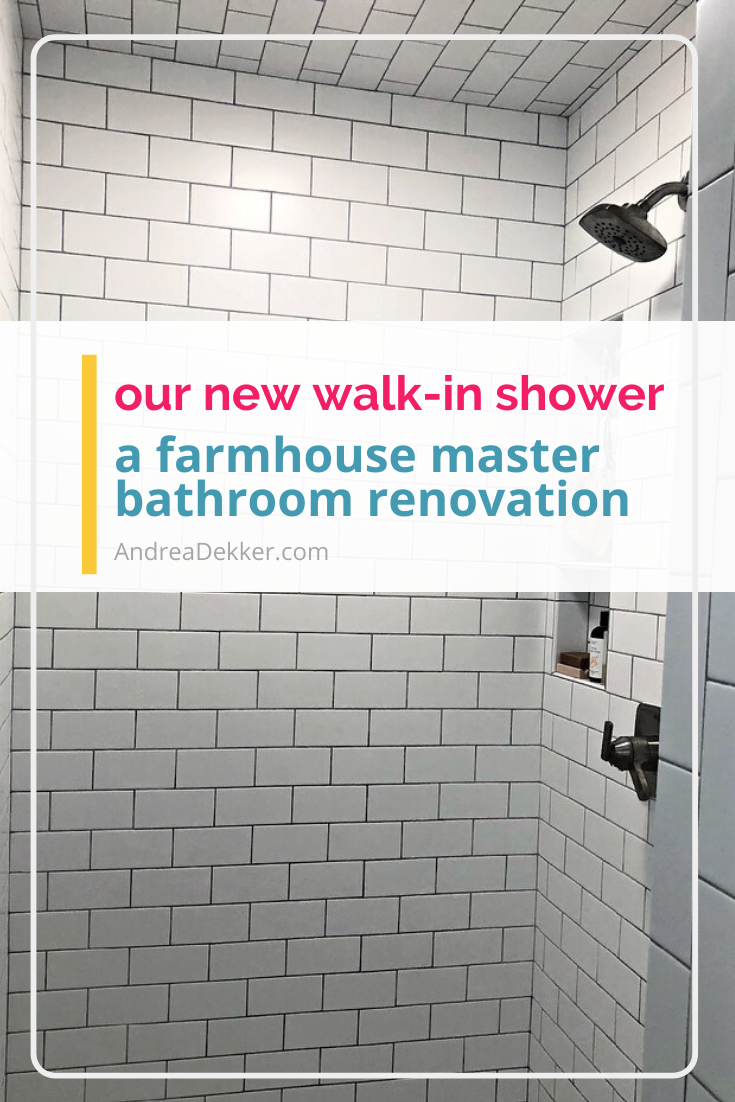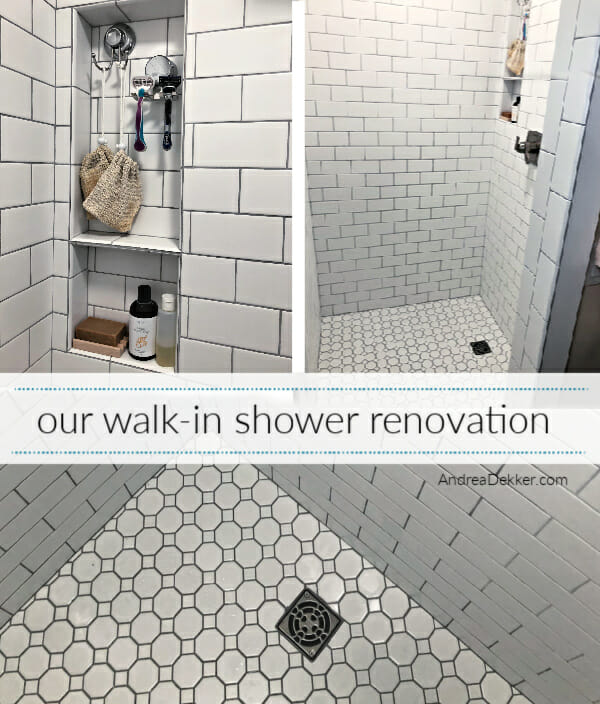 I shared a bit about our new master bathroom walk-in shower renovation on Instagram Stories and in my email newsletters… but it's time this project officially made it to the blog!
Yes, we renovated our walk-in shower… AGAIN.
Yes, this is the same shower we completely gutted and renovated back in 2011.
It was such a pretty shower! And a HUGE upgrade from the floral wallpaper, blue carpet, rusty-water situation we had going on when we first moved in.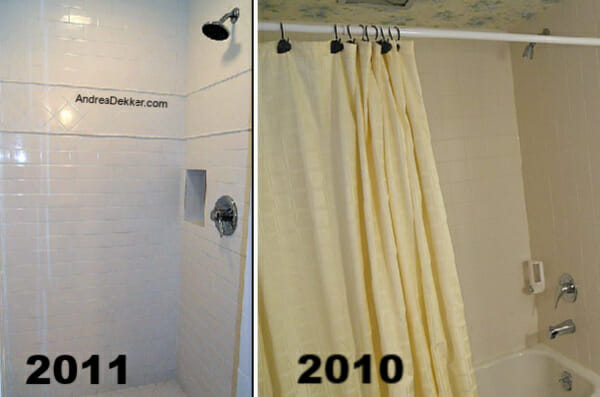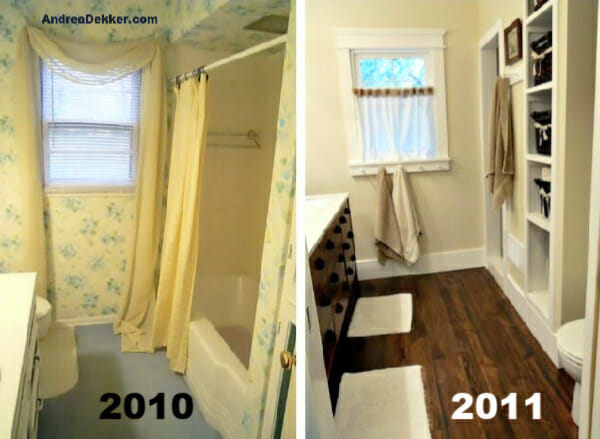 So WHY, might you ask, did we completely gut that walk-in shower and retile it again just a few years later?
Sigh… it's such a long story.
I will share the 2-minute ultra-condensed version here on the blog…
The first time we had our shower tiled, there was an issue with the grout. We still don't know exactly what happened, but the grout set up too quickly and the person doing our tile could NOT get the grout completely off.

Despite a HUGE amount of effort on his part, we were left with chunks of hardened grout on our tiles, in the corners and crevices, and even some cracked and chipped tiles due to his rigorous efforts to remove the dried-on grout.

It was sad and disappointing (yes, we got a good deal) but still significantly better than what we had before. And at the time, we had WAY too many other projects on our list that needed to be finished before Nora was born just a few months later.

So… we lived with this shower for almost 9 years, with the intention of re-tiling it once we finished all our other house projects.
Aside from the laundry room project we've been debating about for over a year now, we finished all other MAJOR house projects this past summer (there are always little things)… which meant it was time to tackle the shower.
FINALLY!
We decided to hire every aspect of this shower renovation out to a professional – yay!
Everything from the demo to the clean-up — we were willing to pay (a lot) more for zero stress and minimal inconvenience.
And that's exactly what we did.
We hired a local tile guy to start on this shower renovation in mid-January. In just 8 days, he had the old shower completely gutted and every last speck of dust cleaned up from our new shower.
It was almost a surreal experience to start and finish such a huge project with virtually zero effort on our part!
No late nights trying to work quietly while the kids are sleeping.
No mile-long project to-do list.
No last-minute trips to the hardware store.
No watching YouTube videos and hoping we're doing something correctly.
Yup, we might be hiring out more projects in the future! 😉
Especially since we are SO happy with the finished results!
What do you think about our little walk-in shower?
We LOVE the white tile + grey grout combo!
NOTE: I link to all our product sources below.
While grey grout is a bit of a trend right now, the white subway tile is about as classic as it gets, so I think we're "safe" with this combo in our 130-year-old farmhouse!
Some of you might remember we did the same white tile + grey grout for the flooring in our half bathroom. We liked that look so much that we wanted to try it again. We also plan to do the same flooring in our laundry room — whenever we get around to that!
Of course, the process to get to our new beautiful shower was pretty messy!
As you can see by the pictures below, EVERYTHING needed to be ripped out — even the cement board, drywall, and insulation.
Apparently we had mold growing behind the tiles as a result of the bad grout job. AND, although we didn't realize it until we tore the shower apart, the waterproofing was done incorrectly 8 years ago (YIKES! )
Yup, it was a huge mess for a few days, and I'm so glad Dave and I didn't have to deal with any of it (minus sweeping and vacuuming every night after the tile guy left!)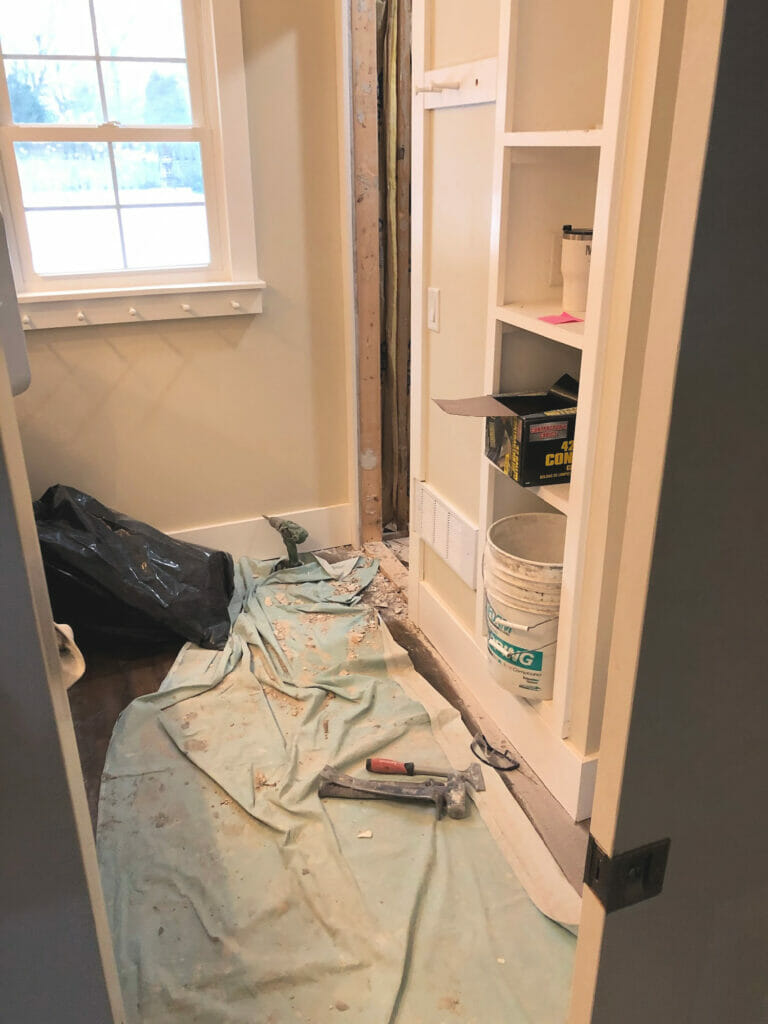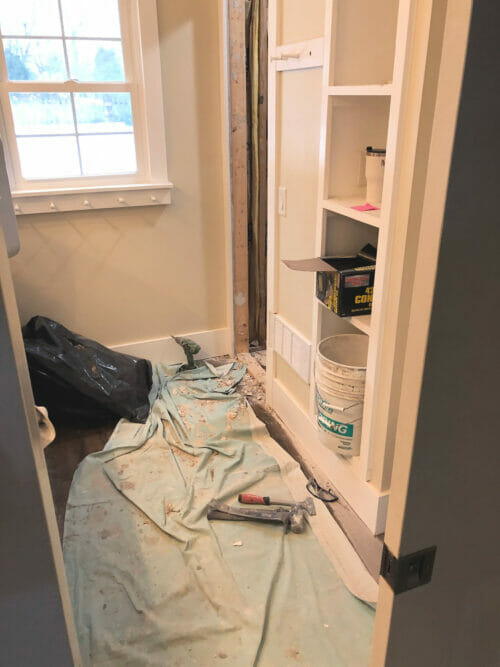 .
While we had the shower area completely gutted and torn apart, we took the opportunity to make a few other changes as well…
We Moved the Drain Off-Center.
Our shower drain was smack in the middle of our shower (an obvious placement). However, once we actually used our shower, we realized that a drain in the middle of the shower meant that we stood directly on it during our showers.
Thankfully, we were able to move the drain about 1 foot closer to the wall, and it's now out of the way of our feet (this has been such a positive change!)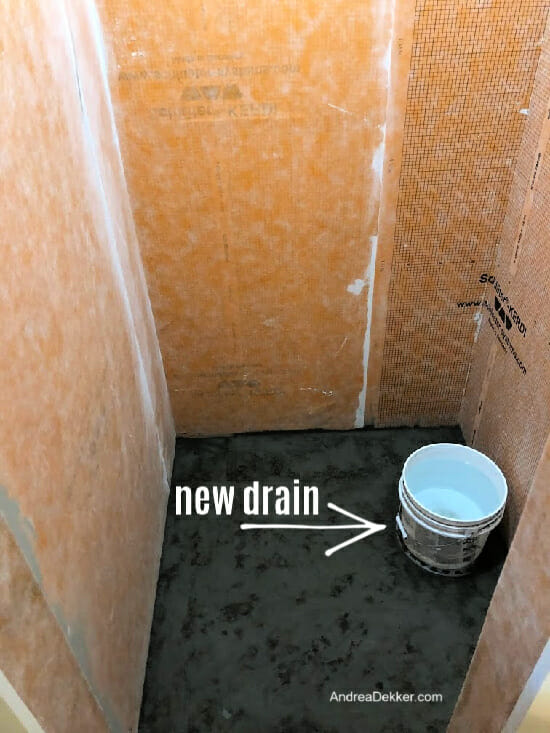 We Installed a Bigger "Niche".
One of my favorite features of our old walk-in shower was the built-in little storage cubbie (or "niche") for shampoo, soap, shavers, etc.
Since we're a family of 6 (and some of the kids use our shower) we decided to put in a bigger niche — and I'm thrilled with how well it turned out!
We Tiled The Ceiling
When we tiled the kids' bathroom upstairs, our tile guy recommended tiling the ceiling.
We really like how it looks (and how easy it is to keep clean), so we had him tile the ceiling of our shower too.
Tiling the ceiling was an additional expense, but it provides a little extra water-proofing. Now we don't need to worry about any moisture from the ceiling seeping down behind the walls.
.
What About A Shower "Door"?
Several of you commented on the fact that we don't have a door for our shower.
We thought about putting a glass door on the shower. However, that costs about $1500 and we feel like it could "trap" the moisture in the shower all day.
Instead, we use a simple fabric shower curtain that we shove behind the shower wall when not in use. (I buy the 71″ by 84″ extra long curtain and cut it in half. We get 2 curtains for the price of one and I can swap them out when one needs to be washed).
The curtain keeps the heat (and water) IN while we're taking a shower and it lets air circulate when we're not.
Plus, it only cost $15 instead of $1500! SCORE!
Our Shower Sources:
Click on the links below to buy the products we used for our shower renovation!
Our All-Natural Shower Products:
Read more about why we've switched over to all-natural products in this post.
Related Shower & Bathroom Posts:
Apparently we've done many bathroom projects in this house already!
Whew! We made it!
We plan to have another laundry room / bathroom renovation post to share with you later this summer or fall.
In the meantime, we hopefully won't need to touch any of our bathrooms for a LONG time!