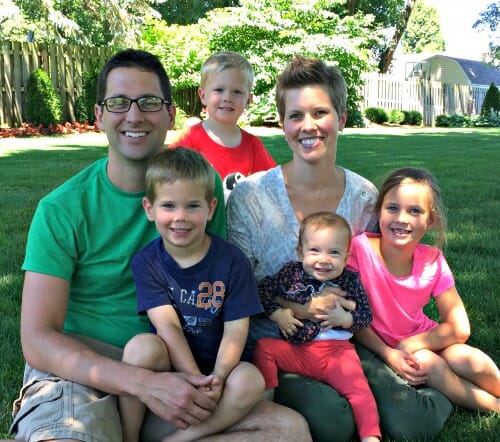 The past 2-3 weeks have been hot, hot, HOT and humid here in West Michigan!
It's not the best for my flowers, and almost unbearable if you don't have a pool or air conditioning… but since we have both, we've been enjoying the heat (for the most part).
Our pool has hovered in the mid 80's, even getting close to 90º a few times already. And we just purchased a solar cover — so hopefully we can keep some of that heat in the pool, even if the weather eventually decides to cool off a bit!
Over the past 10 days, we've had friends and family over to our house 3 times for different "pool parties", we've gone to other people's pools 3 different times, and we hung out at a local splash pad for a church picnic as well. Add in a few sprinkler runs, kiddie pool fun, and a water balloon fight, and we've basically been living in water for the past week!
The kids aren't complaining!
For the first time in a long time, we didn't do anything to celebrate The Fourth of July (I don't even have any pictures.)
It was SOOOOOOOO hot and humid (we were under a heat advisory most of the day) so we basically spent the day at home, either inside or in the pool. The kids were so tuckered out from the pool and the heat that they were all sleeping by 7:00 and never woke up with all our crazy neighbors shooting off fireworks!
Dave and I ate ice cream cones on the front porch and watched the fireworks for about 15 minutes, then went to bed — not a horrible day in my opinion. 🙂
.
Bathroom/laundry room renovations are crawling along at a snail's pace — but they ARE moving forward.
After 3 false starts with drywallers who all backed out on us, we finally found a retired drywall guy to help us out — he did an amazing job. We have cabinet doors ordered, counters picked out, tile ready to go, and my uncle is in the process of building us a fake vanity (long story — it will make sense when you see pictures though!)
So right now… Dave and I are just waiting… and waiting…
Thankfully, we have the "new" laundry room in our basement and our old bathroom is completely useable. Otherwise, I'm certain I would NOT be as patient!
At this point, there is basically no way we'll finish both the bathroom and the laundry room before Dave starts school again, so my new goal is to have them finished by Halloween (seriously, I hope it doesn't take that long!)
At least they should be 100% ready to go before cold weather hits and before we start entertaining over the holidays.
Here's a sample picture of the granite counters I picked out — it's SO hard to tell from pictures, but it's similar to our kitchen counters (which we both love).
We got a huge shipment of delicious Washington Cherries for a sponsored post I'm sharing later this week — I've been washing, pitting, freezing, and baking/cooking with cherries all week (my fingernails are basically stained purple right now!)
.
I also spent time in the kitchen making James' Bob the Builder birthday cake for his party yesterday!
Seriously, how is this boy almost THREE!
The cake was SOOOOO easy — just a basic boxed cake mix with store-bought chocolate frosting and a bunch of crushed Oreos, chocolate malt balls, chocolate sprinkles, and other candies that looked like dirt and rocks. Then we put a couple Bob the Builder characters and trucks on top and James was THRILLED!
I'll share more about James' party (and his upcoming birthday later this week!)
.
In other news… Nora finished gymnastics last week and has soccer camp next week (our first attempts at trying a sport!) The boys and I hope to attend several fun events at the library while Nora is at soccer camp and Clara takes her morning nap at home with Dave.
Simon is obsessed with drawing "blob people" as I call them (so cute!), James is all about puzzles lately, and Clara just can't get enough watermelon.
James and Clara have their well-child checkups tomorrow, we have another birthday party for a cousin tonight, a baby shower for my youngest sister later in the week, and we're all gearing up for a mini stay-cation with Dave's family next weekend — so it should be a fun and full week!
Also… the brand new Meijer store (roughly 2 miles down the road) has it's GRAND OPENING later this week!!!
HAAAAA-LLE-LU-JAH!
I'm honestly somewhat torn though — I've been waiting for this Meijer to finally happen since we moved to our house 8 years ago. However, for the past 6 months, I've been using Aldi for the majority of my groceries, and I just LOVE how quick and efficient my Aldi shopping trips are.
Now the question is… will it take longer for me to drive to Aldi (the next town over) or wait in the long Meijer checkout lanes. Also, I need to factor in that Meijer is open 24 hours a day and it has more of what I need.
Either way, I'm just so excited to have a big beautiful Meijer practically biking distance from our house — it will be so nice for quick trips or just to pick up one or two things!
I'll definitely keep you posted as to how my grocery shopping pans out over the next several months!
.
More good news — Anne with an "E" started it's 2nd season on Netflix. It's such a cute show, especially if you're a fan of Anne of Green Gables!
And I'm still plugging away at reading Little Women. I only read a few pages at a time — in between all the other things I'm doing, but since I'm so familiar with the story, I can easily pick up where I left off without needing to go back and re-read.
Our Menu Plan
We enjoyed donuts for breakfast once last week, and had several "picnic" lunches out by our pool (pizza, wraps, sandwiches, salad, etc.)
Here's what we ate for dinner each night.
SUNDAY:
We had friends over for a pool party in the afternoon and I made the following for dinner:
Pulled pork and buns
Watermelon
Cherries
White Chocolate Cherry Pie Bars
MONDAY:
TUESDAY:
Brats, chicken sausages, and hotdogs on the grill
Chips
Leftover baked beans
Leftover broccoli cauliflower salad
Watermelon, pineapple, and berries
Cherry pie bars
WEDNESDAY:
Tilapia (I made a spicy version for Dave and myself, and a Parmesan crusted version for the kids)
Cilantro lime rice
Peach cherry salsa (recipe coming in a post later this week)
Cherries and other fresh fruit
THURSDAY:
Steak on the grill
Baked sweet potatoes
Green Beans
Cherries
Brownie sundaes
FRIDAY:
Steak fajitas (with leftover steak)
Chips and salsa
Leftover cilantro lime rice
Black bean and corn "salad"
SATURDAY:
Lettuce salad
Fresh fruit
Cherry pie bars
Even though we don't have much on our summer calendar, the weeks seem to be flying by!
I can't believe we're almost half way through already!
We've already seen school supplies for sale in the stores, and although I'm not ready to think about school just yet, I'm super excited for Nora and Simon (and Dave) to start another fun-filled year. Simon talks about preschool almost every day, and Nora is excited to see her school friends again as well.
But for now… we'll enjoy 6 more weeks of glorious summer!