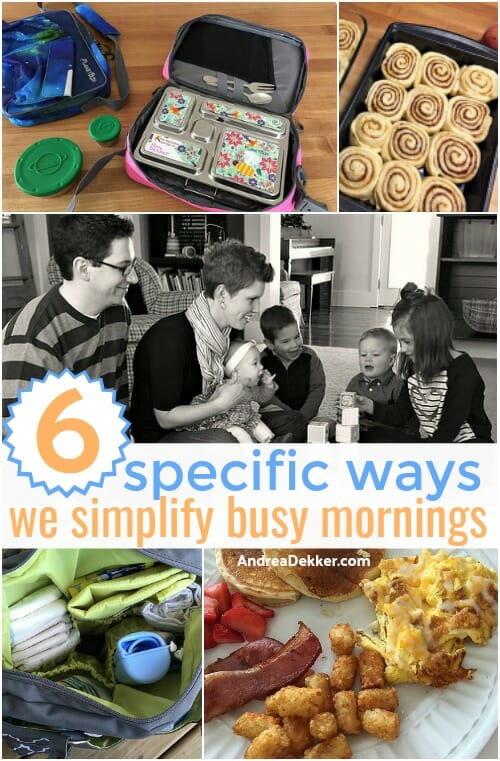 As a self-proclaimed homebody, you would be shocked to know that our current Fall schedule has our entire family up and out the door every single weekday morning for some activity or another!
Whether it's bringing Simon to preschool (and then running errands), attending a Bible Study at church (with nursery for the kids), heading to story hour at the library, or participating in 2 different community play groups, we have fun things to do every weekday morning — aren't you proud of me!
Of course, getting Nora on the bus and the other 3 out the door with me can sometimes feel like a mini circus act — especially since Clara likes to sleep in and we always eat a hot breakfast.
However, thanks to a handful of specific steps we take the night before, our mornings rarely ever feel overly crazy, stressful, frazzled, hectic, or too busy. In fact, we often have plenty of time to watch a show, play a game, read a couple books, or throw in an extra load of laundry before we leave each morning.
This is not because I'm extra-amazing or because I never sleep… it's simply because our family does 6 specific things every night to simplify our mornings.
The points I'm sharing today are probably things you've read and heard 50 times before… BUT, I hope it's still helpful for you to re-read them today; especially since I've provided several very specific examples and details about how exactly we utilize these 6 concepts to DRASTICALLY simplify what could otherwise be a very busy morning.
.
1. We SET OUT every item of clothing the night before.
Yes, I know… this is the most basic morning-simplifying advice ever. However, there's a difference between "deciding what you'll wear" and actually SETTING OUT every single item of clothing you will wear the next day.
Every night before baths, we have the kids get their PJ's out and bring them to the bathrooms, then they choose their clothes for the next day and actually SET THEM OUT in a convenient spot for the next day.
We tell them the weather forecast, remind them of what's going on the next day (Nora, you have P.E. — Simon, you're going on a field trip, etc.), and offer helpful suggestions. We reserve the right to veto some of their selections, but most of the time, we let them pick out whatever they want to wear — as long as it's weather appropriate.
This includes:
pants/shorts/skirt/dress
undershirt/shirt/sweatshirt
socks/shoes/sandals
any accessories (watch, bracelet, necklace, special hair items)
any outdoor gear they might need (coat, boots, hats, sunglasses, umbrella, etc.)
Nora puts her clothing in the half bath off the kitchen as that's where she gets dressed and ready in the morning. The boys put their piles on the dresser in their bedroom.
Dave puts his clothes in our bathroom, and I have a space on the bottom shelf of our closet for tomorrow's outfit.
Some of the items stay in the mudroom (which I'll discuss later) but everything we need to wear the following morning is picked out and SET OUT the night before… and 99% of the time, we don't let anyone change their minds (Nora almost missed the bus the one morning I let her go back upstairs to pick out a different outfit!)
The process of picking out clothes takes the kids 5 minutes… then we're done for the day and don't have to worry about any issues the next morning.
.
2. We pack lunches the night before.
Again, this is some of the most basic advice… BUT IT WORKS!
I've gotten into the routine of packing all our lunches as I'm cleaning up dinner. I figure I have lots of food items out already and the kitchen is already messy… plus, then I only have to clean up the kitchen once!
This after-dinner timing also works well since Dave and I eat leftovers for lunch most days — I pack up leftovers for our lunches as I'm cleaning up the rest of the food from dinner, and toss the pans in the dishwasher. I'm to the point where I can almost always estimate the right amount of food for our family's dinner and 2 lunches the next without any other leftovers — score!
The kids weigh in on what they'd like for their lunches, and depending on what our plans are for the next day, I either pack the food in our lunch boxes or put it on a plate with plastic wrap over top.
I know it might sound somewhat extreme to pack lunches for those of us who will be eating at home — but if I'm making a few lunches anyway, I might as well make them all. Also, as I mentioned above, our schedule this year has us out and about at various school, church, and community activities almost every weekday morning, so knowing we have lunches ready to eat at home makes it so much easier for me to serve lunch to my "starving" children right after we walk through the door. Plus, it helps me avoid the temptation of stopping for fast food on the way home! 🙂
This is the most labor-intensive "step" of the 6, but since I do it while I'm cleaning up dinner, it really only adds an extra 15 minutes onto the clean-up process. And I'll be honest, I enjoy being in the kitchen alone while Dave is playing with the kids upstairs!
RELATED POSTS:
.
3. We have all bags (and vehicles) packed the night before.
Along with what I mentioned in #1 above, we make sure all our backpacks, diaper bags, school bags, purses, wallets, gym bags, library bags, etc. are packed and ready to go the night before.
I also make sure the the van is packed and ready to go with whatever we'll need for the next morning.
If I'm getting groceries after dropping Simon off at school, I'll make sure my grocery bags are in the car and that the stroller is NOT in the truck as it takes up too much space. I'll also make sure I have my grocery list ready to go and any coupons in my wallet.
If we're heading to the library for story hours, I'll make sure our big bag of library books is loaded up and ready to go in the van.
If we're headed to church, to a community play group, or to a friend's house, I'll make sure we have anything we need for those outing ready to go in the van (or at least in the mudroom).
I often run errands on our way to places as well (bank, post office, pharmacy pick up, drop food off for a friend, etc.) so I try to have all those items in the van ready to go as well.
We often use the big bench in our mudroom to line up everyone's bags, shoes, coats, etc. the night before, so we can all just "grab and go" when it's time to head out.
It might sound silly, it might sound a little extreme, it might sound overly simple — but it works for us for now!
This step takes roughly 10-15 minutes, depending on what we have going on the next day.
RELATED POSTS:
.
4. I plan our breakfast the night before.
I don't go crazy with breakfast, but I do enjoy making (and eating) a hot breakfast every morning — which requires a bit more planning than just eating cereal.
I usually rotate between the following options on weekday mornings — all served with a variety of fresh fruits:
Saturdays = really big breakfasts (fried potatoes, eggs, bacon, sausage, sautéed veggies, pancakes, etc.)
Sundays = cinnamon rolls, eggs, fruit, and yogurt.
Now that I'm in the habit of making big breakfasts every morning, it's not a big deal at all — however, I still need to plan ahead in order to make it work.
Do we have enough eggs in the house to do omelettes or quiche? If not, I'll choose a different option.
Do we have bread I want to use up? If so, I'll make french toast.
Do we have a bunch of breakfast meat already cooked? If so, I'll try to incorporate more of that into our meal. If not, I'll go with oatmeal or pancakes and eggs.
Do we have fruit cut up and ready to go? If we're almost out of fresh fruit, my fall-back is frozen fruit smoothies (which the kids love!)
Is it a special occasion? If so, Dave or I might get donuts to surprise the kids when they wake up.
This thought process takes me LESS THAN A MINUTE, but it's something I think through every night so I have a plan when I wake up each morning.
RELATED POSTS:
.
5. We look over our planners and make to-do lists the night before.
For as long as I can remember (even back into middle school) I have religiously looked over my planner and made a to-do list for the next day BEFORE going to bed.
This nightly practice frees my mind of the need to remember throughout the night, allows me to sleep better, and gives me an instant productivity boost the moment I wake up, as I already know what 'the plan' is for the day.
Fortunately for our marriage, Dave functions exactly the same way (we're both oldest children!) and thanks to our ultra-planned dispositions, our children are following suit!
We usually try to tell them what the "tentative plan" is for the next day before they go to bed (unless it's a really exciting surprise that might keep them up all night!)
We talk about…
the weather (and what they should wear)
what school activities they have (and if they need to bring anything special to school)
what errands we will run
what we'll have for breakfast, lunch, dinner
if anyone is coming over (their favorite!)
if it's any sort of special day (birthday for someone we know, field trip at school, etc.)
if we're going anywhere special — and if they might need to take rests in the afternoon so we can stay out later at night
what we'll do at home (baking special treats, doing a craft, playing with a neighbor)
I know this might sound like over-kill (honestly, sometimes it feels that way to us too) but it's a better alternative than having them ask me 582 questions about what we'll do, what we'll eat, where we'll go, what the plan is, etc.
We've found it's easier and less exhausting for us to tell them the plan the night before so they can mentally prepare.
This step takes 10-15 minutes tops — depending on how many questions our kids have and how many things Dave and I need to talk through after they are sleeping.
RELATED POSTS:
.
6. We get to bed on time.
I don't think this one needs much of an explanation — but it's a super important part of simplified mornings at our house, so I wanted to include it in my list.
If your mornings feel rushed, crazy, chaotic, stressful, busy, or frazzled, do yourself a HUMONGOUS favor and simply go to bed a little earlier so you can wake up a little earlier (and don't hit snooze!)
This step takes ZERO extra time — just the forethought that we need to get the kids in bed by 7pm, and get ourselves to bed by 9:30 (maybe earlier)! We must plan our evening hours accordingly so it's not 9:15pm before we realize we still need to pack up what we're working on, shower, make our to-do lists, pack bags, etc.
It took us a few weeks to break our summer habit of staying up quite late, but we're used to it now, and it's no problem to get to bed by 9:30 most of the time.
RELATED POSTS:
.
Of course, we have occasional bad days when plans change, someone gets sick, a full glass of juice spills all over the chosen outfit, the library book that WAS in the backpack magically disappeared, etc. etc. but those are the exception… not the norm.
I realize this post has A LOT of information (2200 words — good grief!) If you feel overwhelmed, just choose ONE of the 6 concepts above and try to implement that into your routine. After you get the hang of one, choose another concept and implement it as well.
It won't happen over night (or even in one week) but over time, I'm confident these steps will help you and your family to enjoy less stressful, less busy, less chaotic mornings — which will hopefully lead to feeling happier and less frazzled ALL DAY LONG!
What are your best tips to simplify busy mornings?