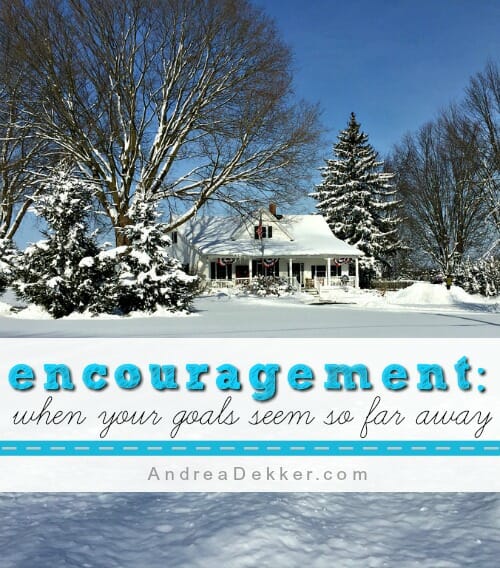 Over the past several years of sharing my life, my home, my family, my menu plan, and my schedule on the internet, I have (understandably) gotten numerous emails and comments from readers asking for more specific details on how exactly I/we…
decided what plants and trees to add to our landscape…
work from home with no childcare for our children…
integrated more vegetables into our daily meals…
keep our home relatively clutter-free and organized…
create more time at home with family…
get my family on-board with decluttering and organizing…
stay on top of my digital photo books…
The list goes on.
.
Since I write from the perspective of "this is what works for me…" I usually don't share anything online until I know it's successful — until I finish the project, until I "perfect" my recipe, until I accomplish my goals, or until I cross off all my to-dos.
I do this for authenticity's sake as I'm assuming you don't want me sharing ideas, recipes, tips, and tools I've never actually used or tried in my own life!
And since my goal for blog content is to be simple to understand and easy to digest, I try my best to quickly summarize the process, neatly outline the various steps needed to achieve the end results, and show a handful of pictures to help readers SEE as much of the process as possible.
HOWEVER, in this process, one thing that doesn't always get spotlighted is the fact that most of the projects, ideas, recipes, tips, tools, skills, goals, etc. I write about are YEARS in the making!
Take the list I shared earlier in this post…
We've been continually plugging away at house projects for over 8 years now and are just finally to the point where we can sit back, relax, and thoroughly enjoy living in our house without part of it being under construction.
Our landscape is also to the point (after 6 summers of HARD WORK) that we can focus primarily on general maintenance versus hugely expensive, time-consuming projects every summer.
Our goal to pay off our mortgage before our children started school was one I had way before I even met Dave, and certainly before I had a mortgage. We made many financial "sacrifices" and continued to work diligently towards this goal for 10 years before we eventually accomplished it.
When I first started my business, I had no idea what I was doing and I made virtually ZERO income. It took 5 years of VERY LONG hours for almost no profit to finally turn a corner and start earning a decent income.
Our family's healthier eating journey has been on-going since 2010. We've made little changes every year and stick with them until they become new habits. Then we integrate another small healthier habit.
Losing my baby weight was a full year-long process of slow-but-steady progress. No fad diets or gimmicks — just watching what I ate, trying to move more regularly throughout the day, and making more nutritious choices.
Keeping our home clutter-free and allowing breathing room in my daily schedule are things I work at every single day of my life — they do come more naturally for me, but they definitely do NOT just magically happen!
When Dave and I were first married, I often resented the fact that he didn't help out around the house all that often… meanwhile, he assumed I didn't want his help because I never asked (I assumed it was obvious that he should help)! It took a few conversations, several "reminders", and lots of time… but 13 years later, Dave is extremely helpful around the house — to the point where I almost never even need to ask for his help anymore!
Dave and I did not instantly start waking up a 4am after a lifetime of sleeping in… no, we gradually bumped our alarm up a little each month and now our bodies are used to a very early alarm (and a very early bedtime!)
My digital photo books are something I enjoy doing, but also something I must diligently devote time to every month in order to keep all my books current. Of course, I enjoy doing this in my free time, but I still have to make a conscious effort to work this time into my schedule.
.
I know many of you are working towards similar goals as the ones listed above — good for you!
I also wouldn't be surprised if some of you are becoming impatient with the time it's taking to make progress towards these goals — let me encourage you to just keep moving forward!
Life is a marathon, not a sprint.

Change often happens SLOWLY.

Any progress is good progress.

Don't get discouraged!
Anything worth working towards often takes time… so give yourself some time (more time than you think it will take) and don't let yourself give up.
I can say, without a doubt, that the time, effort, and sacrifices we made to realize so many of our goals was definitely worth it in the end. It may not have been super fun WHILE we were in the middle of things, wondering when/if we would ever reach our goals, but I'm so happy we stuck with it and kept pushing on!
What goals are YOU working towards right now?