3 Steps to a Squeaky Clean Dishwasher
posted by Andrea | 12/15/2015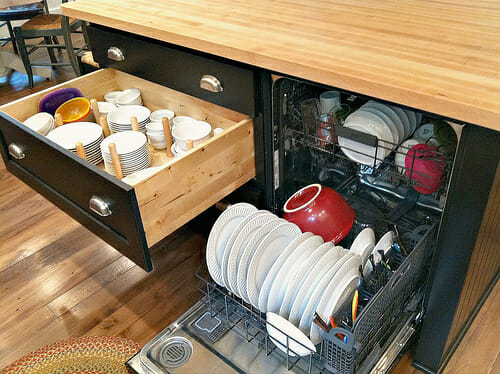 This time of year, our dishwasher is working overtime thanks to all my holiday cooking and baking, hosting holiday parties, and (in a few more days) having Dave home all day for a couple weeks.
Even though we sometimes use paper plates and plastic silverware for bigger parties, we still go through lots and lots of plates, cups, silverware, mixing bowls, sippy cups, bottles, food storage containers, etc. etc. and it seems like we are running our dishwasher at least once a day this time of year (that's almost double our family's normal dishwasher use).
Since I would be very sad if my dishwasher was out of commission for even a day or two, I do my best to keep it in tip-top working order — and that includes cleaning it regularly.
Yes, I clean my dishwasher — and it's a really simple process!
If it's been awhile since you cleaned your dishwasher (or if you didn't even know you could clean your dishwasher), I'd suggest giving this simple 3-step process a try… you might be surprised how much better your dishwasher runs as a result!
.
1: Clean out the drain and any visible grime.
This is really the only step that requires any work on your part — and I won't lie, it can be a bit gross 🙂
First, use a damp cloth to wipe all around the seal of the dishwasher (you might be surprised how much gunk can build up there, and you'll probably need to keep rinsing out your cloth)
Next, remove the screen that covers the drain (in my experience, most dishwashers have some sort of removable screen at the bottom to prevent larger chunks of food from going down the drain.)
It should be fairly obvious where this is — and there should be some sort of instructions as to what way to turn or twist to remove it.
Once you remove it, rinse it out thoroughly in the sink — I use a bristle brush and the sprayer nozzle on my sink. It takes a bit of scrubbing to get everything really cleaned.
2: Run the empty dishwasher with vinegar.
Now comes the easy part… simply pour about 1 cup of white vinegar into the bottom of your dishwasher and run a full cycle completely EMPTY.
.
3: Add white vinegar to the rinse cup.
After running the vinegar cycle, your dishwasher should instantly look much cleaner — if not, you might want to look into other issues for the source of the gunk and grime.
In order to keep your dishwasher cleaner for longer, simply add more white vinegar to the rinse aid cup (where you would normally put the Jet Dry). Fill it until it's full, and try to remember to continually refill it
You can run your dishwasher as normal from here on out.
Repeat these steps as necessary for future dirty dishwasher needs! 
.
Also, if you're short on time and don't feel like dealing with the gunk and grime, just follow steps 2 and 3 and you'll still most likely notice a big difference in the cleanliness (and even the performance) of your dishwasher.
These 3 simple steps have worked wonderfully for me over the years — hopefully they'll help you keep your dishwasher in tip-top shape this holiday season!