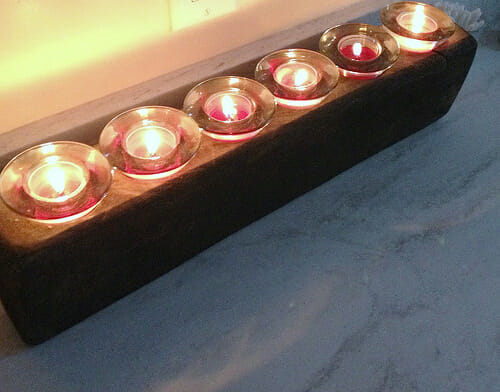 Happy New Year! I'm excited to be back blogging again!
It's been several weeks since my last Peek Into Our Week post — and since I'm not just talking about last week, I thought it was more fitting to share A Peek Into our Christmas Break.
We packed a lot into Dave's (almost) 2 week break from school, but we also had plenty of time for lounging around at home, playing with new toys, hitting up Culver's, watching cheesy Christmas movies, and even "sleeping in" a little when the kids let us!
We started out Dave's break by celebrating our own little family's Christmas on Wednesday morning, the 23rd (Dave's first day home from school). We didn't tell the kids when we were going to celebrate, so it was fun to see how excited they were to walk down the stairs after waking up and see all sorts of presents under the tree!
It only took 15-20 minutes to unwrap everything — and somehow, I think Nora ended up unwrapping almost everything as Simon was content to play with the first toy he opened and James can't really unwrap anything yet.
Also, we're still working on Simon's "say cheese" smile 🙂
We don't really have any strict rules or guidelines for gifts, but we did sort of follow the "something you want, something you need, something to wear, something to read" rule.
NORA GOT:
The Frozen DVD, skittles, little Frozen dolls (want)
Toothbrush, underwear (need)
Sweatshirt, slippers (wear)
Berenstain Bears book and a sticker book (read)
SIMON GOT:
Toy vacuum, M&M's, a boy doll (want)
New shoes, toothbrush (need)
Slippers and socks (wear)
Baby Einstein shapes book and a coloring book (read)
JAMES GOT:
Stacking cups and a wooden car (want)
More pacifiers (need)
New PJs and a pair of sweatpants (wear)
We also got each kid a Little People's vehicle and we gave Nora and Simon some craft supplies to share.
On Christmas day, we hosted my immediate family's Christmas party. Since none of my siblings have kids yet, it's often easier for us to host so that Simon and James can take their normal naps in their own beds. It saves us a bunch of work and time packing up so much extra stuff!
We had my parents and my siblings bring over all the gifts on Christmas Eve (after our kids went to bed) so they got to wake up to a tree full of gifts again!
My sister and brother-in-law surprised the kids with a "new-to-them" kid's car that Nora has been begging for ever since she saw one of our neighbor kids driving one.
It was apparently broken so she got it almost free, and my brother-in-law fixed it and put a new battery in it. Good as new! Nora was so excited 🙂
We had a "traditional" Christmas dinner (at least for our family). Ham, mashed potatoes and gravy, beans, carrots, corn, rolls, and hot fruit salad. Plus, I made a variety of pies and fudge for dessert (and my sister made really cute cupcakes with white chocolate Christmas trees on top)… and we enjoyed lots of munchies and leftover ham on buns for dinner later that day.
We celebrated Christmas with Dave's family on New Year's Day (at his parent's house).
There were 6 children under 6 in the same house for an entire day — and it went really REALLY well! Everyone took good naps, played nicely, and shared toys. It was a fun time for Nora and Simon to play with their 3 cousins who they don't normally get to see very often.
It was also nice to space out the celebrations by a full week — especially since we got to spend this past weekend opening up and playing with yet another round of new toys and games.
.
My Christmas Break Projects
Since Dave won't have another long break from school until Spring Break in April, and since we had several extra relatives around to play with the kids, I was planning and hoping to be able to tackle a bunch of little projects around the house during Christmas Break.
Here's what I accomplished:
Went through all the kids clothing, donated Nora's too-small clothing, transferred Simon's too-small clothing down to James' dresser, and packed-up James' too-small clothing. I also made a list of anything they need for the coming months (seriously, I think Nora has grown 3 or 4 inches since summer!)
Went through the kitchen and laundry room and purged 2 smaller bags of things, plus I sold a couple items on Craigslist.
Made Triple Berry Jam and Raspberry Jam (with berries I froze this summer)
Did a little freezer cooking and baking.
Finished our family 2015 digital photo album.
Finished recording all my business invoices and expenses for 2015.
Gave Dave and Simon haircuts.
Dave and I got new phones (we went with the iPhone 6 for those of you who have asked!)
Took down all the Christmas decorations and got the house back to "normal" again (I always love how uncluttered it feels after the decorations are put away again).
Dave crossed a few projects and to-do's off his list too, and he also enjoyed a little extra down time in the afternoon — watching Netflix while snuggling James! I think there were 3 or 4 times over his break that he was just sitting on the couch with James and the next thing he knew, James was sleeping soundly in his arms.
Our Menu Plan
Since our menu was kind of crazy over Christmas break with various parties and lots of random leftovers, I'm including our meal plan from the week before Christmas when life was more "normal"!
SUNDAY:
MONDAY:
Garlic Bread
Green Beans
Peanut Butter Blossom Cookies
TUESDAY:
Salad
Chips and cheese + salsa
Brownie Sundaes
WEDNESDAY:
THURSDAY:
Fresh rolls
Broccoli
Brownies
FRIDAY:
SATURDAY:
Culver's for Lunch
Leftovers for Dinner
A Few More Photos…
I hope you had a lovely Christmas break and enjoyed a little change from "normal life".
Cheers to a brand new year and another fresh start!