How We Care for Our Bestway Pool
posted by Andrea | 07/22/2019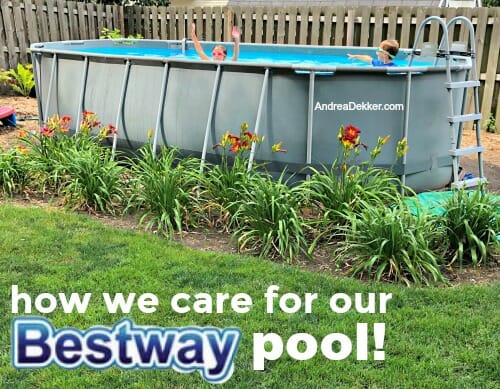 Last spring, we purchased a 9′ x 18′ Bestway Pool from Costco for $500.
It is far from "amazing" but it's PERFECT for our family, our lifestyle, our budget, the ages of our children, and the fact that Dave and I are both home all summer long.
I shared LOTS more about the set-up process last summer, but ever since I hit "publish" on that post, I have gotten questions, questions, and more questions regarding everything and anything having to do with our little pool!
Now that we're several months into our 2nd season with this pool, I recruited Dave (a.k.a. my pool boy) to write up a bunch of tips, tricks, and words of advice for anyone in the market for a similar pool (or anyone struggling with the pool they already have).
This is by no means an exhaustive list, but it covers the topics I most regularly get questioned about!
NOTE: This post contains affiliate links. Read my disclosure policy here.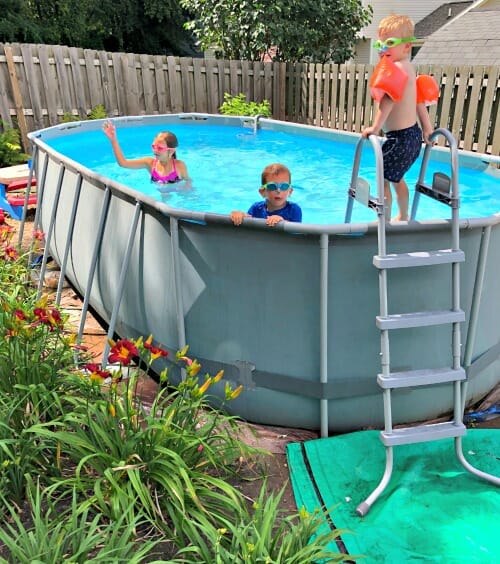 .
General Set-Up Tips:
1. Visit Your Local Pool Store and READ YOUR INSTRUCTIONS!
It always amazes me how many people email me for advice without actually reading the instructions that came with their own pool or visiting their local pool store!
I realize the instructions can be really confusing at times, but all of these little pools are different — even if they are the same brand and look the same, so it's really tricky to try to give any sort of specific information (especially via email).
When in doubt, we ALWAYS just drive to our local pool store as they have significantly more information and experience than either Dave or I, and they are usually able to help us with just one visit. Sometimes we end up buying products or chemicals from their stores, other times, we just thank them for the advice and head back home.
They don't try to "up sell" us for one of their pools, and are genuinely very helpful!
YouTube is another great source of information for us!
2. Prep the area WELL — the ground must be level!
Dave spent a considerable amount of time last year (and again this spring) cutting up sod, moving dirt, adding dirt, removing rocks, etc. to make the ground as smooth and level as possible.
This made a huge difference in how sturdy the pool looks and feels.
Our first year, the walls sort of caved in a little bit, and this year (with a more level foundation) the walls are perfectly straight.
We did NOT put sand under our pool as our instructions specifically said NOT to put sand under our pool. If your instructions say to put sand under the pool, then I'd suggest putting sand under the pool!
We put a heavy tarp and the ground tarp that came with our pool under the pool and that seems to be working well.
3. Recruit Help for Your First Time:
We had my sister and brother-in-law, and HIS brother help us the very first time we set it up. However, this year, Dave and I were able to easily (and fairly quickly) set it up on our own.
Also, make sure you actually have all the parts before you start the set-up process… and don't forget to read the instructions! 🙂
4. Check on the Pool As You Fill It Up:
It will take the better part of a day to fill this pool — however, we needed to check on it every couple of hours and pull the sides back a bit as it fills up with water.
.
General Maintenance Tips:
1. Be prepared for DAILY Maintenance.
As I mentioned above, Dave does almost all the pool maintenance — which I thank him for regularly. It's not difficult work, but it DOES require diligently checking on things every day in order to keep the water clean.
He adds chlorine EVERY day — usually right away in the morning when he "opens" the pool.
He also adds stabilizer to the water when we open the pool in the spring. Then he shocks the water.
From then on, he shocks the pool every other week and uses an algaecide on opposite weeks.
We use our skimmer pretty much every time we swim (which is almost every day) and Dave vacuums the pool roughly once a week.
NOTE: if you plan to be gone a lot during the summer, this is probably not the pool for you as it requires a decent amount of daily care.
2. Test the Water Regularly:
Dave suggests buying water test strips to test your water each day. They are not perfect, but will give you an idea of your water quality.
Dave also brings water to a pool store for testing once a week. They do it for free and tell him exactly what he needs to do to the water.
3. Monitor Your Pump (and run it daily)
You will need to run your pump with the filter regularly — this is important for the health of the water.
That said, you should also monitor your pump each day so you know what your pump can handle.
Our pump seems a little cheap, but Dave has sort of figured out a way to make it work… he typically runs the pump with the filter for 2 hours in the morning. After 2 hours, the pressure often rises, so he switches the pump to "circulate" during the late morning/early afternoon hours. This way, the water is still running through the solar heater (but bypasses the filter). Eventually he turns the pump off.
He then runs the pump WITH the filter again for a couple hour in the early evening and turns it off before we go to bed.
4. Get a Solar Cover and/or Solar Heater
Our pool came with a solar water heater (the black tubing/mat in the photo below) and it works AMAZINGLY well to heat the pool. However, it does put more pressure on the pump because the water is being forced through ALL that tubing. This is one reason we regularly monitor the pressure on our pump (see #3 above).
We also use a solar cover for our pool as the cover provided with the pool wasn't even close to fitting (don't get me started on that!) Most people assume a solar cover helps to heat the pool with the sun — but that's not really the purpose. The purpose of a solar cover (from what we've learned) is to KEEP the heat in the pool — especially at night.
Dave purchased a larger solar cover and cut it down to size. We put it on EVERY night to keep the heat in. It also helps to keep junk out of the pool.
.
General Take-Down Tips:
In my original post, I mentioned we weren't sure if we would take the pool down or not. We have neighbors with a similar pool and they leave it up with seemingly no issues.
However, Dave really wanted to take it down because he wanted to get the ground more level this year — and I'm glad he did because the pool feels sturdier now that the foundation is more level.
The pool does take up a decent amount of floor space, even when it's folded up. We stored it in our extra garage, so if you don't have a large amount of extra garage or shed space to store this pool, you might choose to leave it up all winter.
How we drained the water.
When we were finished with the pool for the year, we let the water sit for a week or so to let the chlorine "evaporate". Then we connected a hose to the drain to get most of the water out into the street.
Once the water was below the drain hole, we used a mini sub-pump to get the rest of the water out.
We cleaned it with a vinegar spray and scrub brush (it didn't take long at all) and finally, we used our shop vac to get all the last bits of water out.
How we took the pool down.
We had a really hard time getting the steal frame apart — specifically removing the steal polls out of the pool perimeter (the vinyl sides sort of "melted" to the polls). After a lengthy struggle with this, we decided to leave the long sides of the pool connected and just took the curved ends and the legs off.
Since we had plenty of storage space in our extra garage, we just laid the pool on the ground in the garage all winter. This was NOT ideal and would not work for most people!
Whatever you do, make sure you bring the pump into a climate controlled environment over the winter so it doesn't freeze and/or break.
We will most likely take the pool down again this winter — but if we change our minds, I'll let you know!
.
Some Items We Use for Our Pool:
Most of the items we needed for our pool came in the box with the pool (all from Costco). However, we have purchased a few extra things over the last 2 years years.
Chemicals — we use the hth brand products for chlorine, shock, and algaecide
Solar Cover — this is the one we have, we just cut it down to size
Water Test Strips — Dave uses these strips several times each week
Thermometer — we love know the water temp! This is the one we use.
Two Final Thoughts:
1. These Small Pools Are Quite A Bit of Work:
Small pools come with small pumps and are MUCH more work than traditional above ground or underground pools. We knew this going into our purchase, but most people don't.
They assume that since the pool is small, the work load will be small — but the smaller pump makes it more difficult to keep the pool clean without DAILY maintenance and very regular swimming sessions to mix up the water (we swim in our pool almost every single day).
Make sure it is worth it for your family's lifestyle, and that you will be home most of the summer to perform the daily maintenance required.
2. This is NOT a Resort Pool!
It might be fairly obvious, but we felt the need to point out that this is NOT, in any way shape or form, a fancy resort pool. It's basically a big tarp on a steel frame!
It's an eye-sore, it has no fun deck to lounge on or jump in from, there is no "deep end" or option for any sort of slide, diving board, etc.
You WILL be splashed if you are in this pool with kids, it can't fit more than 6-8 people, and the pool itself really isn't even big enough for a large adult-size raft to float on.
If you are realistic with your expectations... you will be happy with this pool purchase. If you are expecting a spa experience, you will be very dissatisfied!
.
Our intention when we purchased this pool was that it would last us 3 or 4 summers. So far, so good on summer #2 — we'll see if it holds out for one more summer or not (we think it should!)
Then the "plan" is to HOPEFULLY put in an underground pool next fall so it's ready to go in the spring of 2021!
So exciting!!