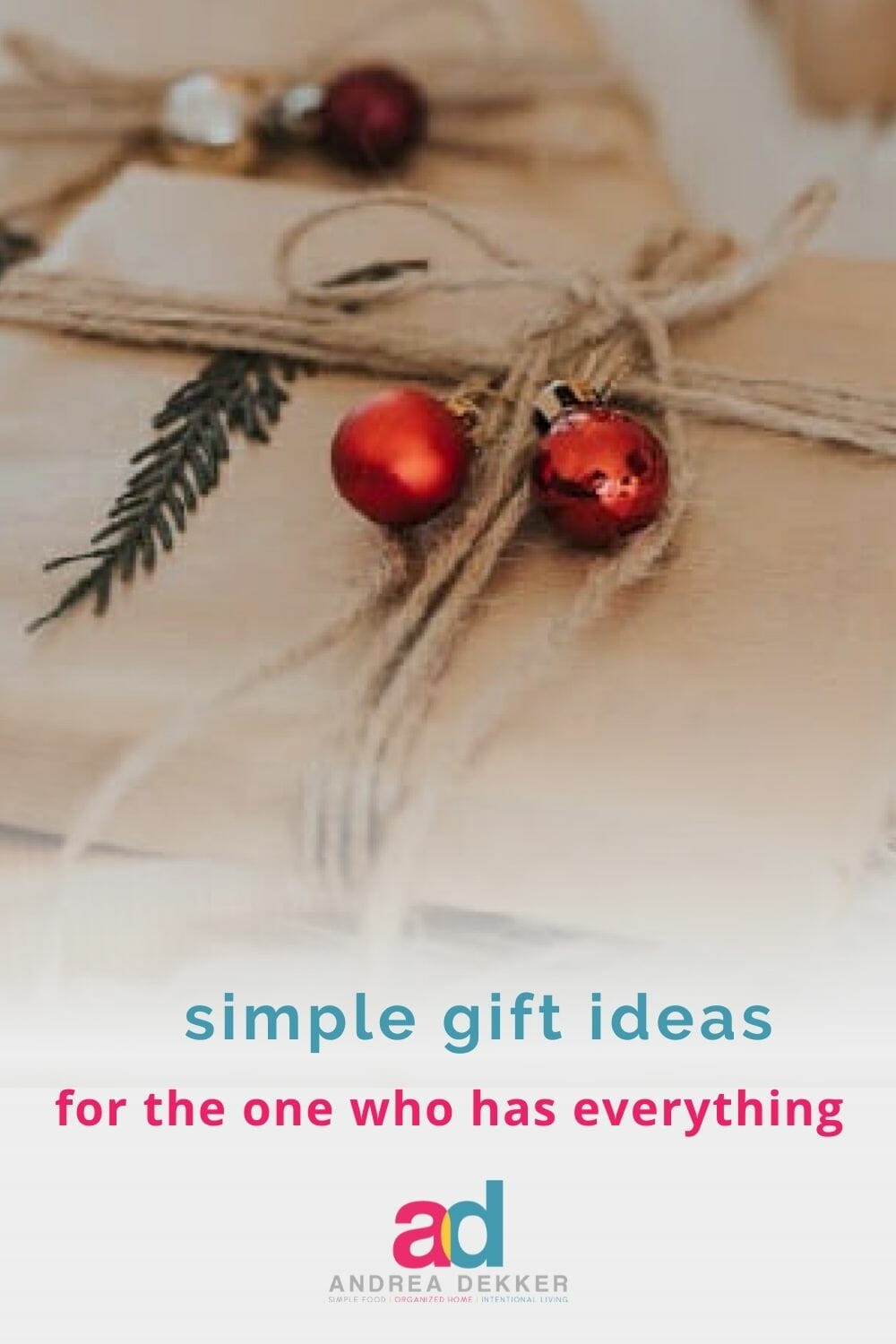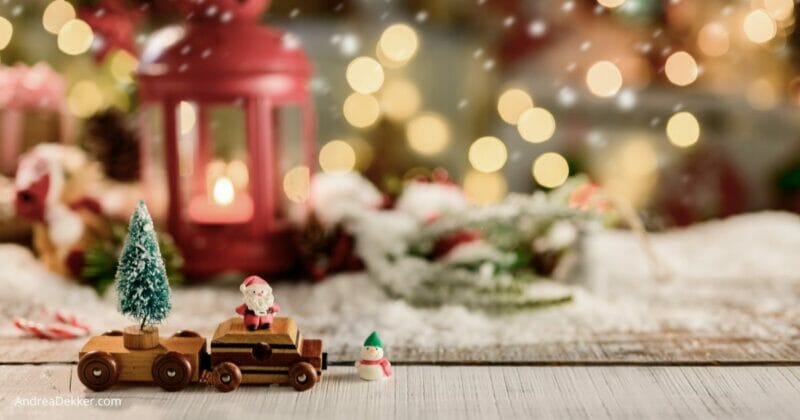 Do you have a few hard-to-buy-for people on your list this year? You know… the ones who have everything, need nothing, and say "don't get me anything" but you know you need to get them something.
Yeah, I thought so!
Thankfully, I have a short list of simple gift ideas I pull from whenever I'm unsure what to give to someone who has everything.
If you're struggling with a few gifts yet, pull some ideas from my list below (and please share your gift ideas in the comments.)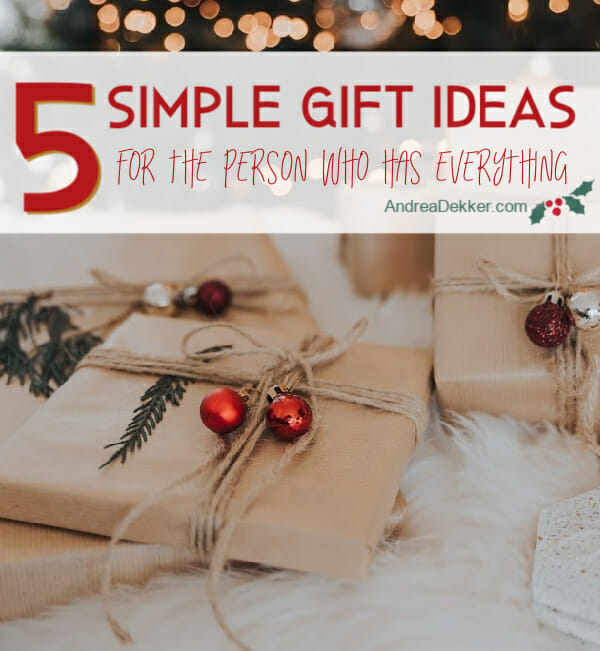 1. Food
Assuming the person does not have food allergies, food can be a great gift option for those hard-to-buy-for people on your list.
Here are a few ideas to get you thinking (there are hundreds more though!)
Homemade bread (whole grain or quick bread)
Bars, fudge, or truffles in a cute gift box
A dry brownie or cookie mix (with instructions to make the goodies)
Home-canned jams, tomatoes, applesauce, etc.
Cone bags filled with popcorn, candy, or trailmix (here are some exampes)
Homemade (or storebought) cheesecake — or another cake or pie they really enjoy
Gourmet coffee or tea (skip the mug!)
A bar of nice chocolate with a homemade wrapper (look up ideas on Pinterest)
A big bucket of all their favorite snacks, candies, and treats (great for kids!)
A homemade meal (contact them ahead of time to arrange this)
Fancy meats, cheeses, and crackers
A favorite wine, craft beer, or other favorite beverage (our kids love getting Gatorade)
A "fruit bouquet" — like something from Edible Arrangements (or try making your own).
NOTE: You could pair your homemade goodies with a gift card to their favorite restaurant or grocery store to increase the value.
The important thing with giving food gifts is that you actually think about what types of food your recipient enjoys. Don't just throw some leftovers from your freezer or pantry together at the last minute.
2. Cleaning & Personal Care Products
I often use this option if I know the person well enough and think they would be happy to receive cleaning products or personal care products.
Not only are these types of gifts non-perishable (so I can prepare them in advance) and consumable (not cluttery), they can also be tailored to fit almost any preference and budget.
Here are a few examples I've used recently:
A few years ago, I gave the women on my list a container of Method dish soap and a fun bamboo kitchen scrubber. It was a cute set, it was fairly frugal to put together, and since many of the recipients were newlyweds and new homeowners, it was also extremely useful and practical.
I love gifting a clothes basket filled with cleaning supplies and household staples for wedding shower gifts (see examples in this post).
I also regularly gift bars of Bend soap with a gift card on the back (they are the PERFECT size to "hide" a gift card!
If I know a friend, relative, or teacher really likes a particular scent, brand, or product, I'll keep an eye out for good deals throughout the year and stock up so I can throw together a quick, yet thoughtful gift any time of the year.
3. Photo Gifts
Mugs, bags, t-shirts, mousepads, wood, metal, plastic, paper — you name it, you can probably get a photo printed on it and gift it to that special someone who needs absolutely nothing but would love another cute photo of your kids, your pets, or even a beautiful sunset.
We often give photo calendars or magnets to grandparents and great-grandparents. Photo ornaments are also a fun idea and they can be packed away with the Christmas decorations.
Of course, some of these require a bit of computer knowledge and a week or so of advance notice to get them printed and shipped, but they are one-of-a-kind!
You might also consider doing something like Storyworth with a close friend or relative, or giving a faraway relative a digital picture frame like Skylight, so you can regularly upload more pictures from afar.
And of course, you know I love digital photo book gifts!
4. A Subscription
From a clutter-free standpoint, I'm a big fan of subscriptions (especially digital subscriptions like Amazon Prime, Kindle Unlimited, Netflix, etc.)
Magazines and newspapers are good too (our kids love these) and also things like a membership to the local zoo, a trampoline park, a theater, a sports team, or even Costco.
You could also gift a subscription to a Bible reading program (like She Reads Truth or the Dwell App), a photo editing program (like PicMonkey), a fitness program (like Every Mother), a food-of-the-month club, a membership to a nail polish club, or even a Craft club!
There are hundreds of subscription and membership-type gifts that are SO simple to sign up for and a really great gift option for people who already have everything.
5. A hand-written note.
Our kids enjoy making cards and pictures for many elderly people in our life — we mail them out regularly, and more often than not, the kids get another letter or a phone call from the recipient!
I'm confident most adults (and even college students) would appreciate this simple gift idea… you could even pair your letter with custom stationery or a cute pack of note cards.
Here are a few prompts if you're not sure what to write about:
something you appreciate about the other person
a few reasons you are thankful for them in your life
a memorable event or fun story from your shared past
something you look forward to doing with this person the next time you're together
a few of your favorite things about this person
a story of how they have impacted your life (possibly even without knowing it).
With a little bit of thought, I'm confident you can come up with a fantastic gift for all the hard-to-buy-for people on your list.
Still looking for MORE gift ideas? Try some of these clutter-free gifts for all ages and all budgets.
What are YOUR favorite simple gift ideas for the people who already have everything?