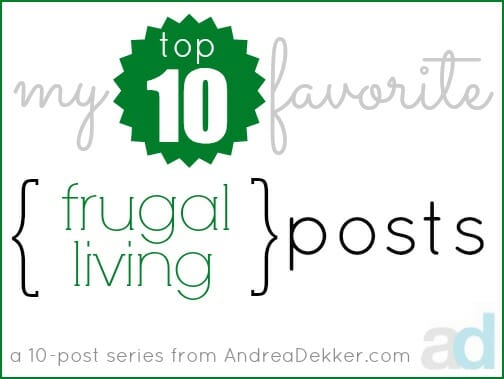 As I planned ahead for the arrival of baby Simon, I thought it might be fun to resurrect some of MY favorite posts from the past 3.5 years of blogging. I'll be publishing this 10-post series during the 4 weeks after his birth (read all the posts here).

I hope you enjoy reading (or re-reading) these posts as much as I'll be enjoying the extra snuggles, books, smiles, and naps with Nora and Simon!
For as long as I can remember, I've been EXTREMELY frugal. I've always been a big saver, a cautious spender, and a very infrequent "splurger". Being financially responsible is one way Dave and I are able to help simplify our lives. And while I don't expect everyone to share my financial philosophy, I have enjoyed sharing lots and lots of money-saving, frugal-living posts here on my blog — and based on the comments and emails I get, I think you've enjoyed reading them too!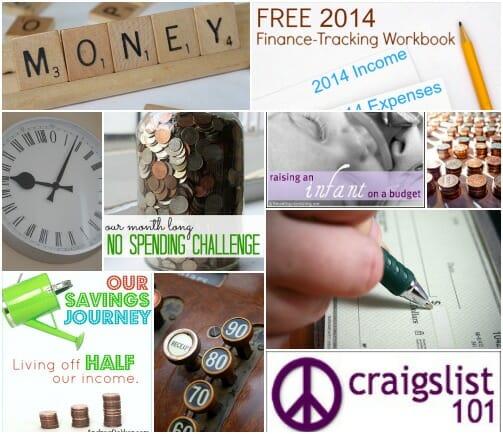 Here are my Top 10 Favorite Frugal-Living posts — in no particular order.
I've been using some version of my "homemade" finance-tracking workbook since I was in college — and I honestly think it's one of the most valuable money-saving tools for me.
Not only does it allow me to see exactly where my money is going each month and each year, it also helps me see where I might be "wasting" money as I can look back through the years and see my spending and savings trends over various categories.
If you're looking for a really great financial management tool, definitely take a minute to download my free finance-tracking workbook.
.
If you've been reading my blog for more than a week, you've probably heard me talk about Craigslist. I absolutely LOVE Craigslist — both for buying and selling almost anything.
As I look around our house, well over 50% of the items are from this online marketplace — and I've made thousands of dollars selling items we no-longer need. We even bought AND sold our house on Craigslist!
If you've ever had any questions about the best ways to buy and/or sell items on Criagslist, definitely check out my Craigslist 101 Series.
Related post = 6 Reasons We Buy Used
.
This was a very recent post spurred by a statement I made in a post over 3 years ago. Although I don't expect everyone to be able to (or even want to) live off half their income, it's been a fun challenge for Dave and I throughout our married life.
It's also been a FABULOUS way to plow through paying off our student loans, various house projects, and our mortgage!
Related post = 2 Tips that Helped Us Increase Our Savings
.
This was a fun week-long series I did 2 years ago after Nora was born. Many of these money-saving tips and ideas also came in handy as we prepared for Simon's arrival. It was SO fun for me to realize how frugally we could have and raise our baby!
If you're expecting, adopting, or just looking for a few frugal tips to raise small children, I'd highly recommend reading through this series.
Related posts:
.
It's always fun for me to look back on my finances from when I was in college — it's amazing what I did without (and never felt deprived). Sometimes, I need to remind myself of those days, and that scarcity CAN be a good frugal-living principle to help me save more and waste less.
Related Posts:
.
This was a really fun post to write — and it was even more fun to read the comments!
If you're wondering about some of the REALLY normal things I've never spent money on, you'll get a kick out of reading this post (would you believe that I've never spent money at Starbucks!)
.
It's always interesting to me how others think they know how WE should spend and save our money — so I loved writing this post (and reading all the responses).
.
Last spring, Dave and I decided to do a month-long no-spending challenge. It was originally a little intimidating, but I'm so glad we did it. Although it definitely WAS a challenge, we realized some areas that we had been spending a lot more in — and then could make a few changes to cut back.
.
As I mentioned above, I LOVE saving money — but sometimes I can go a little too far (like driving 10 extra miles to save a few cents on gas (tell me you can relate!)
This post was written after I had my own frugal reality check — and I re-read it often just to make sure I don't get too crazy with my savings efforts.
.
One of my best (and most simple) money-saving tips is to wait at least 24 hours before making a larger purchase. It's amazing how many times you'll realize you don't REALLY need whatever it was — or at least you don't WANT it bad enough to drive back to the store!
Related post = Save More By Checking Your Receipt
.
So that's my list…
Which frugal-living posts are your favorites?