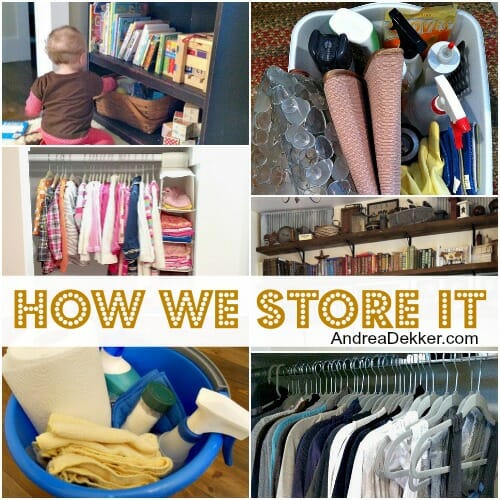 I've gotten so many random questions about how we store various items in and around our house… so today, I'm sharing a post about how we store "IT". Obviously, what works for me, for my family, and for our home won't necessarily work perfectly for you — but maybe it will spark a few ideas for how you might be able to better store and organize your stuff.
One thing I should mention before I get too far into this post is that I try REALLY REALLY hard to limit the amount of stuff we actually need to store.
Last week, I posted a question on Facebook asking if there was any other specific storage questions people had — and it really hit me how much LESS stuff we have than many people when the questions started coming in. People asked about so many items that we honestly don't have any storage issues with because we just don't hang onto stuff.
For example, some people asked about sheets and towels — but since we only keep one set of sheets for each bed and very few towels, we don't have to store the extra. Also, a few people asked about toddler dishes and snack cups — but since Nora usually just uses our regular dishes and we only have 2 snack cups that we rotate, we don't need to store anything extra.
I'm constantly purging anything we don't need, use, want, or love. More importantly, I think long and hard before bringing new items into our home. This in itself is a huge help when it comes to staying organized and keeping everything in its place.
And one more thing to think about — even the most organized spaces and the best storage solutions can only hold so much. There comes a point when there is simply no way you can better organize your space to fit more stuff in it — you just need to start purging!
So without further adieu, here's a VERY random list (in no particular order) of some of the items I'm frequently questioned on.
Stuffed Animals:
We have a bin in the play room for stuffed animals and then Nora keeps a few of her favorites in her bedroom (usually in her bed).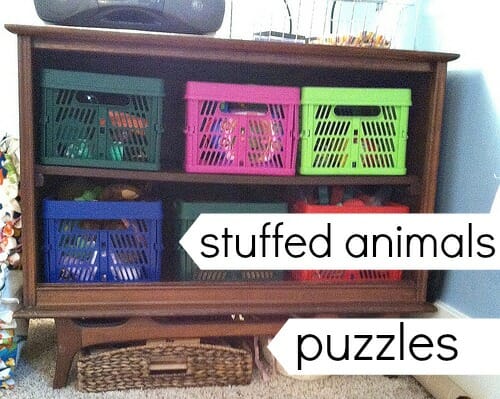 Puzzles:
We have less than 10 puzzles right now so we just keep them in a large basket in the play room (see photo above). The basket fits perfectly under our toy cabinet so this works well for now. I'm guessing that as kids get older and we amass more puzzles, I'll need a better solution (like a puzzle rack??) but for now, this works really well.
Books:
We have one shelf in the living room with all our kids books on it and then one large shelf in the office with all the other books. I color-coded the adult books so they look decorative while also still being easily accessible.
Also, I should mention that we frequently get books from the library so we don't store lots of books at our house (although our collection does continue to grow as Nora is gifted more and more books!)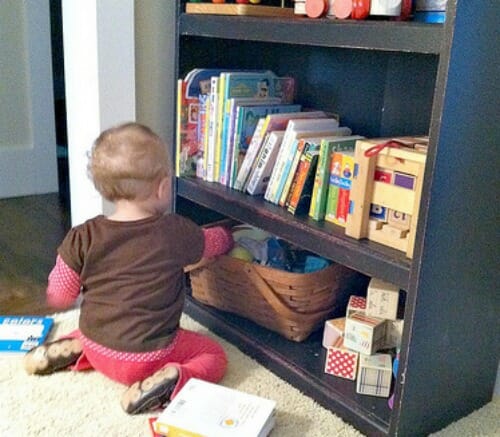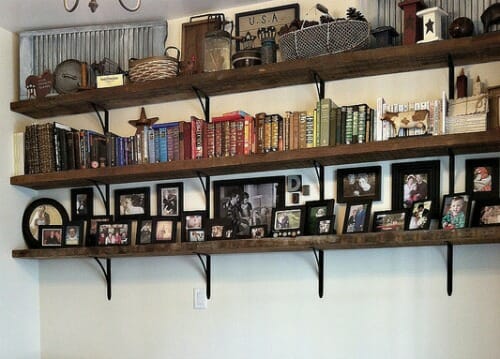 CDs and DVD's:
We honestly don't have any CD's! Well, we don't have any adult CD's. I rarely ever listen to music and when I do, I just choose to listen to the radio or to Pandora. Dave has all his songs on his MP3 player.
We do have about 5 kids CD's right now and we keep those up in the play room by Nora's "boombox".
As for DVD's we don't have many, but what we have are stored in a cute basket that sits on our TV cabinet. (yes, that picture below is from Christmas time!)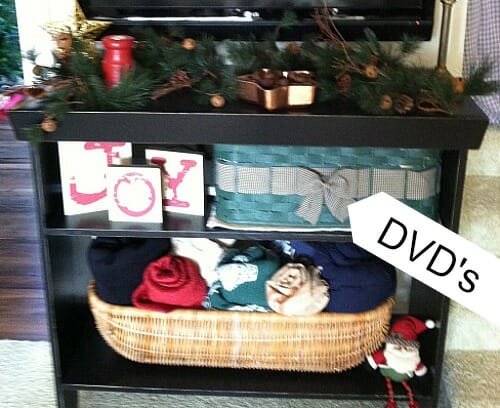 Extra Cords:
We have an over-the-door shoe organizer in our office closet that we use for office supplies and some of our charging cords. We also have another over-the-door shoe organizer in an upstairs storage closet. We use that organizer for all our extra cords that we don't use regularly but still want to keep handy. It works SO well and keeps things nicely organized while still allowing us easy access to any cord we need.
.
Winter Gear:
We live in Michigan — a.k.a. the land of the never-ending winter! We actually still have a few piles of snow on the ground in our back yard — and yes, it's April 11! So needless-to-say, we have LOTS of winter gear!
We keep the gear that Nora wears all the time on a few hooks by the back door — everything else (mostly Dave and my gear) is in an armoire by the front door. It's not a perfect solution, but since we don't have any closets by any of our entry doors, it's the best we can do for our house and it's honestly working find for us right now.
We realize that as our kids get older, we'll need more room — so we do have plans for a mudroom off our back door (yes, I'm just a little excited about that!) I'm hoping to implement those plans sooner rather than later… but until then, we'll continue to use our make-shift mudroom!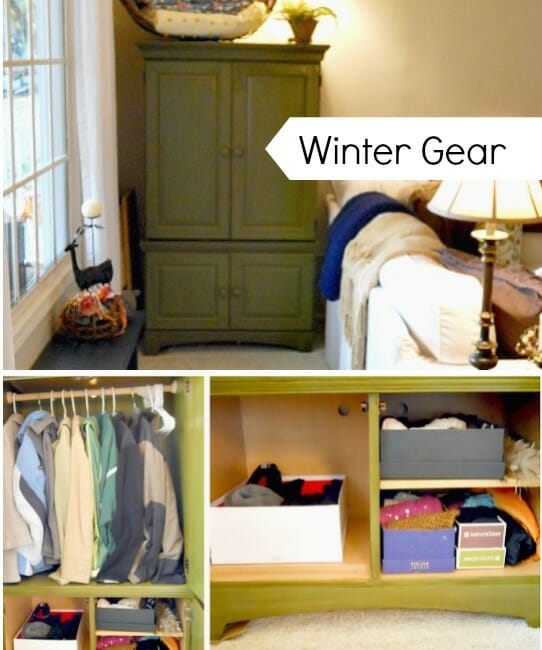 Batteries:
We use mostly rechargeable batteries so we don't have a ton of extras sitting around. But the batteries we do store are in a decorative shoe box on our office shelf. We keep all the batteries and the charger right in that box. We put the batteries waiting to be charged in a zip-top bag. This system is not fancy at all, but it works well for our needs and keeps batteries very easily accessible without being an eye-sore.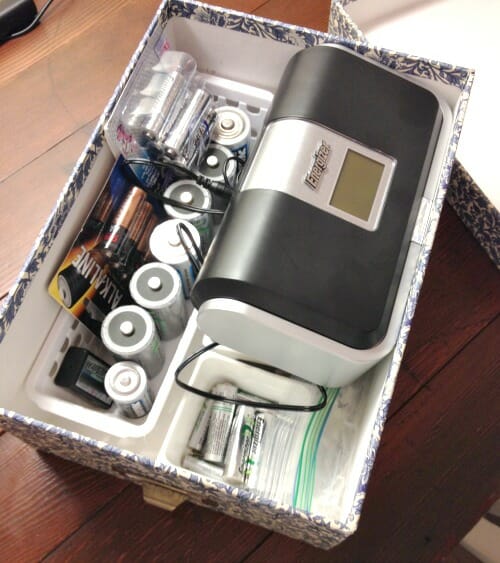 Cleaning Supplies:
I have one bathroom cleaning bucket that I keep in the laundry room cabinet and then a few kitchen cleaning supplies under the kitchen sink. I also keep rags, dust cloths, and laundry soap in the laundry room cabinets — but that's about it.
I really pared down my cleaning supplies a couple years ago and basically use vinegar and baking soda to clean most of the things in and around our house.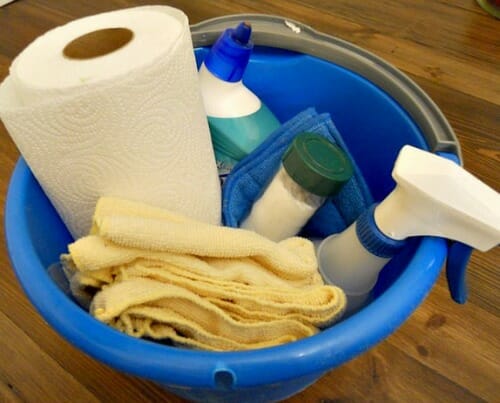 Christmas Decorations:
We have 1 bin of Christmas decorations, 1 bin of ornaments/lights/tree trimmings, and 1 bin of greenery. These bins are stored on the shelves in our basement. We also have a few different trees and we just store them (fully assembled with lights on) in a back room of our basement.
I've often debated about getting rid of our artificial trees and purchasing a real tree each year. This would save us a bunch of storage space — but since we really don't need or use that space for anything else, I figure we're saving a bunch of time, energy, money, and mess by sticking with our artificial trees.
Off-Season Clothing:
We live in Michigan so you might think we have a lot of off-season clothing to store, but the truth is, we store ALL our clothing in our bedroom closet and dressers.
Neither Dave or I are big shoppers so we don't have mass amounts of clothing — and we both wear lots of layers, so we often wear our "summer" clothing in the winter months with another lay or two on top.
Here's a post with lots more information about how we deal with clothes clutter.
Kid's Clothes:
I've already done a really long post detailing how exactly we store kids clothing. However, I should also mention that I'm not really a huge advocate for "hoarding" mass amounts of out-grown kids clothing unless you currently have another child who you're waiting to pass things down to.
In my experience, kids clothing is so easy to find for super cheap (or even free) that it really doesn't pay to waste loads of storage space unless you know for sure you'll be passing it down to a younger sibling.
That's the list I have for now.
If there's something else you're wondering how we store, ask in the comments. If it's a quick answer, I'll try to answer it or I'll hopefully be able to direct you to a previous blog post 🙂