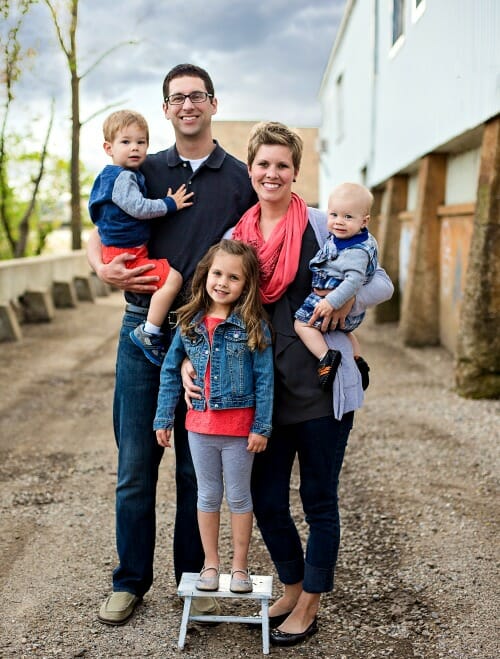 It seems so long ago now, but we began last week celebrating Mother's Day.
Dave picked up a cute card and Nora drew me a picture (she is holding James in the picture). We had some of my family over for dinner on Sunday afternoon… and I was smart enough to snap a quick photo the day BEFORE, as the kids are always so excited to play with their grandparents and I'm busy in the kitchen, so pictures never seem to be a priority.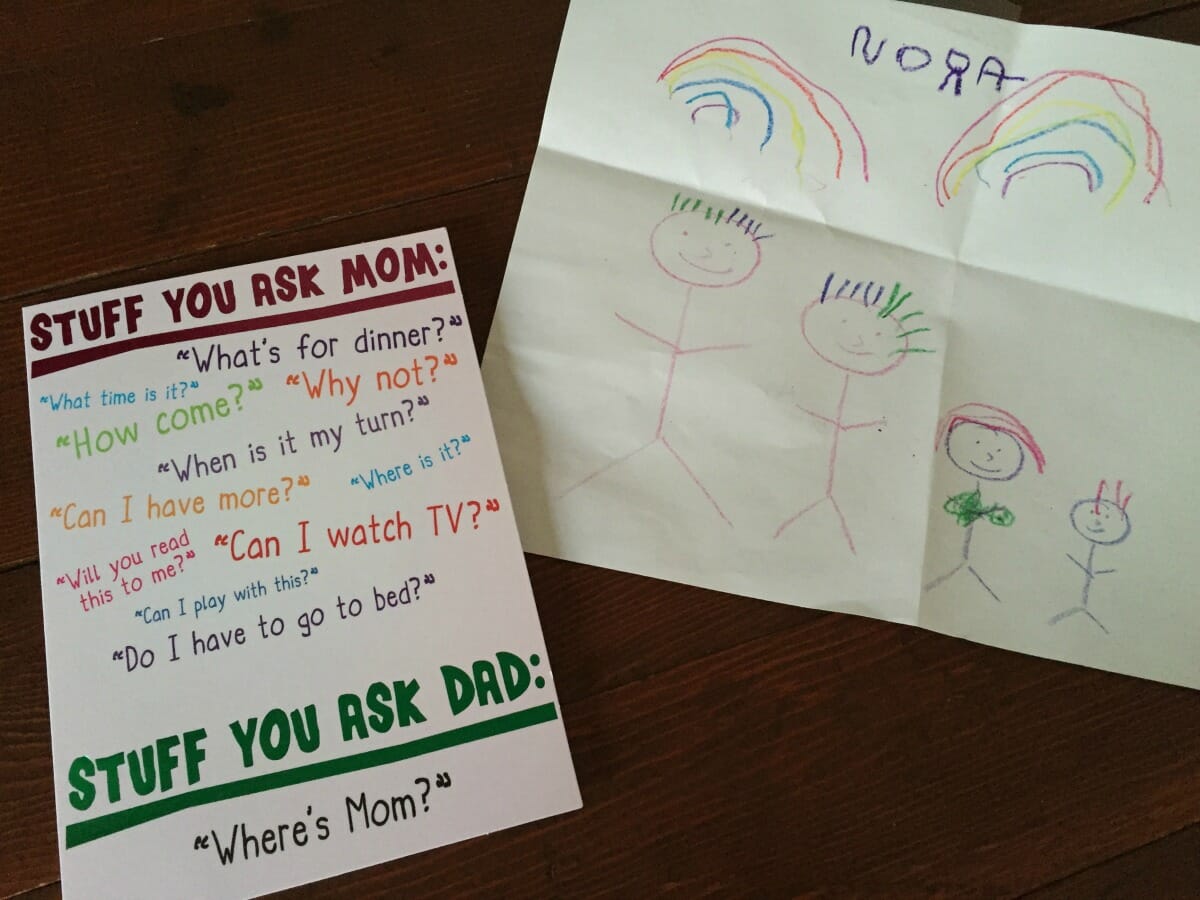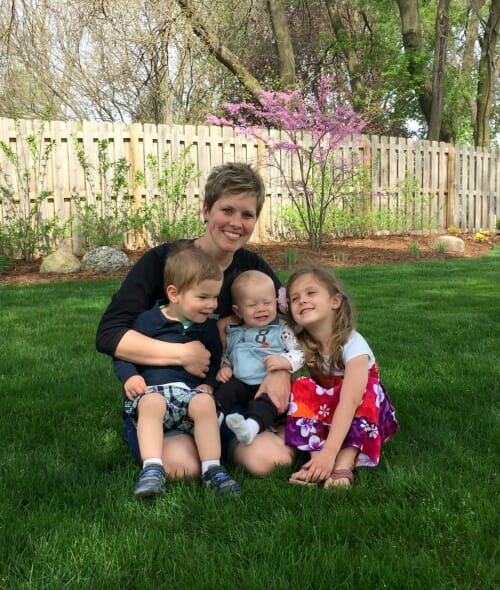 Speaking of pictures — we got family pictures taken last week!
I don't have the full set of pictures back yet, but the photographer emailed me a couple over the weekend so I could include them in this post. I was VERY pleased with how well they turned out and I can't wait to get some of them up on our wall!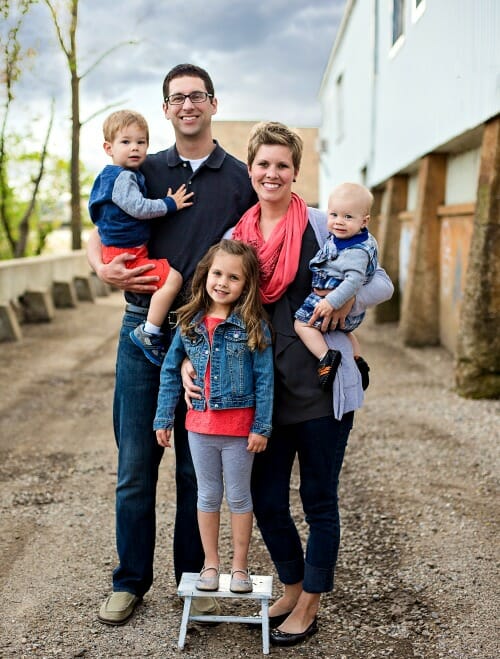 We have used Zander & Breck photography for our family pictures and newborn pictures for the past few years. I went to high school with Kari — and no, I don't get a deal for mentioning this.
(this photo was from my phone)
.
Although this time of year is often extra busy for Dave, last week was actually pretty low-key and relaxed. The slower change of pace was nice after 2 super-jam-packed weeks with Dave gone many night and weekends for meetings, school events, and extra end-of-the-year activities.
The good thing about all those extra meetings, events, and activities is that they signify the end of the school year! Only THREE more weeks of school, a couple days of exams, and he's finished for the summer!
We're hosting his staff party at our house again for the 3rd year in a row, and this year will be the first year we're not rushing to finish a huge landscaping project before people arrive! No dirt and mud for people to walk through, no freshly-seeded grass to keep people away from, just growing shrubs and trees and flowers to enjoy!
I'm so pleased with how everything is growing and filling in. Just think what it will look like in another 3-5 years!
The vegetable garden is also growing well — we have several seedlings popping up and I planted more seeds this past weekend!
I'm hoping to plant a bunch of annuals and vegetable plants this week, but I'll have to check the weather first. We had frost again this past weekend and although I'm so excited to get more plants in the ground, I don't want to waste my money if they are just going to die off from frost.
We started a few flower seeds inside (just for fun) and Nora came home from school with 1 lima bean seed planted in a dixie cup. She wants to water it and check to see if it's growing every 20 minutes 🙂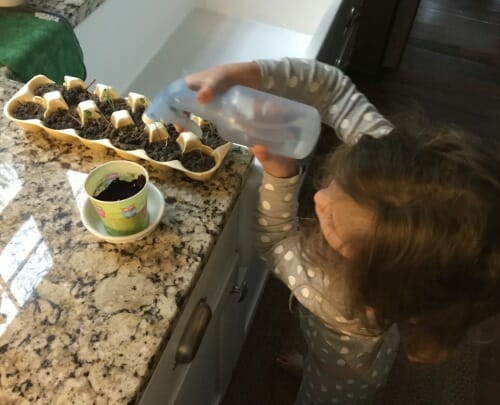 .
NORA:
Nora is gearing up to celebrate her half birthday later this week! She is big into half birthdays lately so I'm planning to make a cake, cut it in half, and then let her decorate it.
She only has 4 more days of preschool left and she told me that she is "really ready for summer break". I almost died laughing!
Nora learned how to "pump" this spring and can now swing as high as she wants all on her own with no pushes from grownups (she tried so hard to learn this last fall, but never quite got the hang of it).
She is usually a nice big sister and will push Simon and James on the swings — and I've let her bring a couple of her favorite dolls outside for swing rides too.
Nora is still honestly my biggest "handful" when it comes to parenting, discipline, need for attention… but she really is very sweet and extremely helpful around the house. There are so many times when she pushes my buttons, but just as many times when she impresses me with her caring nature and helpfulness.
(this is another photo from my phone)
.
SIMON:
Simon is just as sweet as ever. He came with me to run a few errands last week and said "hi" or waved to just about every person in the store. Then in the checkout lane, he spontaneously made friends with the little girl behind us in line and started playing with trinket toys in the aisles. He got to ride the horse all by himself and then got a sucker for the ride home.
Although I'm not the type of parent who is worried about making everything "fair" for my children, I will say that Simon probably has the least one-on-one time with me — mainly because he is SO easy going and doesn't require very much attention or discipline or constant interaction like Nora and James often do.
It was fun to hang out with just Simon for once!
Oh, and the biggest news from Simon is that he is sort of starting to say his name (FINALLY!!!!). He says a combination of "me" and "Simon" — it comes out "Menom" and it is very cute! Also, it's 2 syllables, which is a big deal for him 🙂
.
JAMES:
James celebrated 10 months on Saturday!
He babbles, jabbers, coos, and giggles all the time, and he smiles if you so much as look at him. In general, he is very very happy most of the time.
He is also becoming quite mobile. He can easily climb the stairs on his own and he has even been cruising around the house (and the driveway) with his walker for the past week (watch the video here). He can stand for a few seconds before falling down — but no actual walking on his own yet.
My Projects:
Aside from my work on the yard and in the vegetable garden, I tackled a few inside projects.
I did some major dusting (tops of windows and doors, baseboards, etc.), washed a bunch of toys, got rid of a few more things on Craigslist, cleaned the lint out of our dryer, and washed all the windows. Seriously, whoever invented the windows that pop in for easy cleaning was SO smart!
The next thing on my list is to plant the rest of my vegetable garden, plant some annuals, and make some fun decorative items for the yard. I have so many ideas of projects I'd like to try, I just need to find the time (can anyone relate!)
.
What I'm Watching:
I don't think I've watched one thing on Netflix over the past 2 weeks, BUT I did recently discover another fabulous way to stream TV from the internet and avoid commercials!
Dave and I decided to make a very small monthly donation to PBS because by doing so, we get instant access to all (or at least most) of their TV shows and can watch them any time without commercials. (The donation is tax deductible as well.)
I've been able to keep up with the current season of Call The Midwife, and we've been catching up on This Old House which we used to enjoy watching on Sunday afternoons (before we had kids)! Obviously, PBS also has TONS of kids programs too, so we've been able to watch Curious George via the PBS App now that Netflix doesn't carry it anymore.
Our Weekly Menu Plan
SUNDAY:
Ham
Mashed potatoes and gravy
Rolls
Applesauce
Strawberry Rhubarb Pie (recipe coming later this week)
MONDAY:
Broccoli
Applesauce
Leftover pie
TUESDAY:
Leftover ham and potatoes from Sunday
Broccoli and Cauliflower
Fresh Fruit
Rolls
WEDNESDAY:
THURSDAY:
Brats on the grill
Fruit salad
Ice cream cones
FRIDAY:
SATURDAY:
.
And now… I'll leave you with this super cute, super silly video of Nora and Simon "reading" one of Simon's favorite books. It's a really cute Sandra Boynton book: Blue Hat, Green Hat, and Simon thinks it's hilarious.
On every page, there's a variety of animals wearing clothing, but the last animal on the page is wearing the clothing incorrectly (socks on the arm, pants on the head, etc.) The word "OOOPS" is next to that animal.
Every day (usually multiple times a day) Nora reads all the words until the "OOOPS", and that's where Simon chimes in. He can hardly even get the OOOPS out because he's laughing so hard 🙂
You may need to click through to the post to see the video if you're reading this via email.
Have a great week!